With the season drawing close to an end and moth migration reduced to a tiny trickle, November can be a quiet month for many moth-ers. This year a concerted field effort across several counties in southern England was made to look for and survey what is traditionally the last of the scarce macro-moths to emerge: the Plumed Prominent.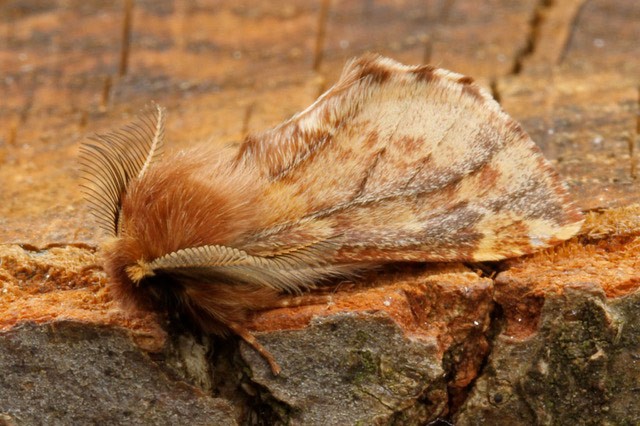 Male Plumed Prominent, Cotswolds, Gloucestershire (Roger Wasley).
The species, which is categorised as 'Nationally Scarce A', can be found very locally on calcareous soils from Dorset north to Gloucestershire and east through Oxfordshire to Suffolk and Kent. Its larvae feed on mature Field Maple, which itself is not an uncommon tree of light woodland and hedgerows. Even in counties where the moth is known, it only occurs in a few colonies but it is likely that it is present at others sites that have not yet been searched — one limiting factor may be altitude. The Gloucestershire colonies have only been found between 120 and 250m while other apparently suitable areas have not produced the moth. The species is on the wing during November and December but is only usually encountered on relatively mild, still nights, which can be at a premium at this time of the year. Historically, there are records from further west, and with continuing climate change likely to produce milder Novembers it could extend its range north into the West Midlands.
Content continues after advertisements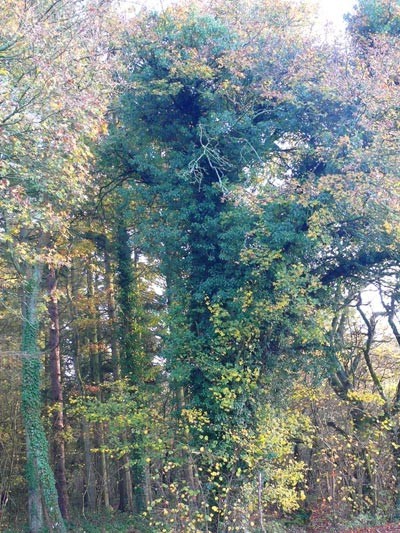 Mature Field Maple tree on woodland edge (Dave Grundy).
Field Maples themselves have rather distinctive leaves, shaped somewhat like that of a half-sized sycamore leaf, and turn a beautiful golden-yellow colour in late autumn.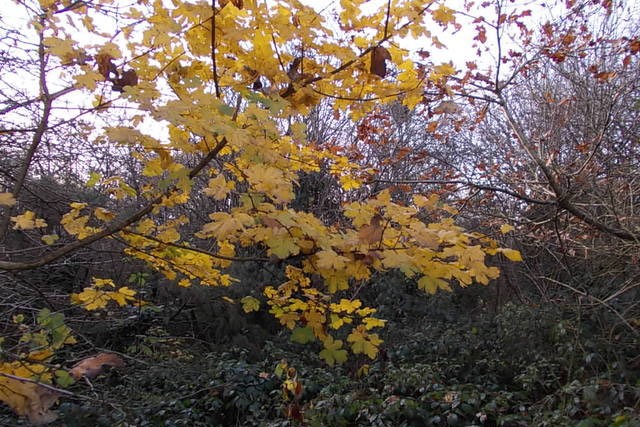 Small Field Maple in late autumn (Steve Whitehouse).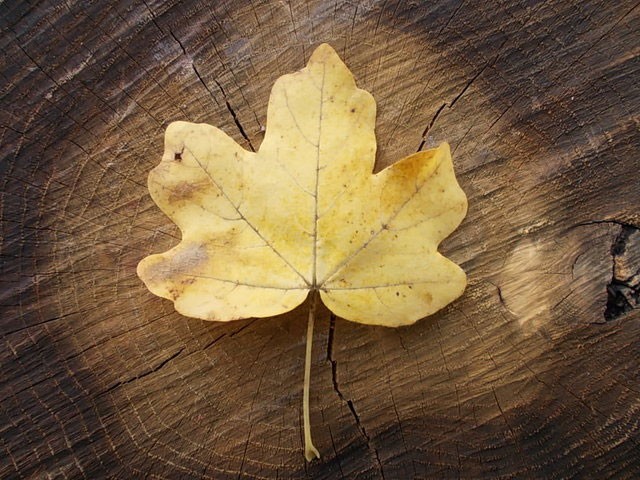 Typical Field Maple leaf in November (Steve Whitehouse).
Since the moth's rediscovery in Gloucestershire in 2005, Peter Hugo has volunteered not only to find and survey the moth each year, but also to show it to interested members of the public. Due to his efforts, the species is now known from four sites in the county. Planning moth evenings in advance in November has always been difficult and this year it was agreed that a survey would only take place if a favourable weather window presented itself at the optimum time. It was announced at short notice that 13th November looked suitable and, on the day, a posse of 19 enthusiasts gathered from mid-afternoon at Chedworth Village Hall. Visitors had come from as far as Cheshire, Devon and Essex with others from Berkshire and the West Midlands.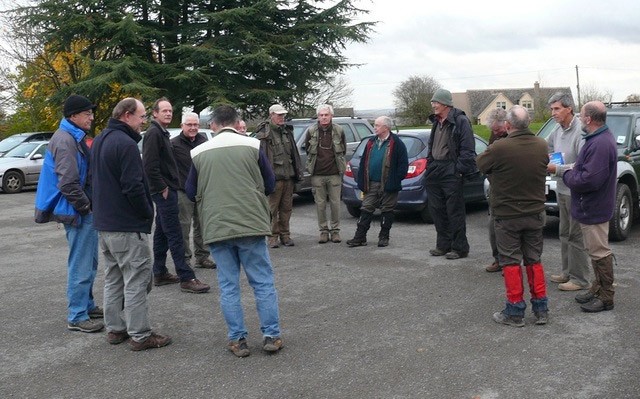 Peter Hugo (second from right) explains the evening plans to the assembled moth-ers (Dave Grundy).
Sixteen traps were arranged along a linear transect line covering 800m. Both Actinic and MV lights were employed. Darkness had fallen at 17:15 and, after a slow start, a few Feathered Thorn, Red-green Carpet and Spruce Carpet had arrived.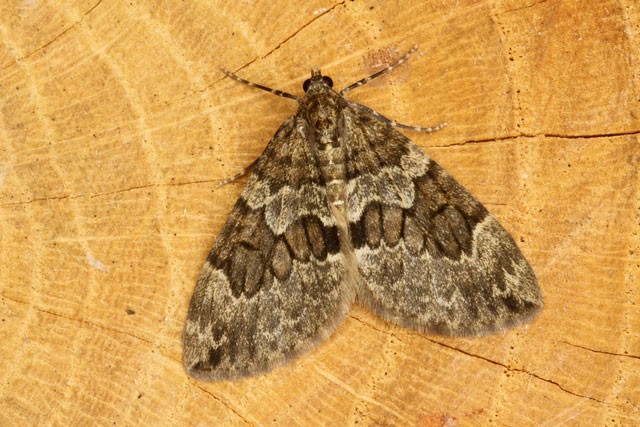 Spruce Carpet (Roger Wasley).
The woodland track was very sheltered and with total cloud cover, still air and a starting temperature of 13°C, conditions were near perfect. At 18:45, the first male Plumed Prominent arrived on the side of a wooden trap — much to the gathered crowd's delight.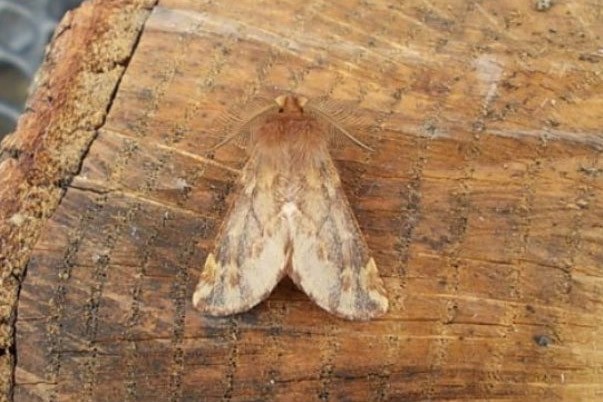 Male Plumed Prominent from above (Steve Whitehouse).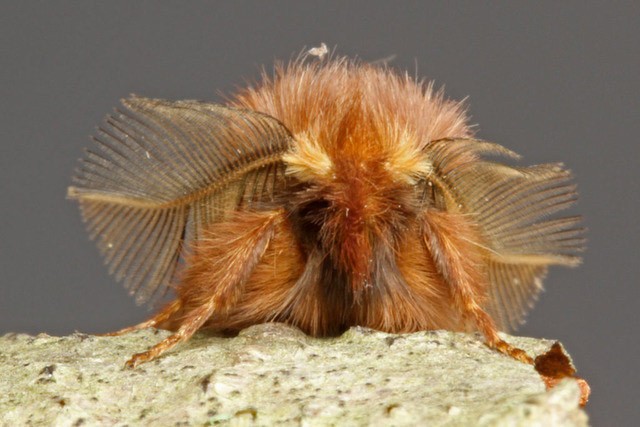 Close-up of male Plumed Prominent, showing the well-developed feathered antennae that give the species its name (Roger Wasley).
By 02:00 a total of 26 Plumed Prominents — including two females — had been seen. Females, which have unfeathered antennae, also fly much later in the night, which in turn usually results in a large bias towards males being seen on surveys. Final numbers were slightly down compared to the 2011 peak count of 44, but considering how badly some common species have fared in 2012 this was still an excellent count. Indeed, when the last participants packed up, Plumed Prominents were still coming in! A total of 370 moths of 21 species were recorded and included 31 December Moth, five Winter Moth, a Scarce Umber, six Sprawler, a Merveille du Jour and two quite late Pink-barred Sallow. By far the commonest moth was Feathered Thorn, with 138 counted.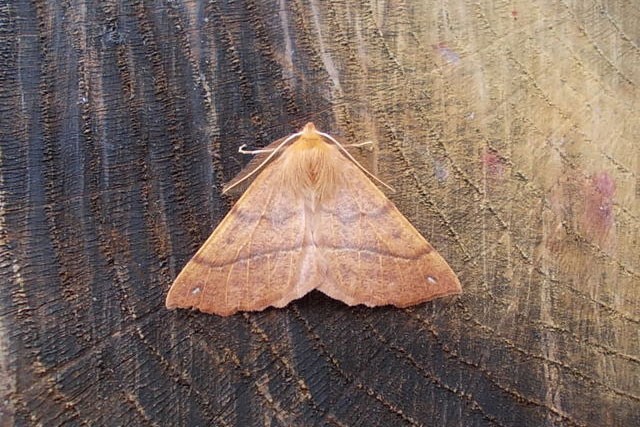 Feathered Thorn (Steve Whitehouse).
After four failed attempts to record Plumed Prominent in 2011, four members of the Sussex Moth Group set up two MV Traps on private land on the Downs in West Sussex on 8th November. The traps were positioned directly under large Field Maples and caught four males. The moths arrived between 19:00 and 19:40 while the group were away visiting a nearby Actinic, which failed to catch any! Even this small number was particularly welcome, as it hadn't been seen at this site since 1994. Other species were in short supply but included a Silver Y, Acleris schalleriana (1047), Autumnal Moth and a late Sallow. Disappointingly, two nights later, the group failed to find Plumed Prominent at a site where it was last seen in 1998.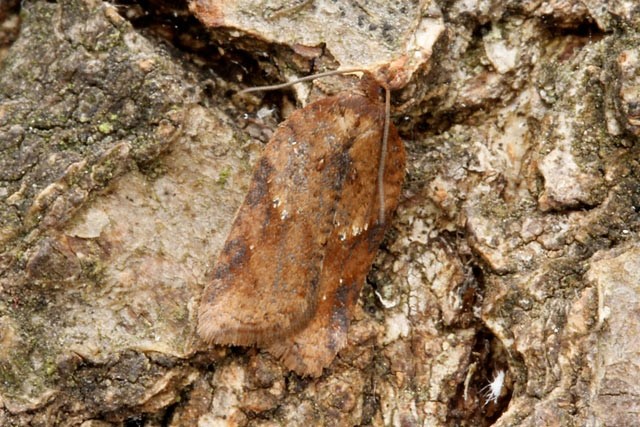 Presumed Acleris schalleriana (Roger Wasley).
On the next night in East Oxfordshire, Marc Botham was very happy to see 20 Plumed Prominents among a modest catch of 83 moths of 16 species that also included six Acleris sparsana (1041), five Mottled Umber, five Satellite, Acleris hastiana (1053) and Caloptilia semifascia (290).
On 13th November a visiting moth-er to a known site in western Suffolk had an amazing catch of 57 Plumed Prominents among 115 moths of 18 species. This healthy statistic may even be eclipsed by the provisional identification of another Caloptilia hemidactylella (291), following the one in Northumberland in August this year, which was only the second confirmed record in the UK since 1954/55.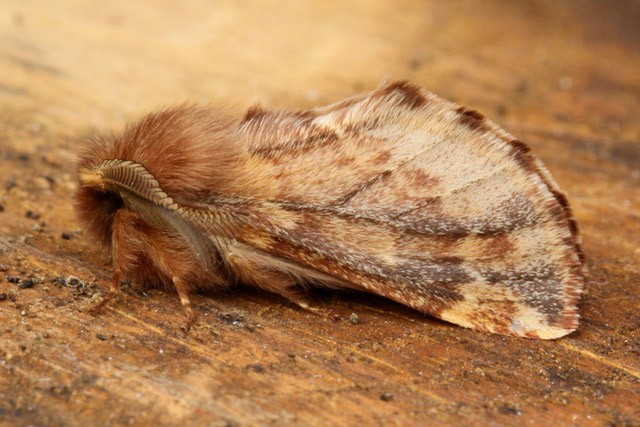 Another male Plumed Prominent (Roger Wasley).
Results from these four counties show that the Plumed Prominent is still present and, in some cases, thriving at key sites. Further surveys next year may add to the current knowledge of what is, close up, a fantastic-looking moth. It is hoped that more of these 'end-of-the-season events' will produce happy swansongs to the year's trapping.
References
Townsend and Lewington. Field Guide to the Moths of Great Britain and Ireland. Revised edition, British Wildlife Publishing, 2009.
UK Moths online photographic guide
* The numbers stated after a number of micro moth species in the text are the British Checklist Species numbers as assigned by J. D. Bradley in the Log Book of British Lepidoptera (2000).