With the lowest rainfall and highest average temperatures on record, April 2011 will also be remembered by most insect enthusiasts for the first significant influx of Vagrant Emperor dragonflies for many a year. Almost as noteworthy was the very early emergence of many of our resident butterfly and moth species and a steady arrival of migrant moths, culminating in several very rare species during the first half of May. High pressure centred over western Europe during April meant that a flow of light winds originating from the continent was evident for much of the month. Then, in early May, the first Atlantic depression for many weeks produced those classic climatic conditions ideal for an influx of immigrant continental moths.
The trend for early first dates for many moths actually started way back in February and continued through March. Across the whole country, record upon record has been broken this year, with many species up to three weeks ahead of schedule and in some cases four to six weeks before the expected norm. A few examples on April Fool's Day included Bright-line Brown-eye at Warton (Lancs), Yellow-barred Brindle in Yorkshire, and Chamomile Shark and Northern Drab, both at Kenfig (Glamorgan).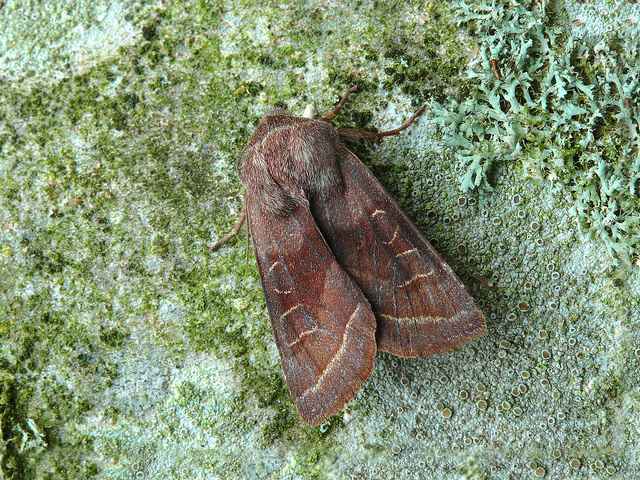 Northern Drab (Patrick Clement).
The next day produced a Pod Lover in Pembrokeshire, a species not normally out until the second week of May; a Narrow-bordered Bee Hawk-moth was seen at Weston-super-Mare (Somerset) on the 4th; and later in the month, excellent numbers of this spectacular day-flyer were showing at several sites.

Narrow-bordered Bee Hawk-moth (Pete Withers).
Birch Mocha was recorded at Upton Heath (Dorset) on the 8th; Kentish Glory at Insh Marshes (Inverness-shire) on the 9th; Light Knot Grass were at Catherton Common (Shropshire) on the 10th; and Oblique Striped was on the wing at Sandwich Bay (Kent) on the 11th.

Oblique Striped (Paul Parsons).
Two Mullein were early at Upper Rochford (Worcs) on the 12th and one caught at Howick (North Northumberland) on the 18th was only the second record of an adult in Northumberland, following one trapped in 1997.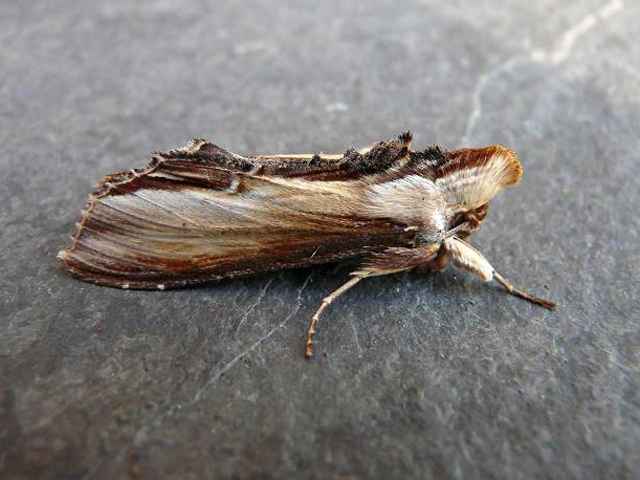 Mullein (Stewart Sexton).
An Eyed Hawk-moth was at Tincleton (Dorset) on the 19th and several Alder Moth were at Monkwood NR (Worcs) on the 22nd. A Broad-bordered Bee Hawk-moth nectaring on garden flowers at Brockenhurst (Hants) on the 25th was the earliest ever in that county. In Dorset two White Spots were caught at East Lulworth on the 25th, followed by a very early Grey Scalloped Bar in the same trap on the 30th. Argent and Sable was out at Bentley Wood (Wilts) on the 28th . A Lesser Treble-bar was the first ever Northumberland April record on the 29th and the first Sand Dart was seen on the north (Norfolk) coast on May 4th.
The first week in April saw a continued arrival of Dark Sword-grass, showing a very well-defined peak around the 7th and 8th, when at least 300 were recorded nationally, some as far north as Northumberland. Many presumed migrant Blossom Underwings were at sites well away from known breeding areas. The first major rarity of the year was Scotland's first ever Conformist of the form furcifera, found at MV light at Insh Marshes RSPB (Inverness-shire) by Paul Bryant and Matthew Deans on the night of the 9th. Four Diamond-back Moths, and a light easterly wind there on the same night, was due evidence that this Conformist was a primary migrant of European origin, rather than part of a remnant undiscovered local breeding population. The previous record of one at Seaton Sluice (Northumberland) on 16th April 2007 also masks this record very well.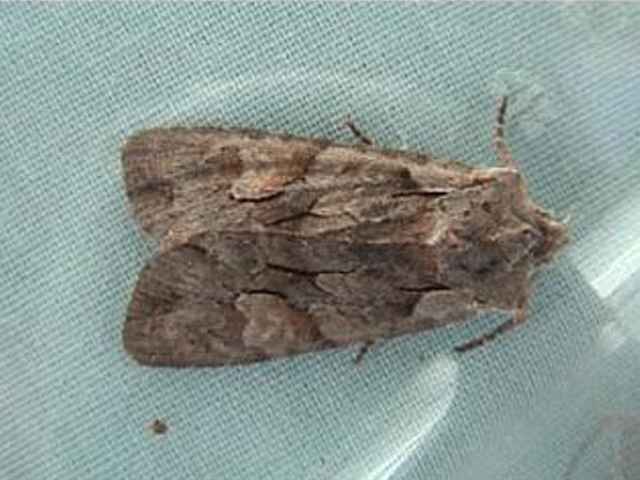 Conformist in Northumberland, April 2007 (Steve Whitehouse).
Striped Hawk-moths were trapped at Northney (Hants) on the 7th and in County Waterford on the 15th, and a handful of Hummingbird Hawk-moths were seen by day. A Delicate, two Pearly Underwing, three early White Speck, two Scarce Bordered Straw, at least six Bordered Straw, 14 Small Mottled Willow and small numbers of Rusty-dot Pearl and Rush Veneer were recorded elsewhere during the month. One of the most remarkable records of this period was of the micro moth Euchromius ocellea making it as far northwest as Benbecula (Western Isles) on the 18th.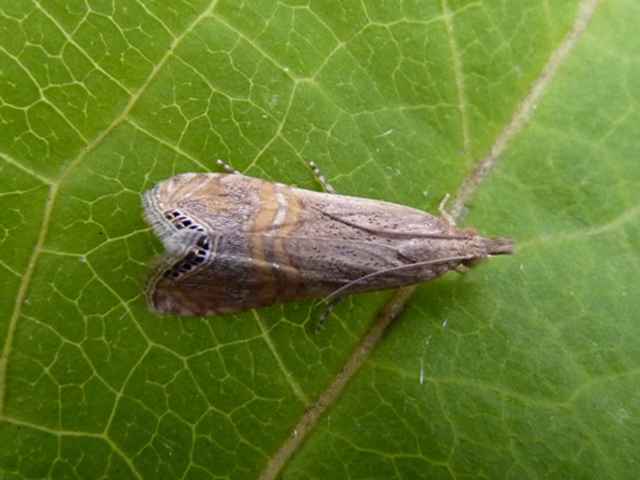 Euchromius ocellea (Paul Harris).
A Blair's Mocha was at Pagham Harbour NR (West Sussex) on 20th. The first of four Kent Dusky Hook-tips was trapped by Dorothy Beck at Dungeness on the 21st and became the earliest British record ever. Some lucky entomologists were able to witness this beautiful moth after watching performing Vagrant Emperor dragonflies at the nearby Denge Marsh RSPB on the same day. The second Eastern Nycteoline of the year was again on Alderney (Channel Islands) on the 21st. Perhaps the rarest record of all was the pyralid moth Elegia fallax identified at Stubbington (Hants) on the 24th, which will be the first British mainland record. Interestingly this record also coincided with the peak numbers of Diamond-back Moths on the south coast. Inland a Dewick's Plusia at Ware (Herts) on the 27th was the second county record. In the far southwest Mick Scott's constant effort on St. Mary's (Scilly) paid off with a Levant Blackneck on the 29th. Also on the 29th was a Jersey Mocha at Bonchurch (Isle of Wight), which was the first spring record there.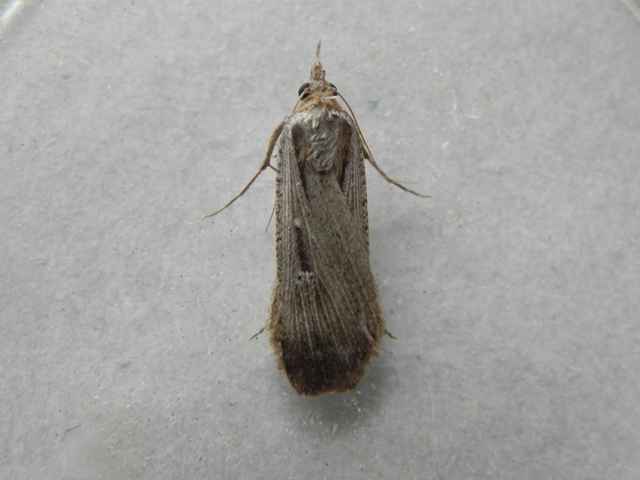 Levant Blackneck on Scilly, April 2011 (Mick Scott).
Migrant butterflies, on the other hand, were few and far between perhaps due to the time of year, though did include a few Clouded Yellows and small numbers of Painted Lady and Red Admiral. 'Under-pressure' residents such as Pearl-bordered Fritillary, Duke of Burgundy, Dingy and Grizzled Skippers all had excellent showings at many sites. A Swallowtail was seen flying out to sea from Alderney (Channel Islands) on 22nd April.
The prolonged dry period finally came to an end in early May. As a low pressure system moved across the eastern Atlantic towards Britain, a classic 'plume of humid warm air' moved up directly from northwest Africa and Iberia, resulting in thunderstorms and some heavy rainfall from the 5th. Conditions such as these are rare so early in the year and moth-ers across the south of England eagerly awaited the results.
First to show was a Silver-striped Hawk-moth at Walton Common (Somerset) on the 5th. Patch-worker Paul Chapman was delighted to add this impressive species to the North Somerset vice-county list.

Silver-striped Hawk-moth in North Somerset, May 2011(David Jackson).
Meanwhile, on the Isle of Wight on the same night, Britain's third Patton's Tiger was attracted to MV light at Freshwater; the following day another was found by a lady shopping in nearby Newport High Street! Fast on the heels of these, another Patton's Tiger at Portland Bill Bird Observatory on the night of the 6th was a first for both Portland and Dorset. The moth's range includes the mountains of northern Spain and southern France, so there may be a weather connection to the arrival of the male Rock Bunting photographed in North Yorkshire on 8th May. World-famous for its study of migrant birds, the bird observatory is also well placed as a base for exploring local Dorset habitats for butterflies, moths and other insects.

Patton's Tiger at Portland Bill, Dorset, 7th May 2011 (Martin Cade).
As pulses of heavy rain worked their way across southern England on the evening of the 7th, the excitement also moved east when a Purple Cloud was trapped by Barry Banson at Greatstone (Kent) that night. Nearby on the shingle at the Long Pits, Dungeness, two more Dusky Hook-tips were caught following one at Elham (Kent) the night before. A second spring record of Levant Blackneck was at Sholden near Deal (Kent) also on the 7th. Inland, a Many-lined was attracted to light at Eaton Ford (Beds) also on the 7th and was, not surprisingly, a vice-county first. Flame Wainscots were at Southsea (Hants) on the 7th and St. Margaret's at Cliffe (Kent) on the 9th. Derek Lee struck gold at Bracklesham (West Sussex) on the night of the 9th with a pristine Lunar Double-stripe, only the second county record.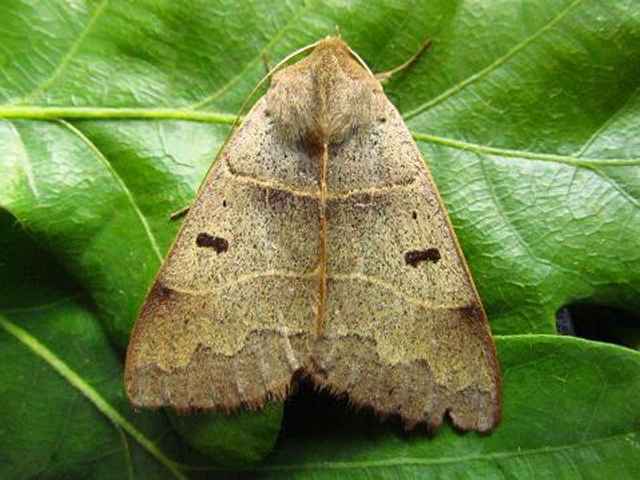 Lunar Double-stripe at Bracklesham, West Sussex, May 2011 (David Jackson).
Finally a Silver Barred was at Eastbridge (Suffolk) on the 9th, single Delicates were at Portland Bill (Dorset) on the 11th and on St. Agnes (Scilly) on the 12th, and a Hoary Footman was at Sandy Point (Hants) also on the 12th. With cooler nights and winds mainly from the west from mid-month, moth recorders will be taking stock of a busy year so far, getting their notes up to date and perhaps having a well-earned rest.
References
Waring, Townsend and Lewington. Field Guide to the Moths of Great Britain and Ireland. Revised edition, British Wildlife Publishing, 2009.
UKMoths online photographic guide