When we crested the final ridge on our journey up the mountain, the unfolding panorama took my breath away. It's difficult to convey the sense of looking down from 10,000 feet across a vast expanse of foothills and valleys to empty plains, desert and lakes beyond. In the unspoilt wilderness of western Mongolia there is nothing to interrupt this timeless view – no towns or roads, no pylon lines, no vapour trails in the sky. Nothing.

The arid landscape of the Altai foothills hosts a variety of rare and elusive species (Dominic Mitchell / www.birdingetc.com).
Nature has benefited from this remoteness. In this arid montane landscape – and in contrast to many other parts of Asia – vultures are a frequent sight, none more so than Lammergeier. We pause on our way uphill to admire a Cinereous Vulture on its nest, while a short time later another raptor, this time a Saker, powers past. Golden and Steppe Eagles also drift over these ridges and valleys at regular intervals, and Black-eared Kites are ubiquitous.
At the top, a seemingly inhospitable rocky plateau soon starts to give up its secrets. Horned Larks forage on the scree and Rock Sparrows flit among the boulders. I hear a plaintive, Dunnock-like call, and soon we are watching a Brown Accentor feeding on the spoil heap outside one of many small burrows. These are entrances to the subterranean dwellings of Pallas's Pika, a big-eared, hamster-like rodent which is actually more closely related to the rabbit family.
This landscape is almost unchanged since 18th century pioneers liked Peter Simon Pallas began to explore Asia. As Professor of Natural History at the Academy of Sciences in St Petersburg, the German ornithologist undertook two expeditions across the vast wilderness of his adopted Russia, reaching the westernmost fringes of Mongolia. In natural history terms it was a largely unknown world and his discoveries were legion, memorialised in a range of evocative and exciting species which bear his name, from Pallas's Gull, Pallas's Sandgrouse and Pallas's Rosefinch to a reed bunting, a brace of warblers, that diminutive pika and even a cat.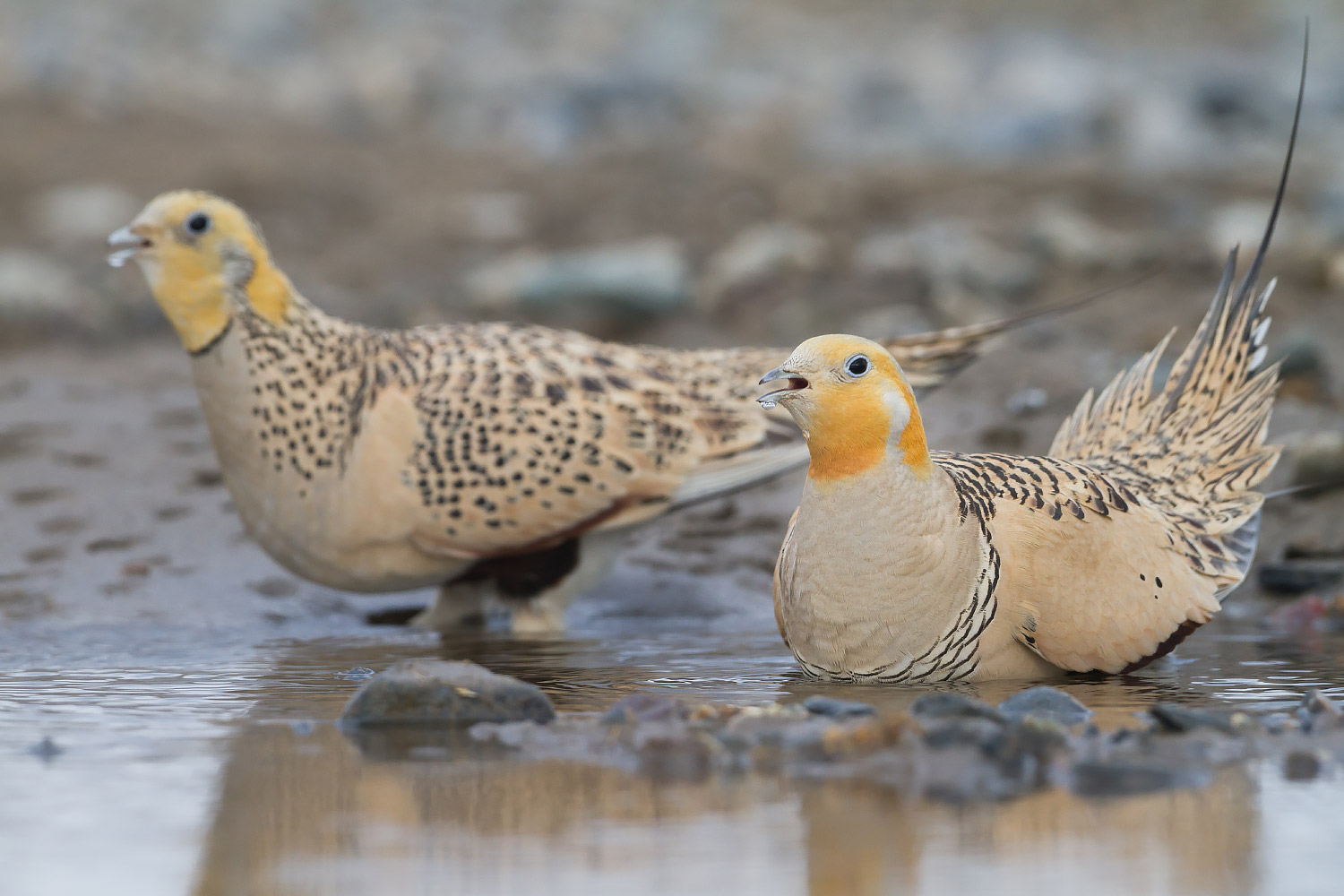 Several groups of the enigmatic Pallas's Sandgrouse were encountered during the trip (Ralph Martin / www.agami.nl).
On the prowl
Pallas's Cat occurs in the Altai foothills where we camped in western Mongolia, but the apex predator here is a very different feline. One of the most elusive of its family, Snow Leopard occurs patchily across mountain ranges in Central and East Asia, but is very rarely seen. Some encounters have been hard won in the freezing conditions of Ladakh, northern India, but the recent discovery of a more accessible Snow Leopard population in western Mongolia has opened up new possibilities. Coupled with the warmer climate – July and August are peak leopard season here – and some very special birds, the region has put itself firmly on the map.
And so we are here, scanning slopes and outcrops on our first full day in the mountains, hoping to catch a glimpse of this fabled feline. Birds are a constant but welcome distraction as we pan back and forth across the rocks: first a pair of Güldenstädt's Redstarts, and then five Altai Snowcock foraging among the stones. Raptors almost constantly drift in and out of view, too, no doubt scanning the slopes for an easy meal like a Tarbagan Marmot stranded far from its burrow.
Two of the group who had gone off to scan from the other side of our hilltop position returned with news of the first Siberian Ibex of the trip, so I went back with them to take a look at seven or eight animals foraging among the rocks far below. Where there are ibex there could also be Snow Leopard, so we scan more intently than ever. It feels like one could appear at any moment, but as the minutes and then hours pass by, and our eye muscles begin to strain, there's still no sign of the cat. Local horsemen have been helping us, too, riding up improbably steep slopes to scan from look-out points across the valley. But by late afternoon they are leading their animals carefully back downhill, a sign that the search is over, so we pack up our vehicles and head down towards their camp.
Moments after we arrive, however, a commotion breaks out. There is much shouting in Mongolian, and one of the horsemen grabs my telescope and runs. We run after him to a rocky outcrop above the valley behind the camp, and hurriedly put the scope up. There, on a grassy ledge far below, the search comes to an end: there is a Snow Leopard in full view. Even at this range the animal looks big, with a powerful head and a ridiculously long tail which it flicks periodically, like a huge, pale domestic cat. It is curled up initially, probably having just fed on a kill say our guides, but it then stretches right out, as if to show us just how long and athletic it really is. Amazingly the leopard stays put, surely knowing we are there watching it, but at a safe and untroubling distance.
Eventually we pull ourselves away from this amazing spectacle and head back down the mountain in the late afternoon sun back to camp, elated with this incredible experience. We are fortunate: few ever see Snow Leopard in the wild, let alone hit the jackpot at the very first attempt.

One of the world's most sought-after mammals, the elusive Snow Leopard is a highlight of western Mongolia. Barely seen in the wild, the group was lucky enough to find one on their first attempt (Hermann Brehm / Ecotours Wildlife Holidays).
Famous five
While this ghostly cat may be the headline act, the country has many other exciting mammals. The subtitle to this tour was the 'Mongolian Big 5', the most notable other possibilities being Saiga Antelope, Przewalski's Horse, Argali sheep and White-tailed Gazelle. We succeed with them all, and indeed many other mammals too, yet finding these species never seemed to be at the expense of birding opportunities.
The mountains produced their best birds at higher elevations but there was plenty to see elsewhere, from numerous flocks of Mongolian Finches, Isabelline Shrikes seemingly everywhere and Isabelline Wheatears even on the roof of my ger every morning to Upland Buzzard, Hill Pigeon, White-winged Snowfinch, Grey-necked Bunting and much more in the valleys nearby. At times we headed down through the foothills to the plains, tracking down the enigmatic Mongolian (or Henderson's) Ground-Jay, encountering several groups of the sought-after Pallas's Sandgrouse, and visiting steppe lakes where White-headed Duck, Red-necked Stint and Pallas's and Mongolian Gulls were among the many highlights.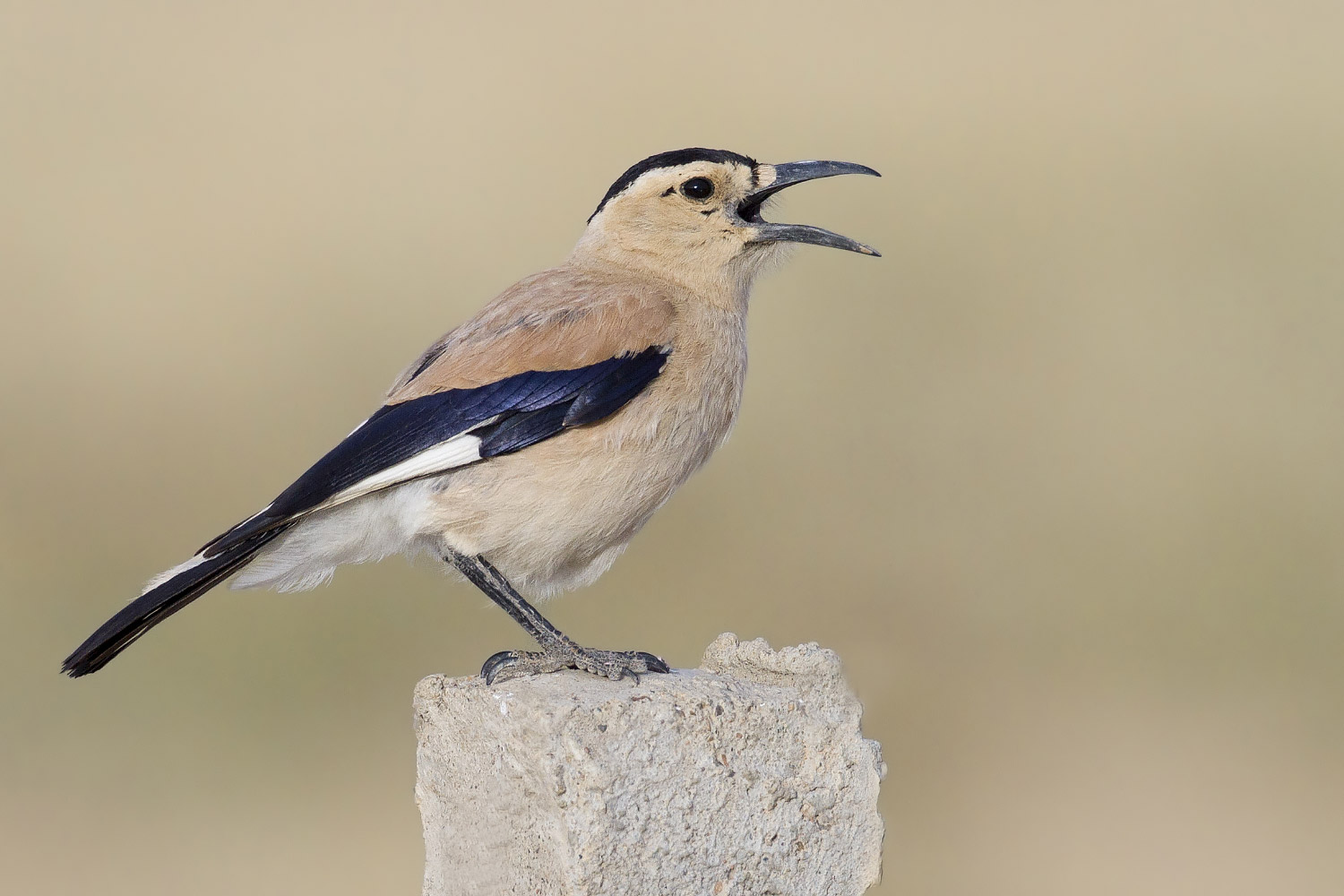 Henderson's Ground Jay is a must-see species that the tour scored in Mongolia (Dubi Shapiro / www.agami.nl).
Back in the centre of the country, where our memorable journey started, we were never out of sight of exciting birds – even in the capital, Ulaanbataar. Pacific Swifts zipped across urban skies while riverside vegetation close to the city centre produced the likes of Daurian Redstart, Azure Tit and the only Chestnut Bunting of the trip. On the outskirts, open woodland by another river gave us great looks at breeding Amur Falcons, while 'true' Azure-winged Magpies (those in Portugal and Spain now being split as Iberian Magpie) foraged under trees nearby. An initially unpromising series of pools and wasteground in the same area held Asian Short-toed Lark and, amazingly, a Yellow-breasted Bunting – a species in catastrophic decline globally, and not one we had expected to see in Mongolia, especially in such marginal habitat.
Striking out towards Gorkhi Terelj National Park, we added the likes of White-crowned Penduline Tit and Long-tailed Rosefinch, while in the park itself Two-barred Warbler, Taiga Flycatcher, Pine Bunting and a ridiculously tame juvenile Lammergeier added further diversity. In the vast steppes and hills of Hustai National Park at the end of the trip, Demoiselle Cranes and Mongolian Larks proved to be roadside birds, while the raptor line-up was augmented by Lesser Kestrels and yet more Amur Falcons. This was also where we saw Przewalski's Horse, the last surviving form of wild horse, now well established here through successful introduction after the species died out in the wild.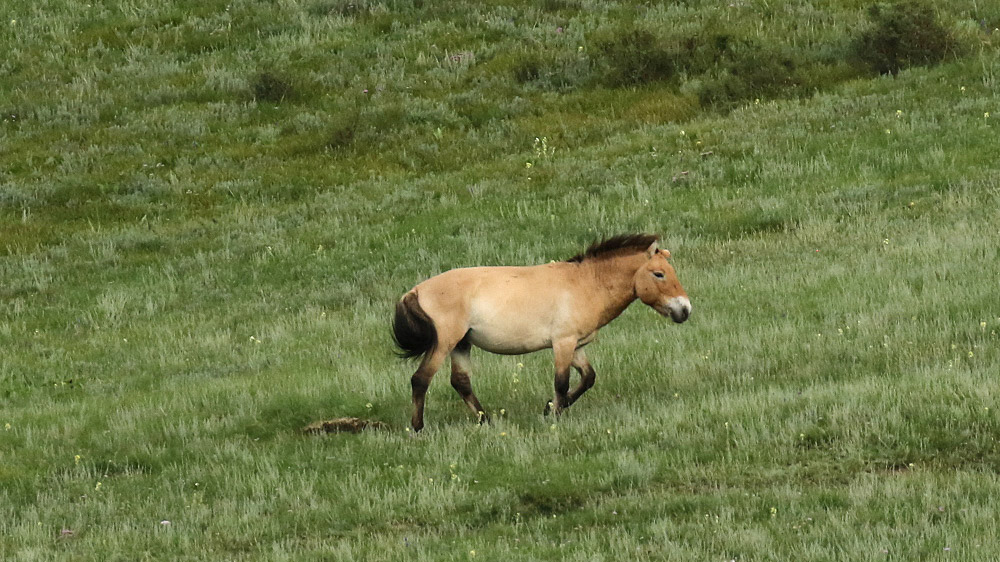 The rare and endangered Przewalski's Horse has been reintroduced to its native habitat in Mongolia (Dominic Mitchell / www.birdingetc.com).
Before beginning the long journey home from Mongolia we reflected on what had genuinely been the trip of a lifetime. No one would ever forget the experience of seeing a Snow Leopard, but equally this was about so much more than finding one rare mammal, however iconic that species might be. To spend time in Mongolia is also about the vast, empty landscape, the abundant raptors, the ground-jays, shrikes and 'Sibes', the wild horses and wild spaces, the very sense of a land and experience lost forever in so much of the rest of the world.
Acknowledgements
Special thanks to Balazs Szigeti, Attila Steiner and István Péntek and Ecotours Wildlife Holidays (http://ecotourswildlife.co.uk/).
MONGOLIA
Visiting
The next reader holiday to Mongolia will take place from 3-12 August 2019. For full details, click here.
There are various flight options (with connections) to Ulaanbataar from London, and from elsewhere in Europe. More general tourist information can be found at www.mongolia.travel, and visa information is available here.
Books
A new Helm Field Guide to the birds of Mongolia is currently in preparation and due for release in late spring 2019. Until then the most useful field guides are:
Birds of Central Asia by Raffael Ayé, Manuel Schweizer and Tobias Roth: buy from £31.99 (SRP £35) at https://www.birdguides.com/store/bookshop/books/birds/birds-of-central-asia.
Birds of East Asia by Mark Brazil: buy from £31.99 (SRP £35) at https://www.birdguides.com/store/bookshop/books/birds/birds-of-east-asia/.
Obtainable locally is the useful Birds Mongolia: an Annotated Bird Checklist, compiled by S Gombobataar and D Bayanmunkh, and published by Mongolica Nature Guides (info@mongolica.org).
Resources