A new study published in Forktail, the journal of the Oriental Bird Club, has concluded that Masked Finfoot could become Asia's next avian extinction if its remaining populations are not afforded adequate protection.
Masked Finfoot is a secretive and poorly known waterbird, thinly distributed from north-east India and Bangladesh east to Vietnam, and south to Sumatra and Java, Indonesia. It was formerly found widely across its range, yet recent records are few and far between.

Formerly widespread across South-East Asia, Masked Finfoot is now extremely rare and localised (Sayam Chowdhury).
As with many other riverine species, habitat loss and disturbance are the most significant threats to Masked Finfoot. Low-lying, forested wetlands are under immense pressure from human activities across South-East Asia, and many have been cleared.
The species was uplisted from Vulnerable to Endangered in 2009 because rates of population decline were realised to be higher than previously assumed, owing to destruction and disturbance to forested, riverine habitats and, to a lesser extent, hunting and collection of eggs and chicks. At that time, BirdLife International estimated that the global population was 600-1,700 mature individuals.
With habitat loss continuing and finfoot sightings on the decline, Sayam Chowdhury and his colleagues set out to provide an updated estimate of the world population and identify conservation and research needs. To do so, they compiled and summarised all recent population data, using this to update information on the species' ecology, movements and population estimates in all countries across its range.
Shockingly, their conclusion was that Masked Finfoot's global population amassed to as few as 108-304 mature individuals, scattered across a handful of small subpopulations. A significant proportion of these were located in the Sundarbans, Bangladesh, with smaller remnant populations in Cambodia, Laos and Myanmar – although significant habitat destruction has taken place in the latter nation and it hasn't definitively been seen there for several years.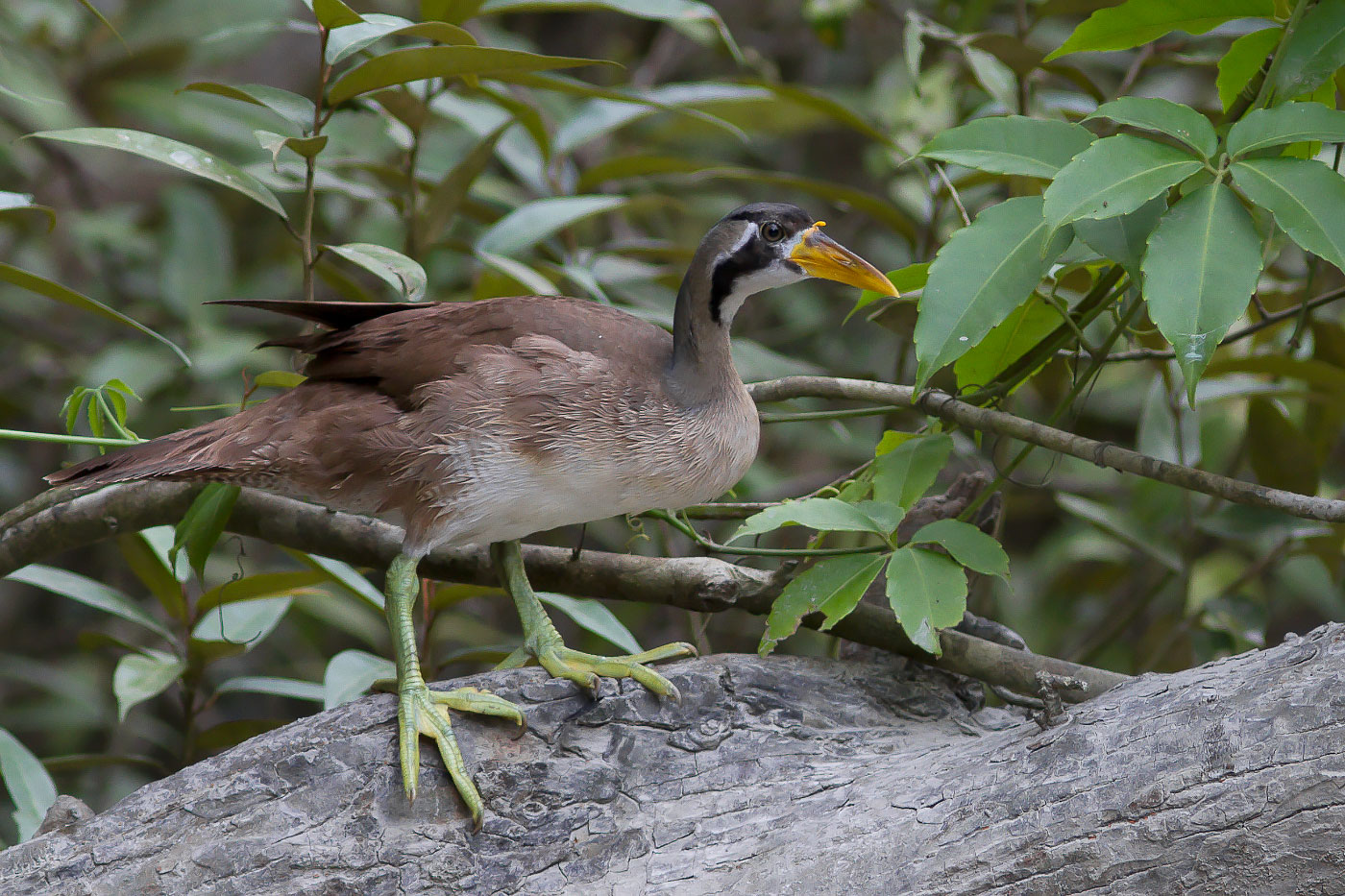 The Sundarbans in Bangladesh is now the only location with a sizeable finfoot population, but even here they are declining rapidly (Sayam Chowdhury).
Across its range, the finfoot appears to still be declining. In Bangladesh, where the species has been most intensively studied, there has been a 36% drop in the number of nests in only seven years of consistent surveying. An increase in sightings in Cambodia appears to be an artefact of increased survey efforts at its only known site. There have been no confirmed sightings in Indonesia for more than a decade, while observations in Thailand and Malaysia have decreased substantially, despite increased observer effort.
At present, the two known breeding populations of Masked Finfoot occur in protected areas. However, even here, the hunting and collection of eggs and chicks, clearance of forested riverine vegetation, the accidental entanglement of birds in fishing nets and the use of poisons during fishing pose serious threats for the species.
The researchers conclude that this worrying trend means that Masked Finfoot now qualifies for Critically Endangered status, and that significant action is needed in its key areas. For example, limited or no access should be granted to these during the breeding season, while the restriction of gillnet use is also recommended. Large-scale education and outreach campaigns on the global importance of Masked Finfoot and its habitats, targeting local communities, may also help minimise opportunistic hunting or accidental catching of the species.
Reference
Chowdhury, S U, Yong, D L, Round, P D, Mahood, S, Tizard, R, & Eames, J C. 2020. The status and distribution of the Masked Finfoot Heliopais personatus – Asia's next avian extinction? Forktail 36: 16-24.
The Oriental Bird Club is for birders and ornithologists around the world who are interested in birds of the Oriental region and their conservation. Find out more at www.orientalbirdclub.org.