I have been a birder for some 30+ years now and a ringer for seven years. I have been involved with darvic-ringing Mute Swans in Christchurch Harbour, ringing on Solent and Sheppey colour-ringing waders and darvic-ringing gulls with the North Thames Gull group.
West London is not the most productive birding area and, in my birding days, I did twitch rare birds but rarely do these days. But, in September I fancied a day out birding on the coast and a Short-billed Dowitcher at Lodmoor gave me the excuse to head that way. This is the bit I hate about going to see a specific bird: we stood there, minus the bird, for more time than was probably worthwhile. Like many birders who have been to the US, I've seen this species there in large numbers, and I began to wonder about the merits of trying to see a new bird in the UK. Boredom set in and we started looking for birds with darvics. Over the next few hours, either side of a visit to Portland Bill, we managed to read a number of darvics: a Sandwich Tern from the Ythan Estuary; four Mediterranean Gulls — two from France, one from Holland and another from Hungary; one Black-headed Gull from Holland and another from Poland; and two Mute Swans that we assumed had been rung locally at Abbotsbury and were probably of little ornithological interest.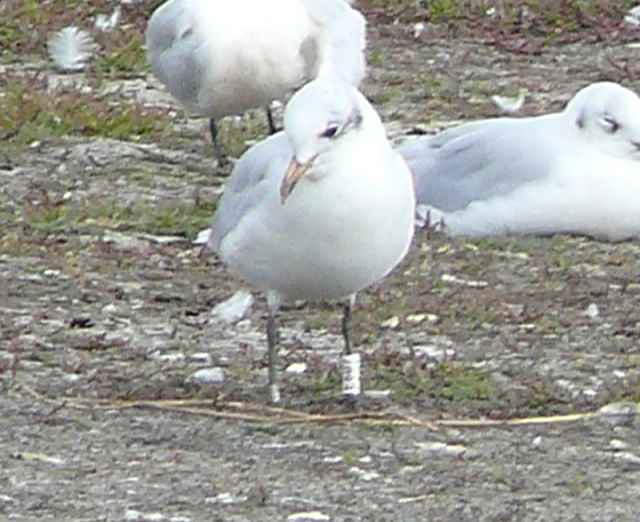 Mediterranean Gull ringed on 22nd June 2011 in the Netherlands (Chris Lamsdell).
Content continues after advertisements
We did manage to see the Short-billed Dowitcher late afternoon and headed off home reasonably happy. At home, we submitted the darvic combinations to the various project co-ordinators after tracking them down through http://www.cr-birding.org/, and over the next couple of weeks got the results back. Surprisingly, the most interesting outcome was not the array of foreign gulls but one of the Mute Swans, which turned out to be 'Z56038', originally ringed on 20th August 1984 — that made it 28 years and 20 days old, just pipping the UK Mute Swan longevity record — previous held by Z45484 at 27 years 6 months 27 days old — by a little under six months!
So next time you are out, waiting for the rarity or just out birding, log those darvic or colour ring combinations, go to http://www.cr-birding.org/, track down the project co-ordinator and email them with your sighting. And, if you are a project co-ordinator, respond quickly as people are keen to find out where their bird is from!