Peter Denyer spent the spring volunteering at Denmark's premier migration watchpoint, Skagen Bird Observatory. Here he shares excerpts from his regular diary, which he hopes will inspire other birders, conservationists and ringers to consider following in his footsteps and volunteering at the observatory in future seasons.
5 May 2018
Hello everyone and greetings from Skagen Bird Observatory. I've been here just under a month now and it's proved to be a fantastic experience so far. Raptor migration has been the main event, with hundreds of Common Buzzards, more than 20 Rough-legged Buzzards, over 15 Red Kites, assorted Hen and Marsh Harriers and a sprinkling of Pallid Harriers, White-tailed Eagles, White Storks, Black Kites and various falcons going through – often in such numbers on a single day!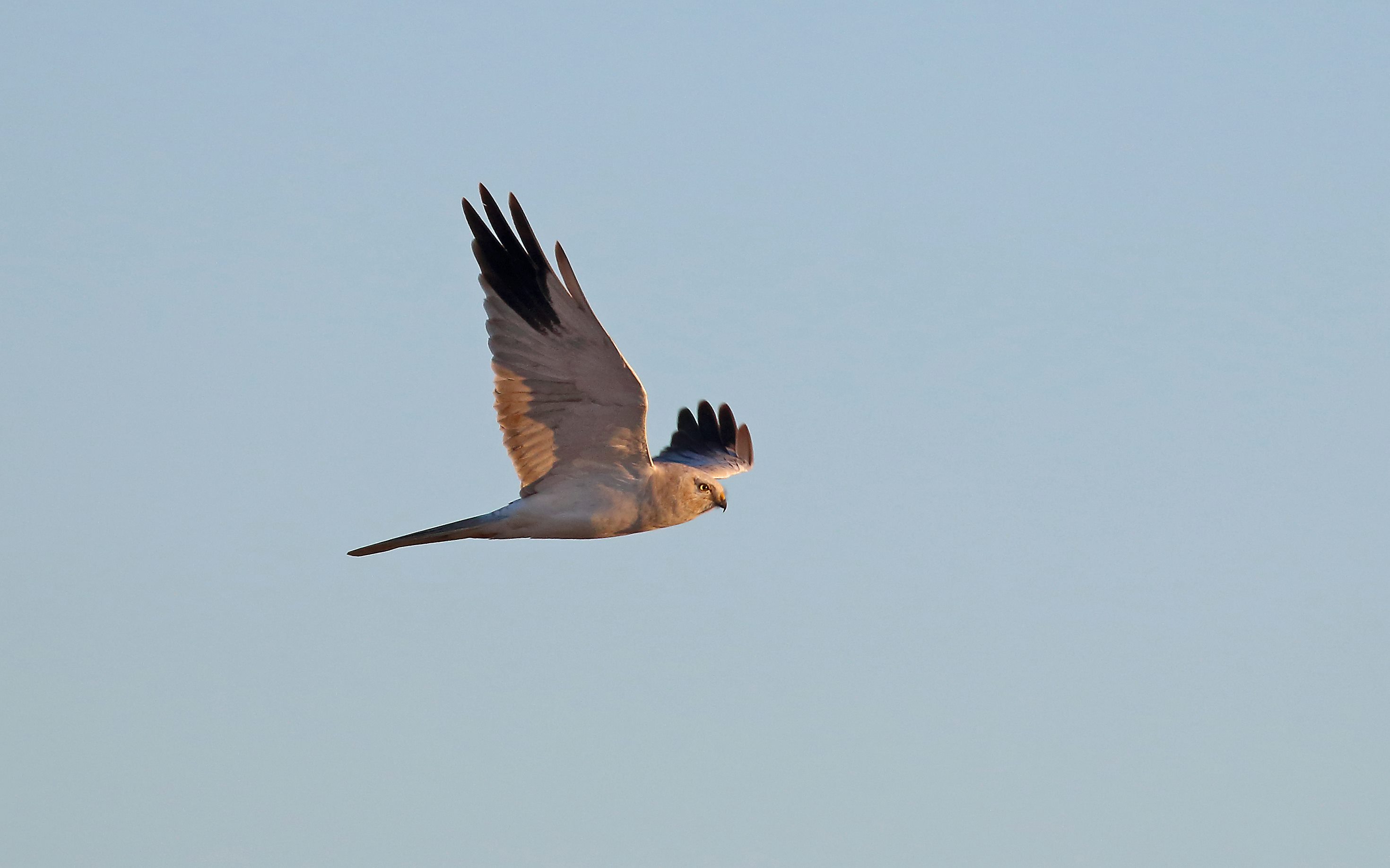 A male Pallid Harrier moves through in spring (Skagen Bird Observatory).
The storks and Black Kites don't go any further north than Skagen if they can help it, but the others are generally pushing through towards Sweden, Norway and Finland. According to observatory staff, it's been a record year for male Pallid Harriers, although I wouldn't know – an astounding run of poor luck has seen me miss about a dozen of the species, at least seven of which were adult males. Other birds on the 'dip list' include multiple White-billed Divers and a Lesser Spotted Eagle!

Migration in action over Skagen Bird Observatory. Can you spot the White Storks among the Common Buzzards and Eurasian Sparrowhawks? The White-tailed Eagle and Black Kite that passed over in the same movement are not pictured here (Peter Denyer).
That said, I did enjoy great views of a first for Denmark this week: a male Yellow-browed Bunting, which was found in a Skagen garden. We also saw two Citrine Wagtails in the same place two days running. Ringing is starting to pick up pace, with several Common Redstarts, Pied Flycatchers and an acredula Willow Warbler ringed in the past two days. Breeding birds have yet to arrive, but when they do I can expect to see (or at least hear) Icterine and Marsh Warblers, Red-backed Shrike, Common Crane and many others during my daily routines. One of our weekly projects is to monitor a Great Cormorant colony, which shares a lake with four breeding pairs of Red-necked Grebes, which are a real treat. It's also had me looking at cormorants in a different way, especially as these are all of the Continental subspecies sinensis.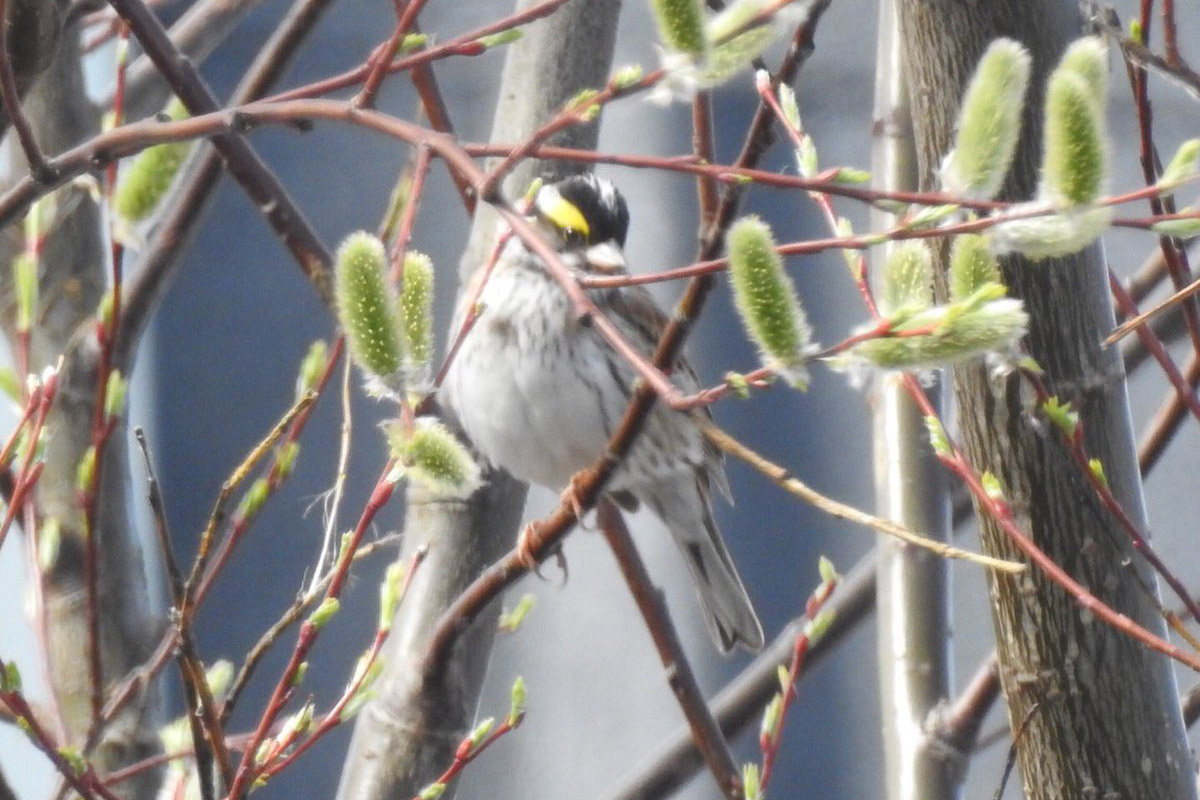 Yellow-browed Bunting – a new species for Denmark found at Skagen on 28 April (Peter Denyer).
If you're interested in keeping up with events here, the observatory has a Facebook page (facebook.com/Skagenfuglestation) on which I have posted many videos and photos of weekly encounters and various project updates. Please do give us a 'like', or alternatively head to the observatory website.
This week sees the 'Battle of the Towers', when sites across Scandinavia compete in a bird race with a difference – obtaining the highest number of species from a stationary site during a single day. As Skagen is on a migration route, we often do quite well, especially as passage is just kicking in right now, so I look forward to taking part in that. Not long after is the annual bird festival, which promises to be just as exciting – if in a different way.
Content continues after advertisements
19 May 2018
Having taken a hiatus from writing for a bit, it's now a week after the annual bird festival, a small event compared to the more famous one at Rutland Water, but full of enthusiasm and good birding all the same. We had Black Kites over the observatory itself, along with White-tailed Eagle, and Rough-legged, Common and European Honey Buzzards. An Icterine Warbler sang in the observatory garden for a while and a Red-backed Shrike briefly took up territory just up the road. And, on the final evening of the festival, a probable Iberian Chiffchaff was discovered just 40 minutes south, which led to a lot of people, myself included, making a mad dash for it before the closing barbecue. We missed most of the food but got good views of a very good Iberian candidate, though we'll have to wait for DNA confirmation.
On the ringing side, things are a little slow, though we're now seeing a lot of breeding birds in the nets, complete with brood patches and cloacal protuberances. I was also treated to not one but two of my dream bird in the hand: Hawfinch!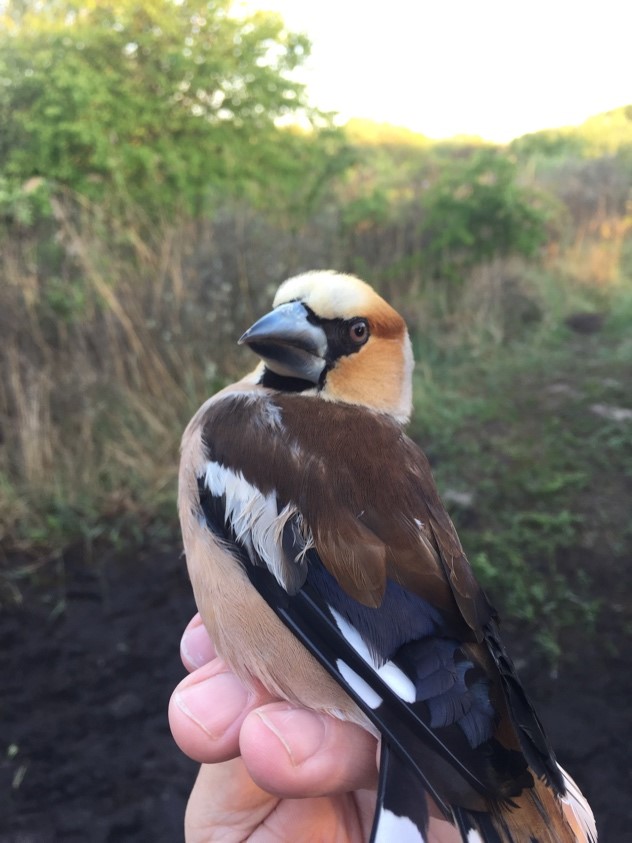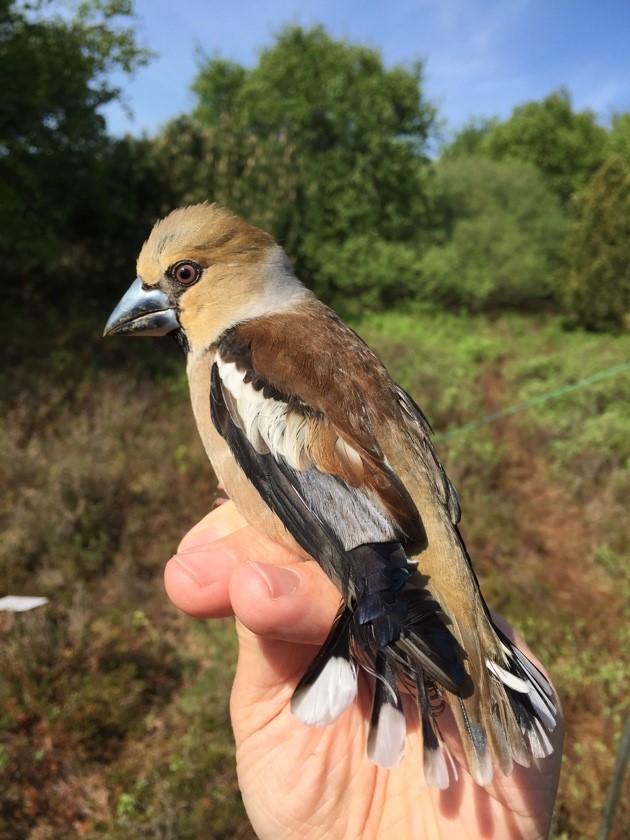 Adult male (left) and first-summer female Hawfinches in the hand (Peter Denyer).
I'm continuing my project with the cormorant colony. The number of occupied nests has now risen to almost 150, and the sight, sound (and smell!) is amazing. The Red-necked Grebes have also started nest building, making small floating platforms out of pondweed around the base of the cormorant nests. Fingers crossed I'll get to see some stripy-headed juveniles in a few weeks' time.
At the time of writing, having yet again been too busy to continue with this for a few days, I am preparing to run the ringing site on my own for a few days at the weekend. The other members of the observatory are heading down to a ringing conference (alas all in Danish) so I'll be in charge of all the day-to-day business of the bird observatory. An exciting weekend lies in store!
28 May 2018
The weekend came and went. I'm still alive and, better yet, we had a pretty exciting ringing day on Saturday, with 97 birds processed including 11 Pied and two Spotted Flycatchers, half-a-dozen Icterine Warblers, three Marsh Warblers, a Common Cuckoo and a Red-backed Shrike as the highlights among Common Redstarts, Garden Warblers, Yellowhammers and so on. Alas a fox has visited our cormorant colony, so it seems that project will come to a premature end, but we'll keep plugging away until the birds give up, and hopefully the Red-necked Grebes will have some success.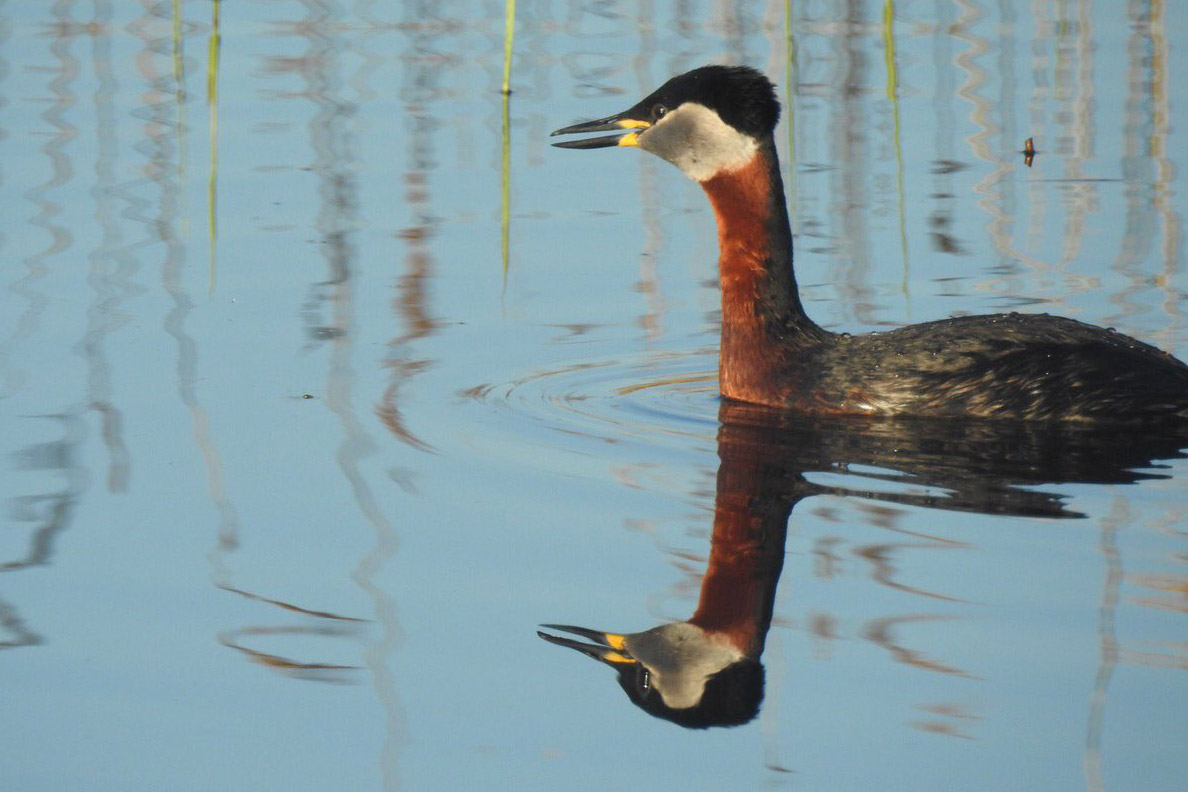 The Red-necked Grebes give fantastic views on their breeding lakes at Skagen (Peter Denyer).
There's been a huge influx of Rosy Starlings in Europe, so fingers crossed I'll catch up with one soon, or better yet, catch one in a net. Common Rosefinches have been very regular this year, and we've seen many flying over or sitting in the net lanes, taunting us with their songs, only a few metres away.
European Honey Buzzards have picked up in numbers, with at least 600 over in two days, often very low overhead. Red-footed Falcons have moved through in good numbers, with around 50 reported in the past two weeks.
There's plenty more I've done here that I've barely scraped the surface of in these diaries. It's been a fantastic experience here at Skagen this spring. For now, have a great summer.
Click here to find out more about being a volunteer at Skagen Bird Observatory.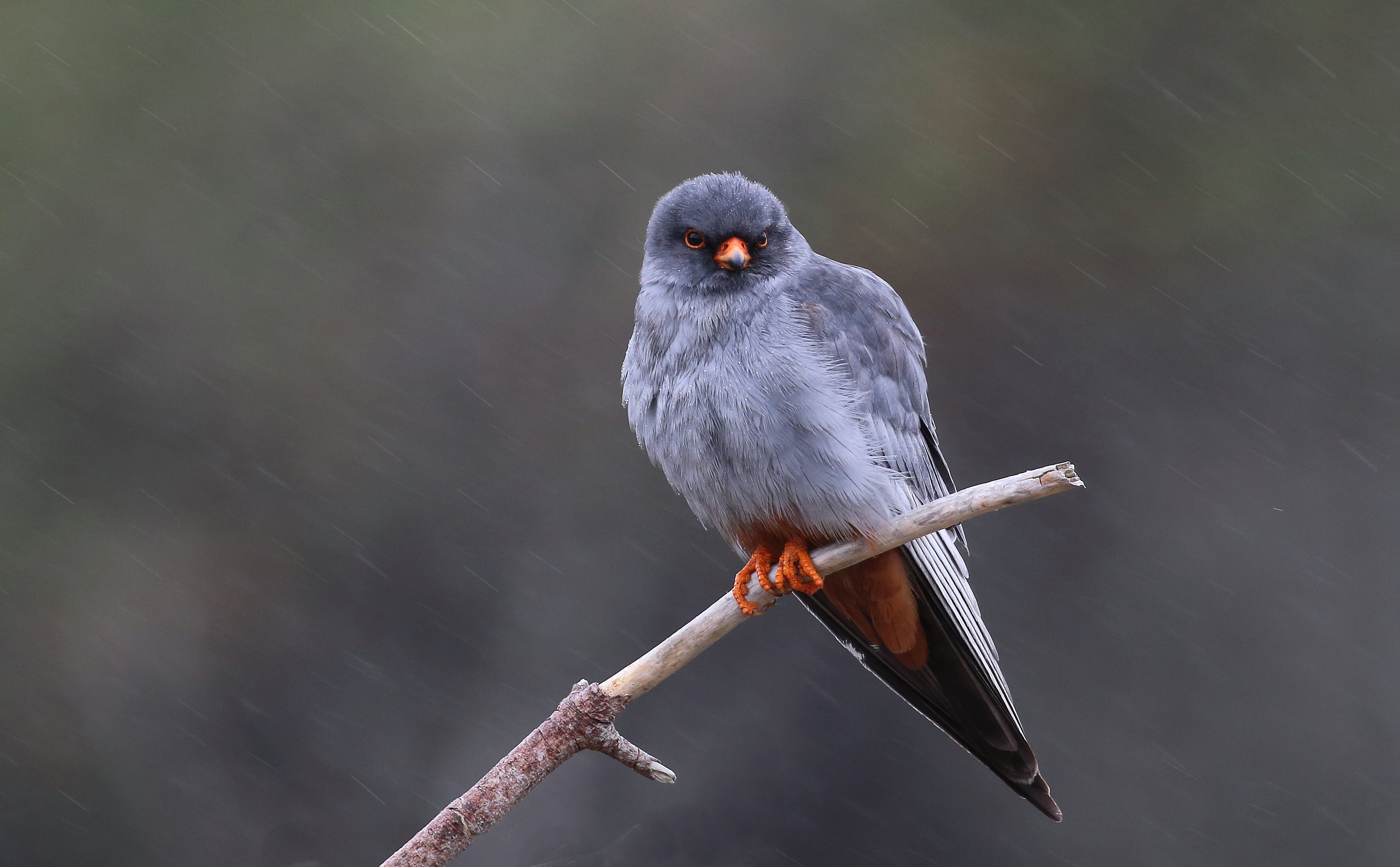 Male Red-footed Falcons are always a highlight in spring (Skagen Bird Observatory).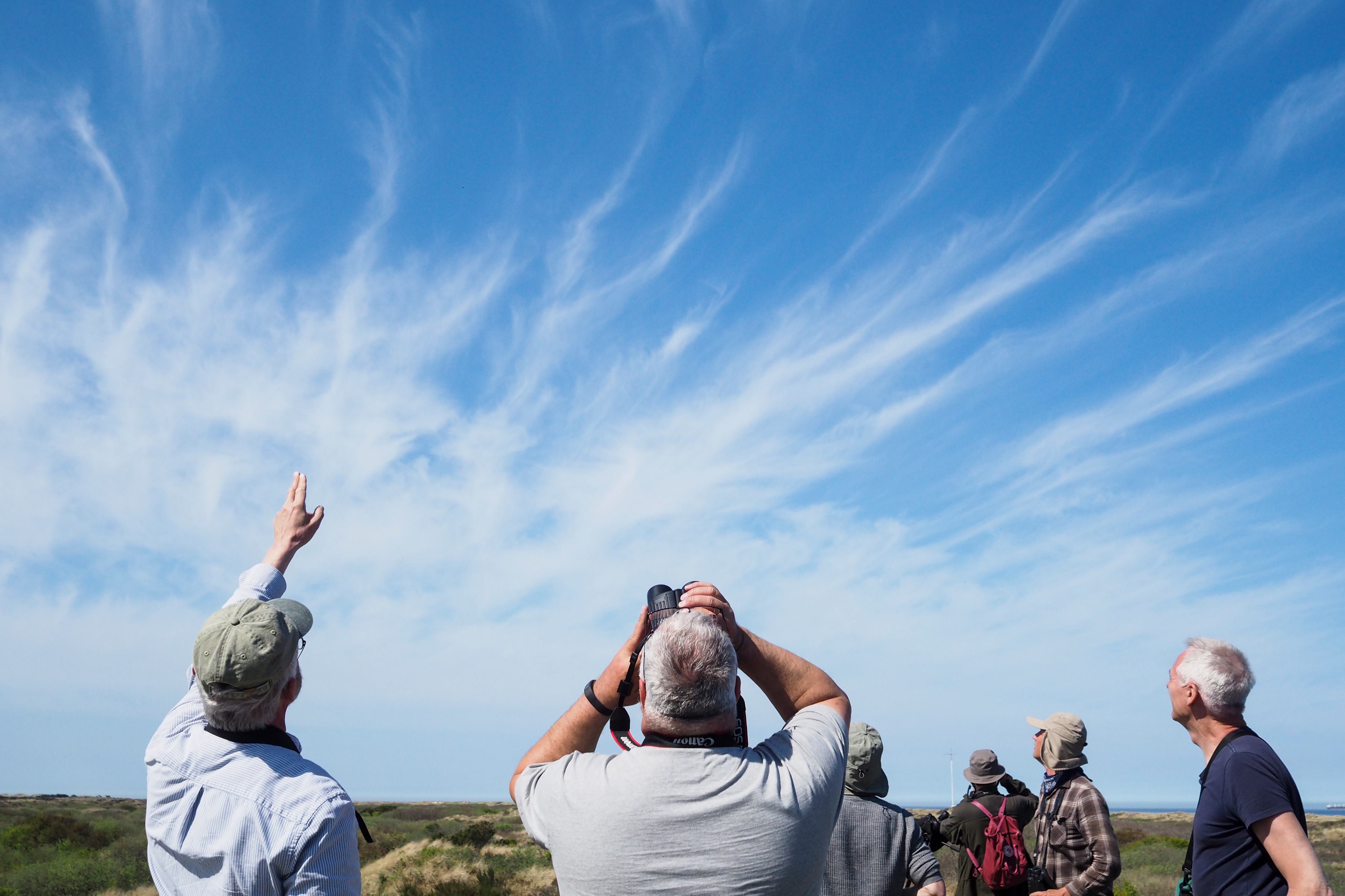 Watching migrating raptors over Skagen (Carsten Krog Pedersen).