An immature Lesser Moorhen was discovered on the outskirts of the city of Olot in Catalonia, Spain, on Thursday 23 January, part of a rich run of Afrotropical vagrants to be recorded in the Western Palearctic in early 2020. Pere Baucells Colomer was one of just four birders to see this extreme vagrant, and takes up the story:
I received a call from my brother Jordi just as I took my lunch break on 23 January. Amazingly, he had been told that a Lesser Moorhen had just been found in Olot! Adrià Ferrussola, who works at the sewage treatment plant near the town, managed to catch the bird. After a while, he released it close to the sewage works and sent my brother the news. Given these circumstances, we assumed the bird would be in poor condition and quickly went there to try and capture it again, so that it could be taken to a vet centre.

We found the bird in a flooded grass field close to the bushes where Adrià had left it. But, surprisingly, the bird seemed quite healthy, so we stayed to watch it and take some photos. When a Eurasian Sparrowhawk flew overhead, it became nervous. Suddenly it flew about 25 m to a forest with dense understory and was lost to view. We tried to relocate it because other birders had arrived, but it was never seen again.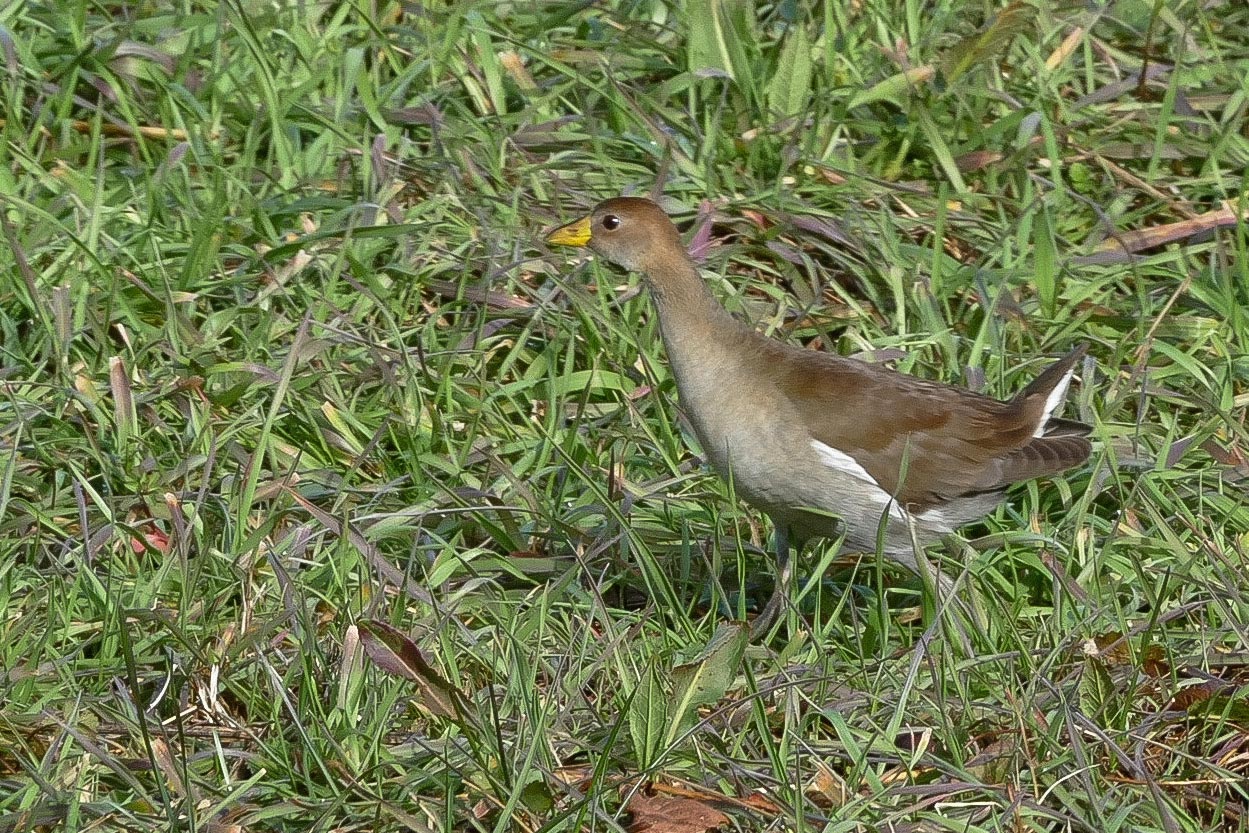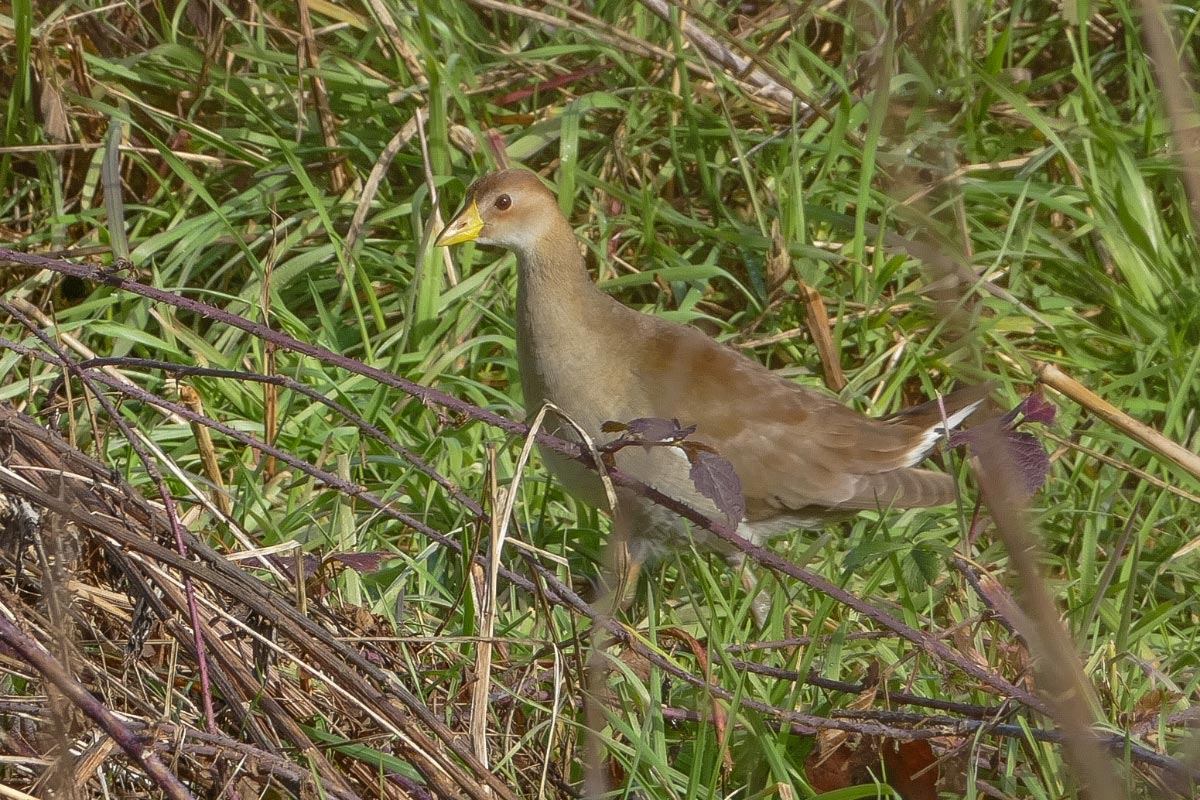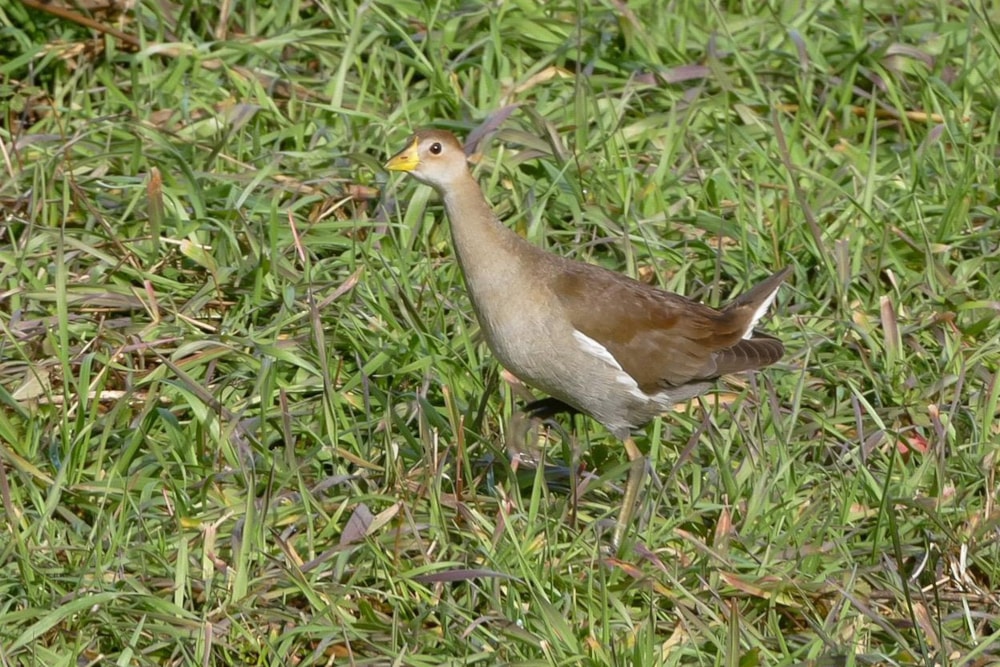 Immature Lesser Moorhen, Olot, Catalonia, 23 January 2020 (Pere Baucells Colomer).
Amazingly, the Olot bird was one of two individuals found in Spanish territory in the space of a little over a week, with another immature seen to crash into a building on Lanzarote, Canary Islands, on 15 January. This bird was taken into care, where it recuperated enough to be successfully released several days later. These two individuals represent the third and fourth records for Spain, following a first-winter taken into care on a boat at sea off Laxe, A Coruña, on 5 February 2000 and another taken into care at Algeciras, Cadiz, on 10 March 2003. Both of these previous individuals died shortly after discovery.
Lesser Moorhen has experienced a sudden and rapid upturn in its occurrence in the Western Palearctic over the past year. There have now been a total of eight WP records, with no fewer than five of these occurring since the beginning of 2019. Three records in 2019 all came from Cape Verde: immatures on Santiago on 24 February and Sal from 5-9 March, followed by an adult on Boa Vista on 24 July.
Evidently there is every chance of this species making it even further north than northern Spain. With three records of Allen's Gallinule from Britain, could Lesser Moorhen be a species that might also one day be recorded here?