Despite doing a lot of travelling in recent years, I have seriously neglected Scotland, where I spent so many happy days when I was younger. I was therefore delighted when friends David and Jean Hosking invited my wife and me to spend some time in their home, Lutra House, on Jura.
The drive to Kennacraig on the Mull of Kintyre was in itself exhilarating. We had stopped off overnight to stay in Troon and as dawn approached we could see the island of Arran shrouded in mist and covered in frost. The cold but bright weather continued and although birds were not immediately apparent the scenery was stunning with snow-covered mountains and still and very serene lochs.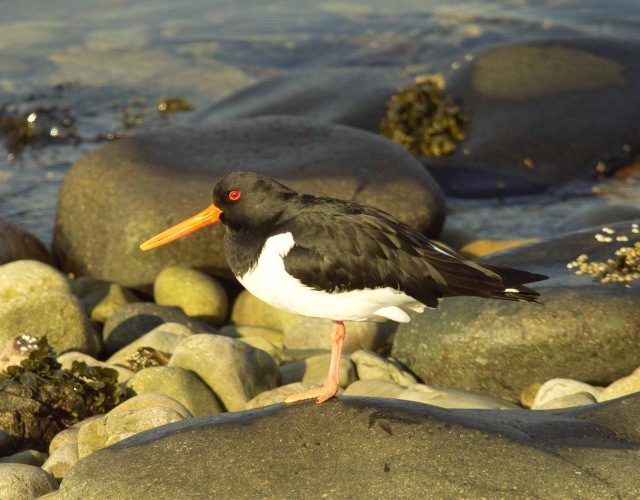 Oystercatcher (photo: Derek Moore).
On arrival at Kennacraig where we were to catch the ferry to Port Askaig on Islay we immediately found a number of Black Guillemots, a species not common outside of Scotland. They do seem to favour small harbours with rocky surrounds and a pair or two kept us amused until we were ready to board.
As we cruised out of West Loch Tarbet into the Gulf of Jura there was much to see, including rafts of divers, where Great Northerns outnumbered the smaller and sleeker Red-throated; a single Black-throated Diver was also noted amongst the throngs. A few Razorbills and Guillemots were also present together with Red-breasted Mergansers.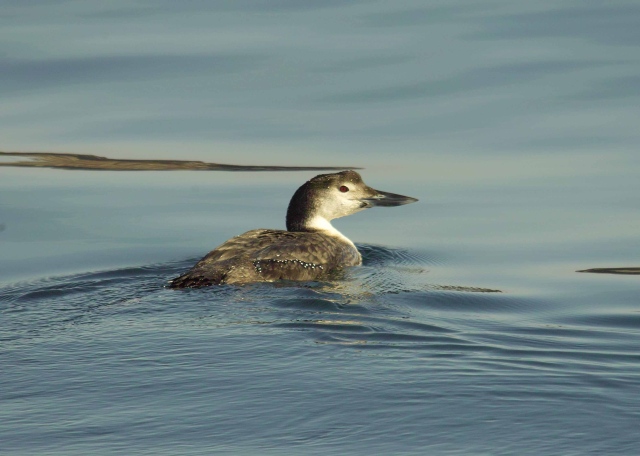 Great Northern Diver (photo: Derek Moore).
On arrival at Port Askaig we had to disembark and then immediately load onto the smaller ferry to Jura. Still the sun shone and reflected gloriously off the harsh but beautiful snow-covered landscape. Thereafter we had the most amazing week.
Jura is a great contrast to neighbouring Islay. Whereas the latter is relatively flat and well-populated, Jura is mountainous, with the famous three Paps of Jura towering above the landscape. Access is restricted, especially during the autumn deer-stalking season, but there is a road running roughly northeast that allows considerable exploration.
The first thing that is striking is the plentiful numbers of Red Deer and how easy they are to approach despite considerable hunting pressure. The second is that all the crows here are Hooded Crows and they are numerous on the islands. There are many places where you can park close to the shore and at this time of the year there are groups of Oystercatchers, Ringed Plover and Redshank. The biggest surprise on the shore is the number of Song Thrushes feeding amongst the seaweed. Sightings of Otters are also regular, but we were not fortunate on our visit.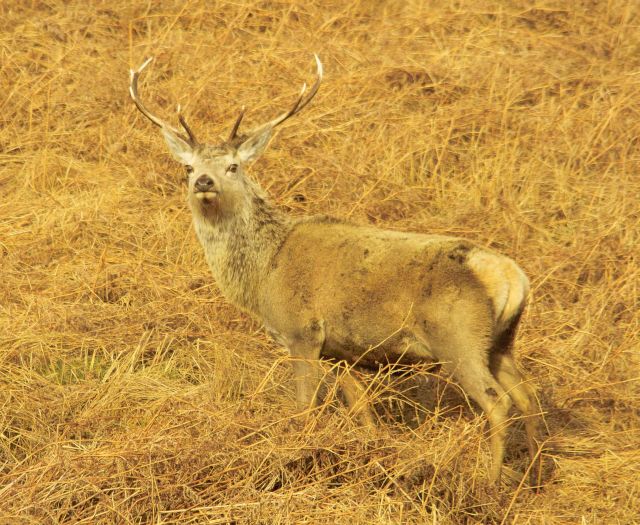 Red Deer (photo: Derek Moore).
Craighouse Harbour was another fruitful site. By walking along the pier we got excellent views of Great Northern Divers and a wonderful flock of Eiders that were feeding on crustaceans apparently discarded by a fishing boat. Further along the coast, an evening visit to a large secluded bay got us very close to a large assembly of Common Seals.
Content continues after advertisements
The sheltered channel between Jura and Islay is worth checking out for Red-breasted Mergansers and Black Guillemots, and on one occasion we discovered a small group of Pale-bellied Brent Geese. One unusual feature of the rocky cliffs was the small groups of Wild Goats that roam the island. The moorland was not inviting, being covered in snow, but we saw a few Buzzards and a superb male Hen Harrier.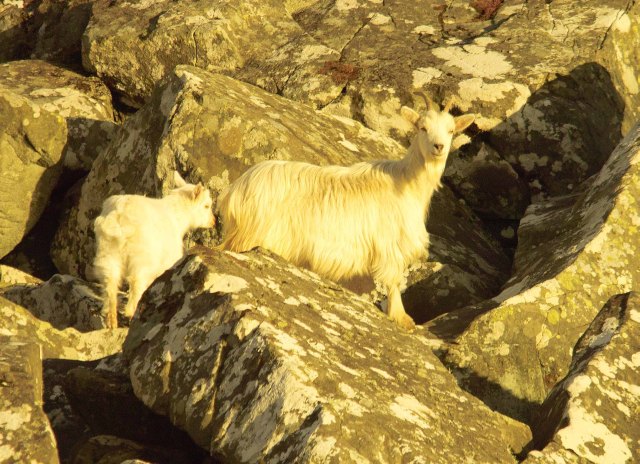 Wild Goat (photo: Derek Moore).
On a couple of occasions we crossed to Islay. The wild geese here are a major feature and it was not long before we came across good flocks of Barnacle Geese and a surprise single Pink-footed Goose. We were heading for the RSPB Reserve at Loch Gruinart and here we found more geese, which included some good-size flocks of Greenland White-fronted Geese.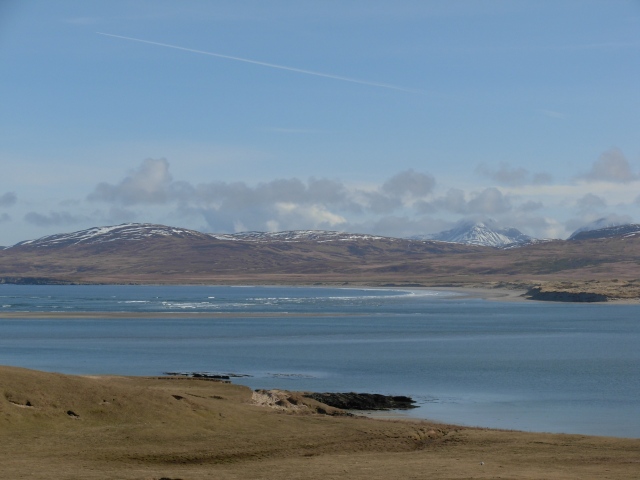 Loch Gruinart RSPB reserve (photo: Derek Moore).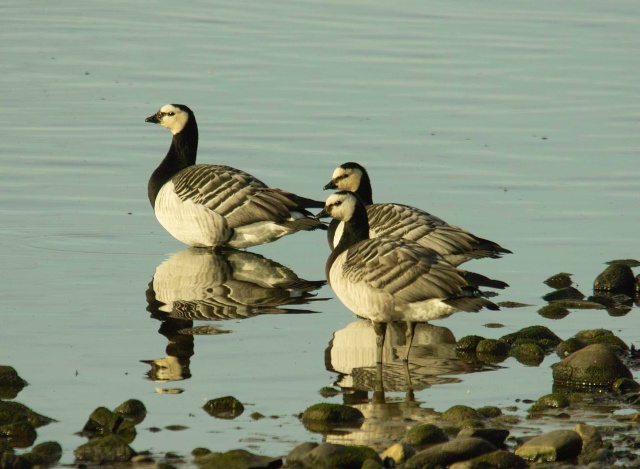 Barnacle Geese (photo: Derek Moore).
We continued along the northern shore of the Loch to Ardnave Point. Here we parked up and spent a wonderful hour walking on a sandy shore with large flocks of Turnstones and Sanderling and geese flying continuously overhead. Returning to the car we scanned the small loch and discovered Goldeneye and a group of Whooper Swans. It was in this region we too located what seemed to be genuine Rock Doves.
We also parked up by Loch Indaal where we located more Great Northern Divers and Red-breasted Mergansers. There was also a chance here to visit a few whisky distilleries and a fabulous Tweed Mill where a Grey Wagtail was very predictable. I should add that the Jura whisky turned out to be my favourite.
Our visit was too short to explore further and we departed from Port Ellen on Islay back to Kennacraig. We were so fortunate with the outstanding sunny weather and this has made us very keen to return again some time.
We did not see a Golden Eagle or a White-tailed Eagle, which are regular, nor a white Gyr Falcon that had been wintering on Islay — so there is much to return for. If you too fancy such an experience, visit www.gojura.co.uk.