From my vantage point high on the rim of a dramatic canyon, the view is both spectacular and scary. You can see for miles across a wild and barren panorama of limestone and granite to the west, but right now it's the sheer drop below that firmly has my attention. I've never been a great one for heights, but I'm looking down because a flash of black and white at the foot of the cliff demands scrutiny. I raise my bins carefully, focus and a handsome male Eastern Black-eared Wheatear resolves into sharp relief.
As I watch it, a harsh, grating call emanating from a hiding place in the scrub echoes around the wadi, and Chukar unwittingly adds itself to the trip list. The contrasting sound of whistled calls from behind announces the arrival of a group of boisterous Tristram's Starlings, and I turn and watch them playing on the roof of our guesthouse, musing that they've probably only come to see if I've got any scraps to give away. Meanwhile, the unmistakable call of a Common Cuckoo begins to chime metronomically in the background.
This is daybreak at Dana, a village nestled at the head of a remarkable geological formation, its ageing stone dwellings toning into the landscape as if they were an extension of the crags on which they balance. On a slope just south of the village, we discover that scattered junipers hold the main avian prize here: Syrian Serin, a species searched for unsuccessfully the previous day but now on show in numbers right on our doorstep. This attractive finch has one of the most restricted distributions of any Western Palearctic bird, and with its eponymous Arab republic now firmly off limits, Jordan may well be the best place to see it.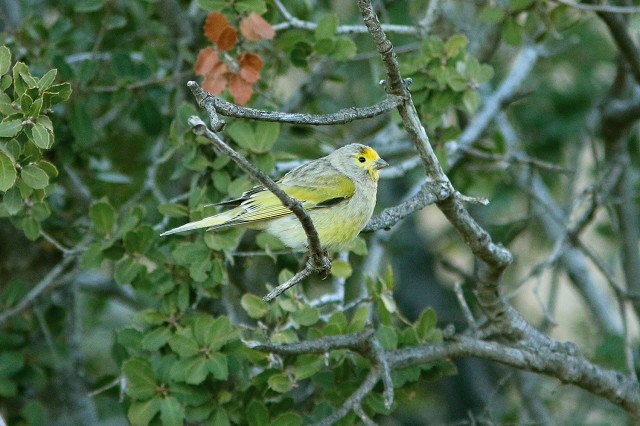 With its eponymous Arab republic now firmly off limits, Jordan may well be the best place to see Syrian Serin (Photo: Dominic Mitchell)
After sating ourselves with views, further exploration of this birdy area produces Pale Crag Martins, migrant Cretzschmar's Buntings, samamisicus Common Redstarts and, surprising us so far south, even a couple of Hawfinches. Further afield in the spectacular Dana Biosphere Reserve, soaring Bonelli's and Short-toed Eagles distract us as we stake out a vulture feeding station, while three owl species include a calling Pharaoh Eagle Owl, but not the hoped-for Hume's — one to try for next time, perhaps.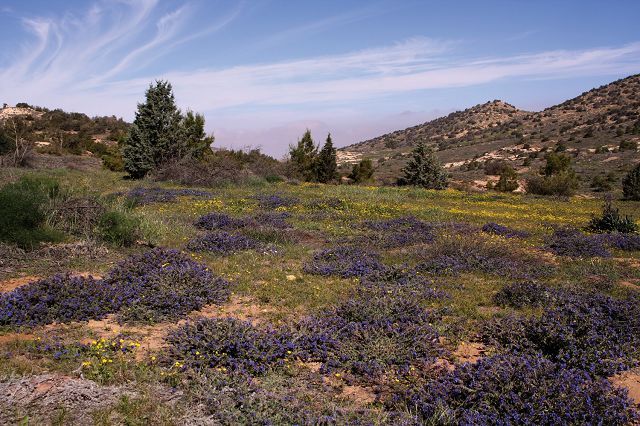 Wadi Dana in spring bloom (Photo: Dominic Mitchell)
A two-night stay is barely enough time to sample the natural delights of Wadi Dana, but even greater wonders await us to the south. The site of the ancient Nabataean city of Petra, half built and half carved into red sandstone cliffs, occupies a vast area spread over almost 100 square miles. The 'Rose City' was first inhabited in prehistoric times and is remarkably well preserved, despite issues with erosion. It also doubles as one of the most unusual birding spots I have ever visited.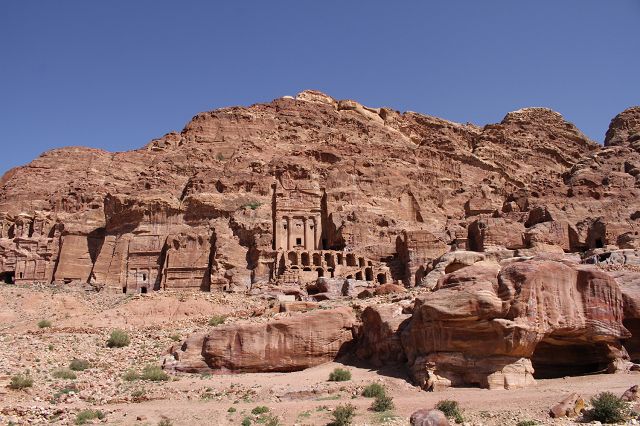 The ancient Nabataean city of Petra is world renowned (Photo: Dominic Mitchell)
Petra can be explored on horseback but we walked in on foot through the Siq, a mile-long gorge just 3 m wide at its narrowest but enclosed by cliffs up to 180 m high. It was here that we found my most-wanted target bird, Sinai Rosefinch, the beautiful pink males surprisingly well camouflaged in their sandstone surroundings. Another Western Palearctic endemic and also Jordan's national bird, this species is probably nowhere easier to see than at Petra; we even saw a singing male perched on the Treasury, the building made famous to many in the Hollywood blockbuster Indiana Jones and the Last Crusade.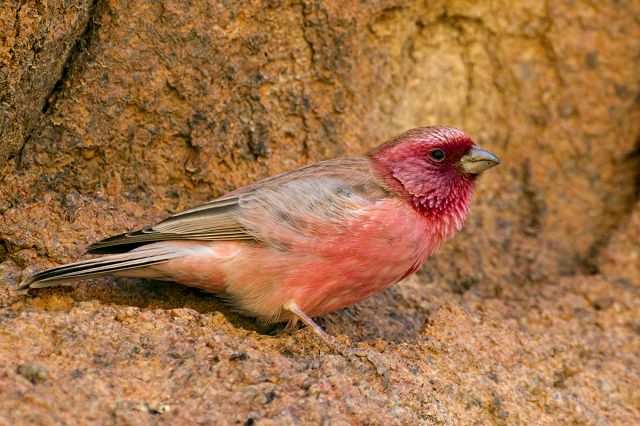 Sinai Rosefinch is Jordan's national bird (Photo: Daniele Occhiato/Agami).
Careful searching of this UNESCO World Heritage site can produce other species, too. Some visitors attending night-time events here have had luck with Hume's Owl, but for a second time we tried and dipped. We did, however, find Mourning Wheatear, Blue Rock Thrush and a passage of raptors which included Short-toed Eagle, Steppe Buzzard and Lesser Kestrel. Birds were clearly on the move, something we were to witness on an impressive scale when our southward journey culminated at the bottleneck that is Aqaba.
Content continues after advertisements
At the head of the Red Sea, Aqaba lies at a continental crossroads and is perfectly placed for observing migration. Countless millions of birds pour northwards here each spring from their African winter quarters to breeding grounds in eastern Europe and western Asia. Our visit was in mid-March, pretty much at the height of spring passage, and it was every bit as good as we'd hoped.
In hot-spots such as this, you don't have to look far for migrants — they are everywhere, feeding or resting after a long journey from the south. We walked through the market gardens along the sea-front promenade, and they were crawling with birds. One small cress bed had at least 20 ground-feeding Common Chiffchaffs, while Tree Pipits buzzed and flushed left, right and centre, and a colourful array of flava wagtails, including variant Black-headeds with bold eyebrows, chased unseen insect prey.
Pulses really started racing when I glimpsed a smart black-and-white flycatcher sally off the top of a palm stump: male Semicollared, a welcome lifer for some in the group. Further on, a movement close to the path brought us to an instant standstill, and a gorgeous male Cretzschmar's Bunting sat up in the open in the late afternoon light, totally unconcerned as we admired every detail of its blue-and-orange plumage from just feet away. We would have been happy enough with that haul for a short walk, but a handsome male Masked Shrike ensured that our cake had been well and truly iced.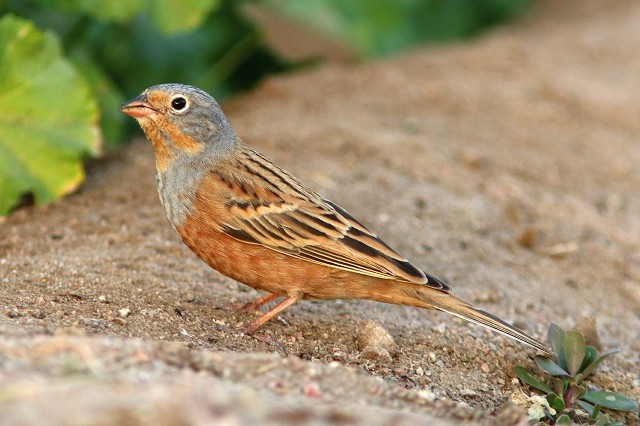 This stunning male Cretzschmar's Bunting offered outrageous views in Aqaba (Photo: Dominic Mitchell)
There's plenty more to see away from the centre of this busy resort, and we drove south towards the Saudi Arabian border to explore the Red Sea coast. White-eyed Gulls were numerous here and distinctive, unlike some of the other larids loafing in the scorching Middle Eastern sun. Caspian Gull was common and easy to pick out, but the other gulls took longer as we worked through a range of less familiar species of various ages and in assorted stages of wear and moult. There were Armenian and Baltic Gulls for sure, and possibly Heuglin's too; I even wondered about Steppe Gull, the barabensis form which is abundant in some parts of the Middle East but supposedly unknown in Jordan. So many gulls, too little time...
We also visited Aqaba's own bird observatory and its adjacent complex of saltpans, racking up more ticks for the trip list. I would have loved to stay longer in this productive area, but with the vast Wadi Araba and dramatic Dead Sea still to take in on our way back to the capital, Amman, time was not on our side. Reluctantly, we headed north up the Rift Valley, birding en route.
At first glance this vast, open desert landscape might seem birdless, but don't believe it. Roadside Blackstarts, Desert Larks and Southern Grey Shrikes, migrant Eastern Bonelli's Warblers 'chipping' from withered acacias, Green Bee-eaters flashing colours on the wing — there was no shortage of avian diversions. Some were more abrupt than others, our bus shuddering to repeated halts with every cry of "Raptor!" as the likes of Steppe and Eastern Imperial Eagles drifted overhead on their own northward journeys.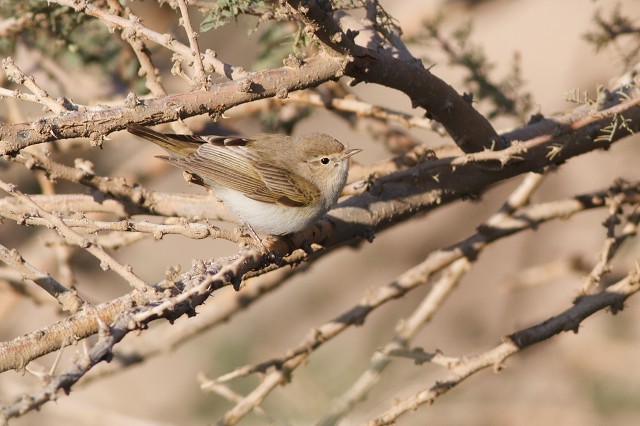 Eastern Bonelli's Warblers are very common as they migrate north through Jordan in March (Photo: Josh Jones)
In the extraordinary setting of the Dead Sea, at 1,400 ft below sea level the Earth's lowest elevation on land, we were still logging migrating birds of prey heading up the Rift Valley as daylight faded. Perhaps unwisely, I passed over the opportunity to float in the sea's fabled mineral-rich waters in favour of one last birding session, enjoying close-up views of Fan-tailed Raven — something of a speciality here — and other species. All too soon the next morning it was time to head to the airport.
It was there that we had our only awkward encounter of the trip, with over-cautious security staff quizzing us about the profusion of lenses and optics in our hand luggage. It was unnecessary, but perhaps unsurprising in a country where birding is something of a novelty. That will surely change as Jordan's outstanding potential becomes better known and birding tourists a more familiar sight. Otherwise, there were no security issues whatsoever, and we were made welcome and greeted with a smile everywhere we went. Jordan left me with many happy memories, but also with unfinished business on owls and gulls — all the more reason to return.