The first few days of April were rather cool, but strong southerly winds developed over the weekend of 4-5th and set up much warmer temperatures for the following week. Many new emerging residents were noted in traps, as well as a small flurry of true continental migrants reaching our shores. High pressure resumed with cloud seldom seen until some rain finally arrived on 17th. A new funnel of southerly winds was quickly blocked by cool easterlies and clear skies again set in and lasted well into the fourth week.
The highlight of the month was the undoubted influx of immigrant Blossom Underwings, which started with individuals in Norfolk, Suffolk and West Sussex on 5th. Records of coastal arrivals continued as far as The Wirral in the west, while one at Riding Mill on 16th was the first Northumberland record. A site at Bawdsey, Suffolk, had four by 20th and Guernsey also received its first. Many others were recorded inland at sites far away from oak woodland – and many of these were later than the normal English flight period, suggesting they were not the result of regional dispersal.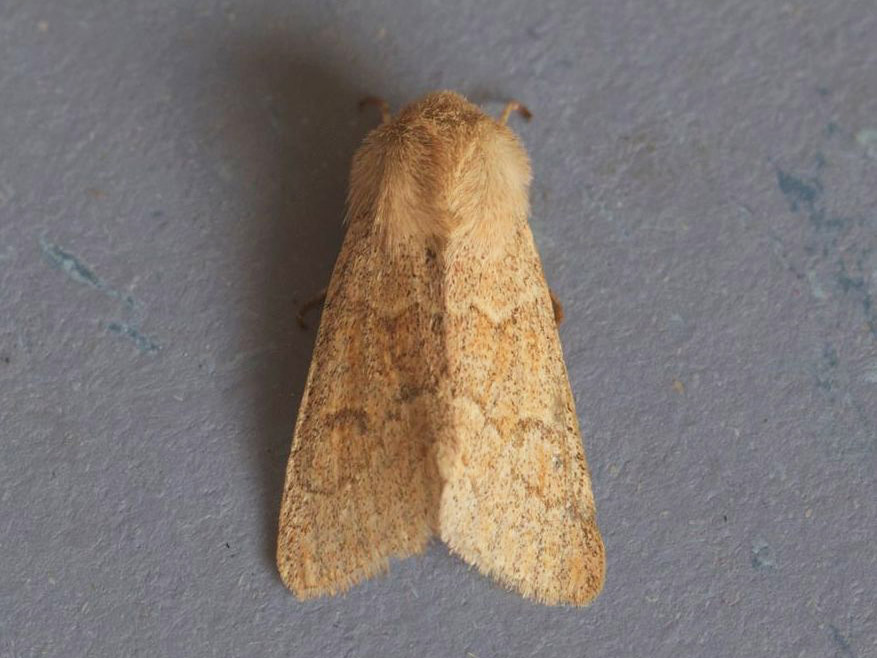 Blossom Underwing, Whitstable, Kent (Andy Taylor).
Living 8 km directly north of Galley Head lighthouse, Co Cork, in a remote habitation surrounded mainly by cattle-grazed fields and a few small thickets, Gareth O'Donnell is in an ideal position to attract immigrant moths travelling northward from as far afield as North Africa.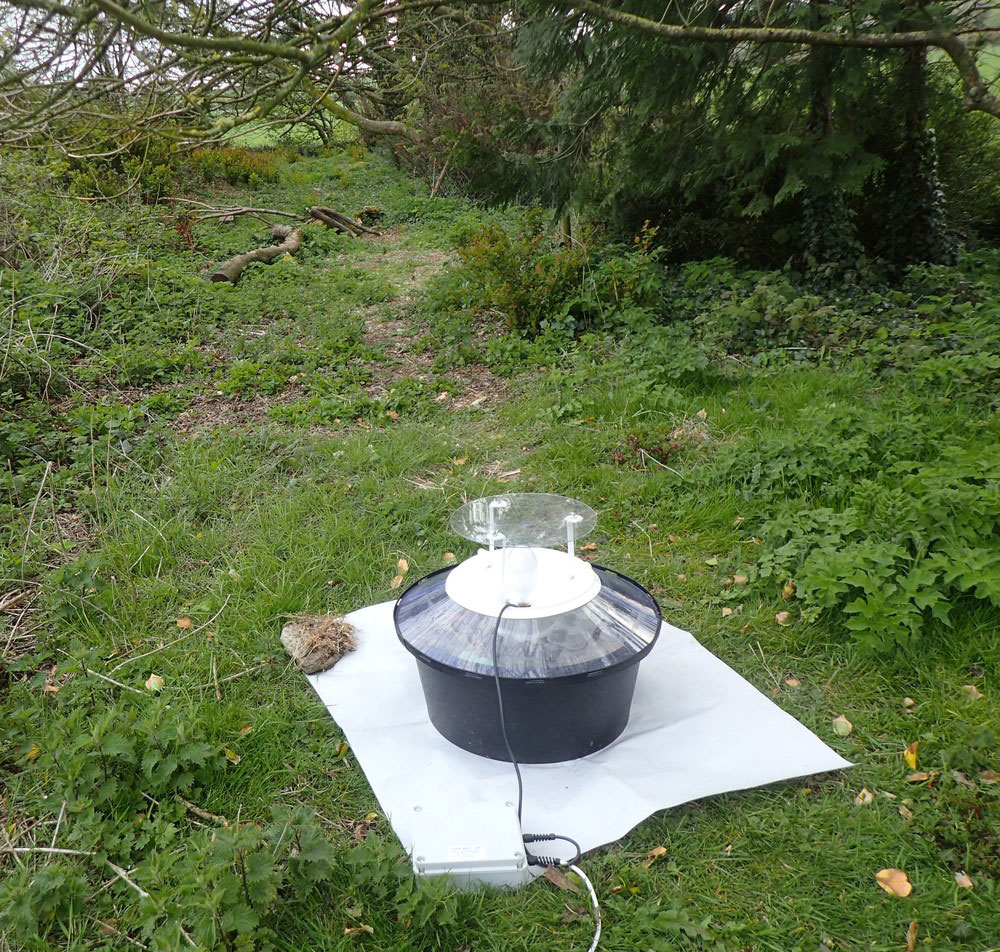 Trap site in garden near Clonakilty, Co Cork (Gareth O'Donnell).
On 8 April he was prompted by the promising weather forecast of calm conditions, following southerly winds originating south of the Mediterranean, to set multiple traps. He was rewarded that first night with singles of Delicate and Silver Y, quickly followed at dawn on 10th by the heart-skipping sight of Ireland's first Striped Hawkmoth for nine years in one of his Robinson traps.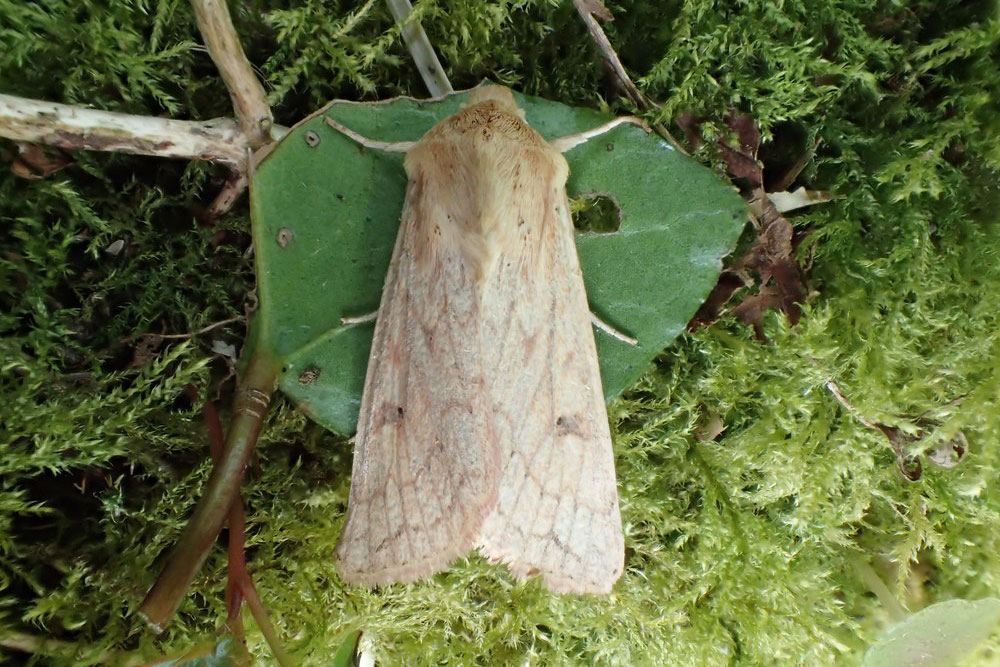 Delicate, Clonakilty, Co Cork, 8 April 2020 (Gareth O'Donnell).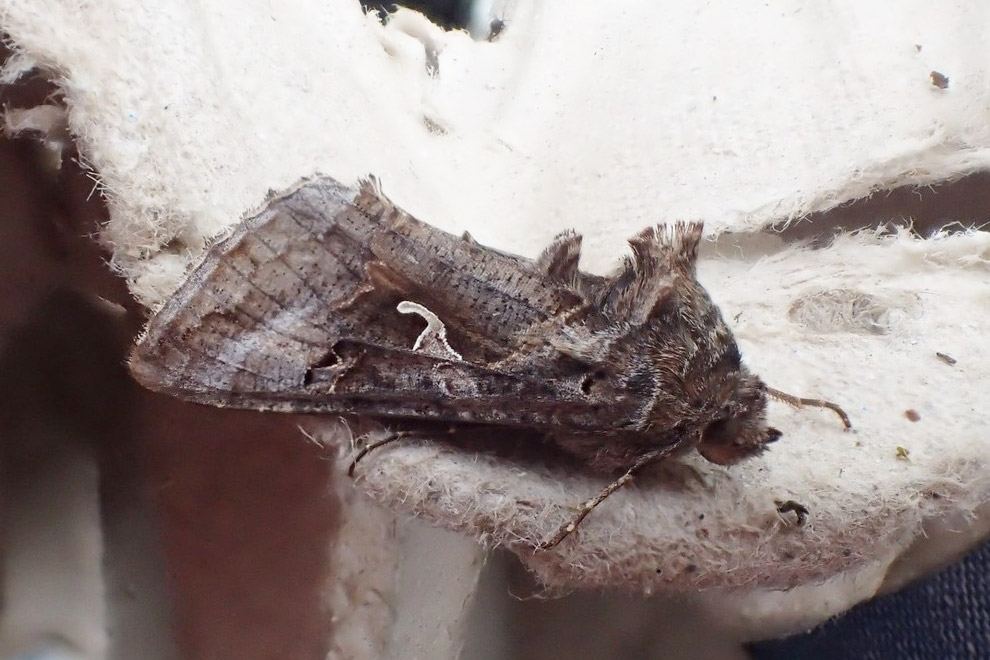 Silver Y, Clonakilty, Co Cork, 8 April 2020 (Gareth O'Donnell).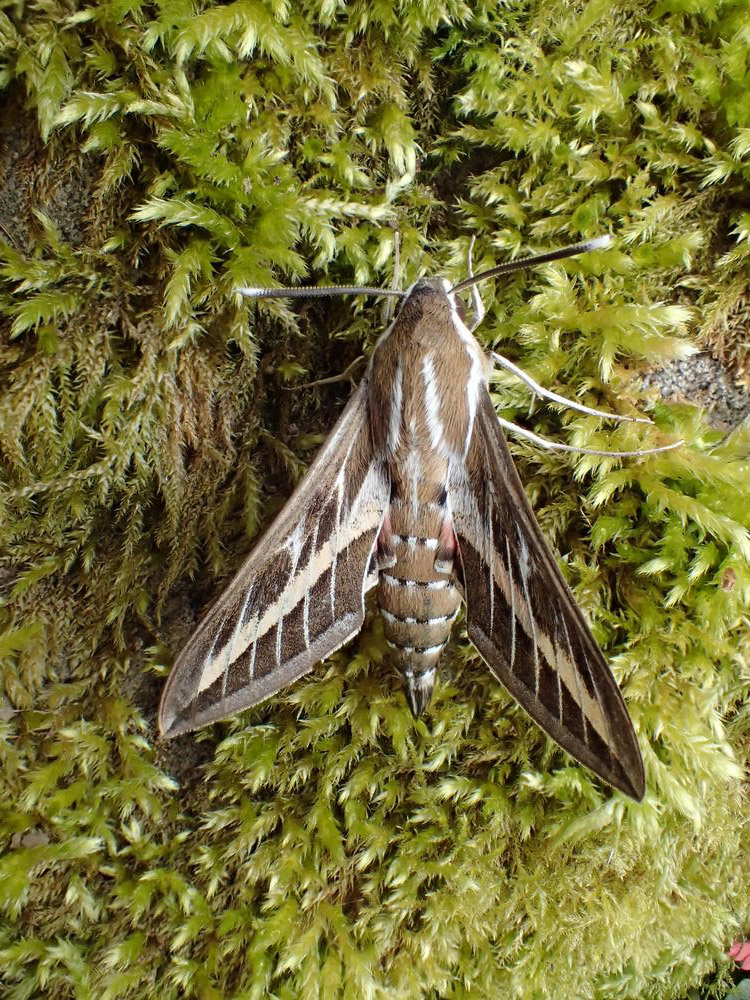 Striped Hawkmoth, Clonakilty, Co Cork, 9 April 2020 (Gareth O'Donnell).
How can you cap that? Gareth will continue to learn more about micro-moths and hopes to continue a year-long moth survey project north-west of Bantry, based at Glengarriff Woods NR. He also hopes to trap on Cape Clear Island in the autumn.
Male Gems were trapped at St Blazey, Cornwall, on 7th and at Firsdale, Wilts, on 24th. The first Blair's Mocha of the season appeared on the Isle of Wight on 10th and was probably a local breeder, as was an early Jersey Mochas at St Keyne, Cornwall, on 19th and Plymouth, Devon, on 27th. A trio of Dewick's Plusias from 18th included a single at Seaton, Devon, plus two in Dorset.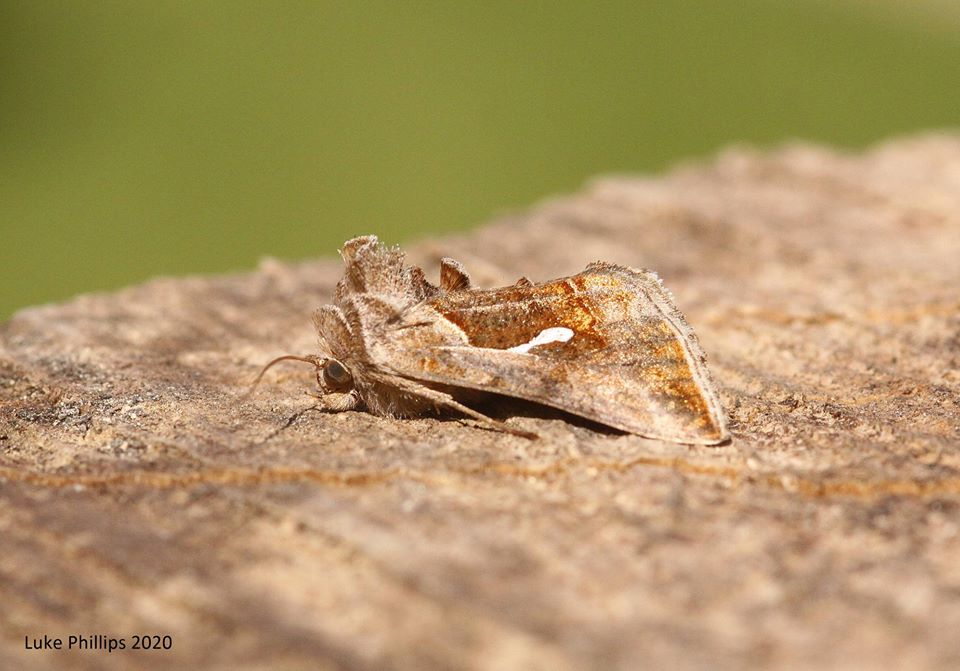 Dewick's Plusia, Dorset, April 2020 (Luke Phillips).
Two Pearly Underwings reached St Mary's, Scilly, on 7th and another was on Guernsey on 16th. Delicates have started showing up in western counties, with Cornwall, Cork, Dorset, Pembrokeshire and Scilly getting in on the act. Three quite early and different-looking Nutmegs were in Cornwall, Scilly and West Sussex from 7th and may have been migrants. A Large Yellow Underwing in Co Waterford on 9th was probably a migrant. A very good scattering of Dark Sword-grass included many inland and a haul of nine at Blacksod, Co Mayo, and one as far north as John O' Groats, Caithness, on 24th. Silver Y were widespread in singles by 22nd and small numbers of Hummingbird Hawkmoths were again visiting some garden flowers.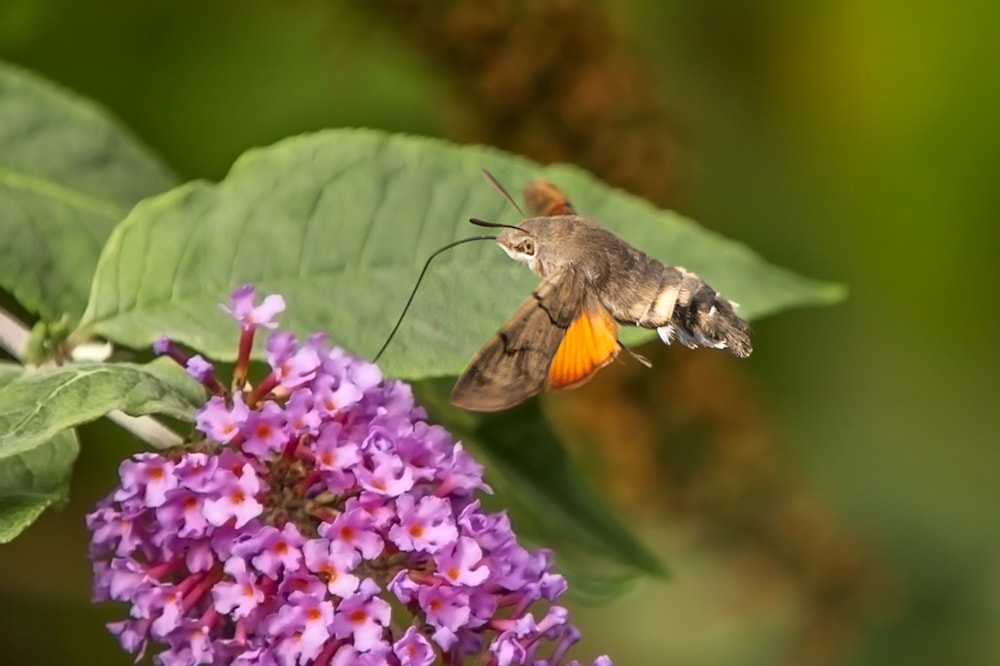 Hummingbird Hawkmoth (Dave Williams).
A good showing of Diamond-back Moths occurred from 5th across southern Britain, with one making it all the way to Caithness by 9th. A few Rusty Dot Pearls were noted. An Eastern Black Tabby which turned up at Queensferry, Flint, on 20th is possibly a migrant from southern Europe, but the species is also suspected as breeding on imported exotic sedges used in water features in landscaped gardens.
An eye-catching and unfamiliar 'geo' was photographed by Jane Durham in a trap at Minehead, Somerset, around 12th and has been provisionally been identified as a Far Eastern species, Plesiomorpha punctilinearia. Although there has been an easterly airflow this month, it's much more likely to have arrived courtesy of a Japanese plant via a garden centre.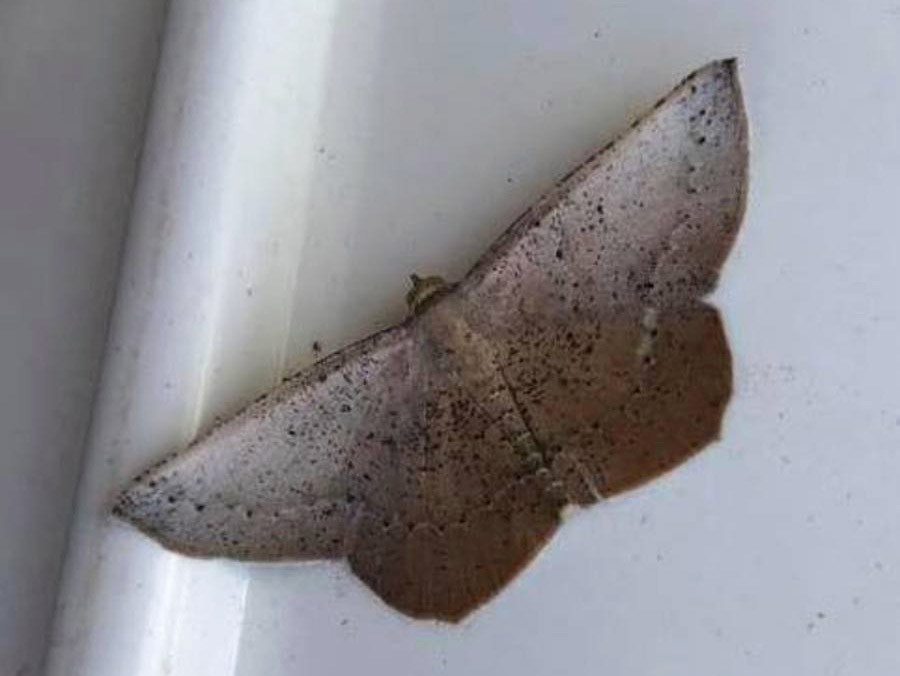 Plesiomorpha punctilinearia, Minehead, Somerset (Jane Durham).
Another bizarre record concerns a Slender Burnished Brass discovered in a locust-rearing faunarium in Bristol on 16th. It transpires that parsley purchased from Asda was being fed to the insects and the moth larva had been spotted living in there two weeks earlier.
Rarity of the month must go to the Caloptilia honoratella which was trapped by Jonathan Heath in his large suburban home on the outskirts of Cambridge on 5th. Jon explained that he is trying to nurture as many different native food-plants as possible to attract new moths to his garden. The first record for Britain was at Cheriton, Kent, in April 2019 and the larvae feed on maples. Hot on the heels of Jon's discovery, was another confirmed at Seaford, East Sussex, on 8th.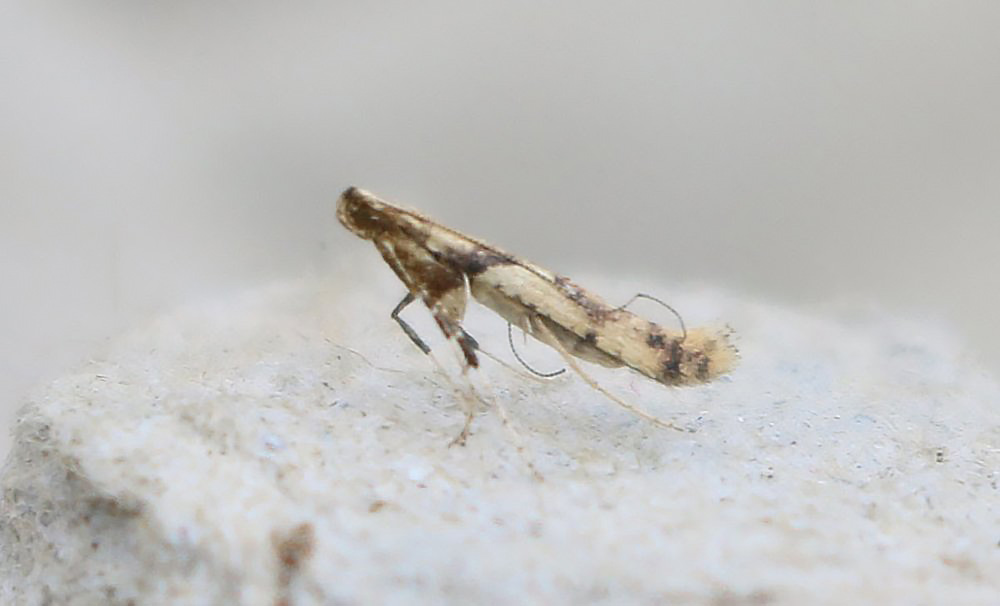 Caloptilia honoratella (Jon Heath).
Staying with micros, Caloptilia hemidactylella appears to making continuing progress in its colonisation of East Anglia. A few were again recorded in Suffolk early in the month then three more candidates were trapped near Norwich, including one at the same site that hosted Norfolk's first in 2019.

Caloptilia hemidactylella (Neil Sherman).
This April is looking like it may be the warmest since records began. It's no surprise, then, that many macros have emerged very early, some by as much as two months. A table showing first dates across the UK can be found in the appendix at the foot of this article. Ones which stand out as exceptional are Peppered Moth, Green Silver-lines, Cabbage Moth, The Sycamore and Mottled Rustic. Species which seem to have done well this spring are Chamomile Shark, Muslin Moth and Powdered Quaker. Pete Marsh caught 19 of the latter in a single trap at Hindburndale, Lancs, on 15th.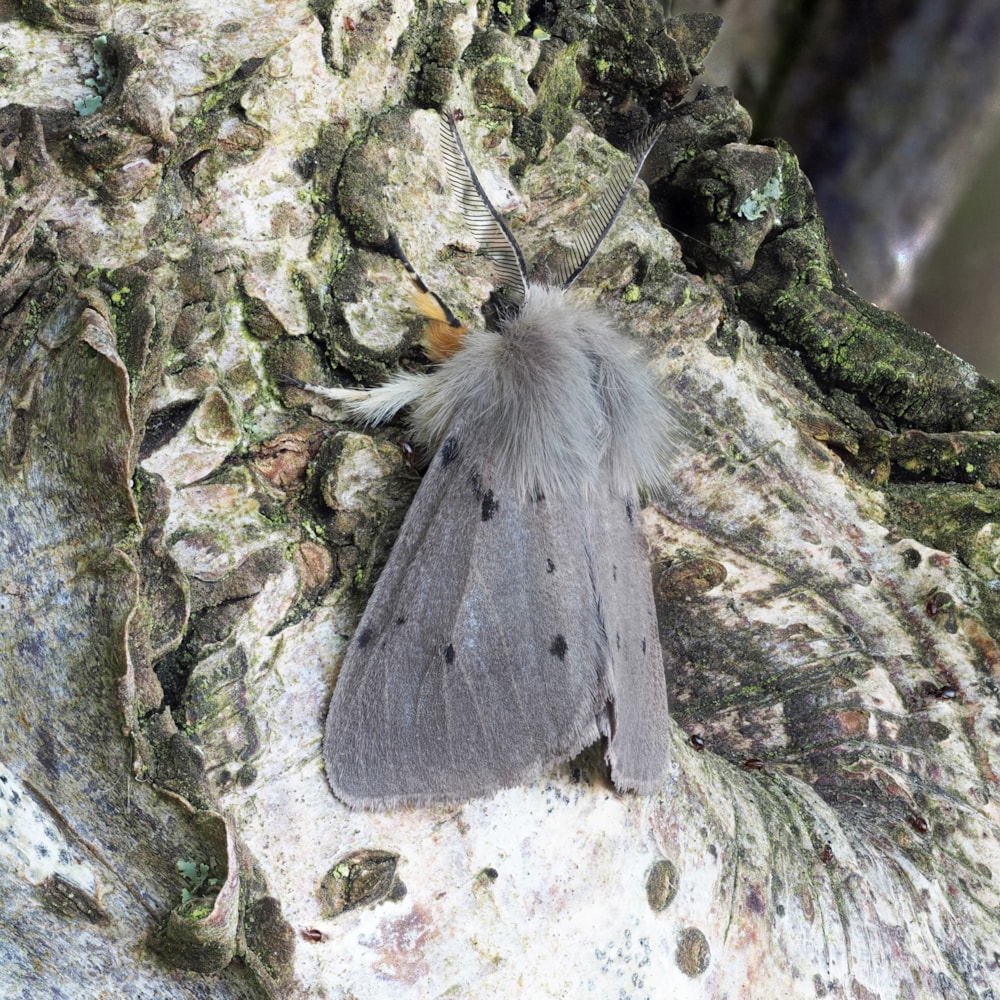 Muslin Moth, Christleton, Cheshire, 24 April 2020 (Clive Jones).

Powdered Quaker (Patrick Clements).
Northern Drab is not normally considered a garden moth, so half a dozen – nearly all respective garden firsts – is both pleasing and a little surprising, as its cousin, Clouded Drab, appeared to be well down in numbers.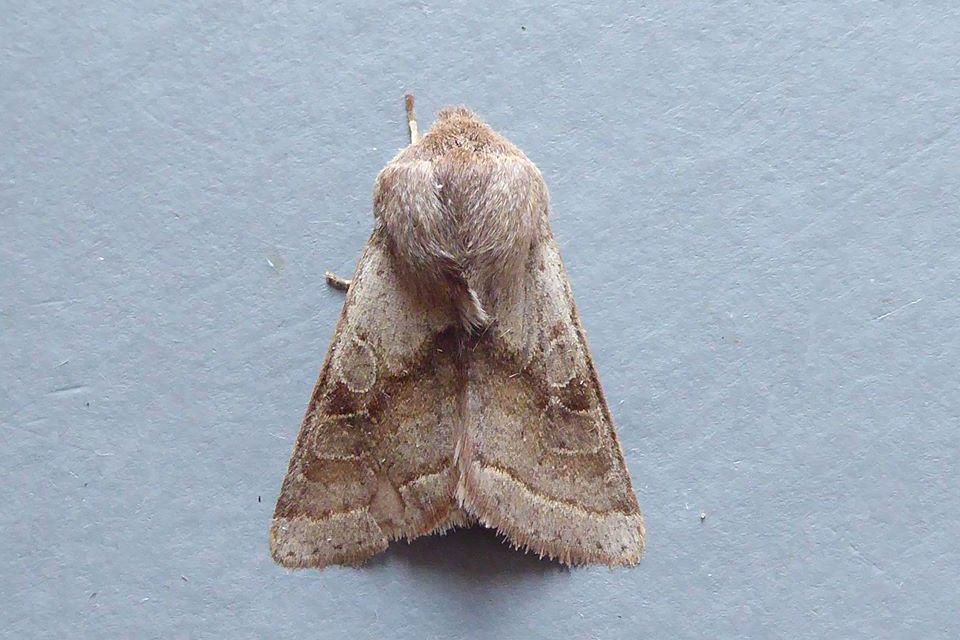 Northern Drab, Leigh, Dorset (Gillian Nash).
A Lead-coloured Drab at Pegswood, Northumberland, on 10th was only the second modern Vice County record. Silver Cloud is again having another good showing in the Severn and Avon Valleys, but a count of eight at Corse, north Gloucestershire, is unprecedented. The site regularly gets both colour forms.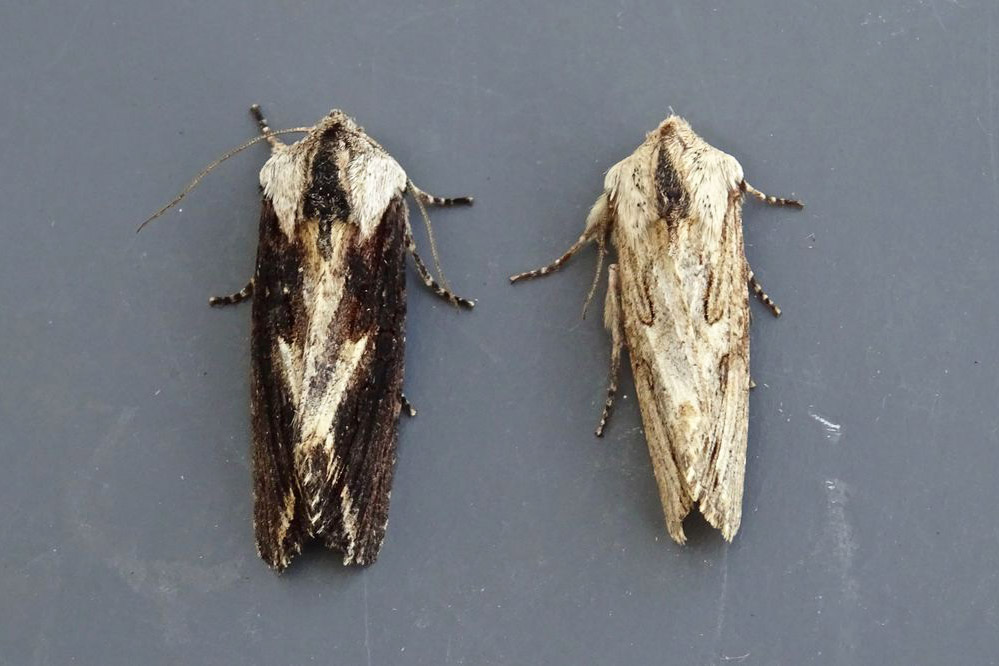 Silver Cloud of the dark (left) and blonde forms (Steve French).
At least six Pinion-spotted Pugs included one in Buckinghamshire, two together near Didcot, Oxfordshire, and single at Pulborough, West Sussex. This local species is enigmatic to say the least, sometimes appearing from nowhere, which poses a puzzle as its foodplants – hawthorn and apple – are nationally abundant.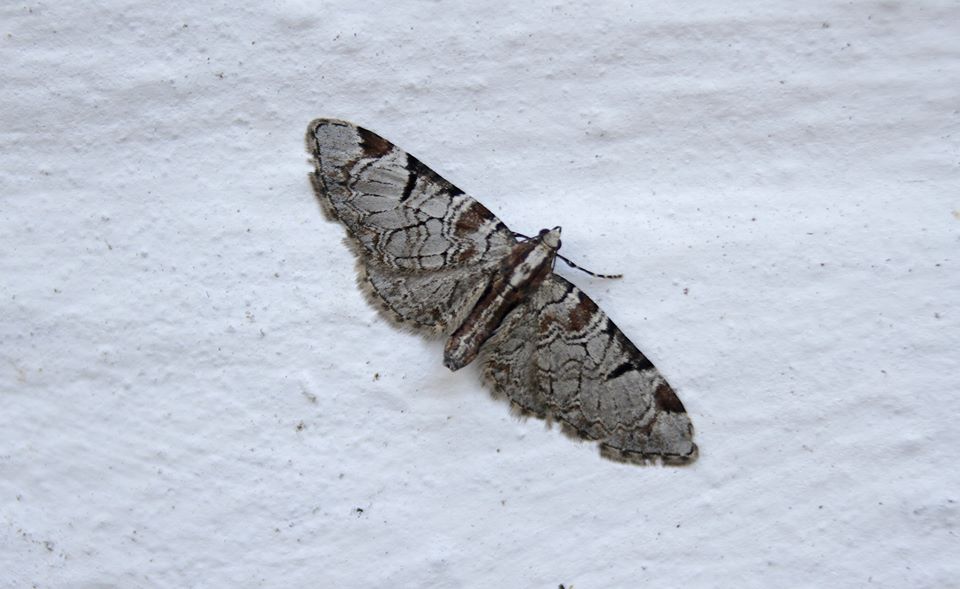 Pinion-spotted Pug (Peter Alfrey).
An excellent Lime Hawkmoth of the scarce form brunnea was trapped at Peterborough, Cambs, on 21st.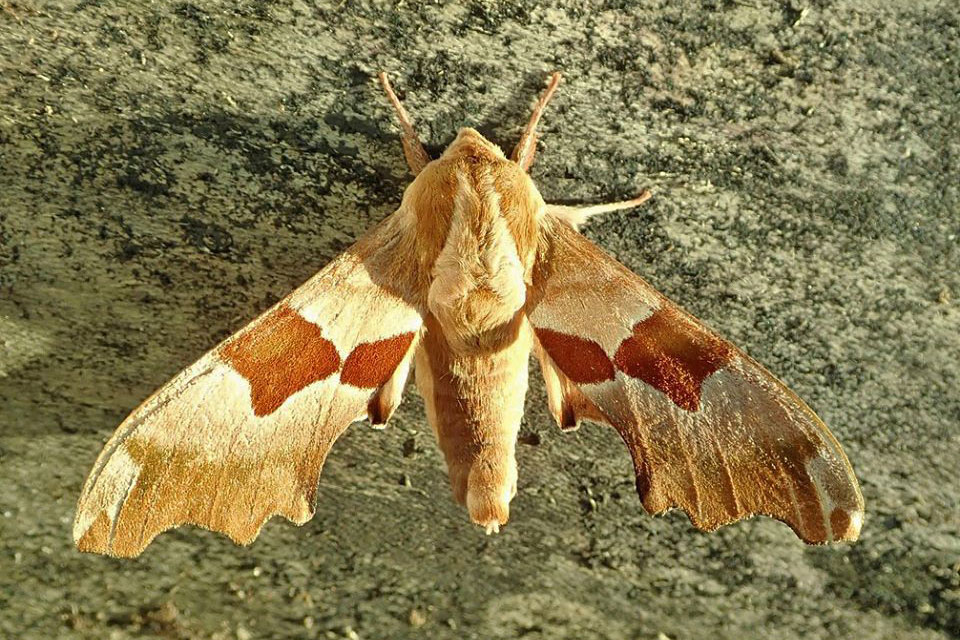 Lime Hawkmoth var brunnea, Peterborough, Cambs, 21 April 2020 (Jonathan Newman).
Although the cultivated hop industry has now much declined in Herefordshire, John Walsh still finds the odd Buttoned Snout hibernating at his home or in the moth trap in spring. John's theory is that the foodplant still grows in the wild and on bits of waste ground in the city, thus sustaining a small population of the moth.

Buttoned Snout (John Walshe).
Northumberland produced three very interesting micro records. A county-fifth Acrolepiosis betulella was trapped at Riding Mill by Kevin Charman on 5th. For all those moth-ers like me who have pondered over the odd worn Leek Moth in the past, here's what betulella really looks like.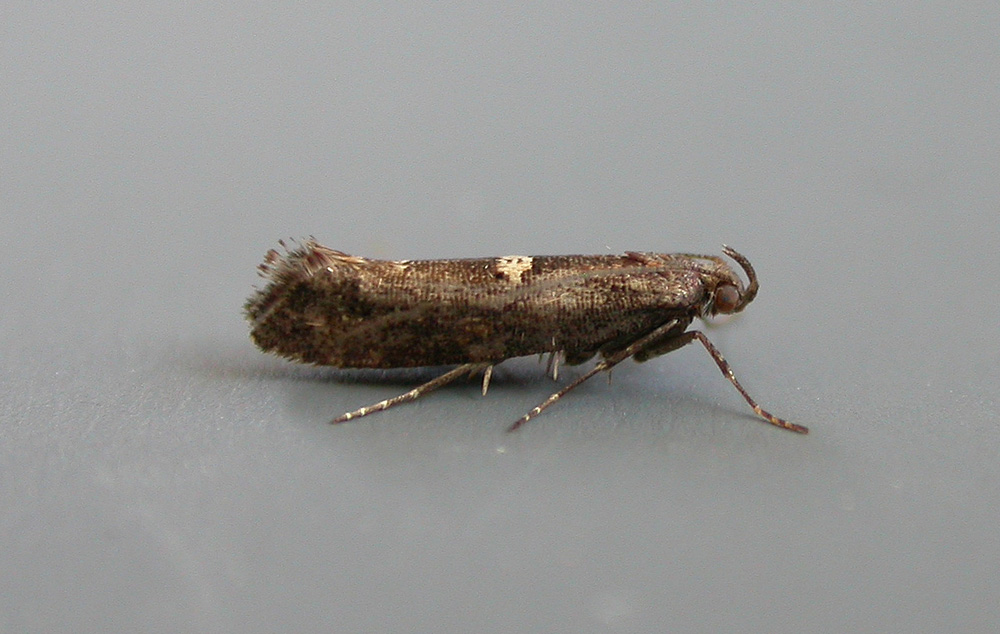 Acrolepiosis betulella (Tom Tams).
Although the moorland gelechiid Xenolechia aethiops is supposed to be widespread in upland Britain, it has seriously declined in recent years and one trapped at Ouston, Durham, on 8th by Verna Atkinson was welcome news. An Ocnerostoma friesei trapped at Tynemouth on 10th was, surprisingly, a county first.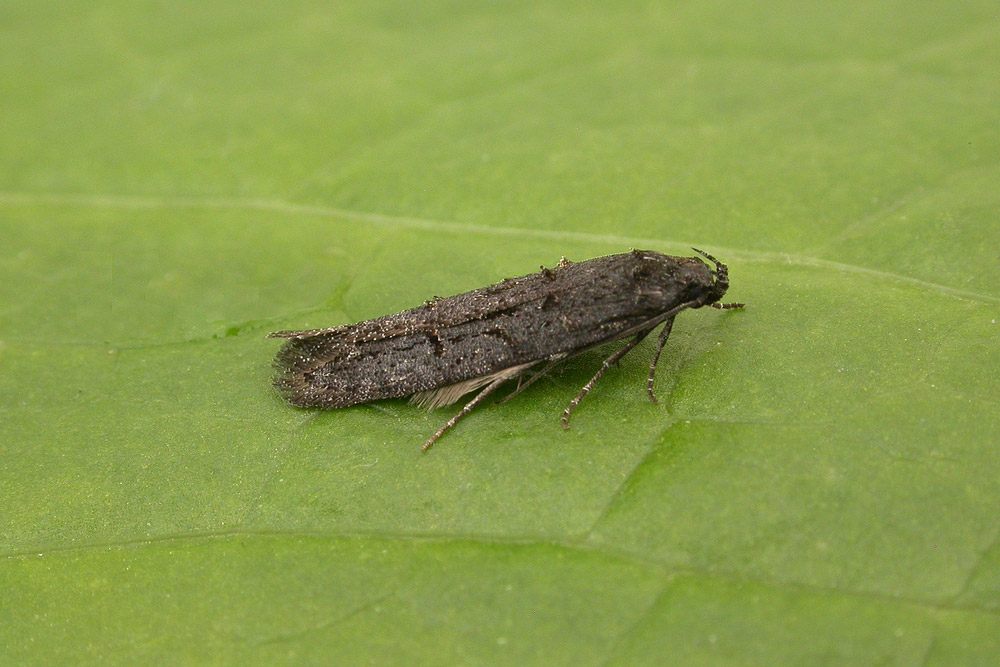 Xenolechia aethiops (Tom Tams).
North of the border, an Acleris abietana was near Auchtertool, Fife, on 17th and an Agonopterix scoperiella was only the third garden record at Burntisland.
The Australian adventive Pachyrhabda steropodes has a very local West Country and south-west Wales distribution in Britain but can thrive where the foodplant, Soft Shield Fern, is found. Dave Gibbon and Chris Vincent found 18 adults in two wooded nature reserves in north Plymouth mid-month. It was also seen in good numbers around the Hardy Monument in Dorset, just a few kilometres away from where it was first discovered at Abbotsbury in 2010.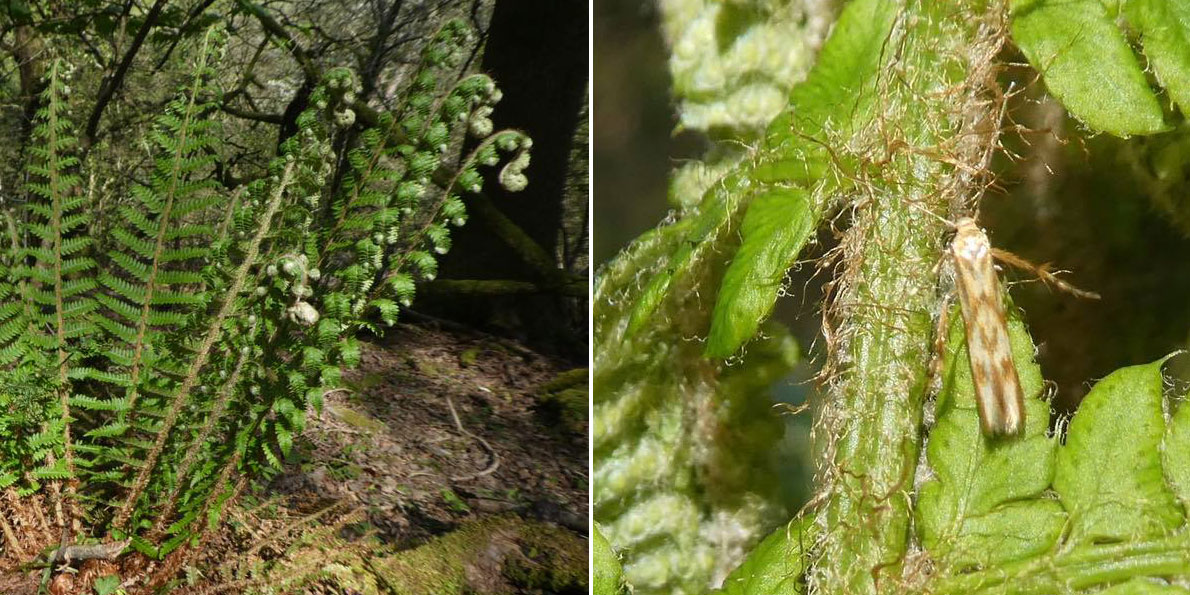 Soft Shield Fern (left) and Pachyrhabda steropodes (Dave Gibbon).
From late April the leaf-mining season offers a chance to find tenanted mines of moths of the Eriocrania family. Eight species can be found on Birch, Hazel, Hornbeam and Oak. The mines can be numerous from late April until late May and help with how to identify each can be found at the British Leafminers website. With skill, learned experience and patience, these can be kept in small pots on a bed of slightly damp moss for 10 months over winter and, if you are lucky, a pristine adult may emerge the following year!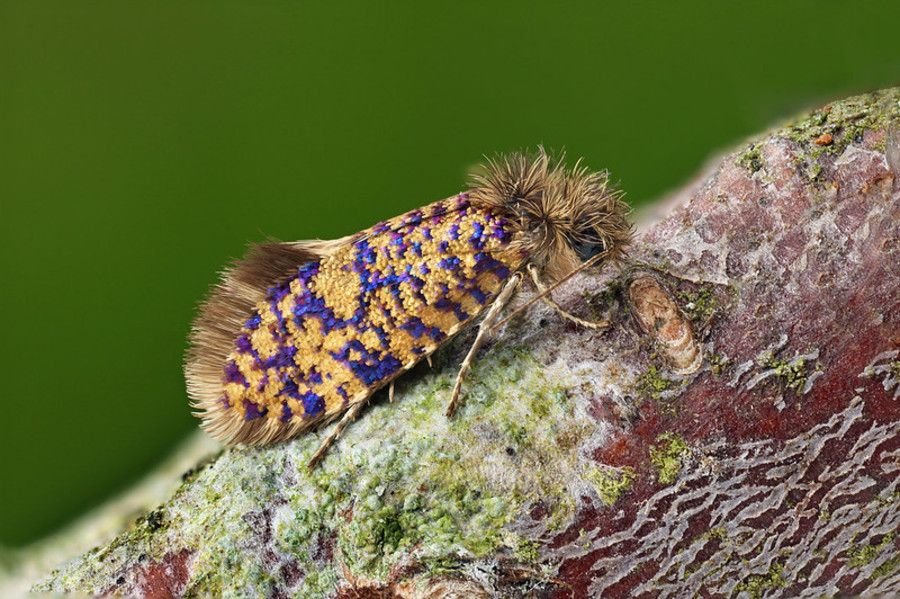 Eriocrania sparrmannella (Patrick Clement).
The very dry weather of the spring can lead to good fortune. We have been using the cold, used washing-up water to irrigate our garden plants. On returning inside from one such watering trip, my wife Helen noticed a micro-moth clinging to the side of the white bowl. It was quickly potted and identified as a male Ectoedemia occultella. No doubt flushed, having just emerged from leaf litter under our mature Silver Birch. You never know what is going to turn up next!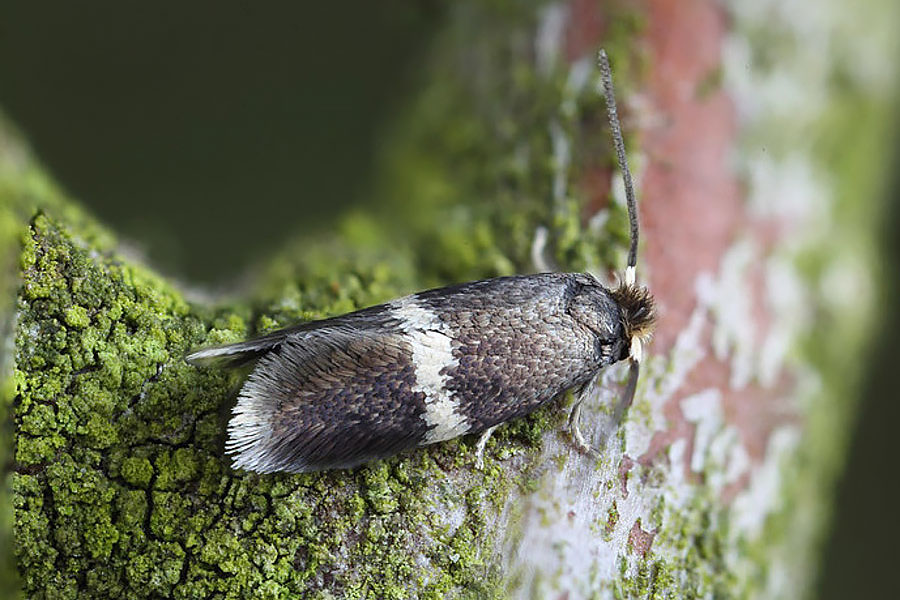 Ectoedemia occultella (Patrick Clement).
Late April was quite productive for garden mothing, with many extra species emerging daily. However, the unsettled conditions in the last few days put the brakes on a little with catch numbers heading down. It appears that Glaucous Shears may be having a bumper year up on the moors, as singles were trapped in Worcester and Stourbridge, Worcs, on 27th, representing only the 6th and 7th county records. Another made its way into central Rotherham, South Yorks, the same night.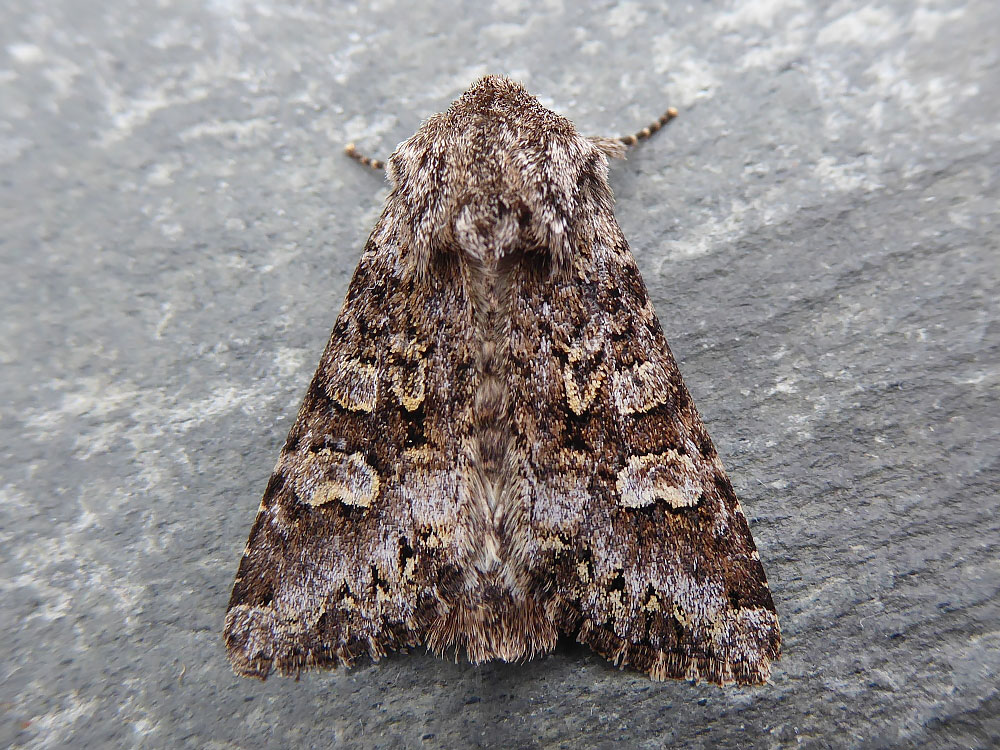 Glaucous Shears, Warndon, Worcs (Steve Whitehouse).
We are keen to hear about your trap highlights, early dates, migrants, impressive numbers, lucky breaks and funny stories about moths. Please email me. Furthermore, please continue to upload your best moth images to the BirdGuides galleries.
Appendix I: macro moth emergence dates

| | | | |
| --- | --- | --- | --- |
| Species | Date | Location | County |
| Common Pug | 1 April | Winchester | Hampshire |
| Nut-tree Tussock | 3 April | St Keyne | Cornwall |
| Peppered Moth | 3 April | St Mary's | Scilly |
| Muslin Moth | 4 April | Callestick | Cornwall |
| Iron Prominent | 4 April | Portishead | Somerset |
| Least Black Arches | 5 April | Beaconsfield | Bucks |
| Waved Umber | 5 April | Butleigh | Somerset |
| White Point | 5 April | Boreham | Essex |
| Green Silver-lines | 6 April | Carlton Colville | Suffolk |
| Spectacle | 7 April | Westcott | Bucks |
| Green Carpet | 7 April | St Mary's | Scilly |
| Flame Shoulder | 7 April | Combe St Nicolas | Somerset |
| Barred Hook-tip | 7 April | Marlow Bottom | Bucks |
| Pale Prominent | 7 April | Callestick | Cornwall |
| Pebble Prominent | 7 April | Callestick | Cornwall |
| Nutmeg | 7 April | Hurstpierpoint | West Sussex |
| Turnip Moth | 8 April | Sidestrand | Norfolk |
| Alder Kitten | 9 April | Mansell Gamage | Herefords |
| Northern Drab | 9 April | Bridstow | Herefords |
| Large Yellow Underwing | 9 April | Waterford | Waterford |
| Mullein Shark | 9 April | Worcester | Worcs |
| Brown Silver Line | 9 April | St Mary's | Scilly |
| The Rivulet | 9 April | St Mary's | Scilly |
| Lobster Moth | 9 April | Snowdonia | Gwynedd |
| Sallow Kitten | 9 April | Callestick | Cornwall |
| White Ermine | 10 April | Corse | Gloucs |
| Chinese Character | 10 April | Childswickham | Worcs |
| Maiden's Blush | 10 April | Uckfield | East Sussex |
| Pinion-spotted Pug | 10 April | Worminghall | Bucks |
| Cabbage Moth | 10 April | Poulton-le Fylde | Lancashire |
| Kentish Glory | 10 April | Dinnet | Aberdeen |
| Scarce Tissue | 10 April | Bodenham | Herefords |
| Tissue | 11 April | Wolverhampton | Staffordshire |
| Buff-tip | 11 April | Steyning | West Sussex |
| Pale Tussock | 11 April | Fittleworth | West Sussex |
| Poplar Kitten | 11 April | Downham Market | Norfolk |
| Broom-tip | 11 April | Weeting | Norfolk |
| Oblique Striped | 11 April | Weeting | Norfolk |
| Silver Cloud | 11 April | Corse | Gloucs |
| Great Prominent | 11 April | Wadebridge | Cornwall |
| Latticed Heath | 12 April | Cliftonville | Kent |
| Lunar Thorn | 12 April | Hurstpierpoint | West Sussex |
| Coxcombe Prominent | 12 April | Battle | East Sussex |
| Brindled Ochre | 14 April | Langton Matravers | Dorset |
| Common Heath | 15 April | Hartlebury Common | Worcs |
| Dark Spectacle | 15 April | St Mary's | Scilly |
| Beautiful Yellow Underwing | 15 April | Mossley | Lancashire |
| Barrett's Marbled Coronet | 15 April | St Mary's | Scilly |
| Toadflax Brocade | 16 April | Ipswich | Suffolk |
| Mottled Rustic | 16 April | Whitchurch | Dorset |
| Pine Hawkmoth | 17 April | Sandwich Bay | Kent |
| Scalloped Hook-tip | 17 April | Cookham | Berks |
| The Lychnis | 17 April | St Mary's | Scilly |
| Small White Wave | 18 April | Plymouth | Devon |
| The Seraphim | 18 April | Bristol | Somerset |
| The Cinnabar | 18 April | Harwell | Oxfordshire |
| The Sycamore | 20 April | Chorleywood | Herts |