For moth-ers across the south, August 2020 was an exciting month, as favourable winds delivered a steady stream of migrants to both the east and west. The month started with a bang as warm air from the south-east bought a good arrival of migrants from the Near Continent, with a magnificent Tawny Prominent in Weymouth on 1st (the third for the UK following records in 1966 and 1993). Although it is increasingly difficult to separate migrants from wanderers from established populations, the same night also brought a good arrival of Oak Processionary to the south coast (along with another 'pest' in the form of a Pine-tree Lappet in Weymouth). These – and presumably fresh arrivals – then penetrated further north and west in the following days, with the first natural arrival for Wales recorded on 10 August in Cardiff, and Somerset on 11th at Westhay Moor.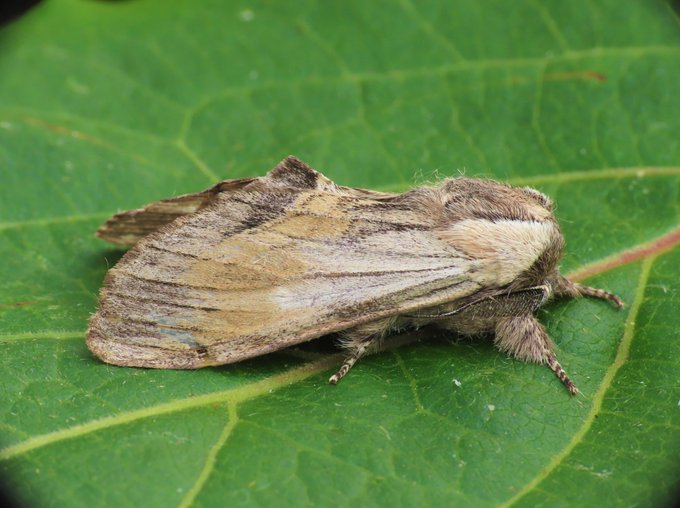 Tawny Prominent, Portland, Dorset (Paul Harris).
South Dorset delivered perhaps the moth of the month on 7th, as Portland stalwart, Debby Saunders, achieved everyone's mothing dream: a first for Britain, and a stunning macro at that – Eupithecia breviculata. The nearest headquarters for this lovely pug seem to be in southern Europe, where the larvae feed on various umbellifer species, and like the Tawny Prominent, it was enjoyed by many at Portland Bird Observatory the following day.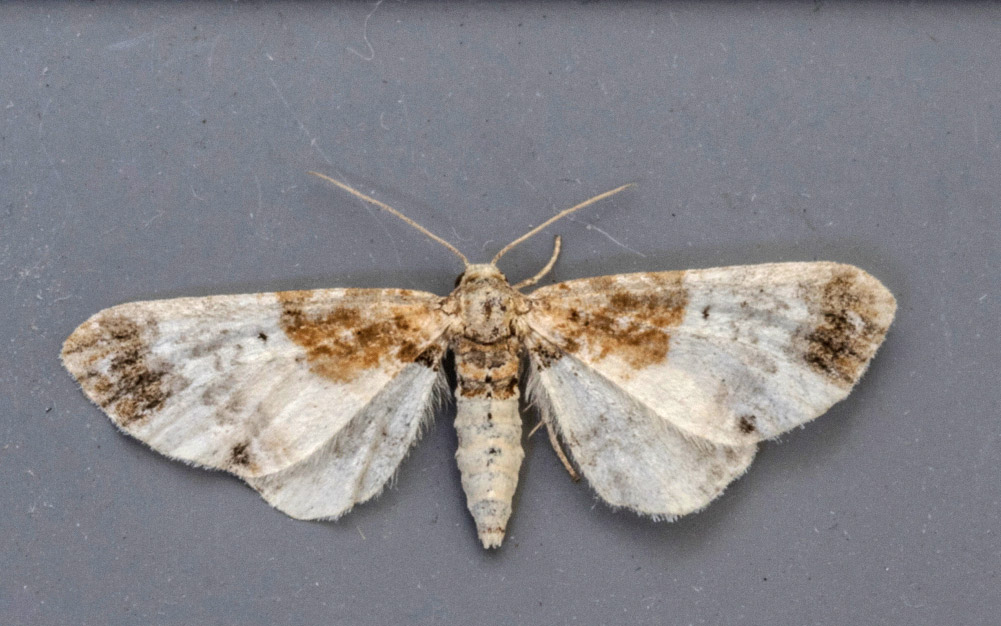 Eupithecia breviculata, Portland, Dorset (Debby Saunders).
The east coast held onto the warm air for much of the first week of the month, fuelling further arrivals of migrants, particularly in Suffolk and Norfolk. Notable headliners in this area were the bizarre Pyralid, Etiela zinckenella, and Beautiful Marbled. There were at least 13 records of the former across the South-East with five in Suffolk, two in Kent, five in Norfolk and one in Cambs (being new to the latter two counties). Beautiful Marbled has been on the increase in the last few years, and was recorded in much larger numbers, with 19 reported in Norfolk through the month, for example. Adults were trapped as far north as Easington and Skidby, Yorkshire (on 12th and 13th), while they were new to Cheshire (Marbury Country Park, 10th), Middlesex (Harefield, 12th), Wiltshire (Farley, 10th) and Gloucestershire (14th). Suspicion is mounting that it may also be breeding in coastal Suffolk, with records in the spring at Bawdsey Hall followed by two there on 11th and three on 12th, all extremely fresh.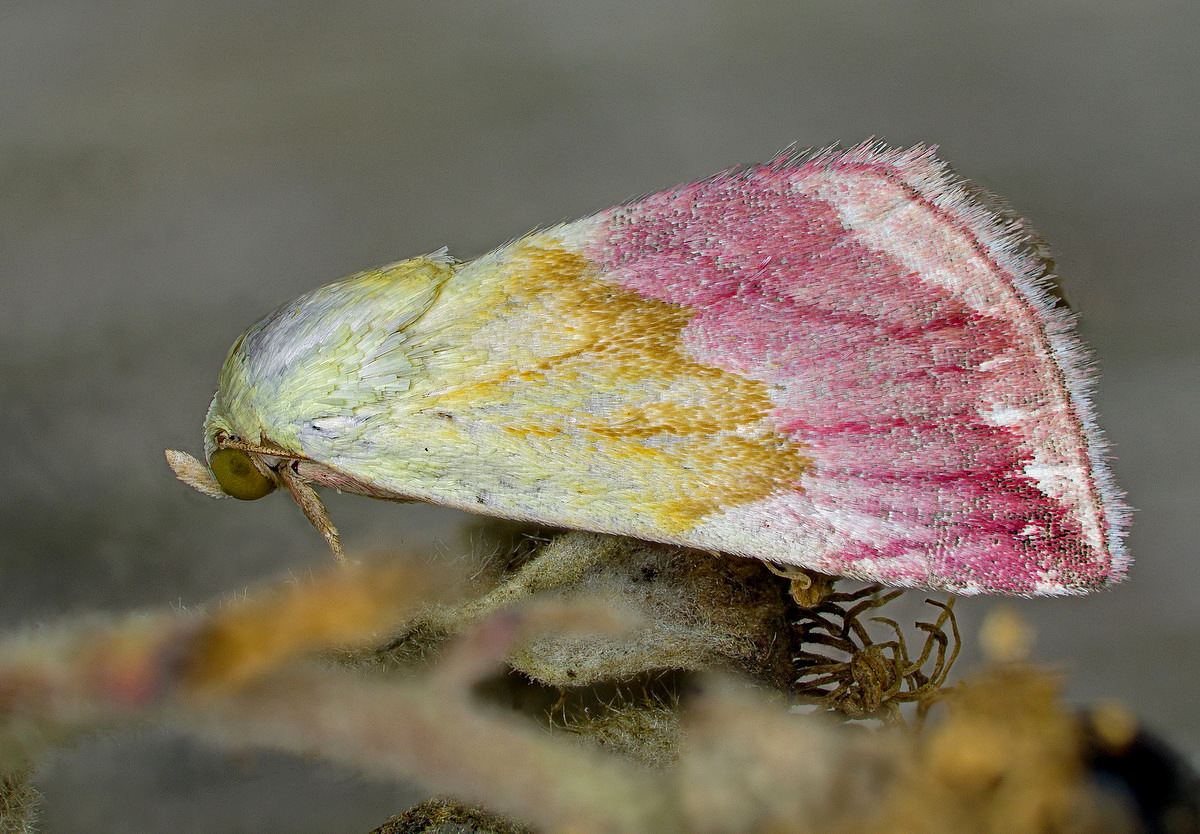 Beautiful Marbled, Sheringham, Norfolk (Rob Lee).
After a warm period mid-month, the weather turned rather unsettled as warm air was pulled up from the south of Spain and North Africa around 18th. This switched the migrant interest from the east to the west, which experienced an impressive influx of Scar Bank Gem and Slender Burnished Brass. Scilly kicked things off for former, with the first at Longstone on 11th. There then followed at least six further records in Cornwall (including another at Longstone on 21st and two on the Lizard on 26th), and singles in Devon, Kent and Dorset, making a record year for the species. Slender Burnished Brass was recorded across the south coast, also starting on Scilly (15th), with further records from Dorset (two including one inland) and the Isle of Wight. Cornwall and Scilly again dominated, with five records, including one at Longstone, completing the rare Plusia double and continuing a good run of migrants there this year following a spring Death's-head Hawkmoth.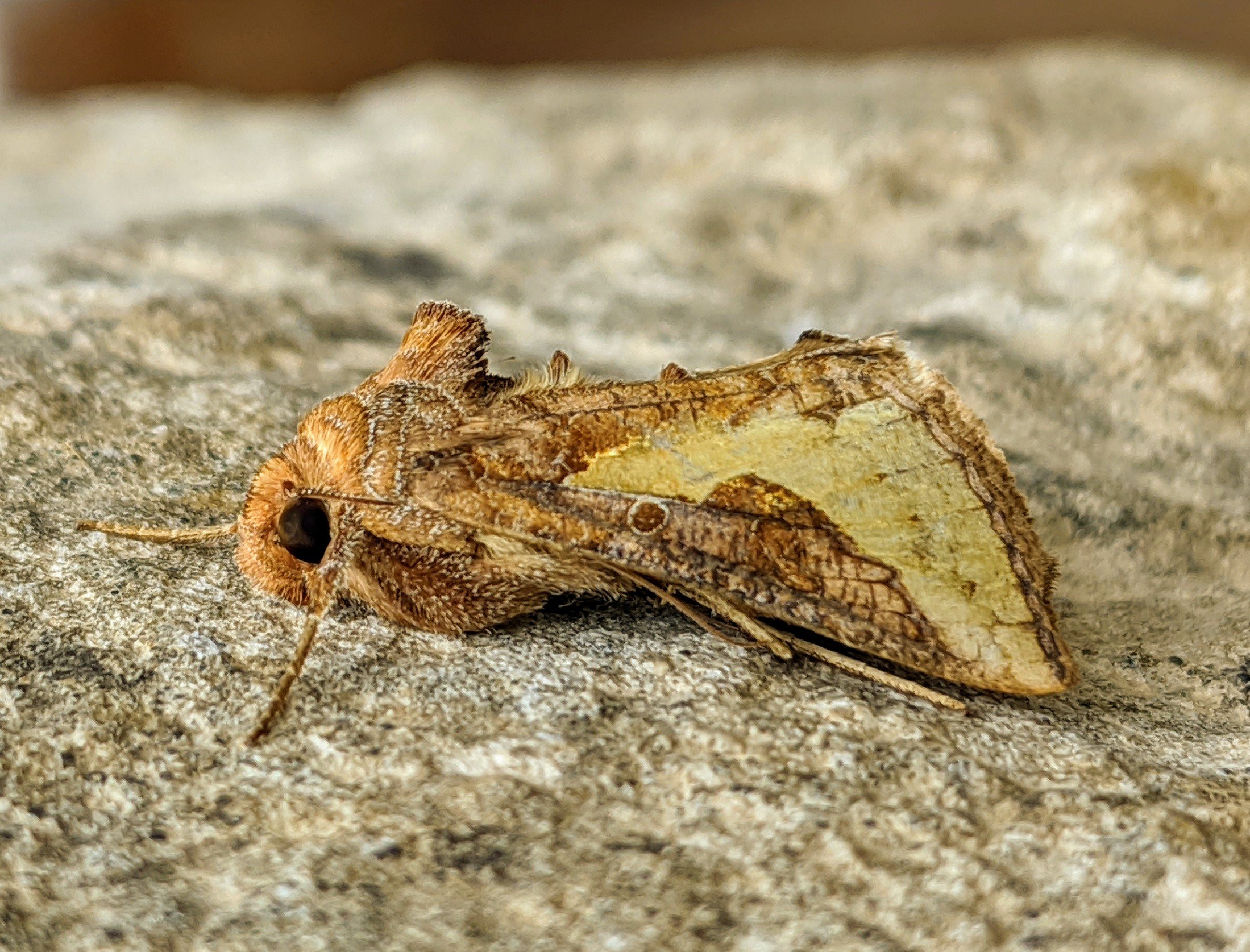 Slender Burnished Brass, Portland, Dorset (Phil Saunders).
August is peak time for finding the larvae of this enigmatic beast, and it seems to have been a good year for them with a scattering across the south. Larvae are mostly found as singletons wandering off to pupate, so five found in a potato crop at Aston Clinton Allotments on 26th were impressive (the first for Bucks since 2008), as were three at Burton Mere RSPB, Cheshire. Another good hawkmoth larva was a Spurge Hawkmoth at Stortford in Hertfordshire, crawling through a gutter on 8th, which was a new moth for the county. Adults were at Pegwell, Kent, on 10th, and St Osyth, Essex, and Bawdsey, Suffolk, on 13th. Impressively, the latter was caught alongside a Bedstraw Hawkmoth, another migrant hawk that featured strongly in August, with records from most of the southern counties including a few inland at New Haw, Surrey, on 11th, and at Guilsfield on 24th, where it was new to Montgomeryshire.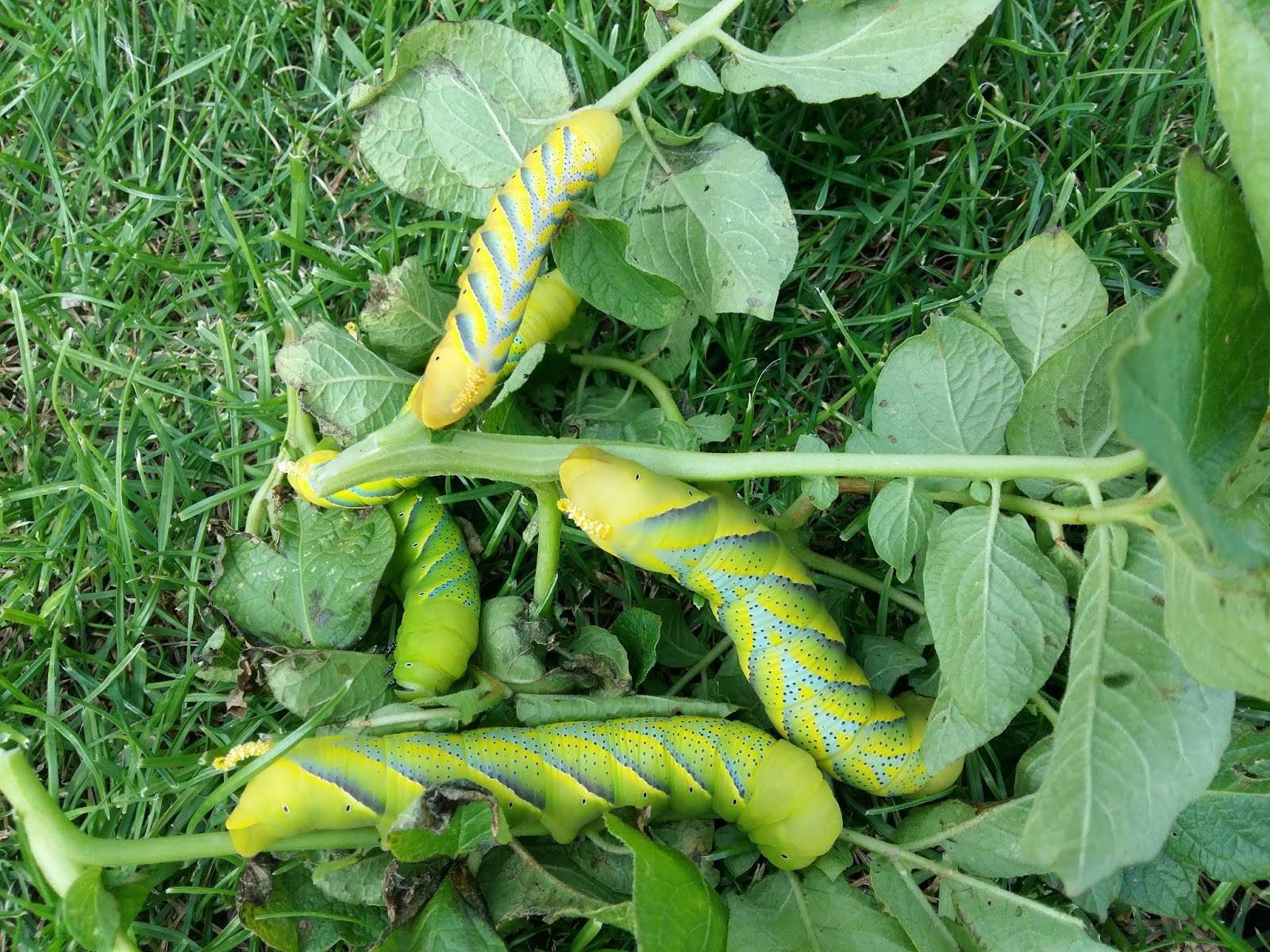 Death's Head Hawkmoth, Aston Clinton, Buckinghamshire (Brian Laney).
While the South-West revelled in the arrival of rare Plusia species, the rest of the country benefited from a fairly typical flush of late summer migrants in the latter half of the month, with a good scatter of classic species – including Delicate, Convolvulus Hawkmoth, Vestal, Scarce Bordered Straw, and Palpita vitrealis. Smaller numbers of Loxostege sticticalis and Cosmopolitan (the latter mostly in the west) were also recorded, with Buckinghamshire chalking up its second record of the latter on 19th. All migrant influxes are different though, and a number of species typical of the month didn't appear, with only small numbers of Bordered Straw and Small Mottled Willow, while Ni Moth doesn't seem to have materialised at all.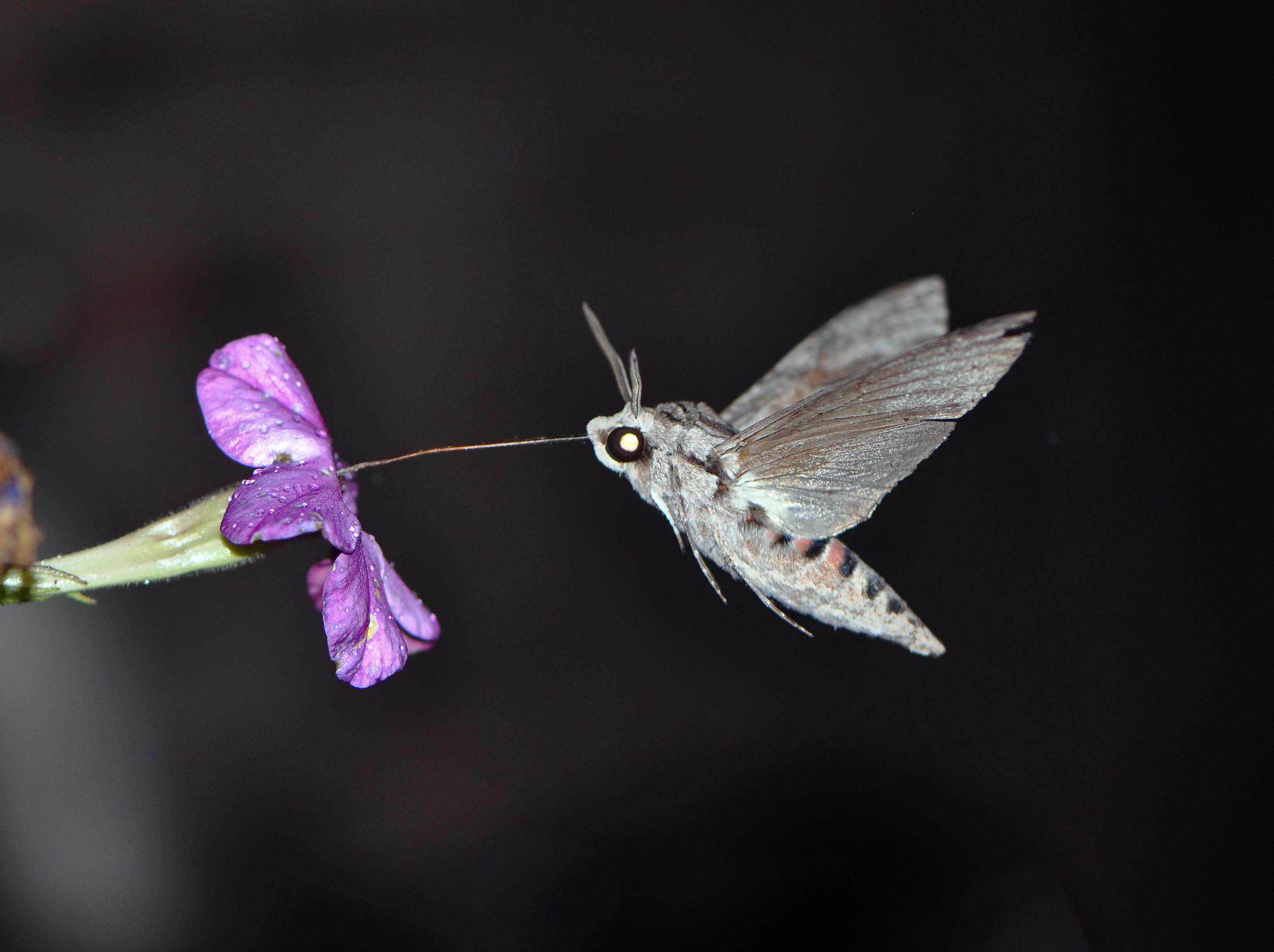 Convolvulus Hawkmoth, Skelton, Cleveland (Damian Money).
Away from the headliners and expected arrivals, the south also enjoyed a good supporting cast of rarer macro migrants. Hamstreet Woods, Kent, added another chapter to its long mothing history on 11th with a stunning Latin. Kent also enjoyed a Speckled Footman (on 2nd) and a Pale Shoulder. Sussex picked up three Shining Marbled, another Pale Shoulder and a Tamarisk Peacock (on 21st at Ovingdean, the second here after one in 2018), while in Dorset there were two Pale Shoulders on Portland, and the county's first confirmed Cryptic Fern in Weymouth on 13th. The action wasn't just in the south, though, with a Passenger inland in Nottinghamshire on 7th and another at Southsea, Hampshire, on 3rd. On the east coast, an Egyptian Bollworm was caught in Essex on 7th, followed by an Orache at Easington, East Yorks, on 8th. Great Brocades weren't numerous this August, but stayed typically easterly, popping up in Essex and on Orkney and Shetland. Migrant micro highlights were more sparse, with Zelleria oleastrella at Crowborough Warren, East Sussex, on 14th and Hythe, Kent, on 16th the first and second for their respective counties, and Hampshire late to last year's Ancylolomia tentaculella excitement with its first at Sway on 1st. Evergestis extimalis on Orkney on 13th was only the fourth for Scotland.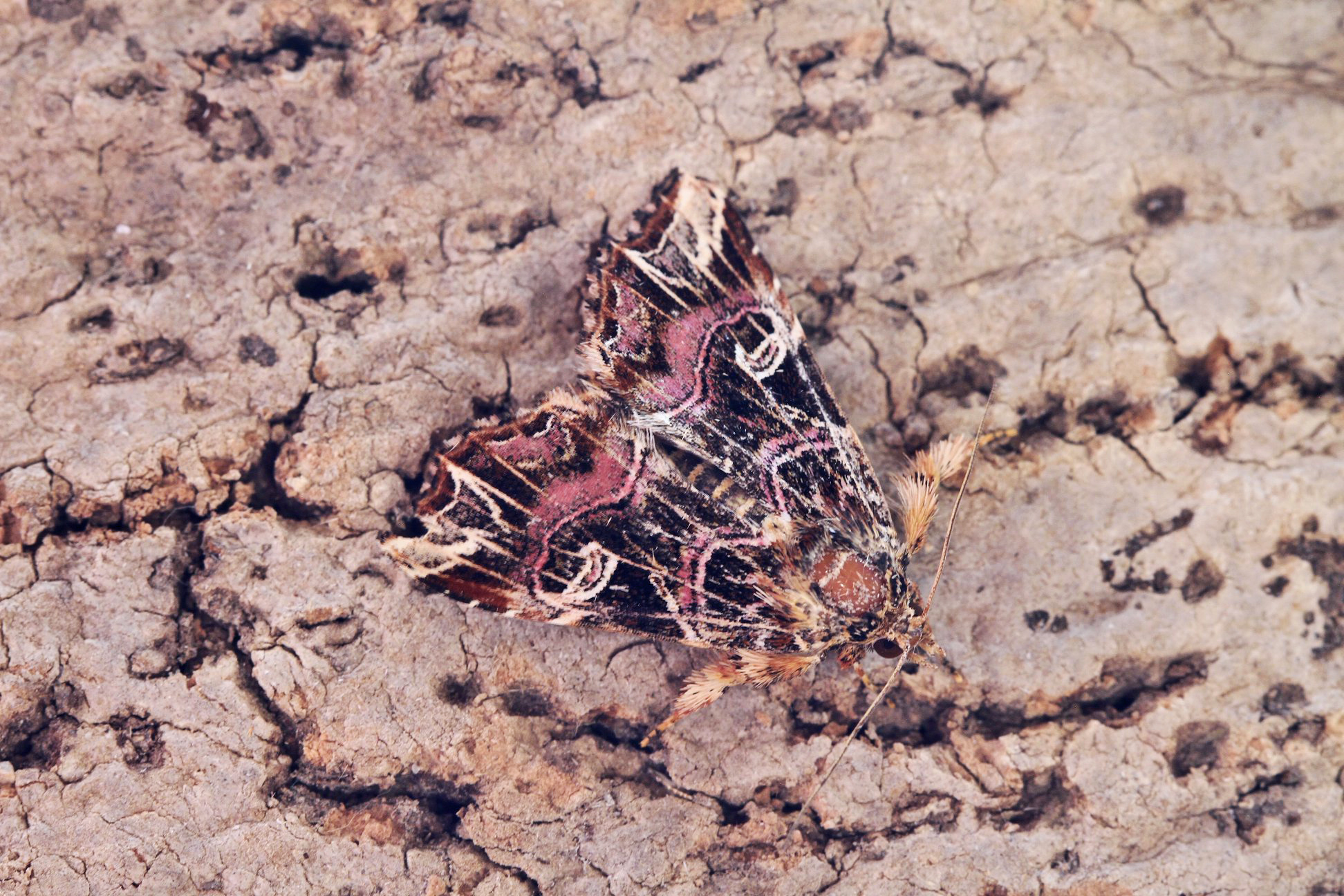 Latin, Hamstreet Woods, Kent (Kevin Button).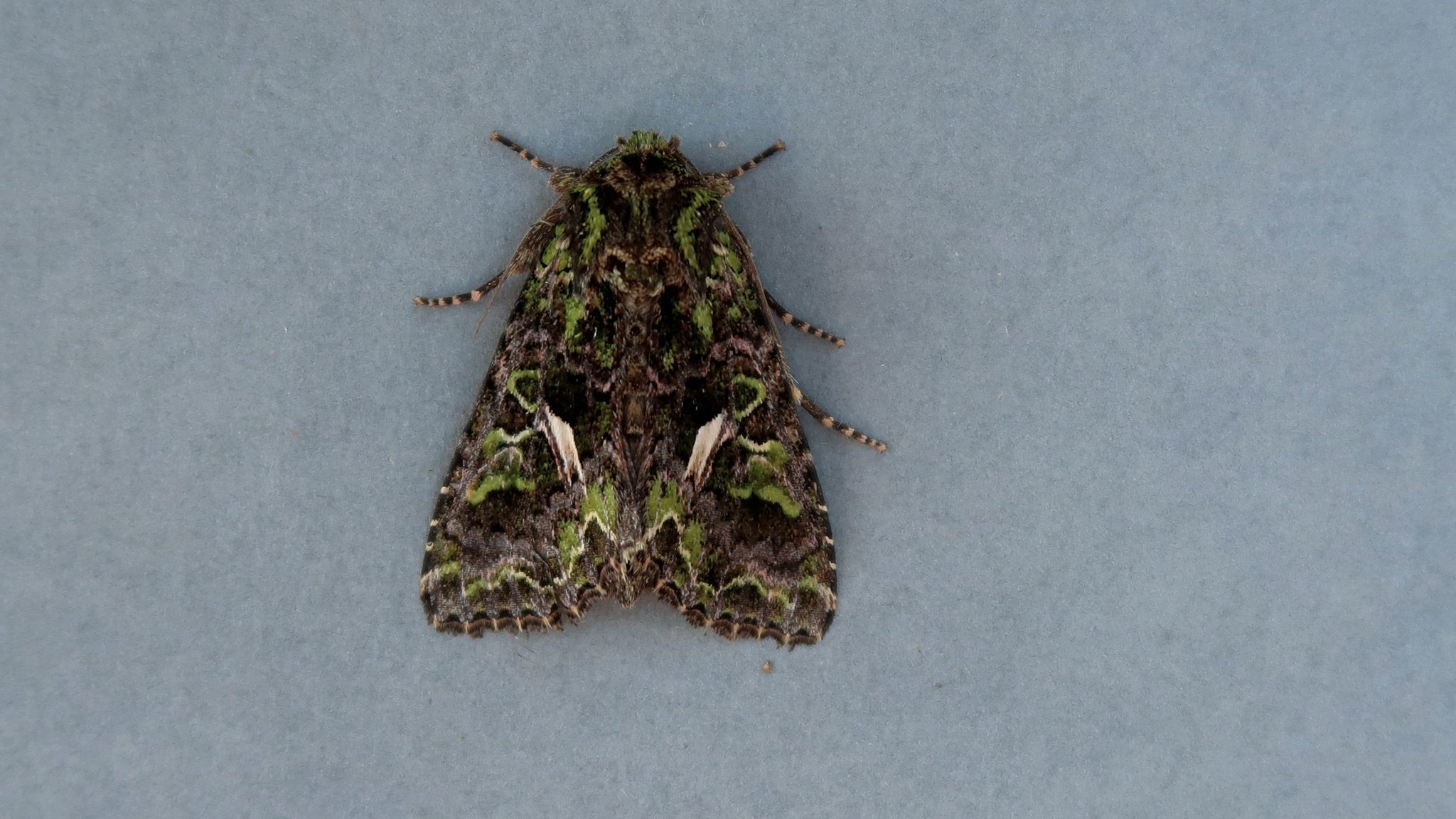 Orache Moth, Easington, East Yorkshire (Jonnie Fisk).
Colonists and Residents
National Moth Night fell in August this year, targeting some of the Catocala species currently expanding their ranges – Red, Light Crimson and Dark Crimson Underwings. Sightings of the latter two species across a broad swathe of the south and east made it clear that last year's migrants were not just a flash in the pan. While there were certainly a few new migrants on the coast, many sightings seem to be the result of newly established colonies, for example at Hazeleigh Wood in Essex (where three Dark Crimson were caught on two dates) and Alner's Gorse, Dorset (where two Light Crimson were caught on 6th after three in July last year). This realisation encouraged many recorders to try sugaring for them, with some impressive results, including seven Dark Crimson Underwing at Putney Heath, London, on 6th. These newly established colonies seem likely to have then been the source of fresh expansion into new areas, with the first Dark Crimson Underwing for Wales on the Gwent Levels on 18th. Intriguingly, further weight was also added to the suggestion that Rosy Underwing is now resident in Dorset, with three there at the end of the month. Compared to the other Catocala, the rise of Clifden Nonpareil now seems like relatively old news, and good numbers of adults appeared from mid-month. Notable records included three at Wytham Woods, Oxon, at the end of the month, and one to sugar alongside a Dark Crimson Underwing in Surrey on 27th.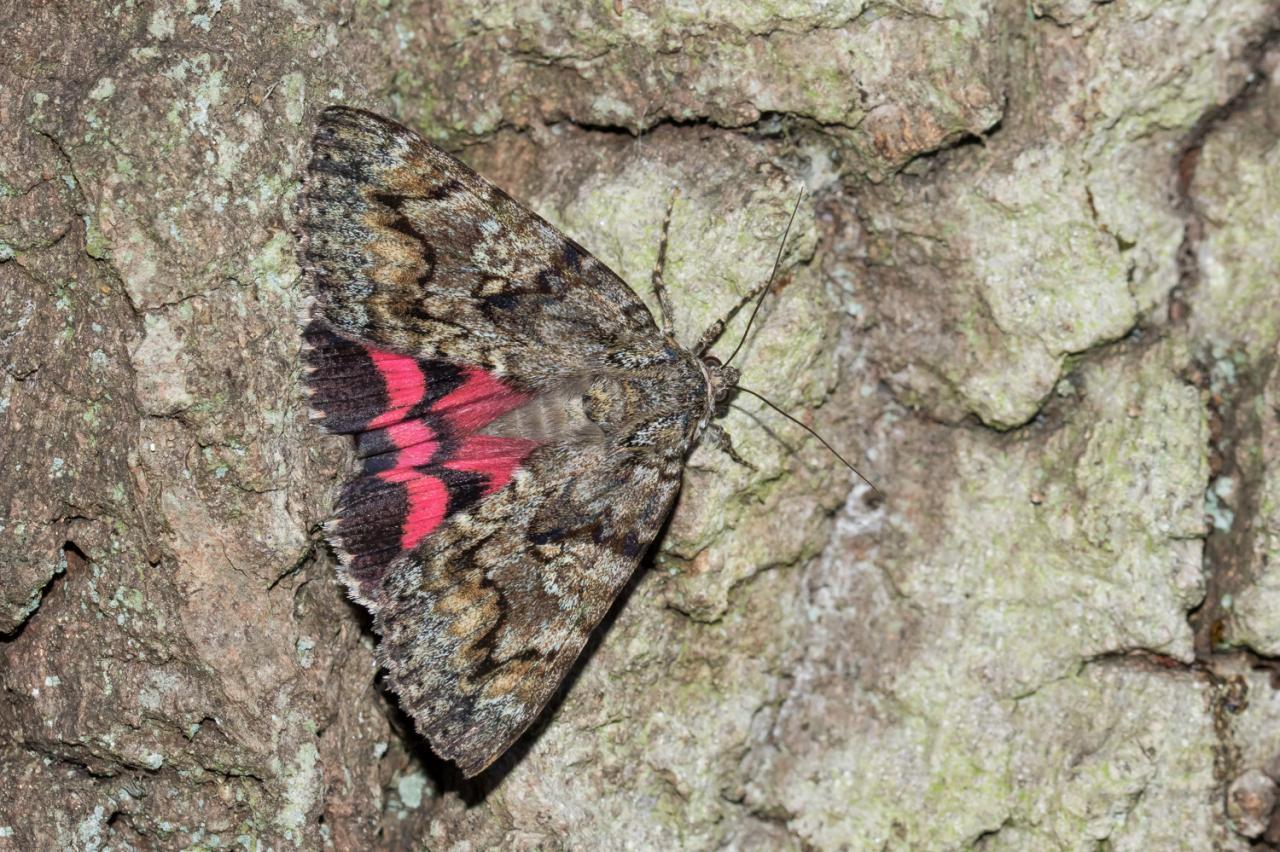 Dark Crimson Underwing, Norwich, Norfolk (Jack Morris).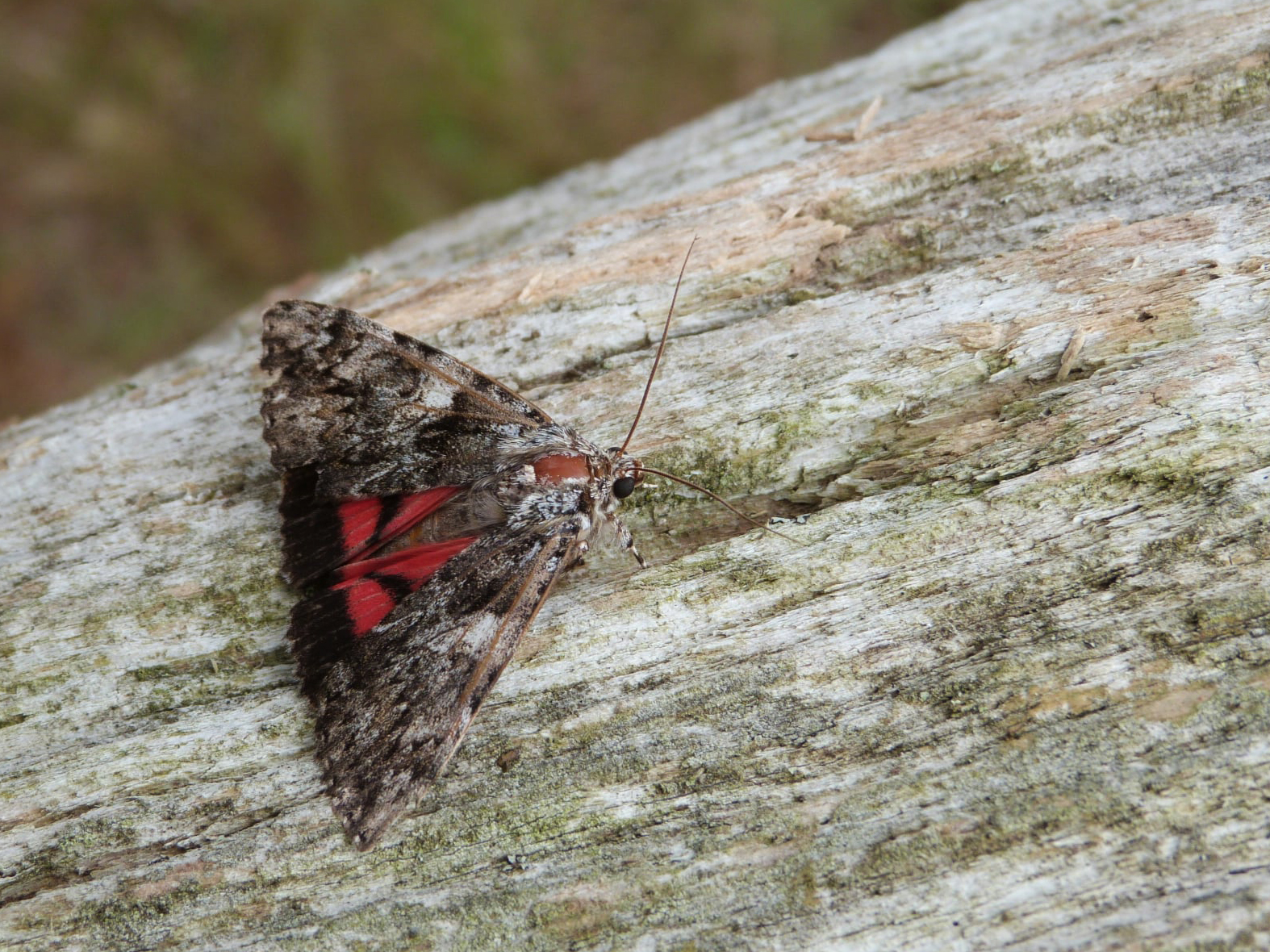 Light Crimson Underwing, Alner's Gorse, Dorset (Jack Oughton).
Warm weather at the start of the month also resulted in some exciting movements of other species typically considered rare residents in the UK, either from existing colonies or the near continent. Rest Harrow, for example, has been expanding in recent years (now seemingly breeding in coastal Essex and Suffolk) and appeared away from breeding areas in Kent and Essex, and further afield in Hampshire (on 11th, the third county record), Surrey and Sussex. Other wanderers during this period included a few coastal species inland, with a Cliff Plume in Somerset on 7th – the second county record – while probable Saltmarsh Plumes also made it to inland Buckinghamshire and Suffolk. Wetlands contributed their share as well, with Ethmia quadrillella appearing at a number of new sites to the west and north of its core range, and a few Dotted Footman away from usual areas in Norfolk. One in Dorset on 13th and a few on the Suffolk coast may have originated from further afield.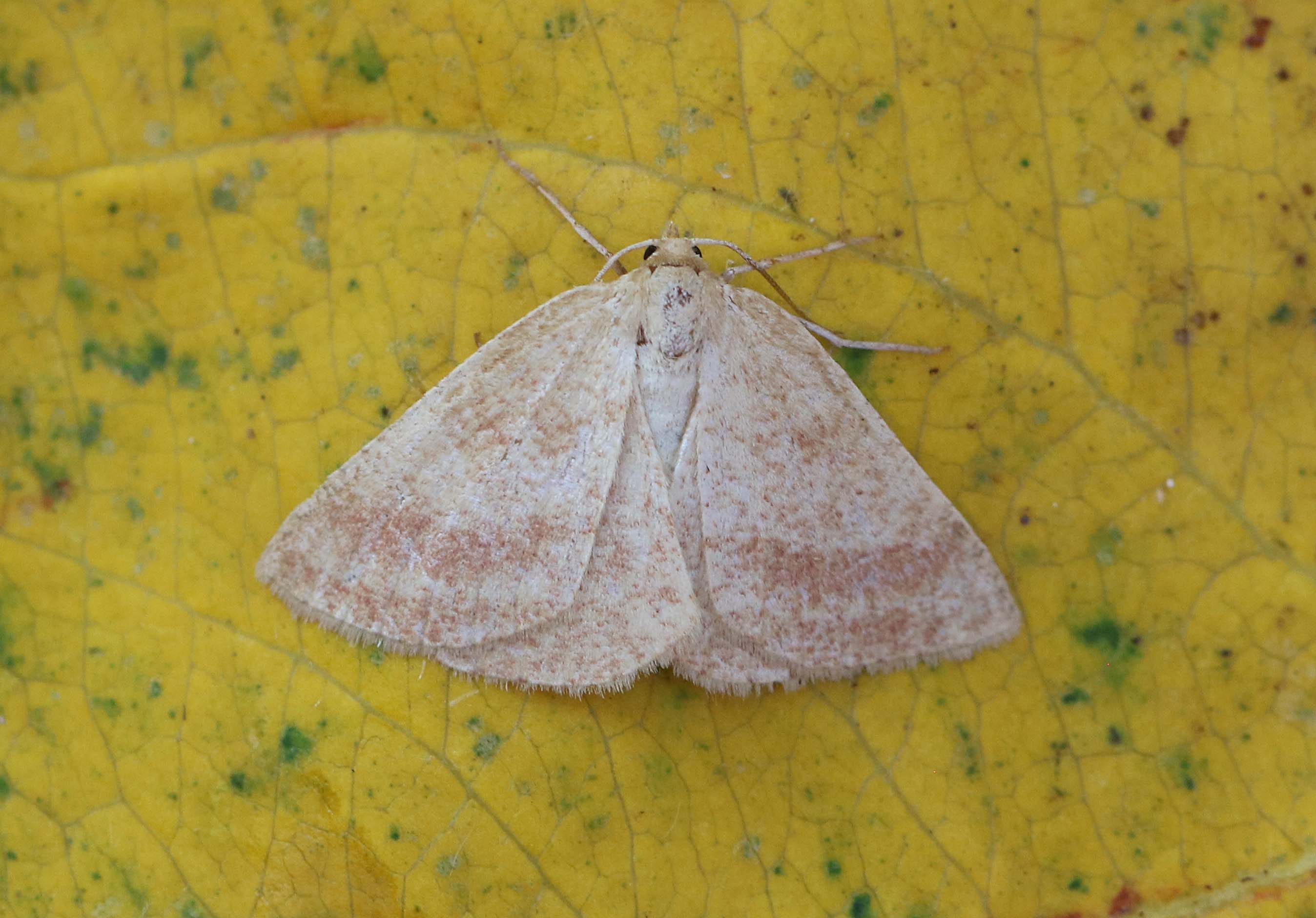 Rest Harrow, Alresford, Hampshire (Dave Shute).
White-spotted Pinion also seemed to have a good year, appearing well away from usual woodland haunts in Cambridgeshire and Bedfordshire. One in Royston on 13th was the first in Hertfordshire for some time, while 71 to traps set in a woodland near Huntingdon at the start of the month is the highest count anywhere for many years. Good news for another rarity came from south Bedfordshire, where Striped Lychnis was discovered last year, and a larval count revealed a significant increase from 30 to 116 this year. Up in Scotland, Dark Bordered Beauty was also discovered at a new site in Deeside. Sadly though, it's faring less well south of the borderb where it had its worst year on record at Strensall Common following fire damage to the breeding area.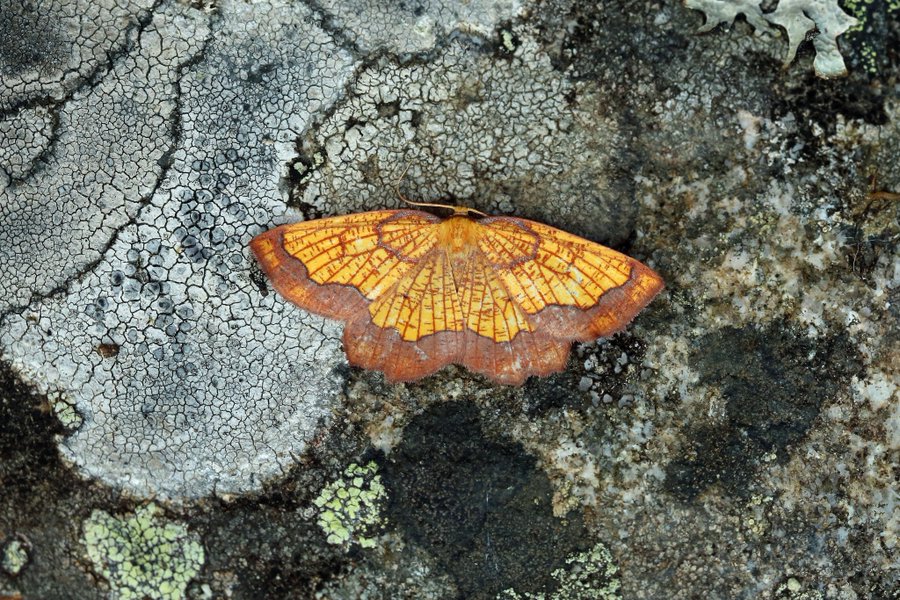 Dark Bordered Beauty, Deeside, Aberdeenshire (Nigel Voaden).
August is when the season for leaf-mining moths really gets going for the hardened few. Two fast-spreading species with distinctive mines that are well worth looking out for are Phyllonorycter pastorella and Lyonetia prunifoliella, both found new to Oxfordshire in August. In Norfolk, Phyllonorycter sagitella was also on 19th. This miner of Aspen was only discovered in the UK in 1976 (in Glos), but may well be expanding after being found new to Herefordshire and Bedfordshire in 2019. In the same area, lures revealed Raspberry Clearwing new to east Norfolk at the start of the month, rapidly followed by records at three more sites in the county. New sites were also found in Sussex, Cambridgeshire, Hertfordshire, Kent and Northamptonshire. As has been a common theme this summer, the lure also attracted some interesting Tineids – no less a being than Stenoptinea cyaneimarmorella, which has fewer than 15 UK records, and appeared twice in Kent, and once in Hertfordshire. In the same vein, Tapestry Moth appeared in a dog bed at Magor Marsh, Monmouthshire, at the start of the month – just the fourth Welsh record of a moth that seems to have become much rarer in recent years.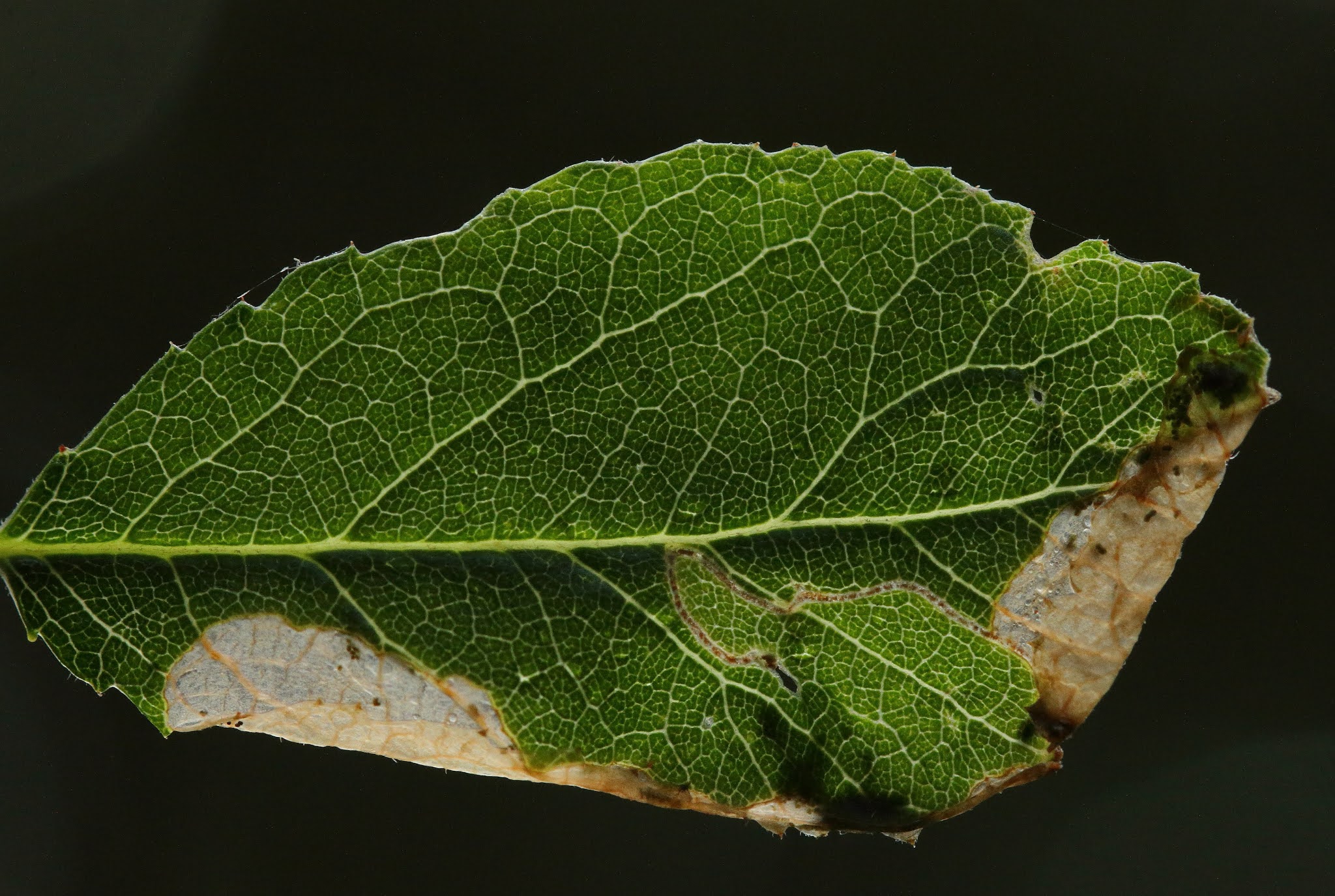 Lyonetia prunifoliella mine, Goring, Oxfordshire (Will Langdon).
Butterflies
The late July-early August period is generally the time that great years for butterfly migration really show themselves, as a classic time for arrivals of Long-tailed Blue, Swallowtail and Queen of Spain Fritillary from further south. Each of these showed themselves at the start of the month, but despite much anticipation, Southern Small White still hasn't appeared. Recorders looking to make history should note that Butterfly Conservation are keen to receive any possible sightings by email to southernsmallwhite@butterfly-conservation.org, while there is an offer of a limited-edition print as a prize for the first record.
In the absence of Southern Small White, the month's stand-out butterfly was a female Short-tailed Blue photographed at Lavender Pond nature reserve, Surrey, on 18th. Although it has not occurred in the UK for some time, this species is not necessarily an unexpected arrival, having been on the march on the near continent for a few years. In fact, it's pushed northwards by nearly 500 km over the last 30 years, and is now widespread in the south-east of The Netherlands. That said, this is an easy species to rear in captivity, and at a rather unusual inland location as well, but hopefully its origins will be proven by further sightings on the south coast in the next few years.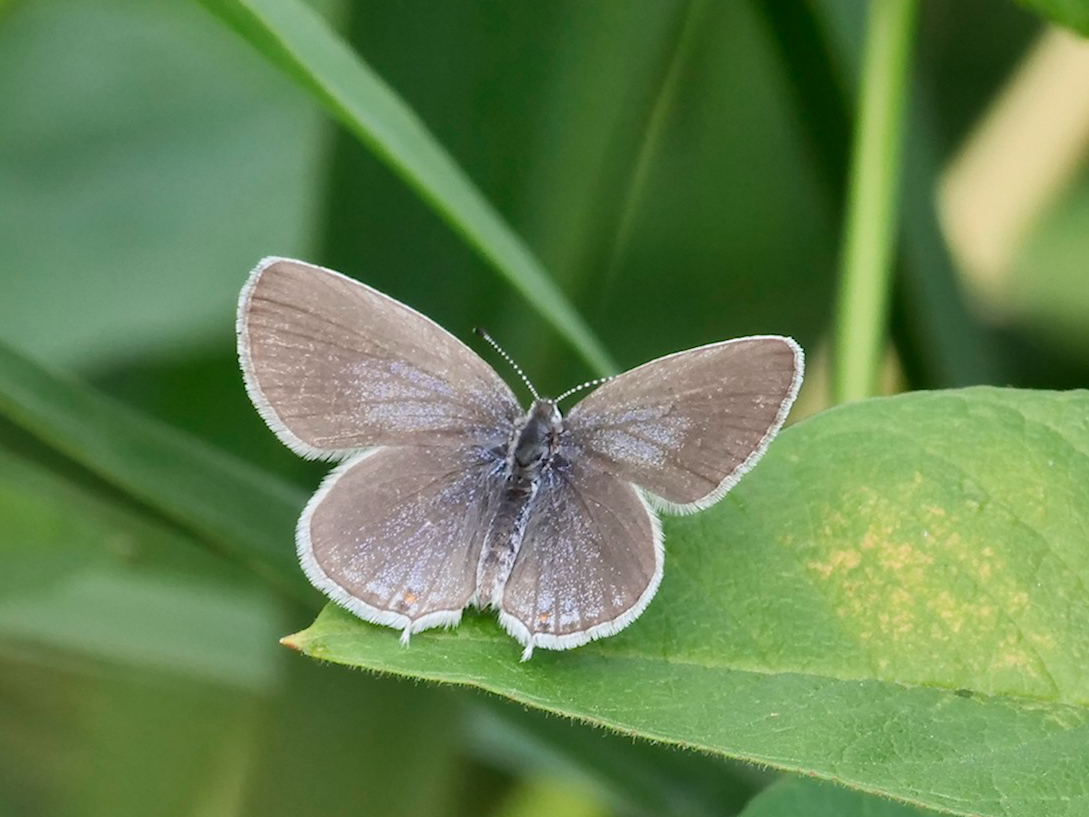 Short-tailed Blue, Rotherhithe, London (Craig Knox).
Away from the Short-tailed Blue, there was one Queen of Spain Fritillary record in August, photographed at the Naze, Essex, on 1st, and a small number of Camberwell Beauties in the east at Blickling Hall, Norfolk, on 24th, Marden, Kent, on 13th, as well as further north in Renfrewshire in the second week of the month. Of the eight Long-tailed Blues reported, three were at sites that attracted primary immigrants last year – at Kingsdown Leas on 9th, at Axmouth on 12th and a female egg-laying at Whitehawk Hill from 5-9th. Arrivals of this butterfly are starting to look like an increasingly regular, and predictable phenomenon on the south coast, even if this year's seems smaller than 2019. Another was attracted to specially-grown Everlasting Pea in a garden in Littlehampton on 12th and others were in gardens at Lancing, Sussex, on 2nd, Felpham on 20th, and Swanage, Dorset, on 10th.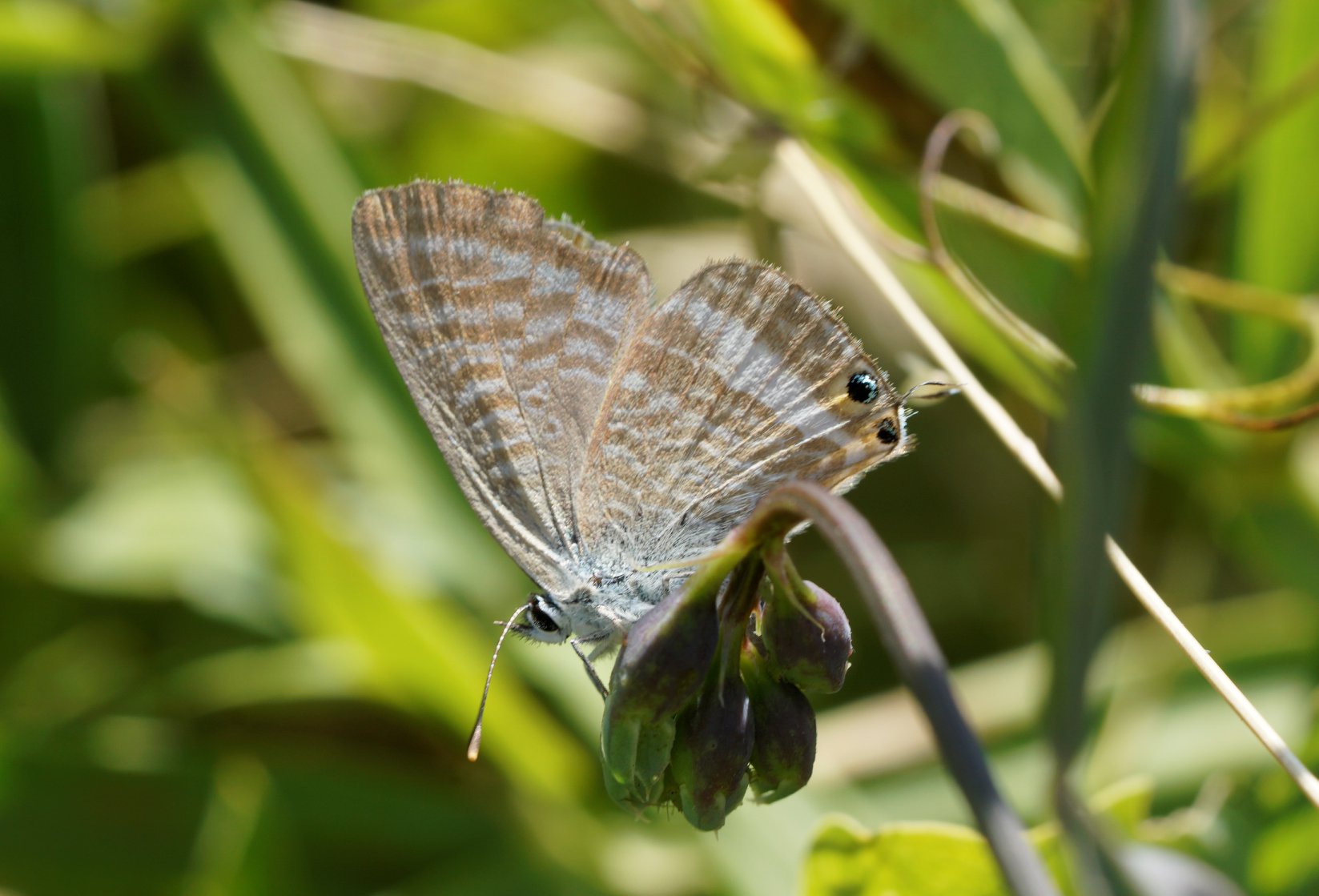 Long-tailed Blue, Whitehawk Hill, East Sussex (Max Anderson).
The origins of continental Swallowtails at this time of year can be difficult to gauge, but at least a few look like genuine migrants – at Hengistbury Head, Dorset, and Highcliffe on 9th and 12th respectively, as well as in Sussex at Beachy Head, Trundle Hill and Rye Harbour on 17th, 6th and 3rd respectively. At the last-named location, a female was seen laying eggs on Fennel which hatched successfully, producing seven larvae. Other Swallowtails were photographed further inland at Taunton, Somerset, and Kemsing, Kent, as well. If the origins of continental Swallowtails are tricky, then Monarchs on the south coast in summer are even more controversial. Records in Kent and Sussex in July and August have happened on several occasions over the last few years, and this year sightings came from Beachy Head, East Sussex, on 10th, and Lydd-on-Sea, Kent and Dungeness on 7th and 10th. Some observers have suggested this summer flush originates from colonies in Spain and the Canary Islands, while others point out that the lack of records further west (alongside moths that are known to have originated in this area) count against this.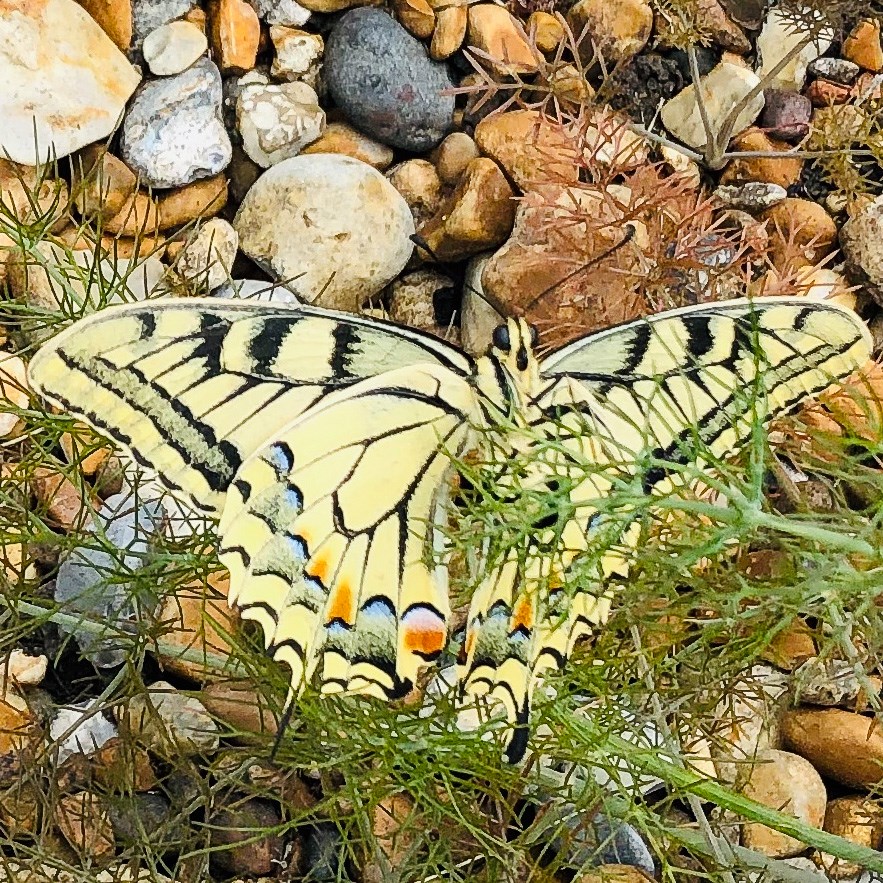 Swallowtail, Rye Harbour NR, East Sussex (Sussex Wildlife Trust).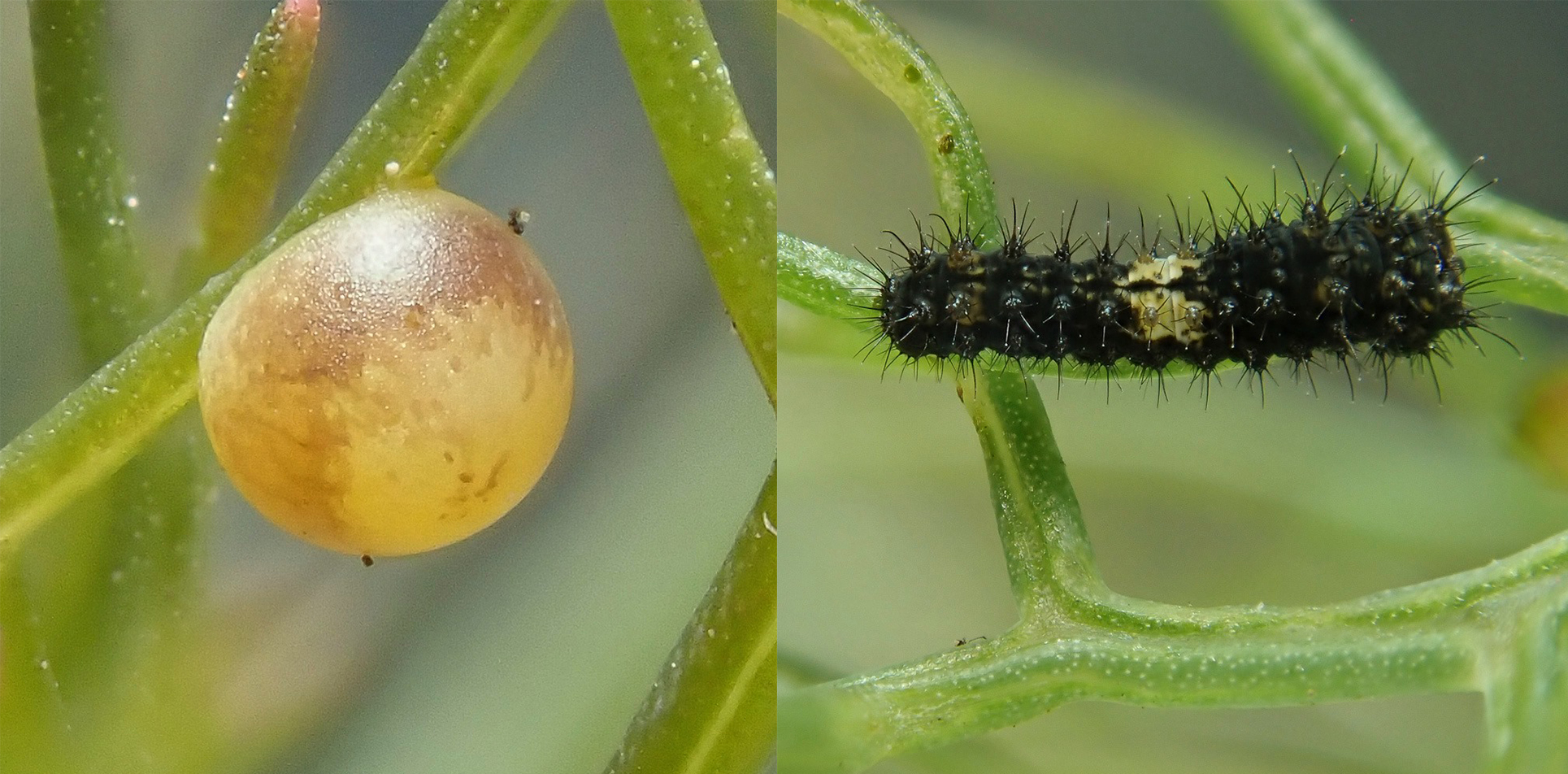 Swallowtail ovum and larva, Rye Harbour NR, East Sussex (Sussex Wildlife Trust).
Of the commoner migrants, many recorders have remarked on the scarcity of Painted Ladies this year, and though they were distinctly thin on the ground, there was a decent flush across the south in August. Clouded Yellows were, if anything, more common, though still not widespread, with a couple of good counts coming from Sussex – 12 at Steep Down and 16 on Thorney Island on 12th. Away from migrants, the hot spring enabled several species to pull of unusual second broods in August. A few second-brood Peacock larvae were seen in the south, while Dingy Skippers were almost expected on downland sites, recorded far north as East Heslerton Brown, North Yorks. There was also a small second brood of Heath Fritillaries in Kent's West Blean Woods complex, with seven seen on 29th.