To tailor the BirdGuides news service to your specific needs, the site offers the opportunity to set up Filters and Alerts. The two are similar in their goals, yet slightly different:
Filters: available to both Pro and Ultimate users, these can be set up for the main sightings page on the website and our smartphone app. App push notifications work around your Filter settings.
Alerts: available to Ultimate users, Alerts can be set up for email and text alert services.
First you must log in, then click on the 'Welcome [your name]' message at the very top of the web page. In the drop-down menu, you will notice both 'Manage My Filters' and 'Manage My Alerts'.

Setting up Filters
If opening up the Manage My Filters page for the first time, you'll likely be greeted by a screen that looks like this: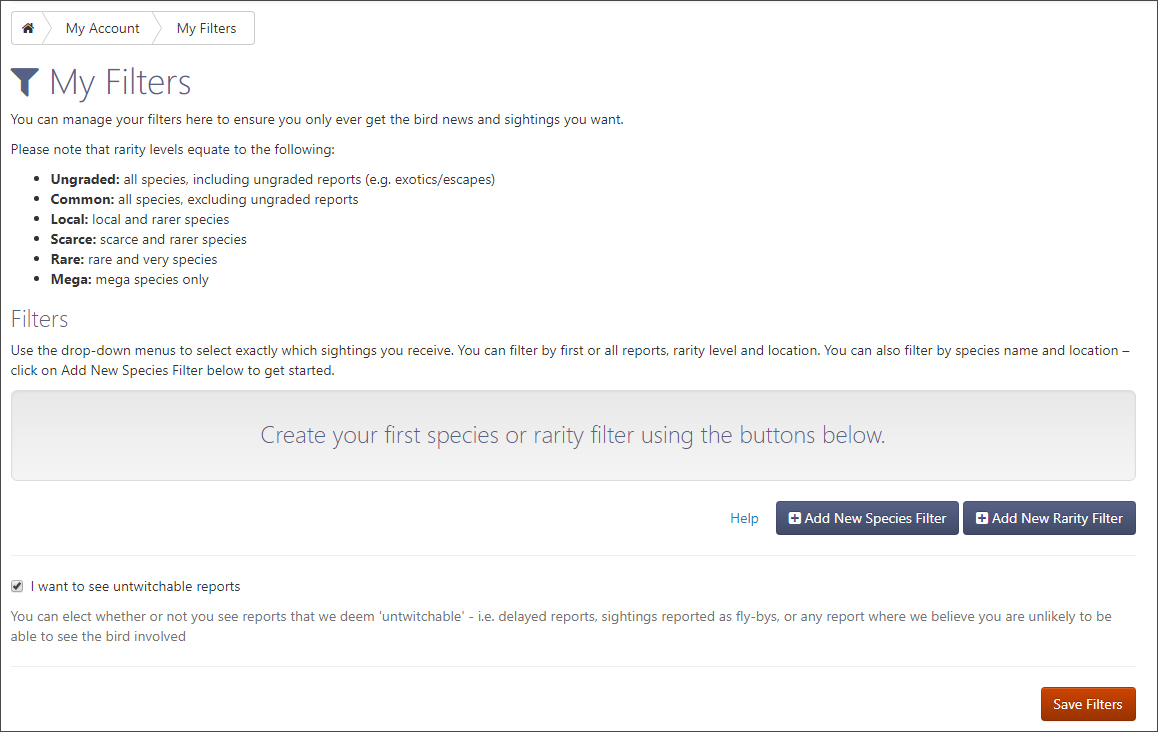 The keys to setting up new Filters are the blue 'Add New Species Filter' and 'Add New Rarity Filter' buttons.
The first option allows you to set up Filters for particular species – useful if you want to receive push notifications on a species – while the rarity option equates to any bird classed of that rarity or rarer. In the case of the latter, if you checked 'Scarce', your Filter would show reports of scarce, rarer and mega species.
Clicking on one of these buttons generates a new Filter to set up. This consists of three boxes, a 'Send Push Notifications?' checkbox and a red delete button. From left to right, the first box allows you to choose whether you want to receive first or all reports of a particular bird, the second concerns the species/rarity (depending on the button you chose) and the third is for the location. Here you can choose counties (for example, London or East Sussex), individual countries (England, Northern Ireland and so on) or the collectives 'Britain', 'Ireland' or 'Britain and Ireland'.
You can set up as many or as few Filters as you like, and select whether you wish to receive app notifications on your smartphone for each individual Filter. Adding and removing Filters is a simple process, making it quick and easy to edit – even in the field.
Finally, check the 'I want to see untwitchable reports' box if you want to hear about news that we deem 'untwitchable' – such as late news, seawatching records and some flyovers, where seeing the bird in question is likely to prove at best extremely difficult.
To save your Filter after editing, make sure you press the orange 'Save Filters' button.
Content continues after advertisements
Setting up Alerts
The process of setting up an Alert is similar to that of a Filter, but there are a few key differences.
You can set up as many or as few different text or email Alerts as you wish. Each of these is defined by filters, or 'triggers' as we call them, which you can fine-tune specifically for each alert. You can switch any of your alerts on or off as and when you like, on an individual basis, giving you a greater level of control over exactly what news you receive at any given time.
You can name each Alert something memorable, allowing you to easily identify which is which on the Manage My Alerts page. For example, if going to Shetland this autumn, you could set up a specific text Alert called 'Shetland Texts'.
On the Manage My Alerts page, email alerts are depicted by a large @ sign, while text alerts are represented by a phone icon. Two orange buttons give you the options to create a new text or email Alert.
For each alert created, you can set as few or as many triggers as you wish. Triggers behave in the same way as filters in that you can choose first or all reports, then a species/rarity level and finally a location. However, one exciting new addition here is the 'No Reports' option, which allows you to filter out news of species you don't want to hear about. For example, if you're on Shetland and want to receive texts for local and rarer species, but don't want to use up credits on the inevitable multitude of Yellow-browed Warbler messages, you can filter these out by choosing the 'No reports' option (see the example below).
In addition, you can choose which days of the week (and even what times of day) you want to receive Alerts. The default is set to all day and every day of the week, but you can customise this to suit you.
To switch an Alert on or off, simply tick or untick the checkbox marked 'Enabled' to the right of the Alert's name. To delete an alert, press the 'Remove' button next to the 'Edit Text Alert' title. The option to receive untwitchable reports also exists; you can tick or untick this box accordingly.
When you have finished creating and editing your Alert, you must hit the orange 'Save Alert' button to ensure it takes effect.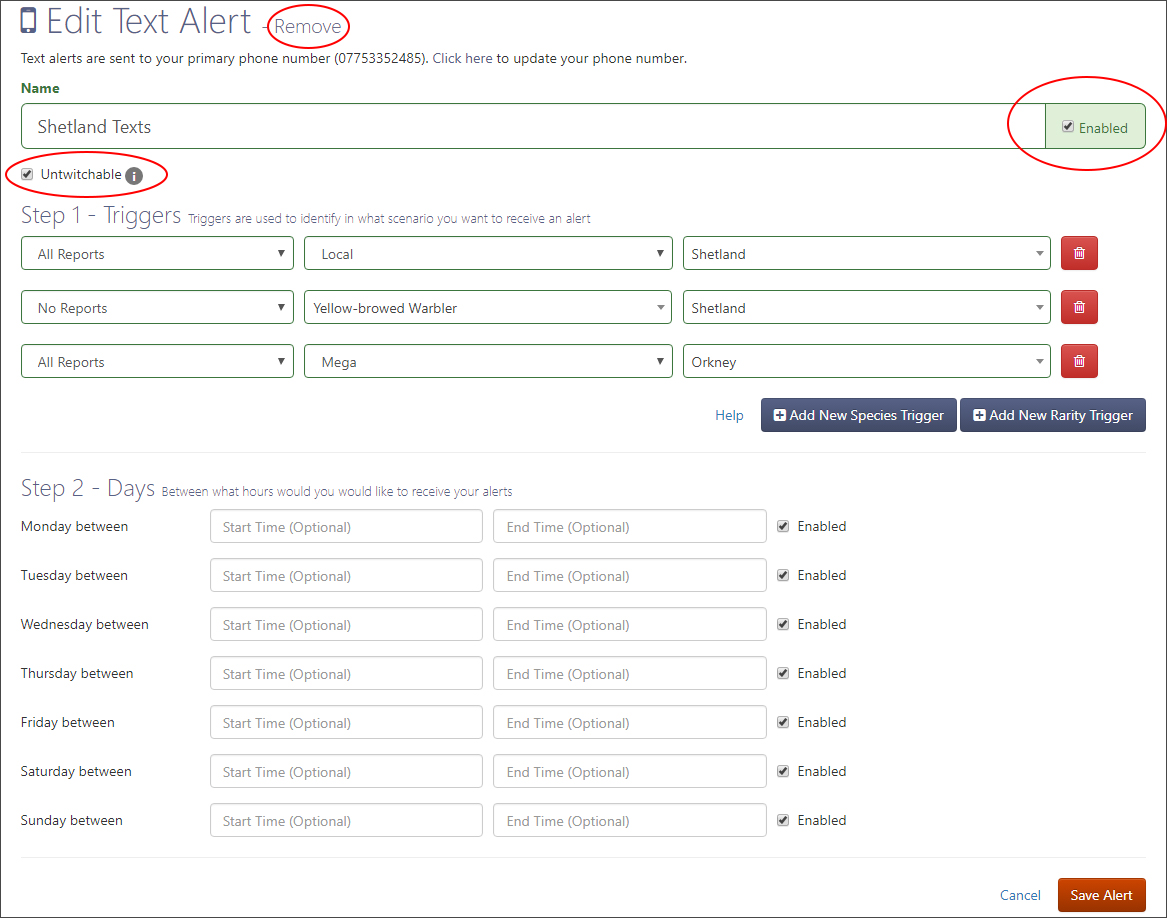 Useful links
If you have a problem setting up filters or alerts, please call us on 020 8826 0934 or email contact@birdguides.com