A feature that was recently introduced to BirdGuides is the 'My Sites' page. This allows subscribers to apply a filter to the Latest Sightings page using a predetermined location of their choice, and replaces the 'Nearby Reports' function that many subscribers will have used on the old BirdGuides site.
The great benefit of this is that you can now tailor the Today's News page to see the exact news you want to see, based on a geographic location. For example, you can set up a new site for your home address and filter the news page to see nearby sightings within a pre-determined radius – this can be as small or as large as you wish.
How to set up a personal site
BirdGuides subscribers can create personal sites via www.birdguides.com/my-account/my-sites. When you are logged in to your account, this can be accessed by clicking on 'Welcome [your name]' in the top right corner of the website and choosing 'Manage My Sites' from the dropdown menu.
To add a personal site, simply follow the four instructions on the My Sites page:
Click on the blue 'Add New Site' button.
Give your site a name and set the desired radius in kilometres (the default value is 10 km, which is about 6 miles).
On the map, move the coloured pin until it is centred on the site you want. You can zoom in and out on the map by holding down Ctrl button on your keyboard and using your mouse's scroll wheel, by double clicking on the map, or by using the +/- buttons in the bottom right-hand corner of the map. Click and hold to 'pick up' the pin, drag it to where you want to position it and 'drop' it.
Repeat steps 1-3 to add another site; you can create as many as you want.
Once you have added all the personal sites you require, click the red 'Save Sites' button to save your changes. You can edit or delete your personal sites at any time.
Once set up, your My Sites page will look something like this: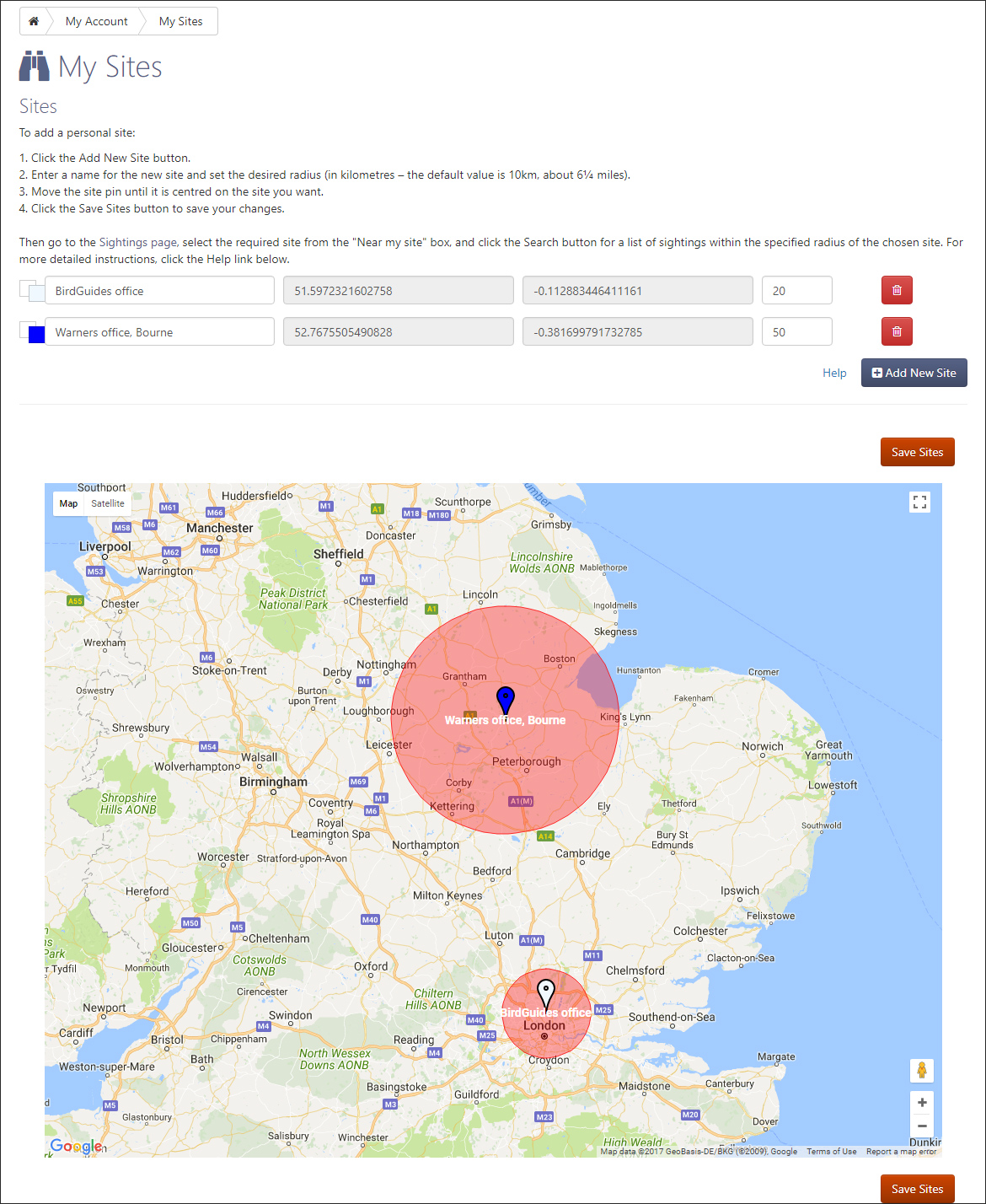 Content continues after advertisements
Applying personal sites to the sightings page
When you have saved your personal sites, you can apply them to Today's News to see nearby sightings. Under Search Options you will see a 'Near my site' field. Click in the box to bring up the list of your sites and select the relevant one.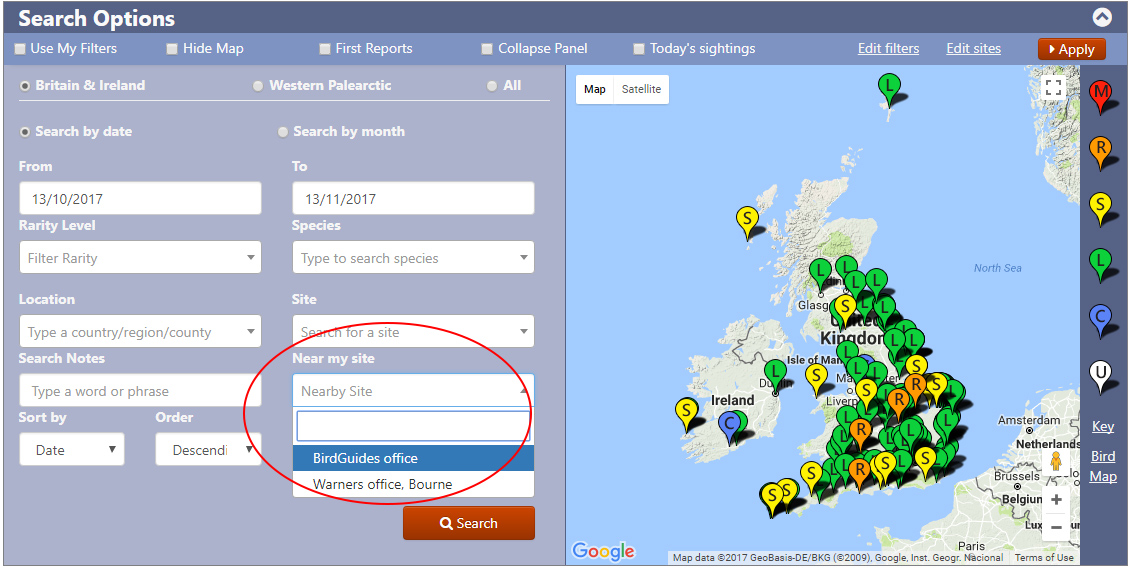 The mini BirdMap will alter according to your radius, and a list of nearby sightings will be displayed underneath. You can further filter your results by date and by species.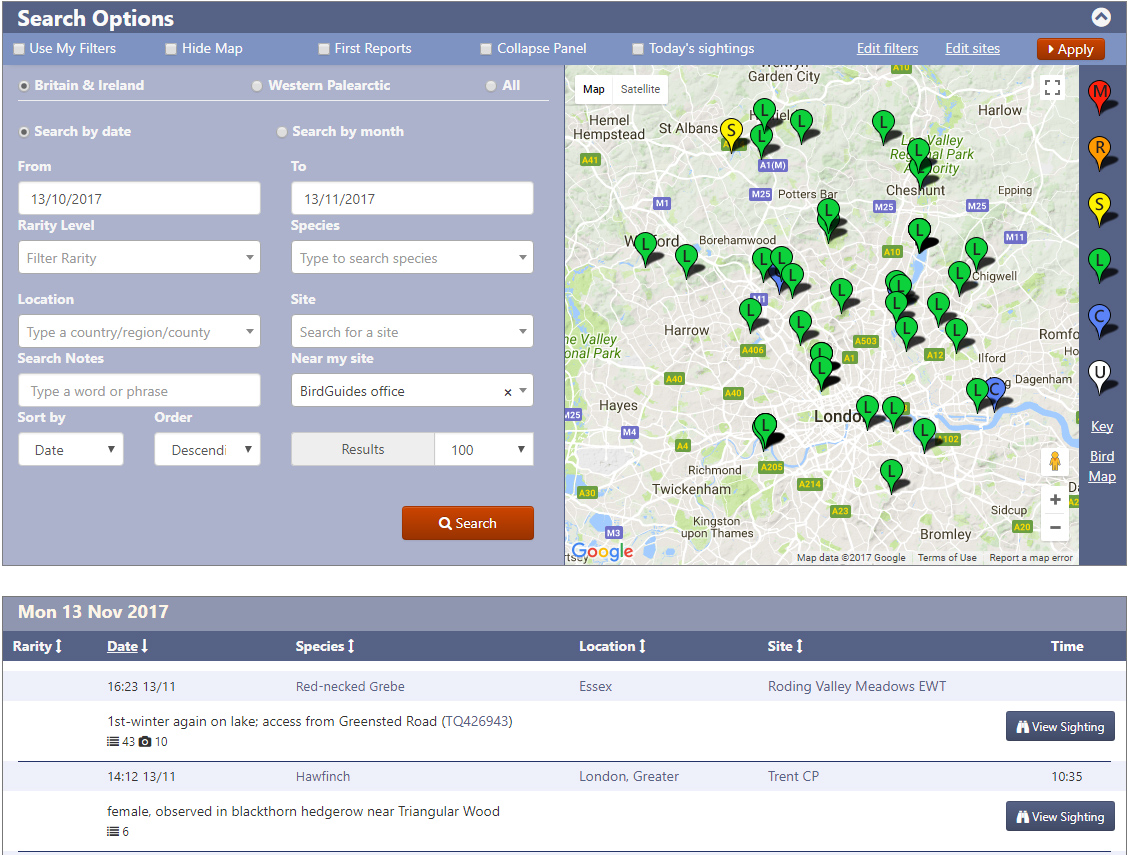 If you experience any problems or have any queries, please don't hesitate to email us at contact@birdguides.com.