In May 2015 we visited Morocco and included a trip to Western Sahara to see desert birds, especially those found only on the edge of the Western Palearctic. The long drive was rewarded with goodies such as a breeding pair of Barbary Falcons found on a roadside stop, African Dunn's Larks, Black-crowned Sparrow-larks, and many breeding Cricket Warblers and Desert Sparrows. We also wanted to see some desert mammals, so we did a few spotlighting drives at night.
On the night of 2/3rd May 2015, Rafal Smykala and I were spotlighting along the Dakhla-Aousserd road, hoping to see a Fennec Fox. The road was empty of traffic and many Savanna Hares Lepus microtis, Lesser Egyptian Jerboas Jaculus jaculus and Desert Hedgehogs Paraechinus aethiopicus were seen. They were mostly near or on the road, which apparently provides some slightly wetter habitat in the desert. As such, we were driving very cautiously. Unexpectedly, near kilometre post 48, a nightjar flew across the road and straight into our car. There was nothing we could do to avoid it. The bird was so fast that only I saw it just before the collision. Rafal, who was watching the spotlight from the passenger seat, missed it. Saddened, we took the corpse and continued spotlighting, seeing more of the same mammals.
Then I began wondering what species the nightjar could be. It had big wing patches, so it could not be Egyptian Nightjar, the species we wanted to see. It was at this point we realised that it fitted the image of male Golden Nightjar (Caprimulgus eximius) in Nik Borrow's Guide to the Birds of Western Africa. Very slowly, the magnitude of our observation began to sink in.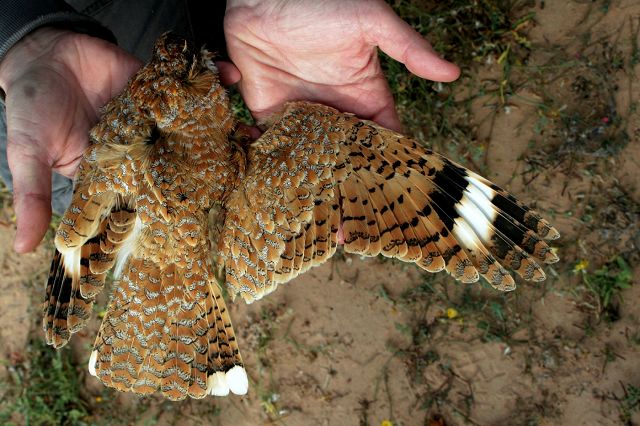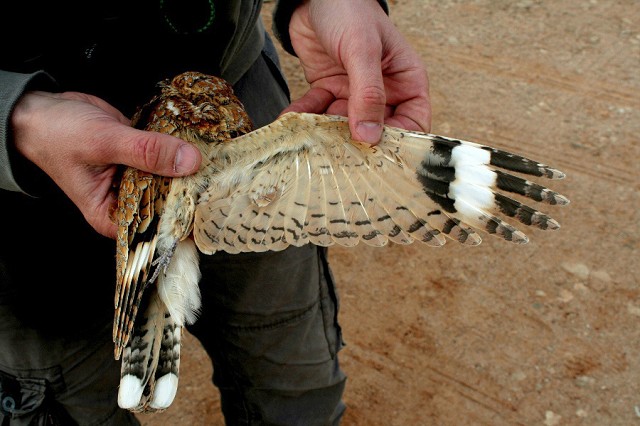 Male Golden Nightjar, Aousserd, Western Sahara, 3 May 2015.
Content continues after advertisements
This was the middle of the breeding season. Could we find a previously unknown breeding population? In a country so poorly known, this certainly seemed possible. Therefore during the next two nights, we spotlighted and played the recording of Egyptian Nightjar at this locality and several wadis along the road. However, no further night birds were seen or heard, except some Stone Curlews near the Gleb Jdiane waterhole.
We offered the specimen to Mr Taoufik El Balla of Association Nature Initiative in Dakhla, who kindly declined, noting that Dakhla lacks a museum or a similar institution able to preserve it. Therefore we measured it and took multiple photographs, as well as preserving all flight feathers and numerous contour feathers.
The record was submitted to the secretary of Moroccan Rare Birds Committee, who kindly replied: "Thank you very much for your extremely interesting report of Golden Nightjar near Aousserd. Effectively, there is no doubt at all and your identification is correct. Normally, the deadline for analysis and votes of first round for files of this MRBC21 (said 2015) is fixed on 30 September 2015."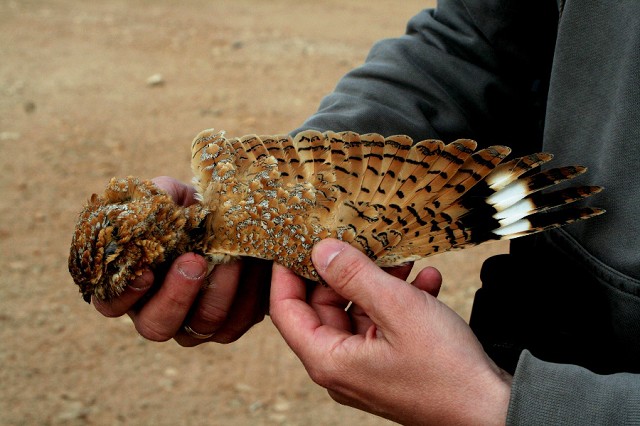 Male Golden Nightjar, Aousserd, Western Sahara, 3 May 2015.
Long before going to Morocco, I believed that Western Sahara had the potential to bring surprising bird discoveries. From an ornithological perspective, the southern edge of the Western Palearctic is practically unwatched – in contrast to North America and the southern edge of the ABA region, where places such as the lower Rio Grande Valley in southernmost Texas are birded heavily and produce many regional firsts.
The Sahara is not a barrier of lifeless dunes, but rather a mosaic with patches of grassland and savannah in wadis that vary in their extent and density. Desert birds routinely move between these 'islands' of habitat. I often wonder whether many African birds, either native to the Sahel or intra-African migrants, occasionally find their way to within the Western Palearctic. Some may even breed. In addition to the breeding Cricket Warblers, discovered several years ago, 2013 saw the Western Palearctic's first White-throated Bee-eater filmed on the Aousserd Road and Sudan Golden Sparrows were discovered in numbers earlier this year. Further possibilities are many – in fact, tens of species are possible additions to the Western Palearctic list. Though I took a copy of Guide to the Birds of Western Africa with me, it was only in my wildest dreams that I expected to actually find something on our short visit. It turns out that miracles do happen!
Other occurrences: a previous published report from the same area of Western Sahara, on 6 June 1955, is now regarded only as a possible sight record. Farther south, the species has also occurred once in northern Mauritania marginally outside the regional boundary as defined by BWP, with a bird remaining present from 30 April-6 May 2003. The south-west fringe of the region in May clearly could have potential for anyone wishing to search for this Sahelian species in future.