"It's flying!" A long-tailed bird the size of a Redwing bounds across our field of view and perches on the top-most branches of the buckthorn bushes. Through binoculars we see the raspberry-pink underparts sprinkled with white dots and the huge pale bill. It's a male Great Rosefinch – at last! Ever since I was 13, I have been turning the pages of my European field guides and gazing with wonder at the exotic species seemingly out of reach on the bottom right-hand corner of many of the small square maps. Great Rosefinch, perhaps the most unattainable of them all, only breeds in the Greater Caucasus and well above 2,500 m. How was I ever going to see one of those?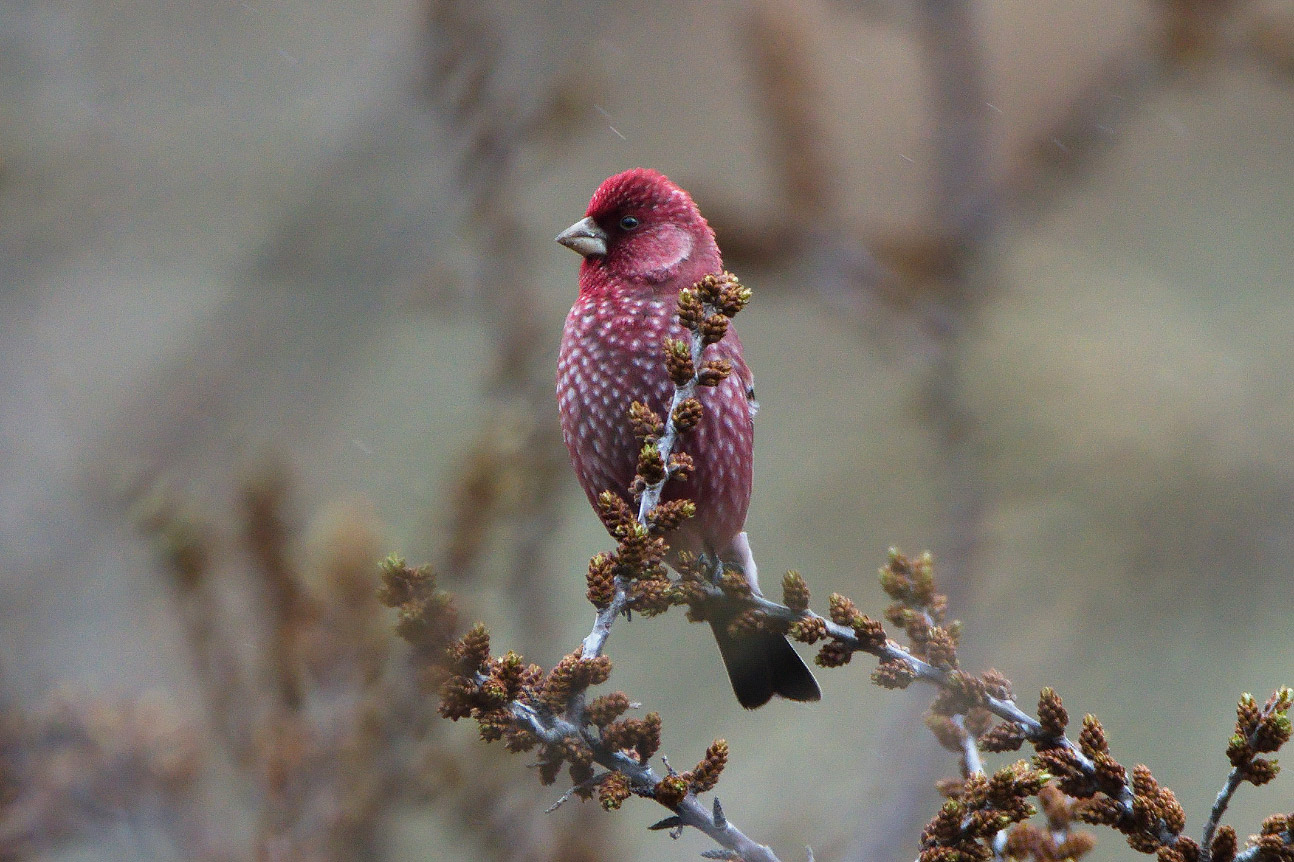 Great Rosefinch in buckthorn scrub at Kazbegi, Georgia (Dom Standing).
My brother Dom and I are in Georgia, home to the rosefinch and a host of other eastern species. Behind us the town of Kazbegi (Stepantsminda on modern maps) nestles in a natural bowl formed by a circle of high mountains, their peaks covered with ice and snow. It is late April; the air is cold and even the lower slopes are dusted white from last night's snowfall. Luckily for us, the rosefinches are waiting for the weather to improve before they disappear to their summer breeding grounds high above us. Güldenstädt's Redstart, another alpine breeder with dazzling plumage, also lingers in numbers in the scrub for spring to advance. Across the valley, the plaintive curlew-like calls of Caucasian Snowcock echo from the crags above the eastern slopes.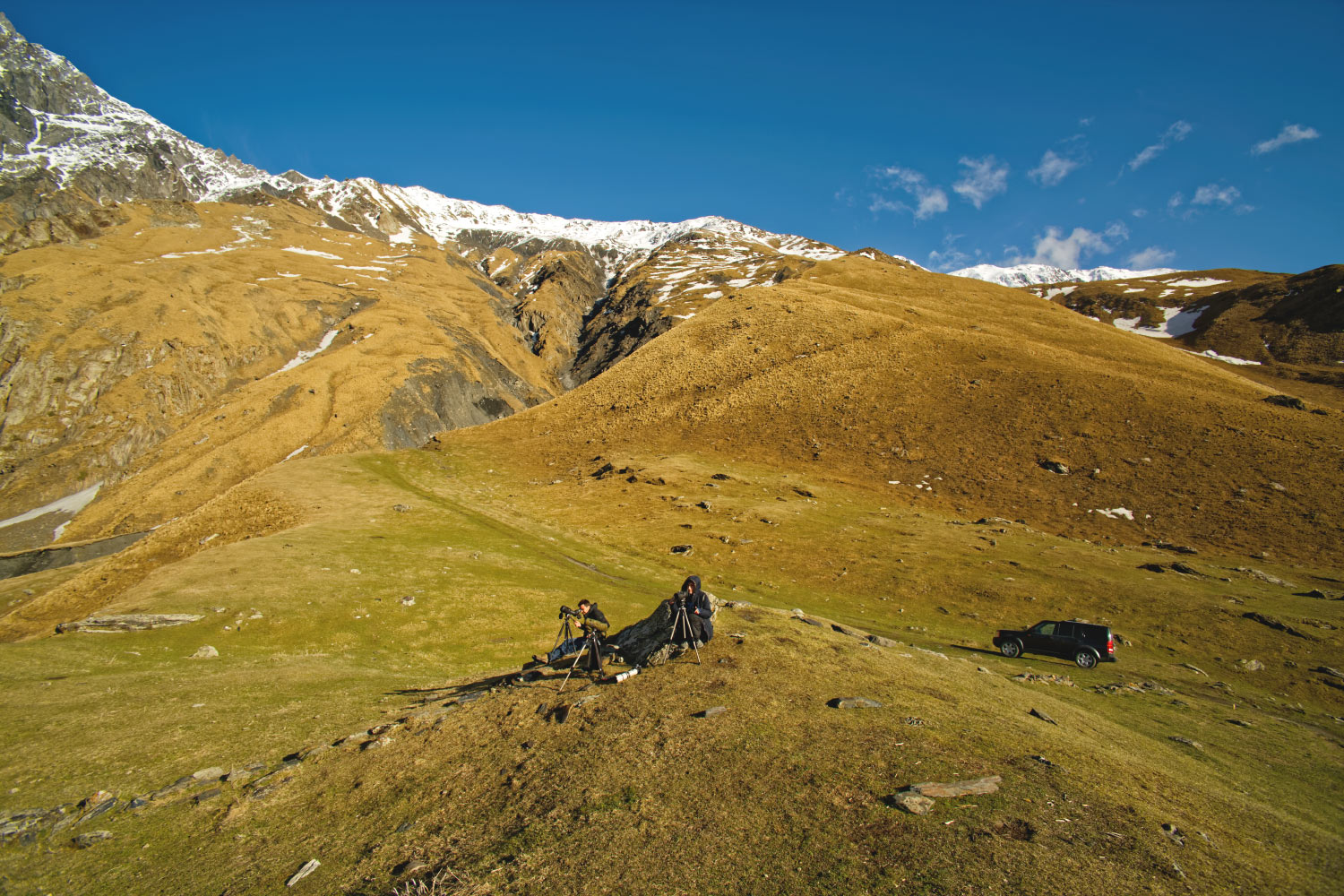 Scanning for Caucasian Snowcock on the eastern slopes above Kazbegi (Rod Standing).
The Caucasian isthmus, bridging the Black and Caspian Seas, lies at the junction of Europe and Asia. Its dense patchwork of peoples exhibits a bewildering variety of cultures and languages. Georgia and its neighbour Armenia even have their own alphabets used nowhere else. The former is essentially European in character, an impression reinforced by its Association Agreement with the EU, the blue flags of which flutter prominently in the capital Tbilisi. Armenia, however, feels distinctly Asian in spite of the deep Christian roots it shares with its larger neighbour. It was the first country to adopt Christianity, and like Georgia, is dotted with ancient churches and monasteries many of which are in jaw-droppingly beautiful locations.
Back in Kazbegi, we climb into our Landrover and lurch up the rough track to Trinity Church, perched dramatically above the village of Gergeti. Leaving the vehicle we ascend further, legs aching and breathing heavily, up grassy slopes and beyond the snow line. Scopes are planted and after careful scanning we spot our quarry – a male Caucasian Grouse displaying in front of some females. Walking back down to Gergeti, a Mountain Chiffchaff sings in the stunted birches by the lowest patches of snow. Lower still and the woods ring to the trilling of Red-fronted Serins.
Many of the birds here are remarkably confiding. Walking along the Terek River on the outskirts of Kazbegi we turn around to see a Bearded Vulture flying into the wind 30 m above us. Its long narrow wings give perfect control without a single wing-beat, reminiscent of an albatross in the Southern Ocean. As we walk back into town a small, grey bird with down-curved bill flits along the cliff-face next to the track, revealing dramatic red-and-white flashes in its wings. The Wallcreeper allows us to approach within five m – what a way to appreciate such a bird!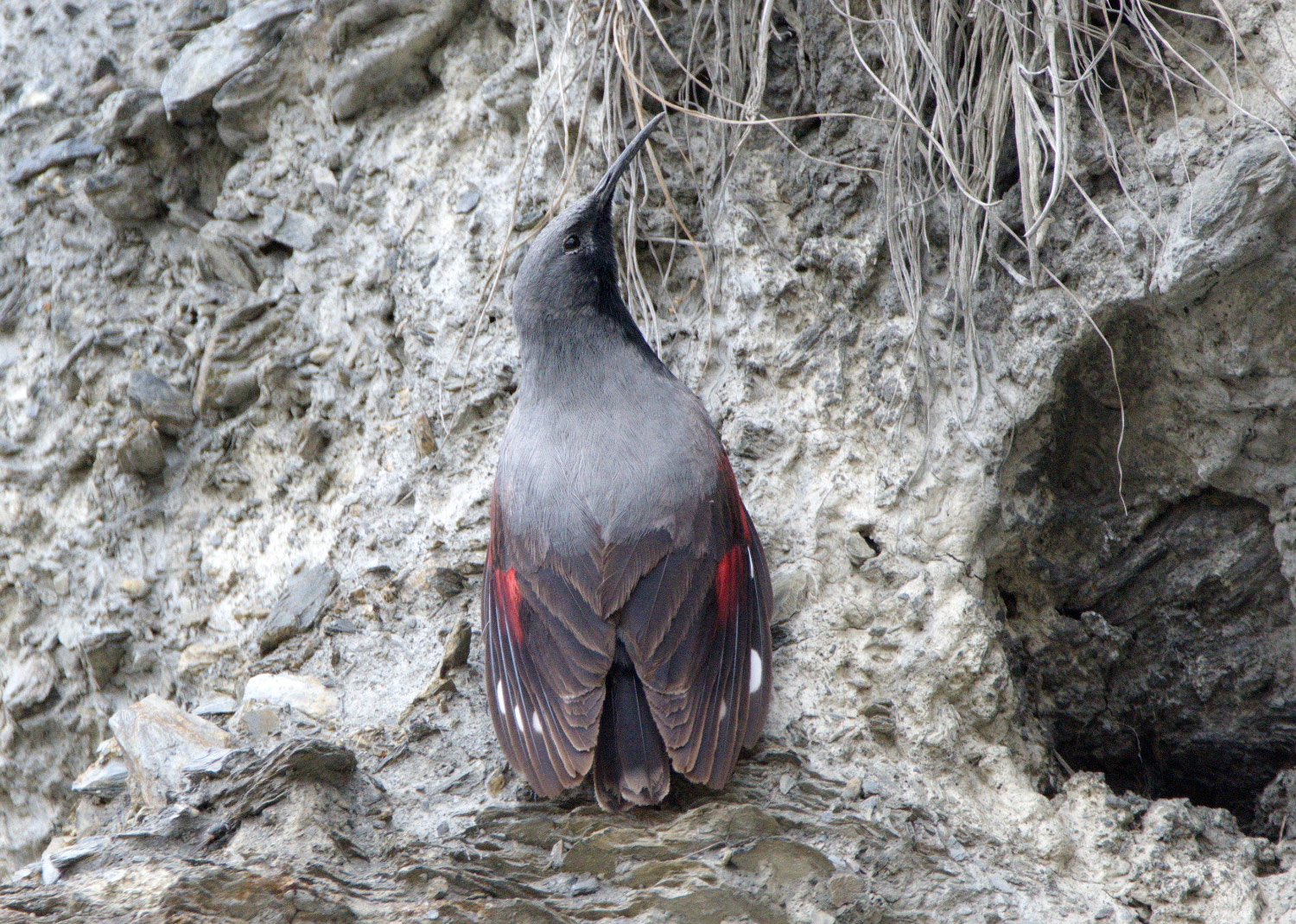 Wallcreeper on a mud cliff by the River Terek, Kazbegi (Dom Standing).
The topography and birdlife of Georgia and Armenia are as varied as the people. Central Georgia occupies an east-west plain between high mountain ranges. In the north, the rugged ravines and snowy passes of the Greater Caucasus guard the border with Russia. To the south, the peaks of the Lesser Caucasus signal the start of Armenia. Between lie fertile farmlands and woods containing Green Warblers and Red-breasted and Semi-collared Flycatchers. In the far east, at the very edge of Europe, the flat wine-growing region of Kakheti gives way to unfenced rolling steppe which extends across the border into Azerbaijan.
At the heart of the eastern steppe is the pristine Vashlovani Protected Area, hundreds of square miles of dry plains and hills, dotted with pistachio trees, with no roads, fences or human habitation. As we drive along the network of rough tracks, we see Pallid Harriers, Long-legged Buzzards, Lesser Spotted Eagles and Cinereous, Griffon and Egyptian Vultures. Pied Wheatears, Lesser Grey Shrikes and Ortolan Buntings perch on bushes before we reach a seemingly endless savannah close to the border with Azerbaijan. Here a Calandra Lark flies up every few metres and some perform their bat-like display just in front us. Sandy-brown Isabelline Wheatears stand to attention and an Eastern Imperial Eagle loops and dives in a display flight nearby.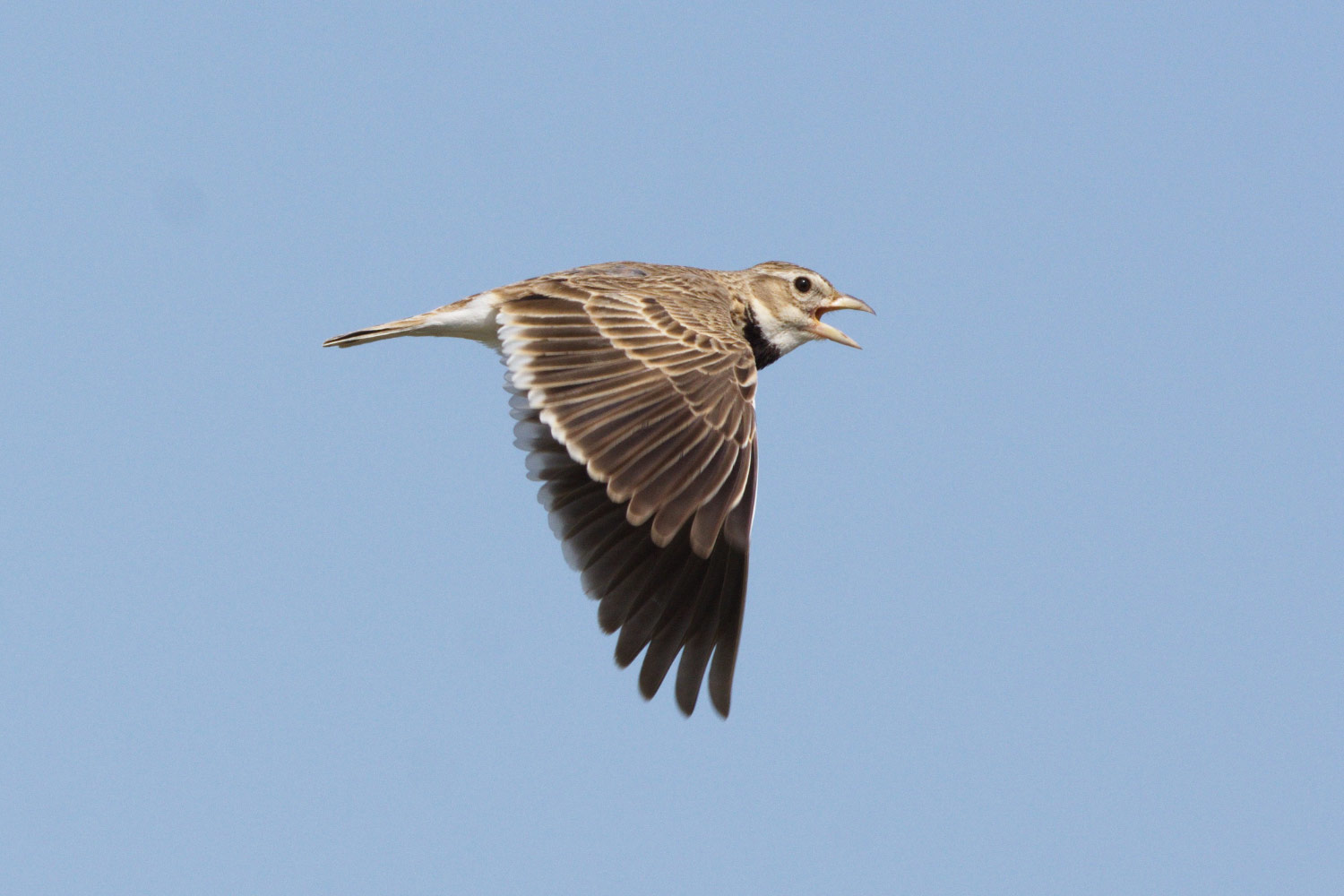 Singing Calandra Lark at the Vashlovani Protected Area, Georgia (Dom Standing).
Photographers can capture a kaleidoscope of colour here. We stop in a scenic valley cutting through the escarpment to take photos, and a flock of Rosy Starlings descends from a nearby tree to feed in the grass. As we walk back to the vehicle two iridescent blue European Rollers fly past. Black-headed Buntings, bright yellow, brown and black, sing from almost every bush. Further on, the track passes underneath a colony of European Bee-eaters in a sand bank and we stop to watch the birds come and go.
Kakheti also includes strips of riverine gallery forest, with a different mix of birds. We drive to the Chachuna Managed Reserve on the Iori River near the Azeri border. The Georgian military takes a while to check our permits and passports and we pass the time listening to Common Rosefinch, Eurasian Penduline Tit and Black Francolin calls coming from the direction of the Iori. Eventually we descend to the flood plain and, using the Landrover as a hide, slowly move through the vegetation. A male francolin, largely black but liberally streaked and spotted, comes to inspect us and runs around the vehicle like a curious, if nervous, bantam. We stop to eat lunch by the river in the shade of the tamarisk trees, hung with pink flowers.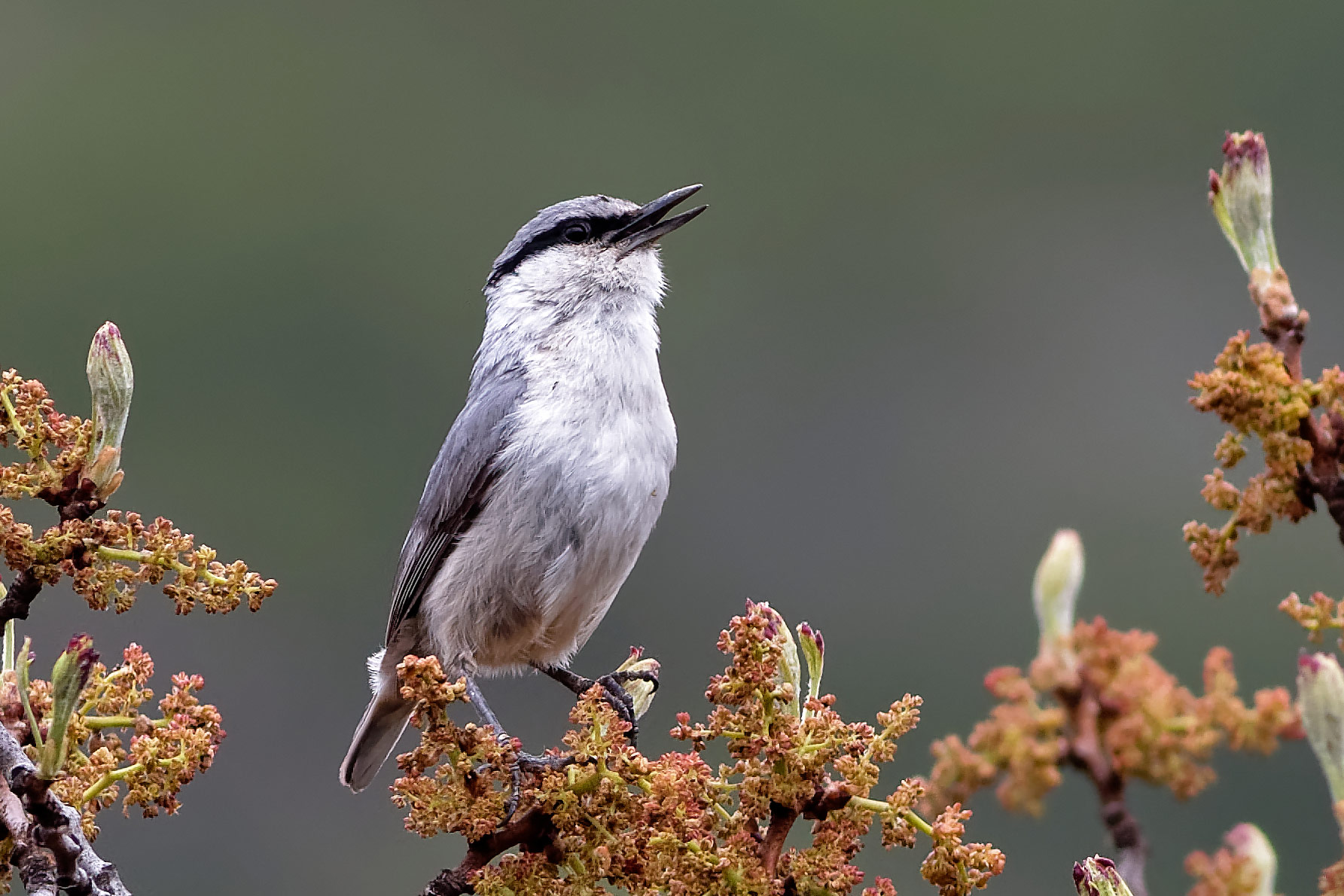 Western Rock Nuthatch near Davit Gareja Monastery, Georgia (Rod Standing).
The weather in Georgia at this time of year is variable and it is overcast and raining when we visit the rock-hewn Davit Gareja monastery the next day. As we stop on the way to photograph a Western Rock Nuthatch singing from a bush, we are astounded to see an Eurasian Eagle-Owl flying over us. Parking by the monastery, we take the track upwards to the summit of Mount Gareja. An Eastern Orphean Warbler sings from an almond tree by the path. We taste the bitter, unripe nuts with their soft, green furry skins. At the top, our feet submerged in a carpet of blue flax flowers, our eyes are drawn north-westwards along the ridge separating Georgia and Azerbaijan. In the distance, a shower of rain partially obscures a ruined monastery sitting dramatically atop the rocky knife-edge. A European Honey Buzzard flies past on its way to Russia.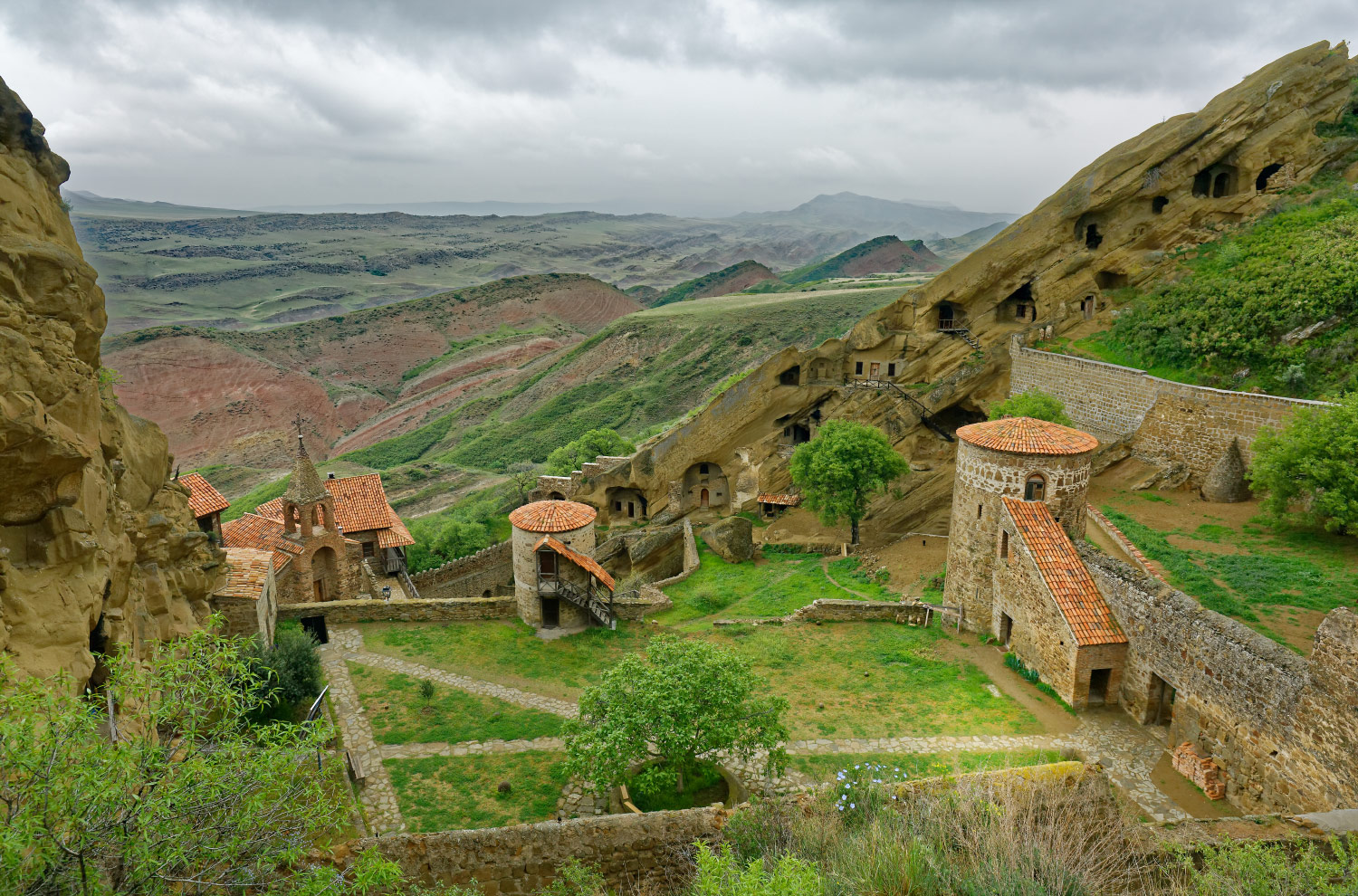 Part of Davit Gareja Monastery with Azerbaijan on the left and Georgia to the right (Rod Standing).
The Caucasus acts as a natural funnel for the immense movement of birds migrating north in spring. Anything can turn up anywhere. Further along the Iori a pristine male Citrine Wagtail flies in as we look for wild Common Pheasants (this is Georgia's national bird and the east holds the westernmost population). We drop in at Lake Jandari, also on the border with Azerbaijan. Scanning the wide grassy margins, our guide, Brecht, spots 10 Demoiselle Cranes marching across the sward feeding energetically.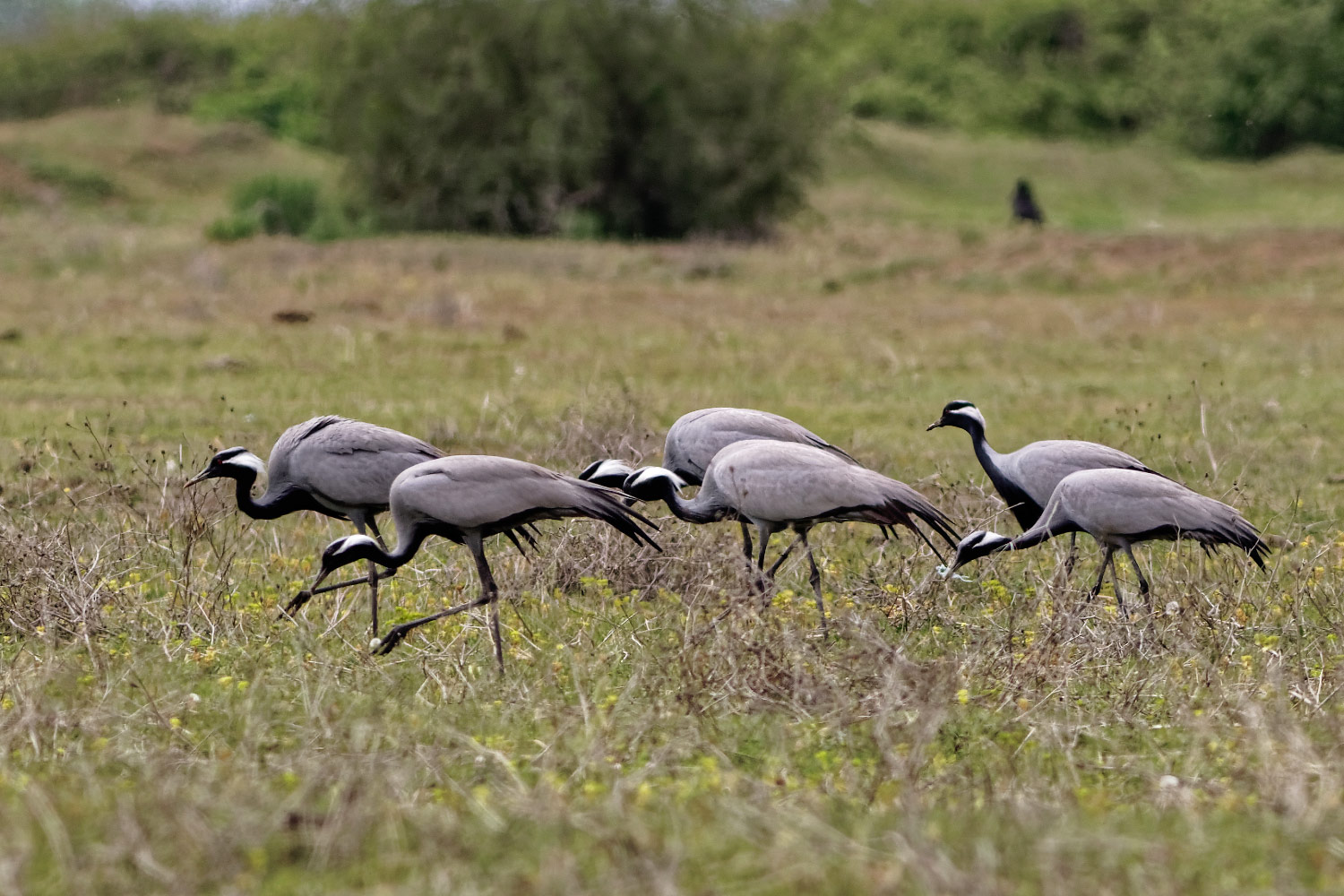 Demoiselle Cranes at Lake Jandari, Georgia (Rod Standing).
Armenia shares Georgia's remote monasteries but is more mountainous – it is the 10th-highest country in the world measured by average elevation. The tallest peak is the 4,090-m-high Mount Aragats, an extinct volcano north of the capital Yerevan. Looking south from Aragats on a clear day, beyond Yerevan, the iconic cones of the not-to-be-confused and even higher Mount Ararat can be seen distantly across the border in Turkey. Rocky hills and wooded valleys march south-east from Yerevan to the border with Iran. Red-tailed Wheatear and Mongolian Finch can be found here.
There is a steep, narrow tarmac road up Mount Aragats, which gives access, in the right weather conditions, to all the mountain habitats. We drive up through altitudinal bands of vegetation, under low cloud and showers. The first vegetation type is rock-strewn moorland with bushes, from which White-throated Robins sing. Dwarf juniper appears, the landscape becomes rockier and the cloud descends to wrap us in fog. We turn off on a side road to the Amberd Fortress, a gloomy ruin and ancient church perched on a spur overlooking a deep valley. As we pass an area of broken-down buildings, a small brown bird sings on a nearby wall. Radde's Accentor – another most-wanted bird!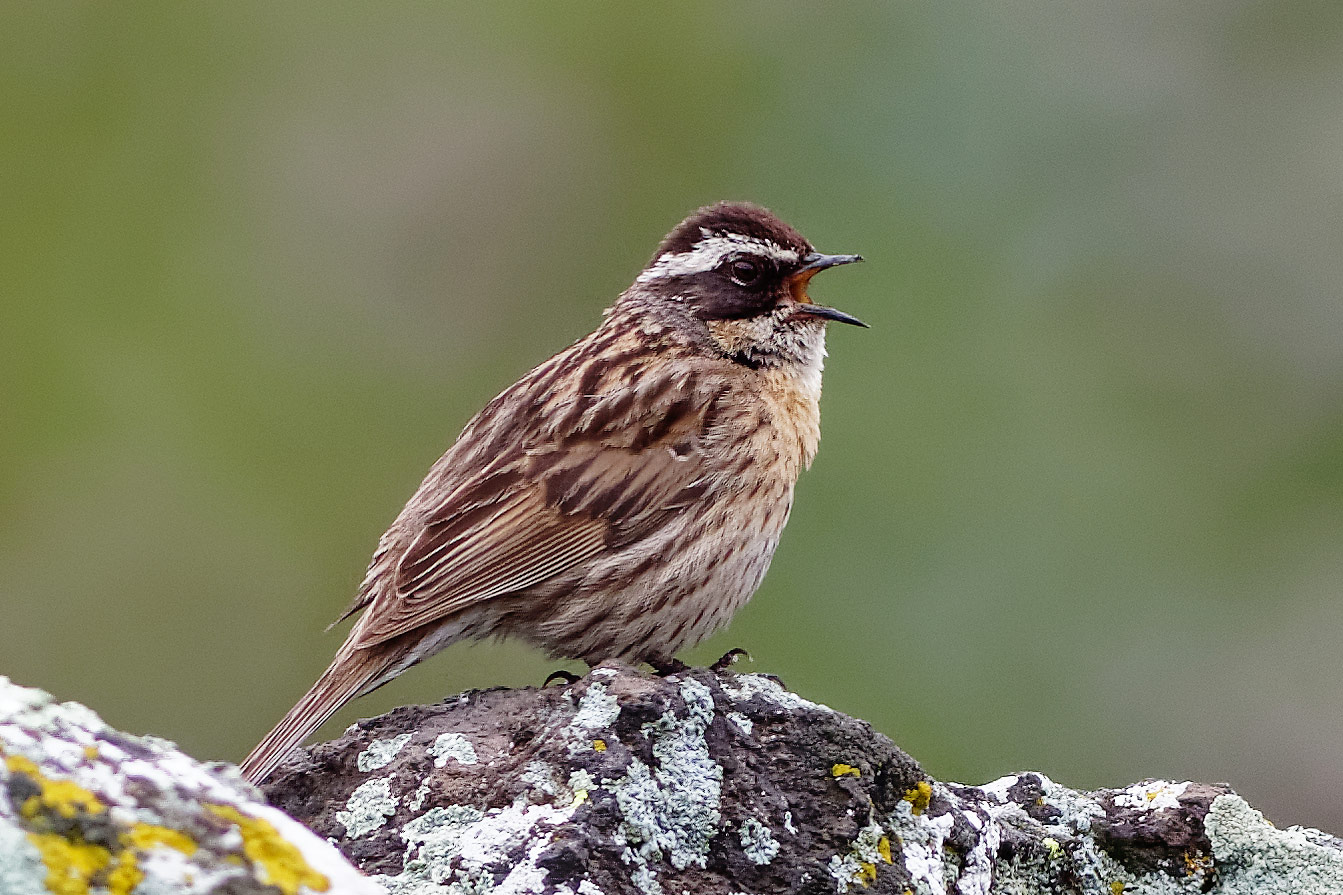 Radde's Accentor singing at Mount Aragats, Armenia (Rod Standing).
Returning to the main road, we ascend through more mist and stumble on 250 Waxwings feeding on the dwarf juniper berries – probably the least expected sighting of our trip. Higher still and all but the lowest creeping vegetation disappears, and snow patches start to coalesce. Water Pipits are everywhere defending territories, some of which are mainly snow, and we see a few Horned Larks, Twite and Alpine Accentors. Unfortunately, the showers have turned to thickly falling snow and the reduced visibility and cold force us to turn around. In good weather it is possible to see Asian Crimson-winged Finch and White-winged Snowfinch from the road as it crosses the alpine plateaux near the top.
The following day starts fine for our visit to the dry hills south of Yerevan. Our first stop is the well-known gorge at Vedi. Driving through the village, we park a short way into the gorge and proceed on foot. Many birds are singing from bushes or rocks – Finsch's Wheatear, Rock Sparrow, Eastern Rock Nuthatch and lots of Grey-necked Buntings. The last are quite flighty until we come across one which sings confidingly on the ground almost at our feet while we fill our memory cards.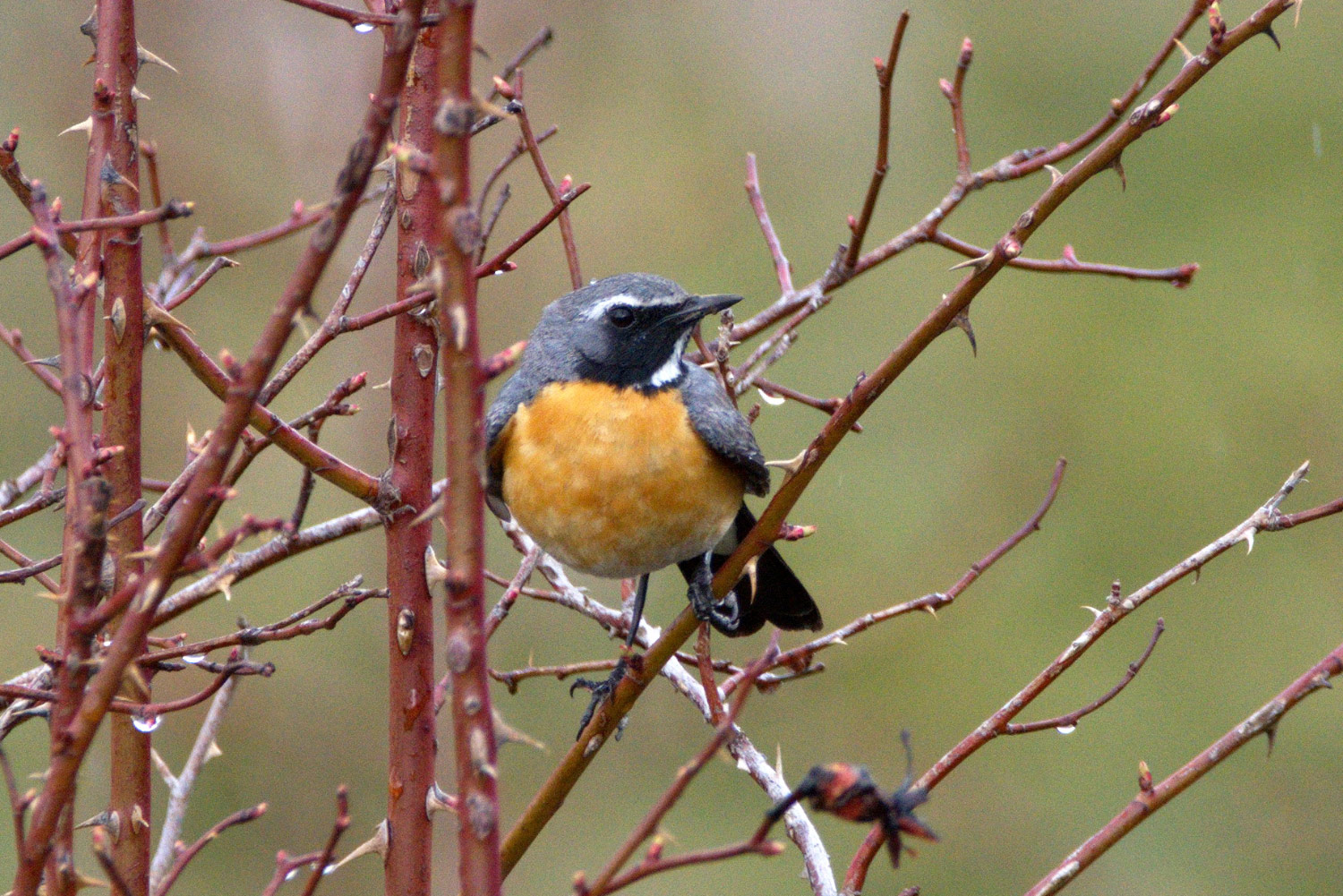 Male White-throated Robin (Dom Standing).
We drive further south and, turning left, take a track up to the Urtz Ridge. Lunch is eaten looking west over the Armash Fishponds to Mount Ararat, where a storm enfolds the mountain. Visible movement overhead includes many European Bee-eaters and a Levant Sparrowhawk. Hopping in the bushes near us are Menetries's Warbler, Common Rosefinch, Golden Oriole, Common Nightingale and Eastern Olivaceous Warbler. Bumping further up the track, leaving the ploughed fields behind, there are countless Red-backed Shrikes, plus Rufous-tailed Scrub Robins, a Barred Warbler and a pair of Bimaculated Larks. The track enters a rough valley which winds up towards the ridge. We see more White-throated Robins, Eastern Rock Nuthatches, Rock Sparrows and Chukar Partridges as we climb, and finally two Lammergeiers slide along the crest of the ridge above us. Wonderful birding!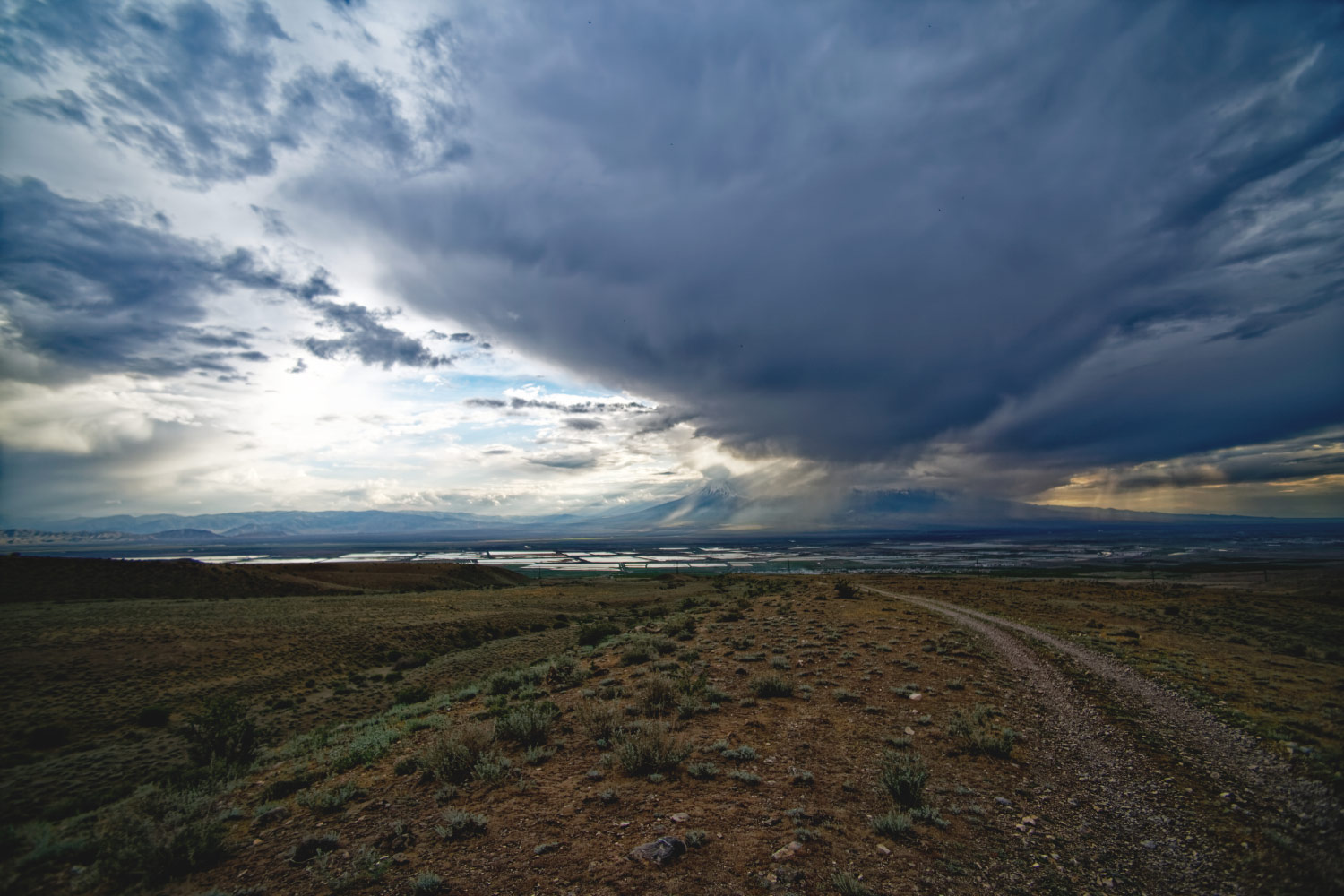 Storm over Mount Ararat seen from the Urtz Ridge, Armenia (Rod Standing).
Next morning we are back for an end-of-trip dash round the legendary Armash Fishponds, right on the Turkish border. After obtaining permits, we drive slowly along the banks between the nearest ponds. Almost the first birds we see are White-tailed Lapwings in the marshy fields by the entrance. As we go further, Great Reed, Paddyfield and Savi's Warblers grunt, chatter and reel in the reeds, which also contain Bearded Tits and the large-billed caspia subspecies of Reed Bunting. Lesser Short-toed Larks sing in the adjacent fields, Collared Pratincoles hawk distantly and Blue-cheeked Bee-eaters perch on wires. A drained pond has many waders, including a Broad-billed Sandpiper. Deeper water holds Ferruginous and White-headed Ducks, Red-crested Pochard and Pygmy Cormorants. It's hard to know where to look!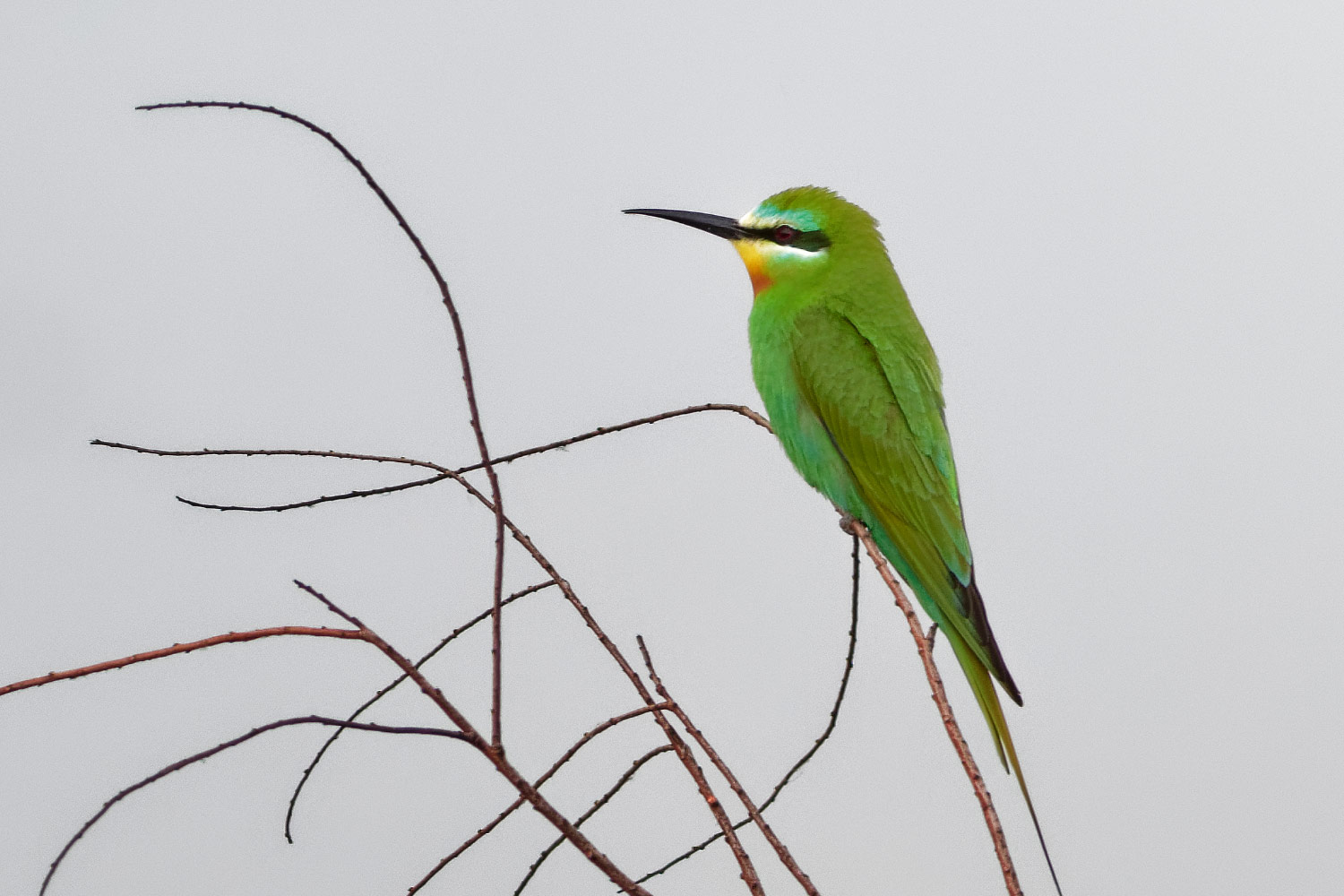 Blue-cheeked Bee-eater at Armash Fishponds, Armenia (Rod Standing).
Sadly, we have to tear ourselves away for the journey home. Dom and I agree that the past 10 days have produced some of the best birding we have ever had. As well as an astounding number and variety of birds, we have seen a feast of long-desired eastern species.
Our itinerary focused on the hot-spots – Kazbegi, Kakheti and the three sites around Yerevan. If you want to cover either country in more detail or want more flexibility in the face of adverse weather you would need more time, especially if you want to go to the south of Armenia. The widest variety of species is to be found in late April and early May, when the Georgian high mountain breeders may still be found in the valleys, most summer visitors have returned, and migrants are passing through. If you want more certainty regarding the Georgian mountain birds, then a week or two earlier may be better. If you prefer a chance of late-arriving summer visitors like Upcher's Warbler or Pale Rockfinch, then going later in May or June is best. However, you will have fabulous birding at any time of year. In winter, huge flocks of Little Bustards can be found in the east of Georgia, while in spring and autumn there is also the spectacular migration of raptors at Batumi on the Black Sea coast.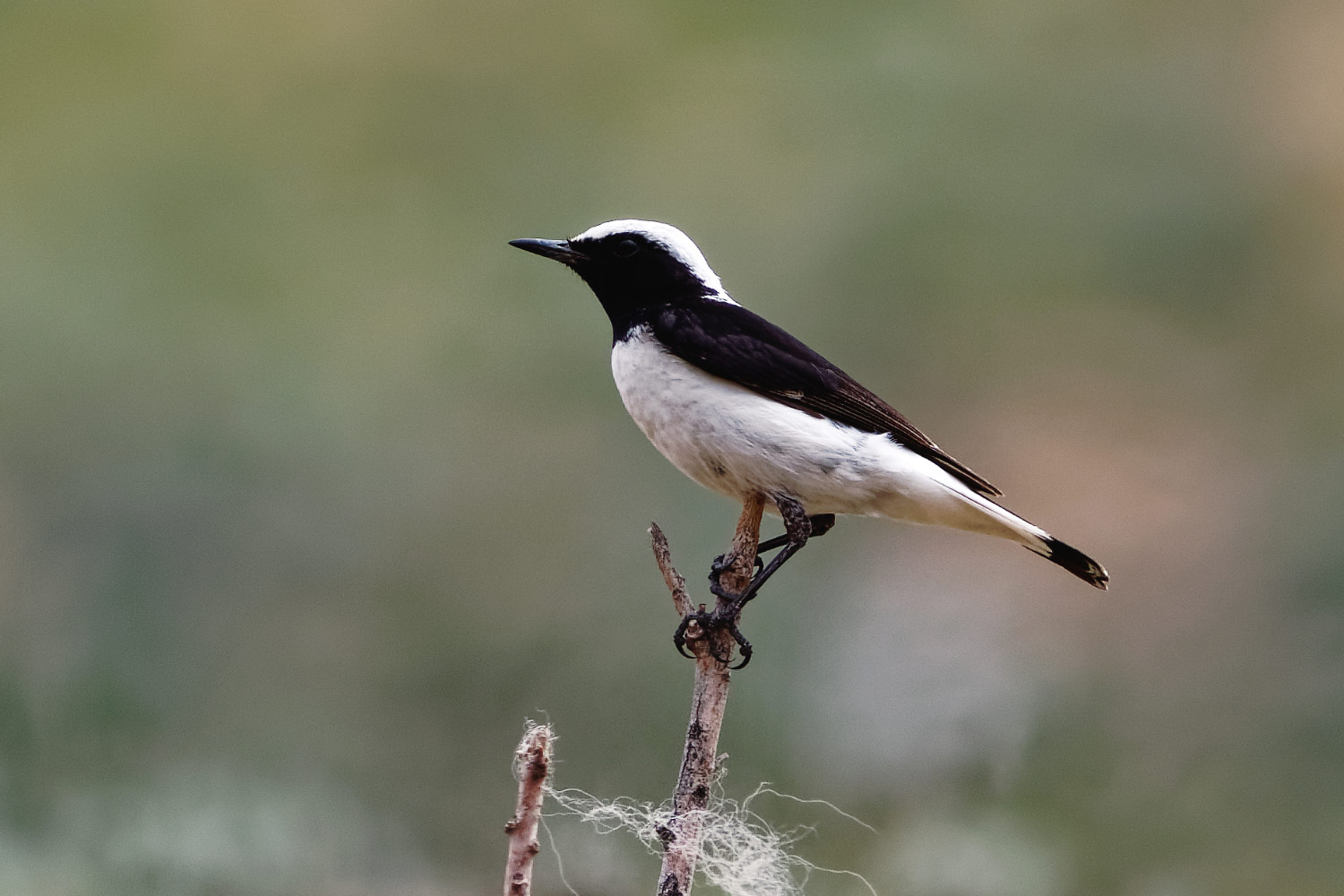 Male Finsch's Wheatear (Rod Standing).
For birding in these two countries, I recommend hiring a guide and 4x4 with driver. The roads and driving standards vary from good to insane, some of the best birding is only accessible via off-road tracks and if you are self-driving it is easy to get lost. Dogs in this region can be dangerous and local expertise helps avoid getting into a bad situation. Most importantly, the right guide will know where the birds you want can be found and will be able to identify their calls and song. We went with www.batumibirding.com who did a great job (and their profits are used for bird conservation). For general information visit www.georgia.travel and www.armenia.travel.

High Caucasus landscape near Gudauri viewpoint, Georgia (Rod Standing).