For as long as I've been birding, I've had a passion for patch watching. From Tice's Meadow on the Hampshire/Surrey border to Papercourt Water Meadows and the Wey Navigations, wherever I've lived I've sought out enticing areas in the locality in which to go looking for birds.
Like many patch birders, I'm not averse to a bit of twitching now and then, trips to far flung corners of Britain or even occasional foreign birding excursions – it's good to get away sometimes to develop and recharge one's knowledge and experience of new and unfamiliar species – but I always look forward to returning to the patch with renewed enthusiasm after any spell away.

Pulborough Brooks encompasses a large and scenic area of lowland wet grassland in the Arun Valley floodplain, with a wealth of meadows, pools and scrapes. Adjacent arable fields, hedgerows, scrub and woodland make for a diverse and nature-rich landscape (Mike Prince).
The chance of finding a rarity, or even a moderate scarcity, on home turf is certainly part of the thrill but it's also about observing the subtle phenological changes through the seasons – the first burst of Willow Warbler song, the trickle of hirundines that turns into a torrent, or the early signs of southward movement in autumn. Migration in all its forms holds a special fascination for me and watching a local patch is, in my experience, just about the best way to notice those day to day developments first-hand. Even in quiet periods, when it feels like one is seeing the same birds every day, there's still the satisfaction of making a small contribution to citizen science by BirdTrack-ing it all.
After an enjoyable couple of years patching Shalford Water Meadows near Guildford, my wife and I left Surrey behind and moved down to West Sussex in July 2017 to our new home overlooking the well-known RSPB reserve at Pulborough Brooks, and there was little deliberation in my mind as to where I'd be focusing my patch watching efforts.
Most famous for its large flocks of wintering wildfowl, Northern Lapwings and more recently Black-tailed Godwits, Pulborough was the nearest 'proper reserve' when I started birding and several visits over the years produced some good birds including American Wigeon and my first Little Gull. With this great place now on the doorstep, I spent the latter part of last year really getting to know the area, the hidden corners and some of the local birders.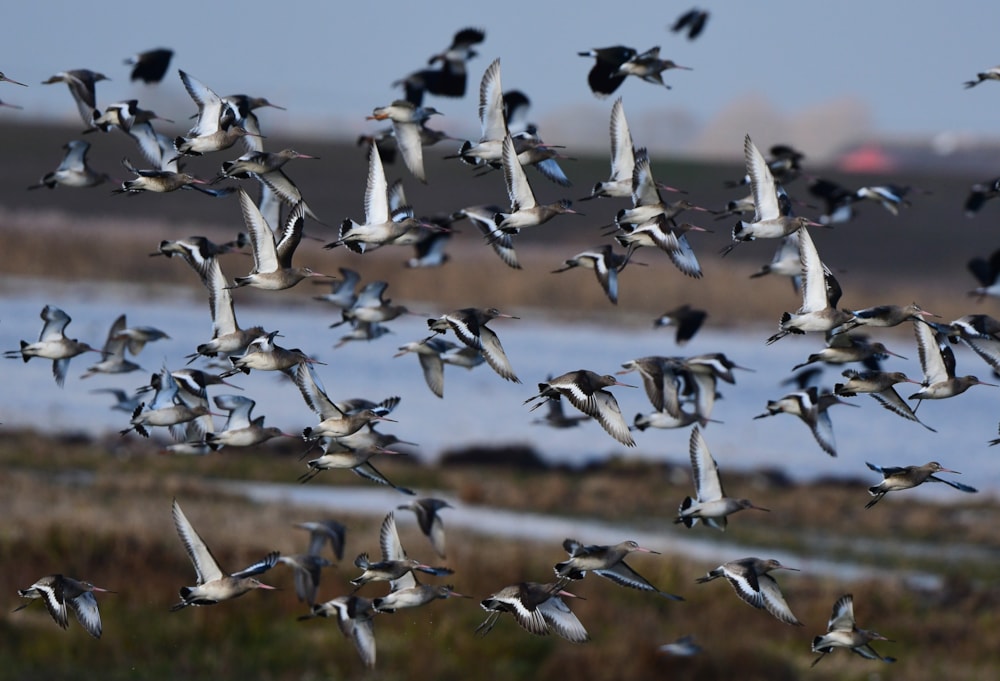 During winter thousands of ducks, geese and waders use the flooded brooks, including an increasing flock of Black-tailed Godwits. Naturally, predators are attracted, with Hen and Western Marsh Harriers often joining Eurasian Sparrowhawks and Peregrines on the prowl over the busy wetlands (Jane Rowe).
Heading into 2018, I was excited to see what I might find in my first full year patch watching Pulborough and, to make things that bit more interesting, I set myself a target of 150 species in one year – not a particularly easy tally for an inland site but, I hoped, a doable one given the quality and diversity of habitat.
The year got off to a strong start with the overwintering Temminck's Stint incongruously adding itself to my New Year's Day list along with a Hawfinch (can't be too often those two species end up on the same day list, surely?) and my only Pulborough record to date of Whooper Swan. I visited every weekend through the winter and, as soon as the days were long enough to do so, began making regular before and after work visits during the week too, rapidly racking up the year ticks in the first quarter of the year.
Spring really produced the goods with highlights including Black-winged Stilt (which I managed to twitch just a couple of hours after returning from Gatwick from a trip to Spain!) Eurasian Spoonbill, Common Scoter, Curlew Sandpiper and the site's first Iceland Gull over the visitor centre just after I'd arrived one April morning. Although I couldn't have known it at the time, it wasn't to be my only Pulborough first of the year.
The listing side of things quietened down in early summer and the long evenings were spent enjoying watching the breeding lapwings and Common Redshanks and listening out for European Nightjars on the heath. Soon enough though, the birding autumn arrived and wader migration started to get going again in late July. After a memorable return passage season in 2017 (two Pectoral Sandpipers, four Wood Sandpipers, two Little Stints and at least 26 Ruff among the highlights) I was optimistic for more of the same this year but, aside from singles of Little Stint, Wood Sandpiper and some of the more common species it never really got going and by November I'd pretty much given up hope of adding any other scarce shorebirds to the year list.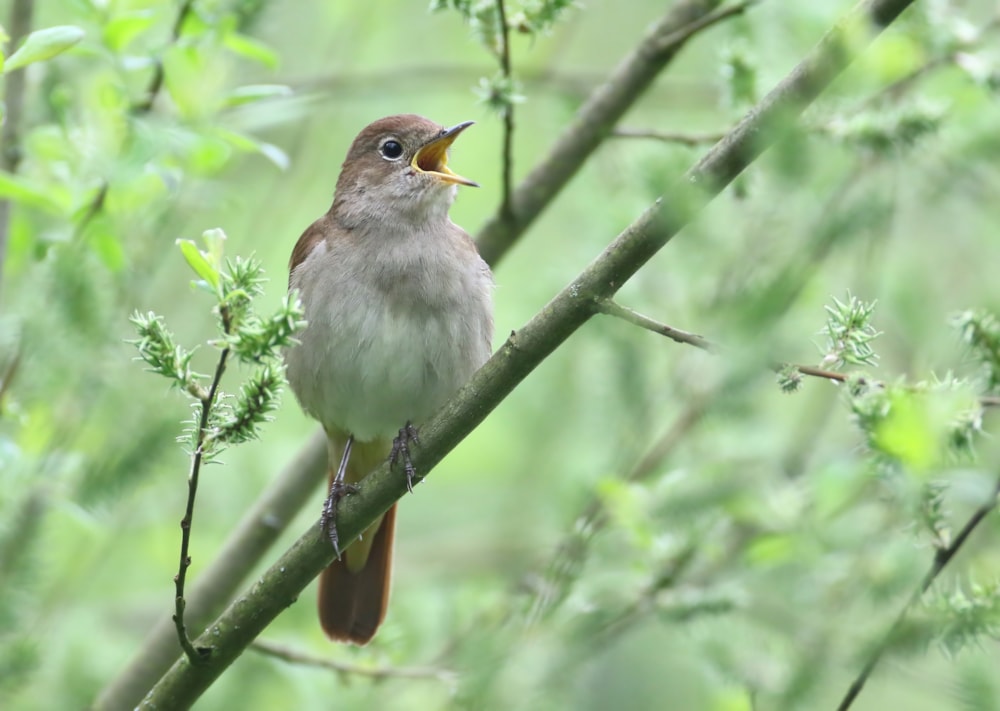 Common Nightingale is a Pulborough speciality during the summer months (Lee Fuller).
My first Pulborough Short-eared Owl on 23 October took the total to 148 and there the list stalled again for several weeks. The second-ever reserve record of Red-breasted Merganser in mid-November was a particularly gripping miss and, as December dawned, I knew I had just five weekends to find two more species. With the water levels rapidly rising as the November rains put paid to the summer drought, I fancied an unusual duck, grebe or goose would be my best chances.
Fast forward to the morning of 8 December and an unusually leisurely start after a rather late night saw me heading first to West Mead hide where the highlight was a dogfight between a Peregrine Falcon and a Western Marsh Harrier, much to the alarm of the hordes of lapwings and wildfowl which were swirling around over the marsh. After a good scan I headed to the next hide. As I approached, I could see the lapwings were all still airborne with a redshank calling among them – not a bird I've seen here much since the breeding birds left in late summer.
The main pool in front of Winpenny hide was the fullest I'd seen it since the spring, with just a few grassy spits and islands still visible in the water, the largest of which was decorated with a good covering of Lapwings. It didn't take me long to pick out two smaller waders among them, one of which was clearly a winter plumage Dunlin. The other bird held my attention for longer. It was only a fraction smaller but the proportions were all wrong. It appeared slighter and rather more 'squashed' in its build, with a shorter bill and a clear supercilium, but most striking of all was its long, pointed rear end caused by the primaries extending beyond the tail, giving the bird a more stint-like shape.
I was by now in no doubt that this was no Dunlin but couldn't immediately place what I was looking at. At this point I sensed a 'is this something rare?' switch flick on in my mind and I began considering the North American Calidrids which, I must be honest, I don't have a great deal of experience of. The general shape reminded me of the Baird's Sandpiper I'd seen at Cuckmere Haven in 2017, but I didn't remember that bird having such a strong supercilium. This bird also had dark streaks extending down its breast as far as the flanks, also unlike Baird's. Then I remembered the White-rumped Sandpiper I'd seen at Lodmoor five years ago and it dawned on me this could be what I was looking at!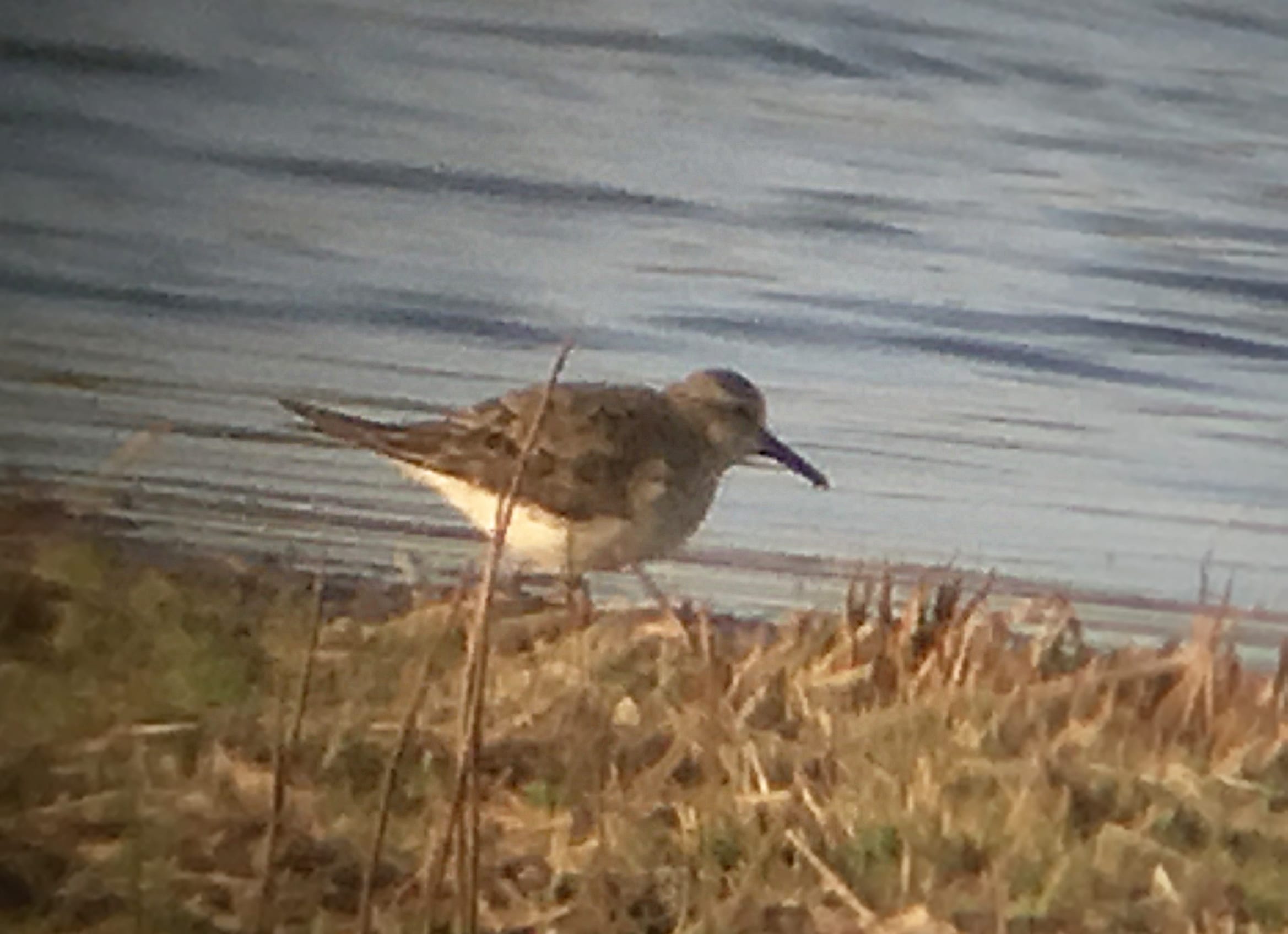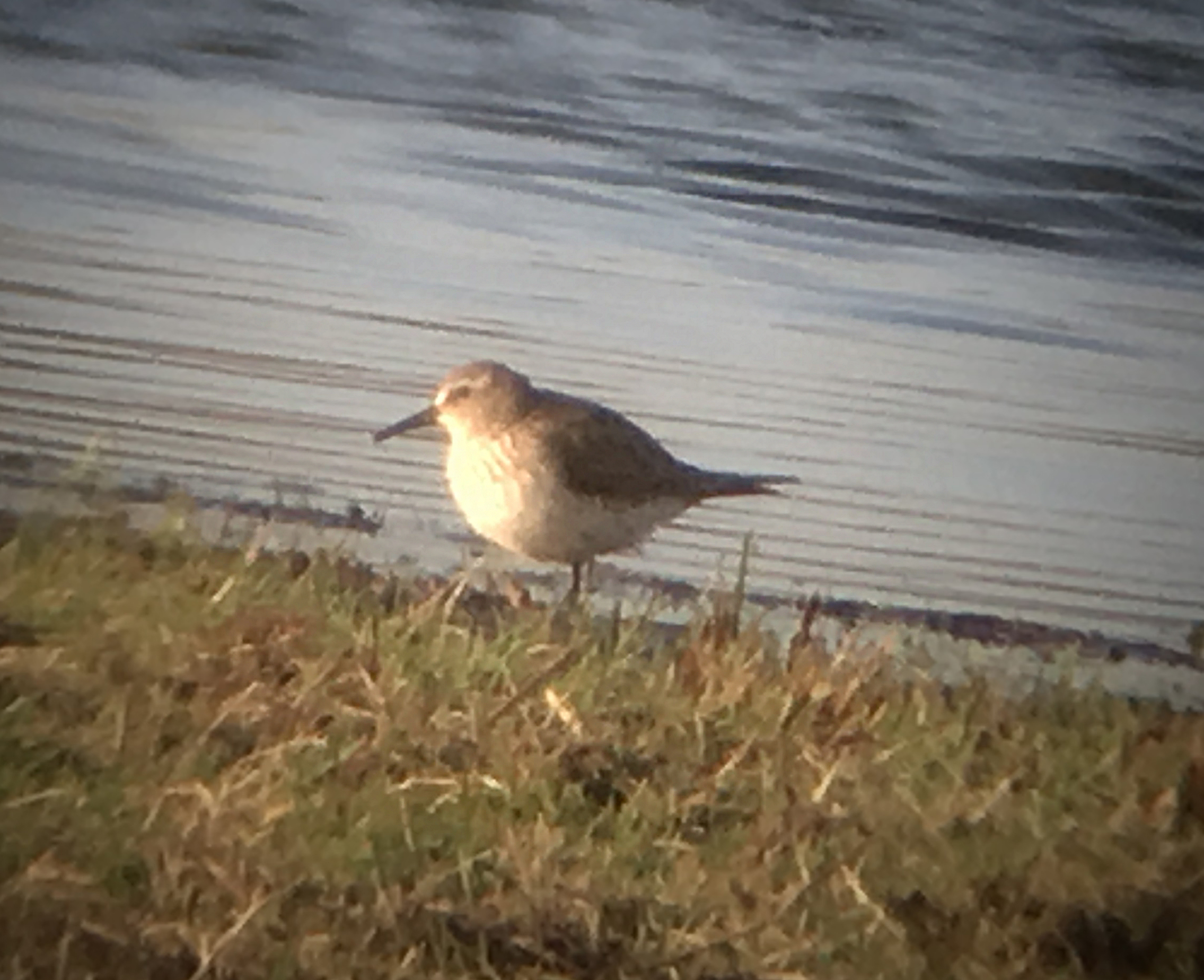 While no longer a BBRC rarity, White-rumped Sandpiper remain a great find anywhere, let alone inland and during December. Prior to their status downgrade in 2006, there had there been no December records in Britain, and only one in Ireland (Matt Phelps).
I shared some photos on WhatsApp and Twitter and soon the replies started coming back thick and fast ... "A bit W-r Sand shaped", "could be a White-rumped Sand?", "have you seen the rump?". Others, such as Josh and Ed from BirdGuides, were more confident, based largely on an ID feature I'd overlooked but which was clearly visible in even my relatively poor phonescoped shots: the pale base to the lower mandible, which is a diagnostic feature of White-rumped in all plumages. Suddenly everything went a bit mad. The news was out. My phone went into hyperdrive. People were on their way down. It's the kind of moment every patch-watcher dreams of! I tried to maintain my cool and was determined to get a clinching look at that rump whilst also juggling various text conversations as well as phoning in the news to the visitor centre.
At some point while all this was going on I briefly lost sight of the bird and was faced with the distressing prospect of being the only observer and having to explain to everyone that arrived that they "should have been here five minutes ago". Luckily it returned a few minutes later (although it seemed like far longer) and, as it cruised back down onto one of the grassy spits, the sunlight caught the white uppertail coverts beautifully. Yes! It really was a White-rumped Sand!
A coach party from Eastbourne RSPB group arrived at this point, who looked rather incredulous when I excitedly pointed them in the bird's direction. It was a lifer for many of them and I was more than happy to let those without scopes have a look through mine. They were soon followed by a host of both familiar and unfamiliar faces as birders from across Sussex and further afield piled into the hide to admire the first twitchable White-rumped Sandpiper in the county since the 1990s.
Patch watching can be a long game and, even if I don't get my 150 this year, I'm more than happy to finish one short in return for the excitement of that day – proof that good things really do come to those who wait!