New Year revelry always has to be done in moderation as, by 6.30 am on 1 January, I'm normally the one driving. For the last dozen years, the first day of the New Year has meant one thing: county bird racing. Here in Hampshire we have a tradition of racing on 1st and, while still dark, our team of four (myself, Simon Ingram, Phil Jones and Tommy Saunders) assemble at my home in Romsey for the start.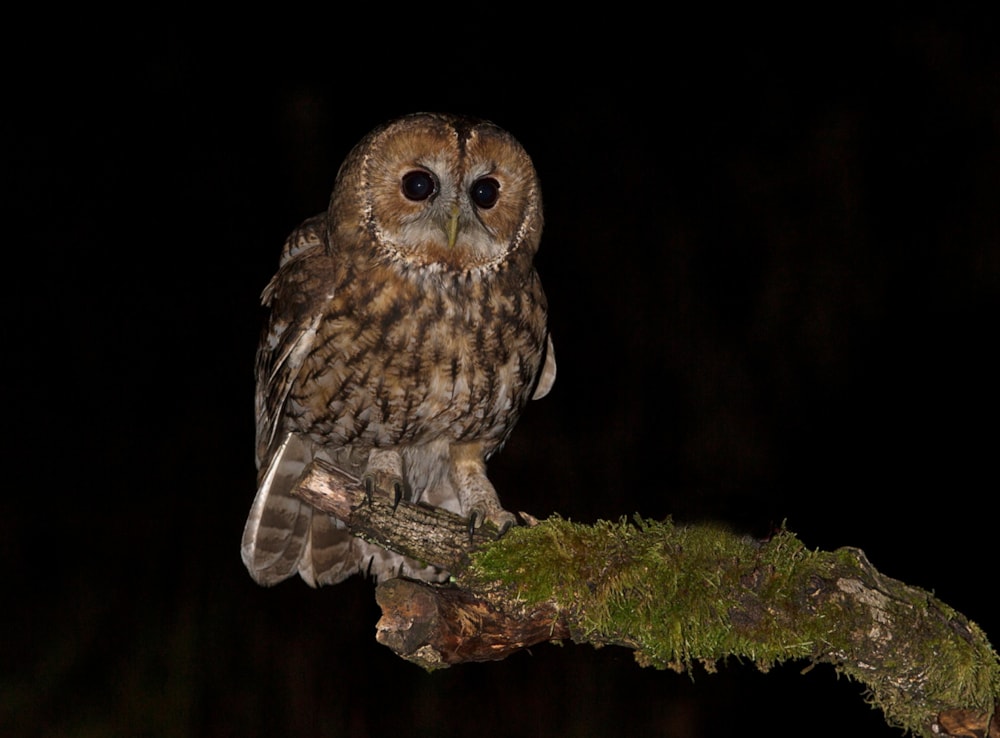 Any successful bird race should begin with Tawny Owl as one of the first species (Kirk Macey).
Hampshire may not have the best county list (compared with, say, Norfolk or Suffolk), but in winter it does hold a wide range of species and many habitats can be visited without too much driving. Sunrise is at 8.10 am and sunset at 4.10 pm, so time in the car must be minimised in order to maximise the species count. The Hampshire record for the 1 January race stands at 124 – set in 2018 by two teams – and has hovered around 120 for more than a decade. Each year we hope to set a new benchmark and 130 always seems possible …
A Tawny Owl hooting in the garden gives us species number one, before we drive to the New Forest and walk to a locality in the dark. For a change, the weather forecast is good and it's around 7°C as we use our head torches to find the path to the edge of a clearing. By 7 am we're in position for birds to start calling and leaving their roosts.
The call of a Northern Goshawk is heard in the distance and then another pair vocalise closer to us – a good start, as this is a key species to have on the list (we count heard-only birds). A Eurasian Woodcock flies close to us, having finished nocturnal feeding on the heaths and now returning to a daytime roost site. Then the common birds begin to wake – Blackbird, European Robin, Song Thrush, Eurasian Wren, Eurasian Treecreeper and Dunnock all call. Woodpeckers and tits stir and finally the finches begin to leave roost; Brambling and Lesser Redpoll are first to leave, Hawfinch the last. A male Crossbill sings from the top of a Douglas Fir as we leave the site, passing singing Firecrests, wheezing Eurasian Bullfinches and a drumming Lesser Spotted Woodpecker! The latter is the first we've ever recorded on 1st – the good weather is paying dividends. We leave on 30 species.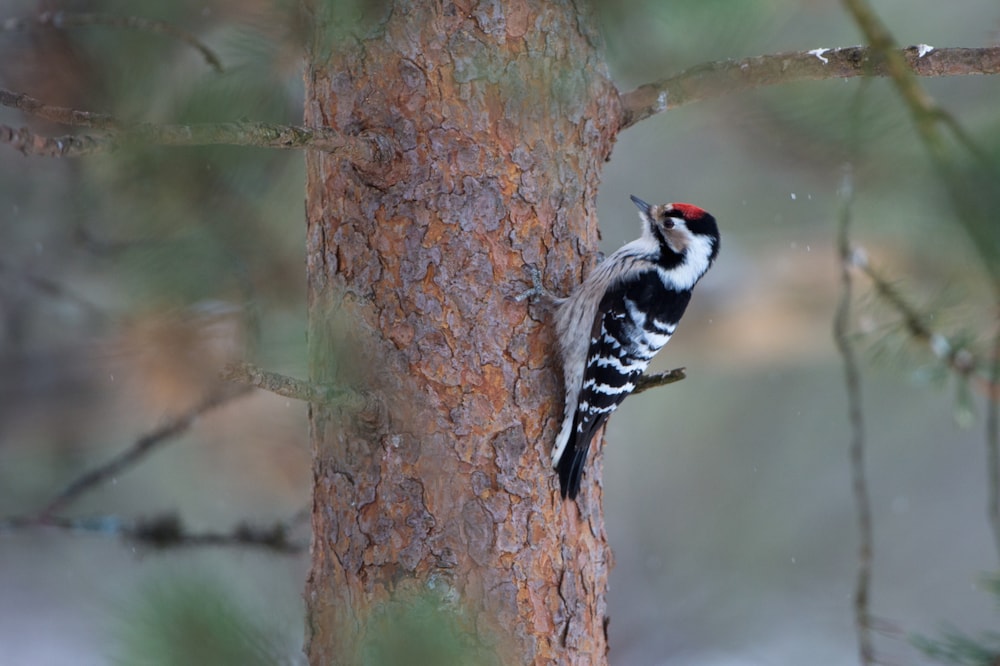 Lesser Spotted Woodpecker was a first bird race record for Nigel and his crew (Marc FASOL).
Our route now would normally take us to the coast for some sea-watching but the previous day a Great Grey Shrike was seen only nearby, so we detour. However, despite searching the heathland and treetops, there's no sign. Despite this, some compensation comes in good numbers of Greenfinches (now so much scarcer than 10 years ago) as well as a lone European Golden Plover, Redwing, Mistle Thrush and mixed corvids.
We reach the coast but defer seawatching until later, visiting Normandy Lagoon first. Here a good variety of waders and ducks are on show, with Avocet and Spotted Redshank the stars, along with Brent Goose, Common Goldeneye, Northern Pintail, Northern Shoveler, Eurasian Teal and Bar-tailed Godwit. A Dartford Warbler is in the gorse next to the track, while the islands offshore have loafing Common Eiders and a large female Peregrine Falcon. We cannot find the Twite that's been reported for the last few weeks, just the Common Linnets it normally consorts with. The total now is 81 species.
Moving less than a mile we come to Pennington and Keyhaven Lagoons. Just by the car park we scan the new lake at Efford and spot a Pink-footed Goose grazing with Canadas. This was unexpected; Pink-feet are very scarce in Hampshire and it is, as Simon exclaimed: "a Brucie-bonus bird". An immature male Western Marsh Harrier glides over, while offshore we spot a distant Great Northern Diver.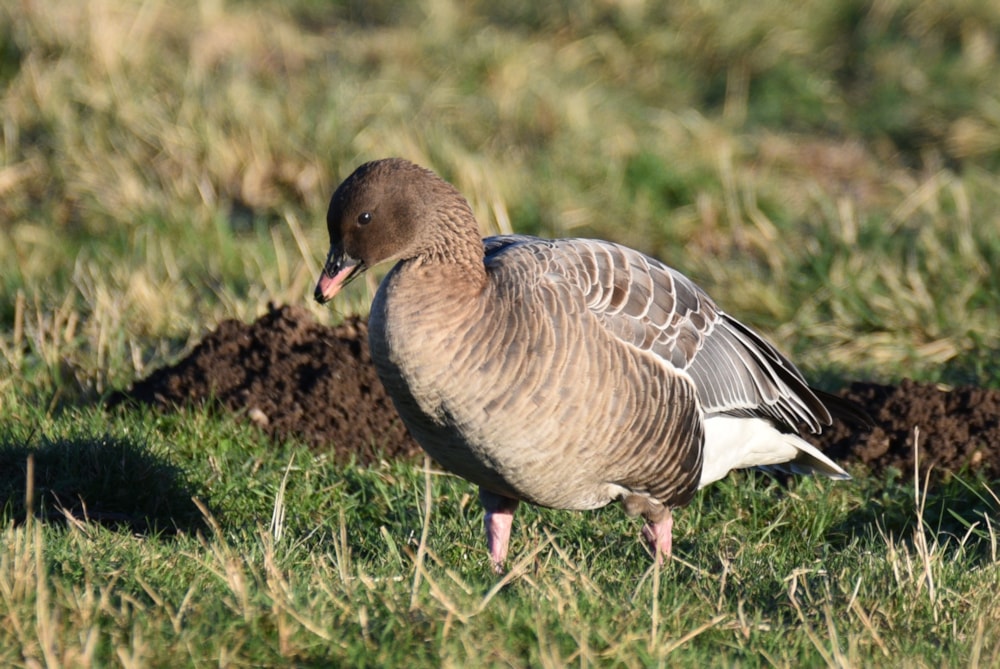 Rare in Hampshire, Pink-footed Goose was very much a bonus (Philip Robinson).
However, despite this good fortune we've missed a group of three Velvet Scoters by minutes as they've departed eastwards. Furthermore, the reedbeds here often hold Bearded Tit and Water Rail, but we cannot see or hear either. A short walk brings us to Keyhaven Lagoon: here, an immature drake Greater Scaup is with the Tufted Ducks. Another scan offshore finds pairs of Red-breasted Mergansers and a Red-throated Diver, which takes some while for all the group to catch up.
It's now midday as we drive to Milford car park. The fine weather has brought out the masses and we sit on the benches with our scopes, looking towards the Isle of Wight and the chalk stacks of the Needles. As we eat our sandwiches, the inevitable questions are asked by the passers-by: "What are you looking at? How far can you see with your telescope?". A guy on a mobile scooter stops and completely blocks our view, before asking: "Are you searching for migrants?" It transpires he didn't mean migrant birds!
There's not much happening out there, just a few milling Northern Gannets and the odd Great Cormorant and European Shag, but Tommy suddenly calls a flying diver, which veers towards us – we have our third diver species for the day: Black-throated! It drops onto the sea and we get a chance to scope it as it preens. It's 12.20 pm and we've clocked up 104 species, but the going now gets harder.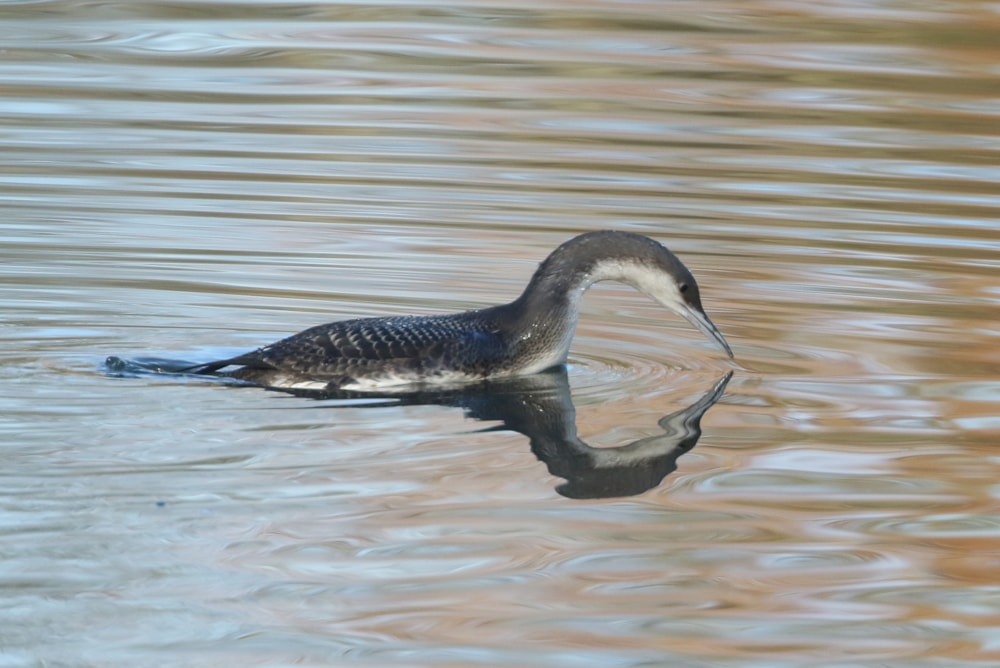 Another decent species for the day was a Black-throated Diver (Jon Mercer).
We now retrace our steps a little, passing eastwards along the coast to some more lagoons. White specks in the top of an oak become a group of five Eurasian Spoonbills while, among the grazing Canada and Egyptian Goose close by, we finally find a small group of Eurasian White-fronted Geese. Offshore, two dapper Slavonian Grebes are diving.
It's now time for a twitch – Waxwings have been reported in the Asda car park in Totton! It takes half an hour and we arrive to find most of the berries gone and no birds. We give it 10 minutes before deciding to drive a few of the roads close by to see if we can find the reported flock. Bingo! Some 11 stunning crested beauties are perched in the top of an Ash tree. Sacrilegiously, we only marvel at them for a moment, as time is now precious. It's only 2 pm but the light is already beginning to fade. The Totton bridge over the River Test gives us views of a wintering Common Sandpiper and Tommy spots a Water Pipit, but we fail to all catch up with it. Hopefully though, we have another site for these later.
It's quickly onto the A31 dual carriageway as we head west. The two in the back of the vehicle see a Northern Raven but, as we gaze skywards (and miss it), they then say it was on the ground! It's too far to go to turn around so, again, we hope for another later. Blashford Lakes is our next stop where the hide overlooking Ibsley Water is almost full. However, I manage to get a seat and set up my scope, while the other lean against the back wall.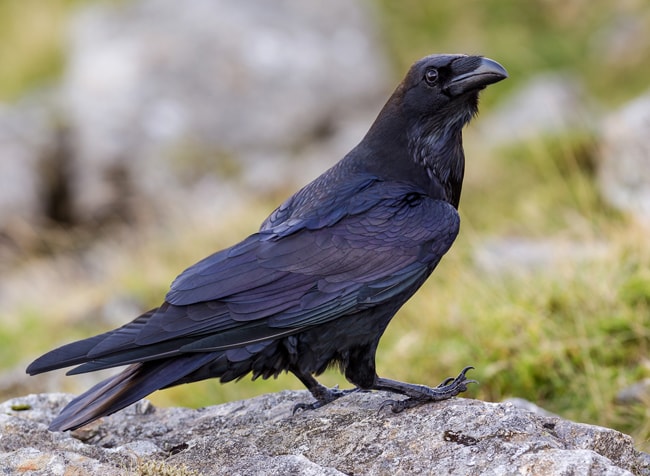 Only two of the team saw the Northern Raven, so it remained a frustrating omission (John Freeman).
There are thousands of Lesser Black-backed Gulls out there, with a few Yellow-legged Gulls. It doesn't take me long to find the first-winter Caspian Gull on its favourite island and in the background a Black-necked Grebe is diving. Small groups of Goosander are arriving to roost and, with that, the 124 record is already broken! After 10 minutes we leave and move to another hide overlooking the same lake, where there are three Green Sandpipers and a Water Pipit.
Back to the car and another ten-minute drive has us parked and walking to a viewpoint overlooking an area of heath in the northwest of the New Forest. As dusk falls, two Hen Harriers drop into roost and a Yellowhammer lands close by and calls. A small pool holds a feeding Jack Snipe, which gives good views. We're still not finished, though, as there are potentially a few more species to find, even though it's now pretty dark. Eyeworth Pond holds some smart drake Mandarin Ducks, seen in the car headlights. Then, back at Romsey, we have at least a dozen Water Rails calling from their marshy wintering grounds – the final bird of the day. It's now 6 pm.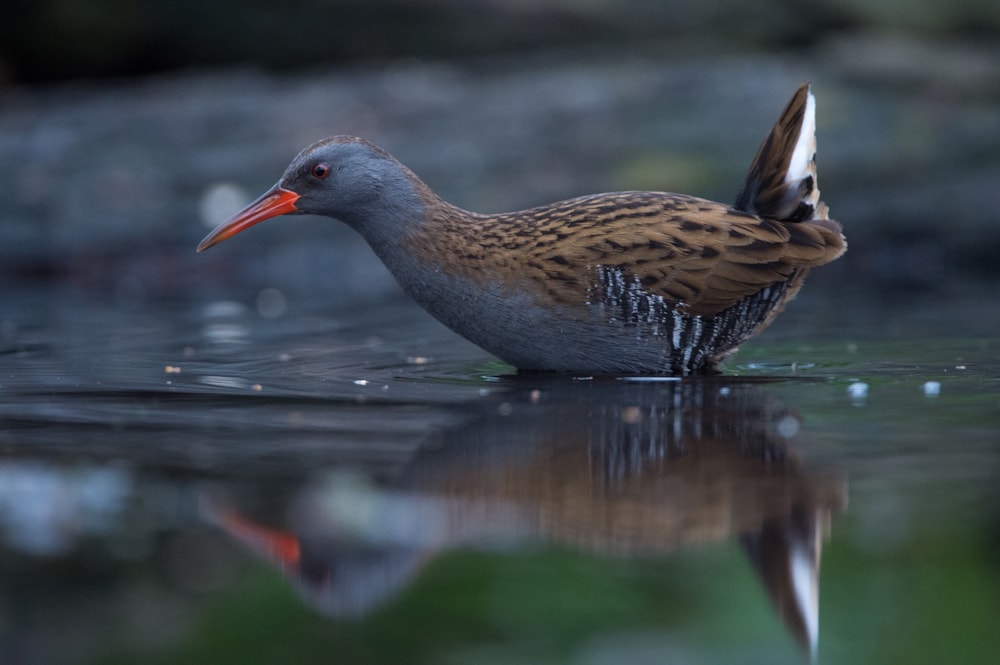 The last bird of the day was Water Rail (Marc FASOL).
Inevitably, we missed a few species – remarkably, no Fieldfares (thin on the ground this year) and no other Northern Ravens. In all, it was an amazing day with 132 species tallied up in less than 12 hours. This is the new Hampshire record for 1 January, but is it a new UK record? We'd be interested to hear from other counties and mightily impressed if a higher midwinter count has been achieved before.