Autumn 2019 on Corvo, Azores, started with a bang and went out with a whimper, with most of the highlights concentrated in the early part of the season. This meant the best birds were missed by most birders who arrived in the mid-season, which is usually the peak time for both birds and birders.
It was those birders who risked an early-season visit, some making a last-minute decision to twitch incoming weather conditions, that were rewarded. It paid off in style, too – Peter Stronach and Bob Swann found Chestnut-sided and Cape May Warblers (both the first documented records for the Azores) in late September (25th and 27th respectively), while Jean-Pierre Jordan found a Prothonotary Warbler (a first for the Western Palearctic) on 7 October.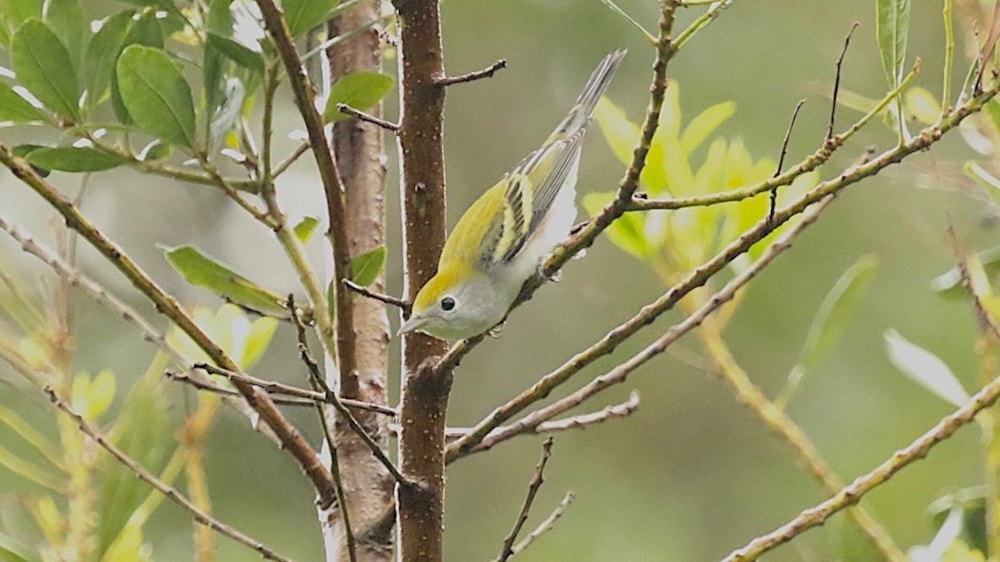 Chestnut-sided Warbler, Corvo, Azores, September 2019 (Peter Stronach).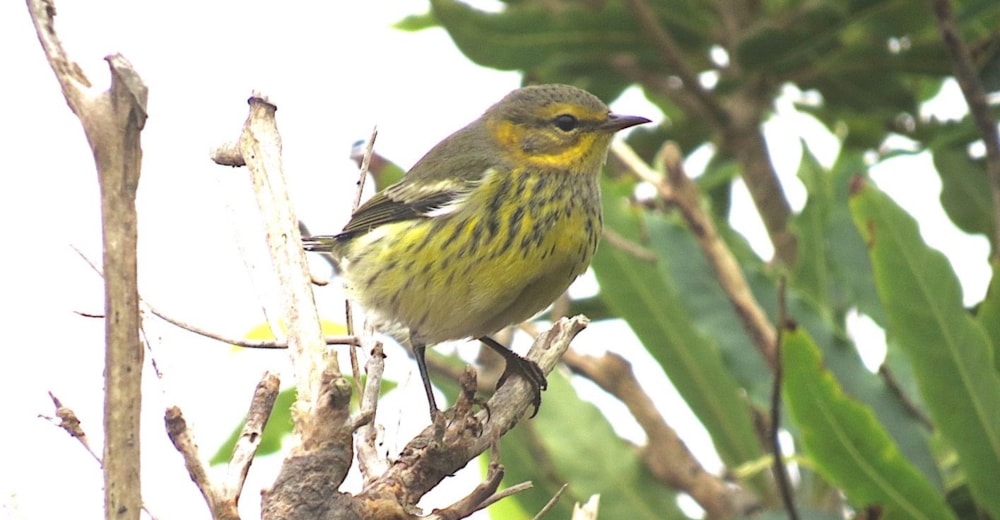 Cape May Warbler, Corvo, Azores, September 2019 (Peter Stronach).
Prothonotary was the 25th species of American warbler recorded on Corvo and represented the third time a new American warbler for the Western Palearctic (WP) had been found on the island, following Prairie Warbler in 2012 and Yellow-throated Warbler in 2013. A hybrid Golden-winged Warbler × Blue-winged Warbler ('Brewster's Warbler') was also a first for the WP in 2015. Indeed, only Palm Warbler and Cerulean Warbler have been recorded in the WP but not yet on the famous island.
As with 2018, Thijs Valkenburg found the main contender for best bird of the 'Corvo season' – but not on Corvo. The neighbouring island of Flores one again produced the autumn's biggest bird and, as with the Western Kingbird a day less than a year before, nobody from Corvo was able to twitch it. The bird, a typically skulking Connecticut Warbler – a first for the WP and the 26th species of American wood warbler for the archipelago – was caught in a mistnet on 12 October and was subsequently never seen again following its release.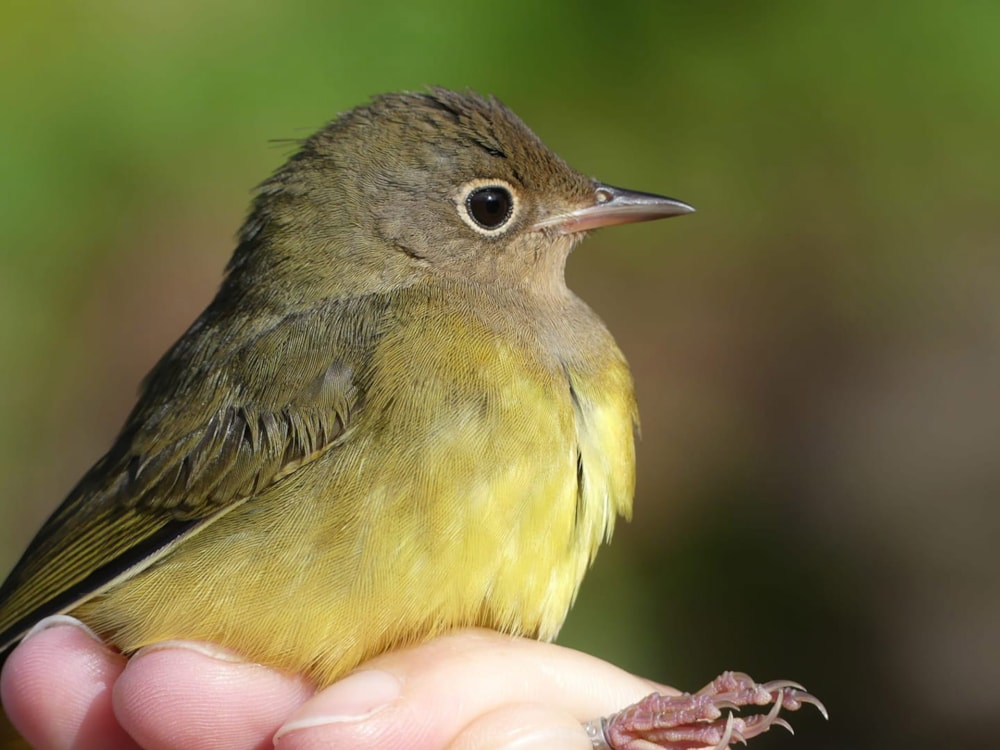 Connecticut Warbler, Fajã Grande, Flores, 12 October 2019 (Thijs Valkenburg).
The first big groups of birders had arrived on Corvo by 9 October – just in time to see the Prothonotary Warbler, which by then was unfortunately on its uppers and almost certainly perished soon after.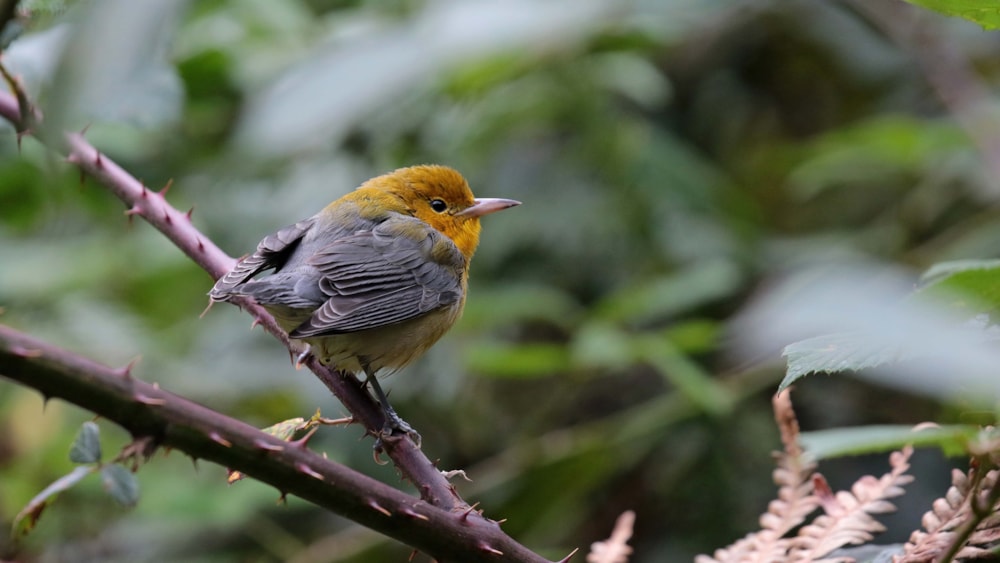 Prothonotary Warbler, Corvo, Azores, October 2019 (Paul French).
The supporting cast during these first two weeks of the season included Canada Warbler, Magnolia Warbler, Hooded Warbler, up to four Black-and-white Warblers, two American Yellow Warblers, Black-throated Green Warbler, Ovenbird, Northern Waterthrush, Northern Parula, White-eyed Vireo, Philadelphia Vireo, American Barn Swallows, Northern Harrier and the Corvo staples of Red-eyed Vireos, Rose-breasted Grosbeaks, Scarlet Tanager and American Buff-bellied Pipit.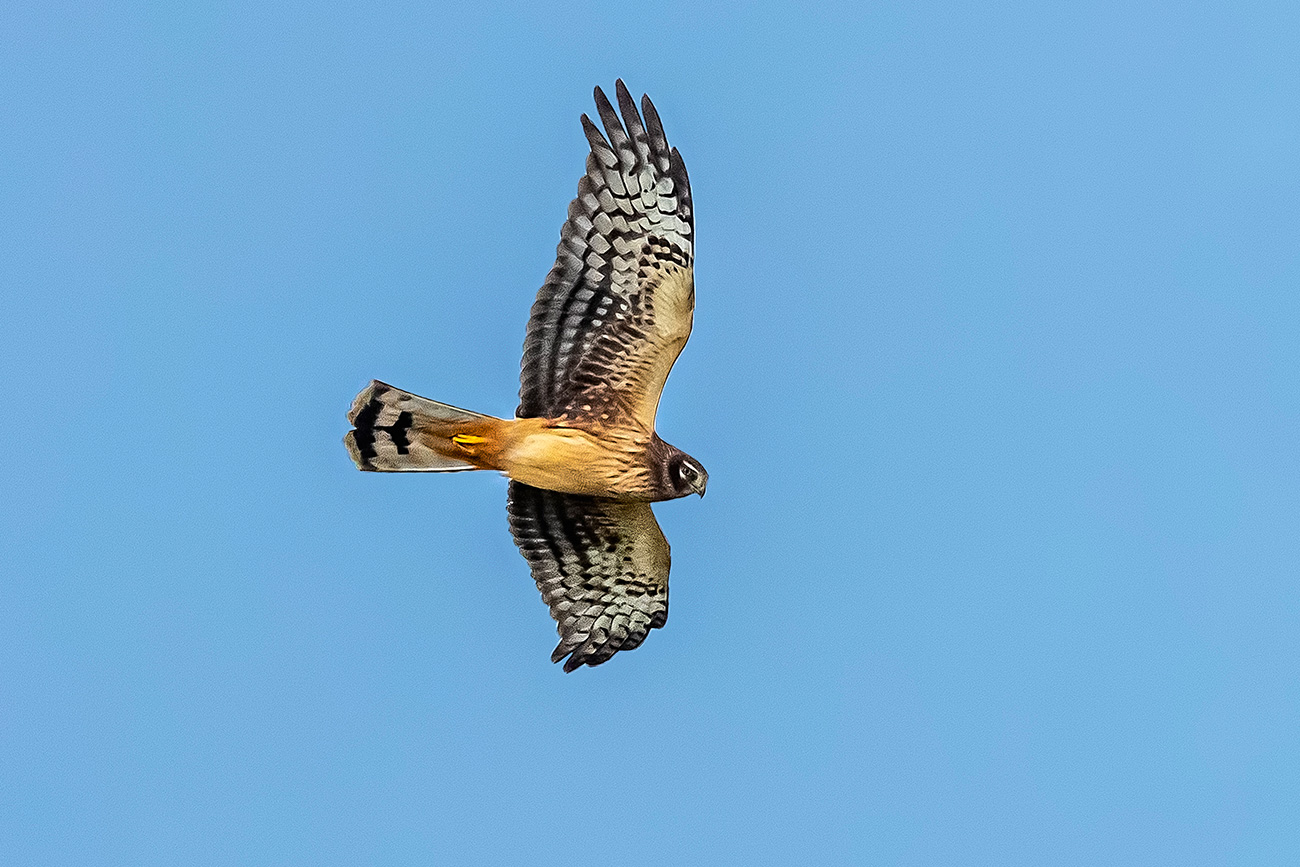 Juvenile male Northern Harrier, Corvo, Azores, October 2019 (Vincent Legrand).
Then, once the main influx of birds had come and gone, most of the birders started to arrive. Most birds this year were found before 12 October. The rest of the autumn was basically left wanting, with Paul French saving the autumn for many late-to-the-party birders by finding a Hermit Thrush in Fojo on 16th.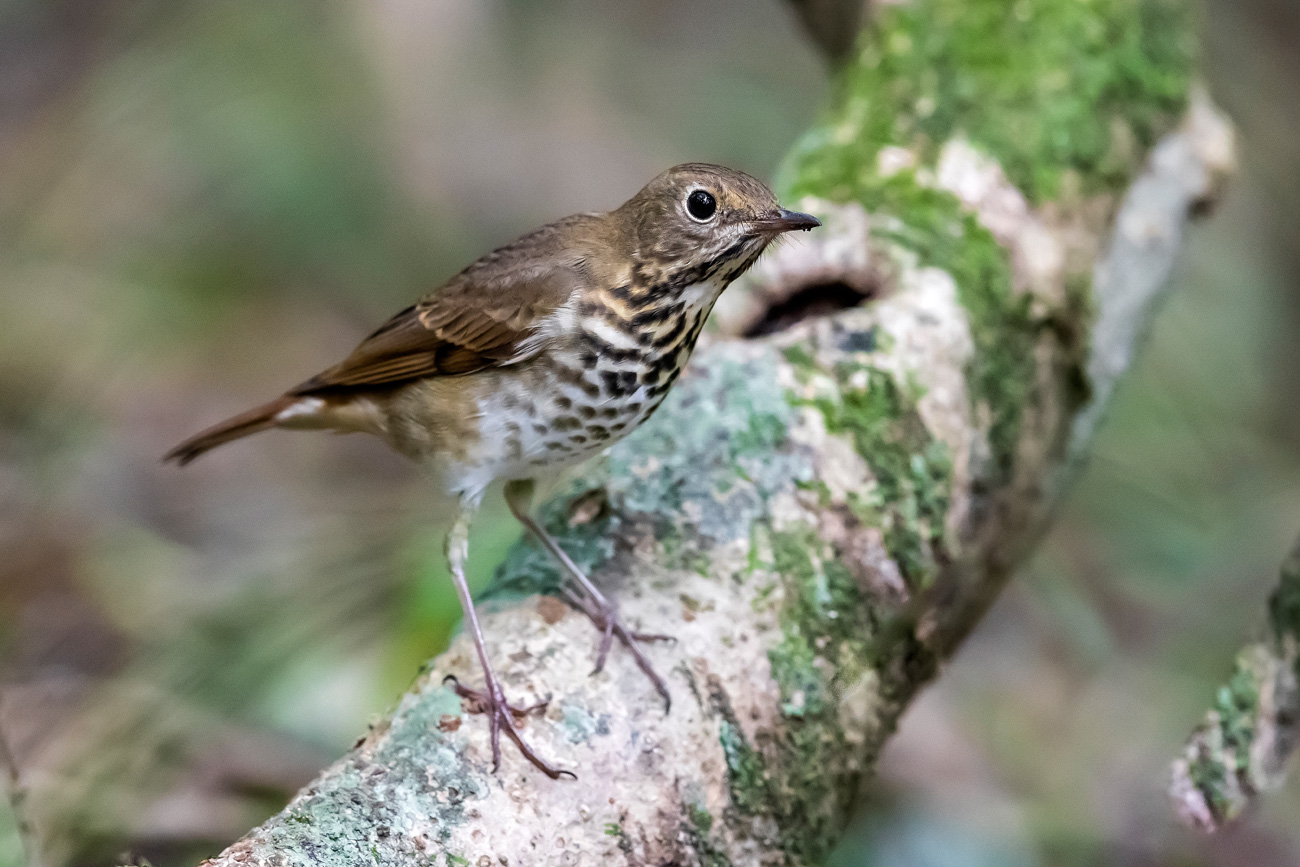 Hermit Thrush, Corvo, Azores, October 2019 (Vincent Legrand).
A couple of bones were thrown on 16-17th, with a couple of new American arrivals involving a American Cliff Swallow, Indigo Bunting and possibly another American Yellow Warbler. The arrival of an Alpine Swift by 18th was an omen from the east. Despite the lack of new birds, many visiting birders still had plenty of long-staying American birds to see, including a male Hooded Warbler that had been present for over two weeks.
Despite the seemingly unfavourable weather, new American birds were found on 19th with a Dickcissel and a Scarlet Tanager and, between then and 23rd, a Philadelphia Vireo and a Blackpoll Warbler were discovered, though were only seen by the finders. The pickings became even slimmer after that. A Common Yellowthroat was caught in the nets on 25th, and the birders who had stuck it out to the bitter end were rewarded with an American Bittern on 26th.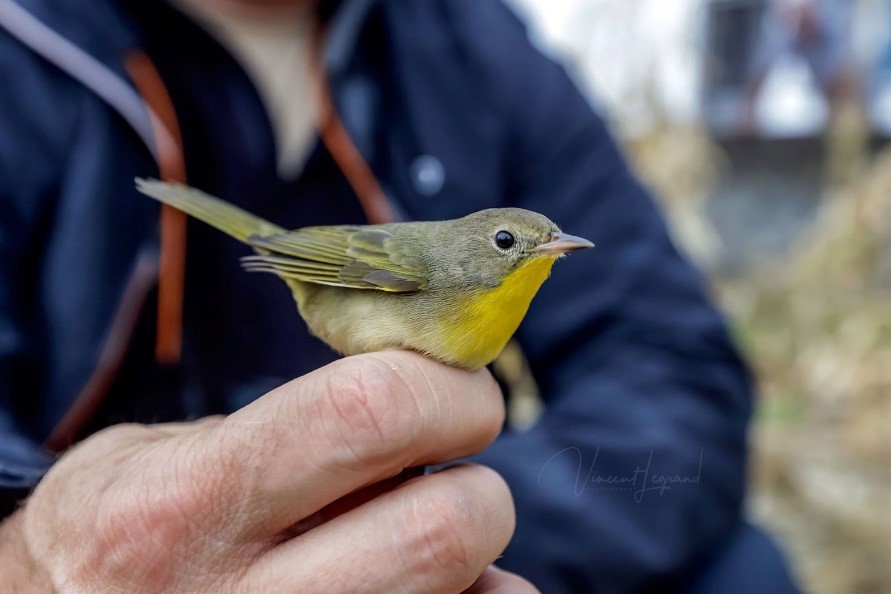 Common Yellowthroat, Corvo, Azores, October 2019 (Vincent Legrand).
All in all, it was another excellent season for Corvo (for the early birders anyway), with 26 American landbird species (made up of an estimated 54 individuals) and an additional eight American waterbird species, involving 12 individuals. A full species list can be found here.
Another interesting find this year was an American dragonfly, a female Green Darner, which was another early-season mega on 7 October – a first for the Azores. The only previous records in the WP are from the Isles of Scilly and Cornwall in 1998 and a record from France in 2003.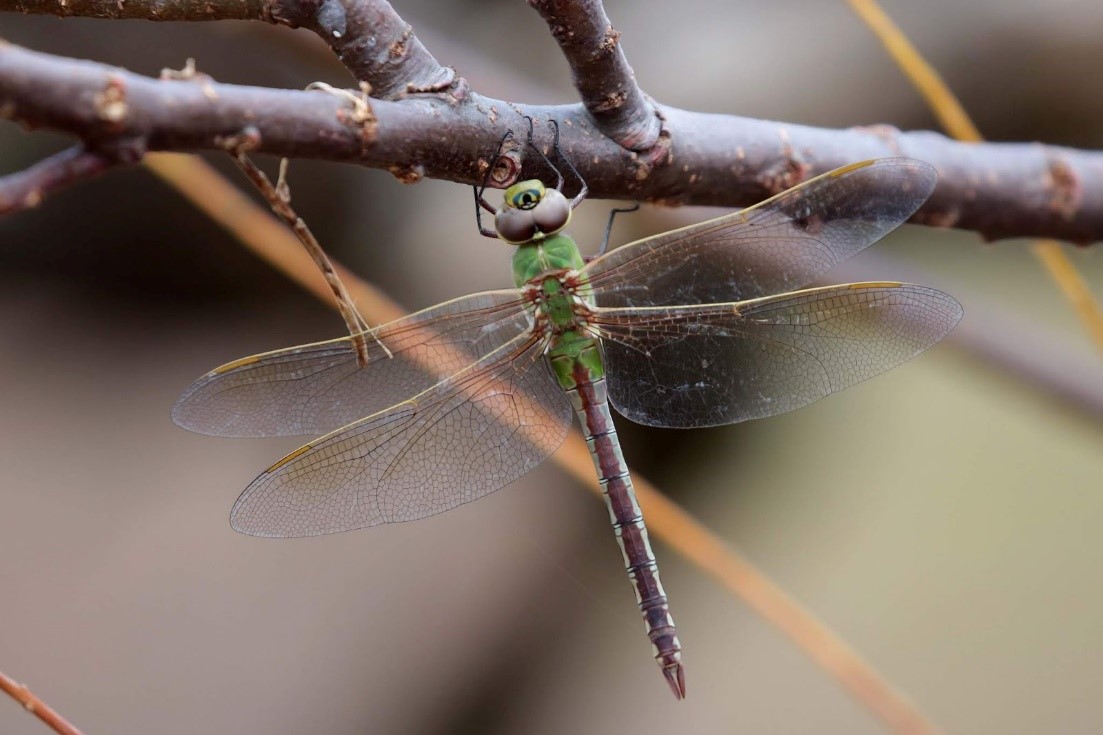 Green Darner, Corvo, Azores, October 2019 (Paul French).
Autumn 2019: statistics at a glance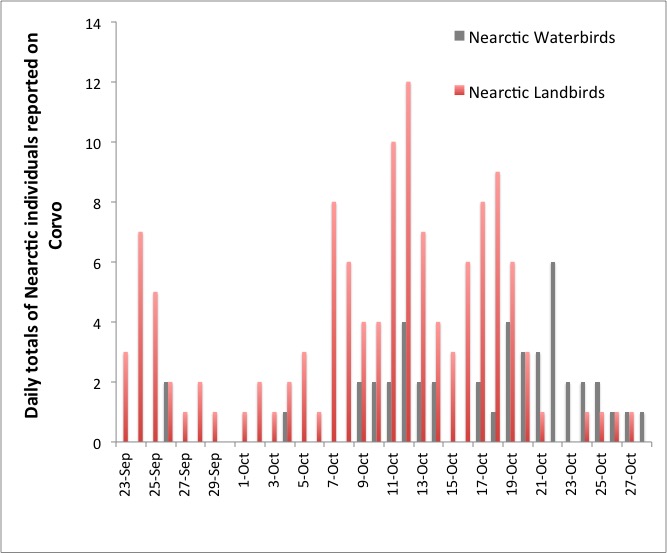 Daily totals of Nearctic landbirds and waterbirds on Corvo, Azores, September-October 2019.

Cumulative number of Nearctic landbirds seen on Corvo, Azores, during September-October 2019.