The appearance of a Desert Wheatear on St Agnes, just before Christmas 2018, could not have been better timed from my point of view. It's become traditional for me to confine my reports here to the autumn 'Scilly Season' but, despite having an exciting American find to tell you about, I was struggling this year to pick a theme to stitch the whole thing together and also avoid repetition. I'll tell you more about the wheatear in Part 2, but for now I've decided to impress upon you the ability for Scilly to turn up interesting birds at any time of the year. That way, I get to include a much-desired UK lifer in the spring …
Generally speaking, winter is not a time you would choose to visit the Isles of Scilly. It is at this time I do most of my work for the year – effectively working three jobs around the clock for several months, in order to free me up for more fertile birding seasons. 2018, however, was book-ended by the wheatear (and more) at the back end of the year and a Killdeer on St Mary's in late December 2017. Having not seen a Killdeer in the UK since 1983 I would have liked to have seen this one, but a lack of time and boats off St Agnes – and the fact it was a one-day wonder – extended my wait for the next one.
Similarly, a Snowy Owl present on Tresco and Bryher from late December 2017 well into March 2018 was out of bounds due to time and work restrictions. For me, on St Agnes, what little time I do have to go birding is restricted to the odd five minutes of gull checking every now and again, as well as simply enjoying the dawn chorus from a multitude of Wrens, Song Thrushes and an occasional Firecrest or Blackcap from early February onwards.

The Snowy Owl on Tresco was an early highlight of 2018 – even if Graham didn't see it (Mark Leitch).
Spring on Scilly can sometimes come very early in terms of returning migrants and the extended daylight hours afford me the opportunity of some limited, low-key birding. I've seen double figures of Black Redstarts by the third week of March and falls of dozens of Common Chiffchaffs by the end of the month, but March 2018 brought the rare sight of some light snowfall on St Agnes, as well as something almost as rare around here – a Red Kite, caught up in the associated easterly winds. My first Scilly Long-tailed Tits, a party of four, were another unexpected sight in the middle of the month.
April, as I guess it is in most places in the UK, can be hit or miss. Exciting birding for me means falls of migrants and I'm quite happy if they're common European breeding birds: European Robins and Song Thrushes, for example, touching down en route between the Iberian Peninsula and Scandinavia. Sometimes I've seen 100 of each in the first days of April, but not this year, despite seemingly favourable winds at just the right time. Also, Northern Wheatear numbers were low this year at the start of April – again, something I've seen falling out the sky in their dozens on other occasions. It's strange sometimes how individual wheatears can be picked up in Scotland or north-western England before I've even seen one here, as happened again in 2018 …
Despite this Scilly, without fail, has its own unique attractions in spring with Hoopoe, occurring here more frequently than anywhere else in the country, as well as Woodchat Shrike, Greater Short-toed Lark, Subalpine Warbler and Red-rumped Swallow being expected almost annually. April 2018 was characterised by not unreasonable amounts of south and easterly winds, which ought to have been good, but when coupled with endless sunshine they invariably mean grounded migrants are few and far between.
A friend of mine found what turned out to be the only Woodchat Shrike of the year on Wingeltang Down and, a few days later, I came across what I initially took to be a very handsome and watchable Blue-headed Wagtail with an extensive white throat on nearby Castella Down. It was only when I was walking back to the house half an hour later, it dawned on me I should maybe just refresh my memory as to what Spanish Wagtail looked like in the book. Sure enough, the penny dropped, so primed with the notion to listen more diligently to the call, I went back and confirmed the raspier flight-note that indicated iberiae. It stayed around a few days and a few others saw it, though unfortunately it was often elusive and resisted any attempts to record its flight call.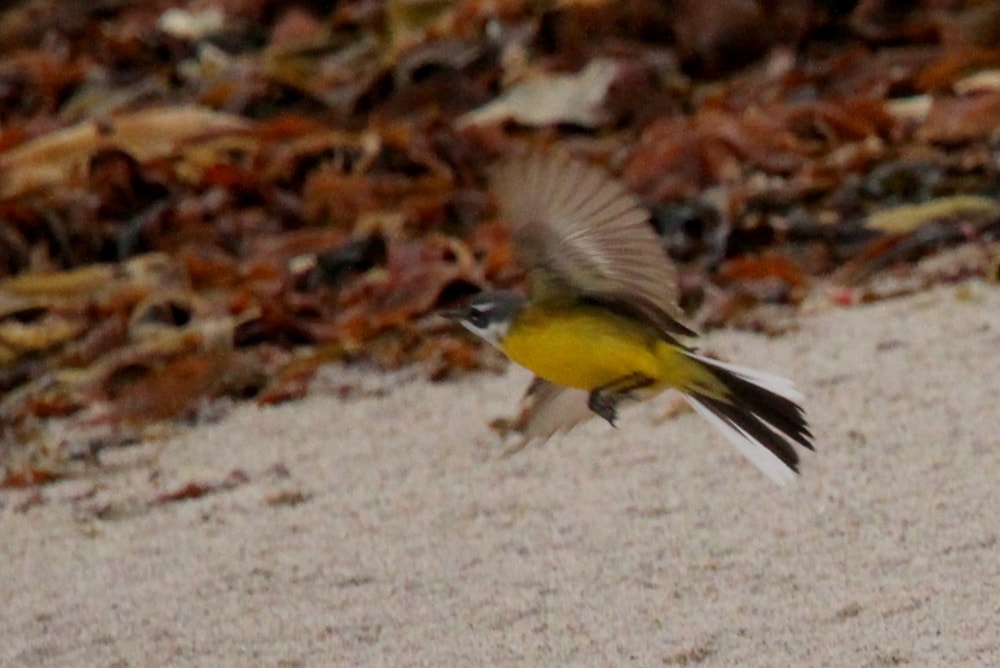 The beautiful male Spanish Wagtail on St Agnes in April (Kris Webb).
In recent years I've taken to leaving Scilly in mid-April to engage in various other employment opportunities on the mainland, ranging from organic sheep farming in Cornwall to Golden Eagle surveying in the Scottish Highlands. The one April I stayed till the end of the month, a couple of years back, saw me watching a Great Blue Heron that would certainly have given me some heartache had I left Scilly prior to seeing it. This year I happened to be on the islands when another, even more desired American bird turned up, as a UK lifer for me.
I was still on St Agnes at the time, ambling around and seeing very little in the sunshine and easterly winds, apart from a two-second glimpse of a Red-rumped Swallow crossing the Big Pool in a passage of commoner congeners that later roosted on St Mary's. Suddenly, one lunchtime I got one of those "you'll-never-guess-what's-just-turned-up!" phone calls that happen unfortunately rarely in life, especially the longer of tooth you become ... Scilly is wonderful, but in coming here 11 years ago I pretty much wrote off a handful of birds I've had in mind as potential personal finds in other places I've watched ... Ross's and Ivory Gulls for two, Belted Kingfisher another. I still sometimes get very twitchy when certain things turn up within range of where I'm residing, and occasionally enjoy the old jumbled whirr of irrational panic when news such as: "BELTED KINGFISHER ON ST MARY'S" reaches my ears!
I had to wait two hours for a boat off St Agnes. This meant I had plenty of helpless pacing about to do beforehand, though if it had been a week earlier, prior to the beginning of the tourist season, I might really have been stranded. As it was, I ended up getting to St Mary's by mid-afternoon and managed to connect with the bird before my friend Kris 'Spider' Webb, despite him having been the one who had alerted me in the first place. My initial view was extremely distant; the bird was on rocks out at the edge of the ocean at the entrance to Porthellick Bay. If it wasn't for Kerry Richards, who had been lugging a telescope and tripod around St Mary's all day, it would have been practically untickable views.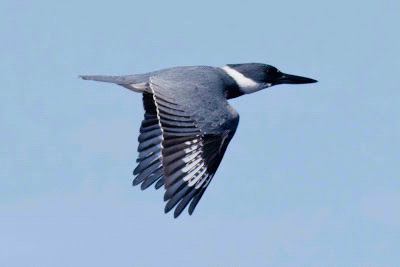 The Belted Kingfisher flies away from Lower Moors (Martin Adams).
But thankfully she had, and I got a better view than I would have done otherwise. There was then a bit of lying back in the grass with arms and legs kicking in the air for the first time in a long while! Within five minutes, though, the sighting was over, as the bird rock-hopped its way out of view. A dash along Giant's Castle trying to relocate it proved negative. There was still the question of Spider seeing see it. As I rounded the last bend into Old Town Bay, there he was, dashing from his van towards Lower Moors where Richie Aston had just picked up the bird sitting on a post, right outside the first hide. Within minutes, it was gone, before the rest of us could get there. But within another minute, it was seen returning to Porthellick Bay by those who'd stayed behind.
These days, in order to feel as though I've really seen a bird, I like to see it doing something. I'm disappointed I didn't get to hear the kingfisher call but, together with Spider, that quintessential moment came when we managed to relocate it just south of Deep Point. It was distant again, but I was armed with my own scope now and we watched it dive into the bay, come up with a massive fish before smashing it against the rocks, before finally taking a minute to gulp the whole thing down. Then it flew off to the north-east past Watermill Duckpond, never to be seen again.
Soon afterwards, as always, I left Scilly with a heavy heart, hardly daring to cast a look back in case I missed something equally special. But then again, also 'as always', I embraced the mainland the minute I arrived (I'll tell you what I did with my May next time I do a write-up for these pages). Suffice it to say, for the second year in a row my summer was nearly all about chasing insects. This year, however, instead of confining myself solely to the South-West, I took a three-week trip across country to see folks in north-east England (and to visit moth traps in the Whitburn, Spurn and London areas), before my birding autumn began in earnest back on St Mary's in the middle of September.
Continues in Part II ...