Over the last 18 years, my work as a climate change photographer has taken me to all seven continents. When it comes to my birds, though, I'm really into local patching. For me, the ultimate form of local patch and low-carbon birding is in your own garden. I have lived in my present house, with an average-sized garden, in Ambleside in Cumbria's Lake District for the last 15 years.
Ever since we moved in, I have kept a garden list. This includes birds actually seen in the garden, or seen or heard from the garden. It has always been my ambition to get the list to 100. The last 18 months have seen many birders re-evaluate their hobby. With reserves closed and travel restricted, attention turned to the local. As I was unable to do much in the way of work, I spent increasing amounts of time trying to get my garden list up. Both sat watching during daylight hours, and listening during hours of darkness. The first 50 was pretty easy, but with every additional species added, it becomes harder and harder, and more addictive.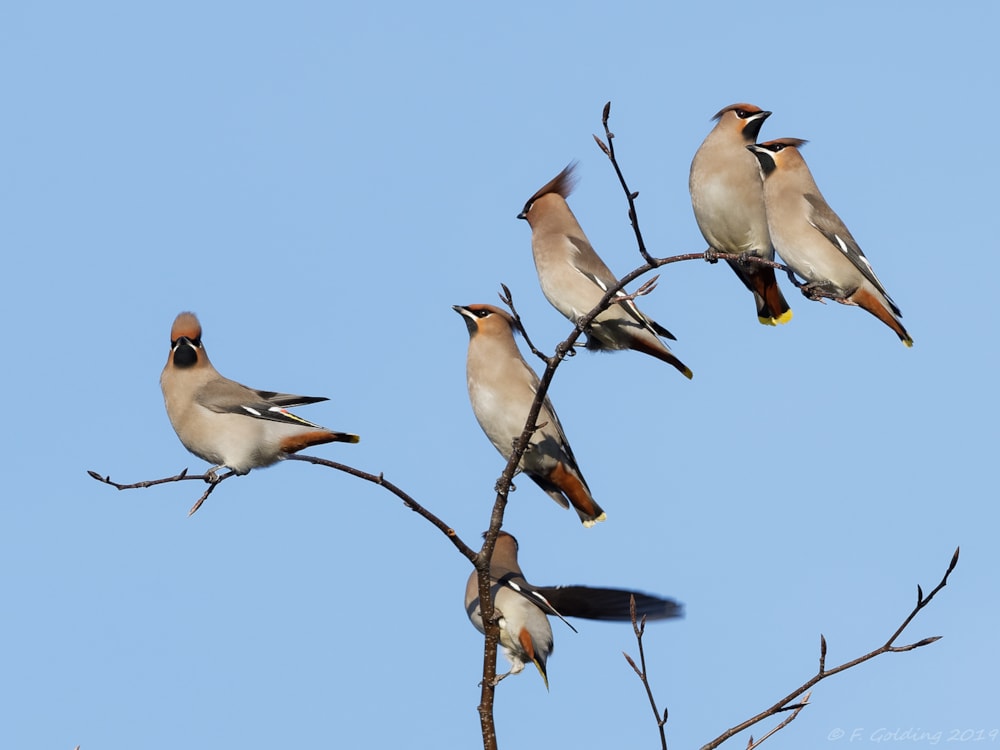 Some of Ashley's local highlights included a flock of 35 Waxwings in the garden (Frank Golding).
Some of the highlights have included hearing a Grasshopper Warbler reeling in a neighbour's hedge, a flock of 35 Waxwing landing on the Mountain Ash tree in the garden, hearing Whimbrel calling as they migrate over at night and watching Western Ospreys migrate over in springtime. Perhaps the most bizarre sighting on my list is a Red Grouse that flew low over the garden one evening. Highly sedentary and restricted almost exclusively to heather moorland, I'm not aware of any birds within 30 km of here. Where it came from and where it was heading, who knows. Annoying misses included seeing a Common Crane fly over last spring whilst I was out on my morning walk which, had I been in the garden, would have been clearly visible.
For an inland site, I'm pleased with the birds that I've managed to add to the list. Lake Windermere does appear to be a flyway that funnels birds over Ambleside. Spring and autumn regularly sees large flocks of Pink-footed Goose and Whooper Swan flying over. My raptor list isn't too shoddy: Eurasian Sparrowhawks regularly take small birds from the feeders; Common Kestrel, Common Buzzard, osprey and Peregrine Falcon regularly fly over, and I've had single sightings of Merlin and Eurasian Hobby
Content continues after advertisements
Flyover Waders have included Eurasian Oystercatcher, Northern Lapwing, Eurasian Curlew, Common Redshank and Greenshank. Ducks have included Common Goldeneye, Goosander, Red-breasted Merganser and Common Scoter.
Last autumn, unable to get to Scotland for a week's hill-walking, I settled for four days' birding at Spurn. A great trip, that added a lifer in the shape of a Red-flanked Bluetail, but if I'm honest, I get more out of adding a new bird to my garden list than I do from a rare vagrant away from my patch. A flyover Greenshank consisted of my 100th garden species, and since then the tally has moved on to 102.
I get such a buzz out of my garden list, and I'm sure there ware other birders out there who feel the same. To that end, I have launched a new Facebook page, Garden Birding 100, where I am encouraging birders who have seen 100 or more species on their garden list to share their highs and lows. To join, click here.