As our tiny plane takes off and heads out over the open sea, I look down upon the jagged coastline of Foula with a tinge of emotion. I have visited this remote island, sitting several miles west of the Shetland mainland, for the last four years (see my 2005 BirdGuides article for an overview of previous trips), but new commitments mean that I will not be returning in 2007. Previous visits have produced some great birds, including Bobolink, Baird's Sandpiper, Arctic Warbler and Hornemann's Arctic Redpoll. However, finding and photographing rarities is far from easy, due to the rugged terrain, (often) severe weather, and large expanses of bird-poor habitat between hotspots.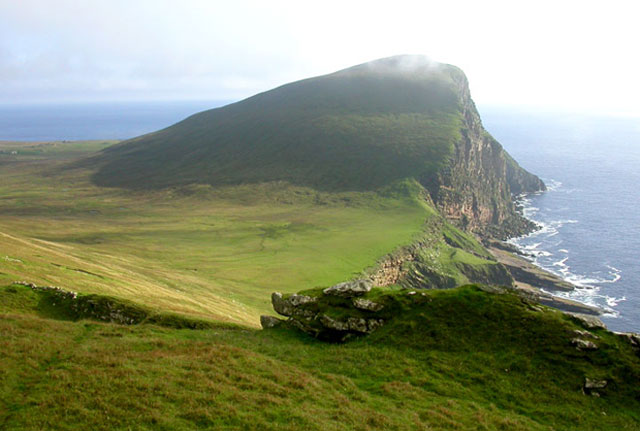 West Cliffs: Foula, Shetland Birding on Foula is challenging but often spectacular. This is the view along the southwest coast, which is barely ever watched. These sea-cliffs are some of the highest in Europe (photo: Russell Wynn).
The following diary-based article, accompanied by numerous photos, describes some of the highs and lows of my latest bird-finding trip, from September 20th to October 5th 2006, and will hopefully strike a familiar note to other rarity hunters gripped by the rollercoaster that is island birding.
September 20th 2006
Touchdown! The plane lands and myself and the 'southern' crew of Kevin Shepherd, Neil Wright and Paul Wright jump onto the gravel runway like newly released prisoners. We've arrived on Foula after the long journey north and are buoyed by a positive weather forecast, and the knowledge that the island has been birder-free for several days. There are certainly plenty of migrants to be found, with a Yellow-browed Warbler, a Barred Warbler, two Common Rosefinches and an interesting-looking Yellow Wagtail all located in the last couple of hours before dusk. A possible Marsh Warbler eludes our camera lenses and positive identification, while a good scatter of common migrants (including a Willow Warbler suspected to be of the north-eastern race acredula) keep interest levels high and spirits lifted by the hope that there should be something better in the morning.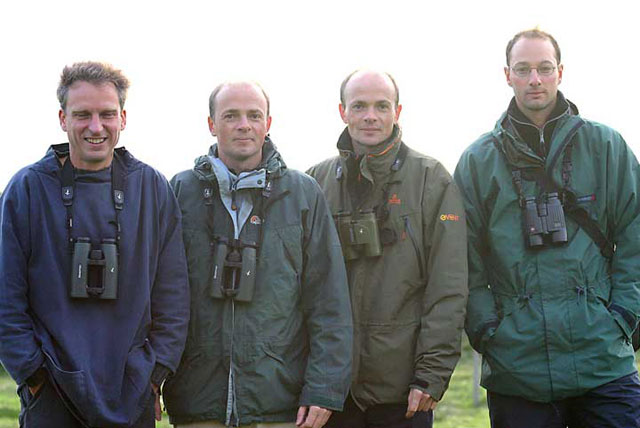 'Southern crew': Foula, Shetland The southern crew, tooled up and ready for action. From left: Kevin Shepherd, Paul Wright, Neil Wright and Russell Wynn (photo: Russell Wynn).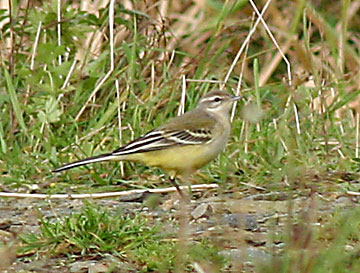 Yellow Wagtail: Foula, Shetland Racial identification of Yellow Wagtails in autumn is challenging to say the least (photo: Russell Wynn).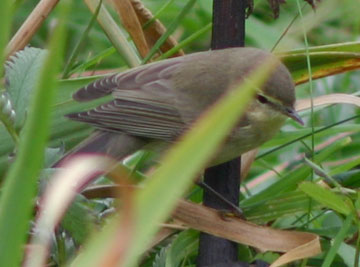 northeast Willow Warbler: Foula, Shetland Willow Warbler, probably of the north-eastern race acredula. Note the dark legs, greyish plumage tones, strong face pattern and long primary projection (photo: Russell Wynn).
Content continues after advertisements
September 21st 2006
Our first full day in the field sees us re-establish the usual routine of splitting into two pairs and covering half of the island each before reconvening in the mid-afternoon. Neil and I are covering the northern half and find a reasonable selection of birds, including three juvenile Little Stints and two large, dark Common Redpolls of northwestern origin. In the meantime, Kevin and Paul manage to dig out a Pectoral Sandpiper in the south, although in the evening we can't help feeling a little disappointed that we haven't uncovered any passerine rarities, especially when we find out that Fetlar is hosting Pechora Pipit, Black-headed Bunting, Booted Warbler and Buff-breasted Sandpiper! In addition, the wind has swung into the southeast during the day following the arrival of a low-pressure system off southwest England.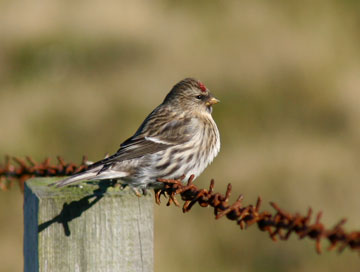 'Northwest' Common Redpoll: Foula, Shetland The full spectrum of Redpoll types can be seen on Foula in autumn. This individual is most likely of the Icelandic race rostrata, but is probably best referred to as a 'Northwestern' Common Redpoll. Note the heavy, triple-striped flanks and bold, white wing-bar (photo: Russell Wynn).
September 22nd 2006
A fine day with light south to southeast winds, and this time Neil and I are heading south. Lingering scarcities include the Yellow-browed Warbler, two Common Rosefinches and three Little Stints, backed up by a scatter of common migrants. However, despite the apparently ideal wind direction, it is clear that not many new birds are arriving, and a look at the online pressure chart in the evening reveals that the skies over Scandinavia are probably cloudy due to the presence of a weak frontal system, effectively blocking migrants from the east.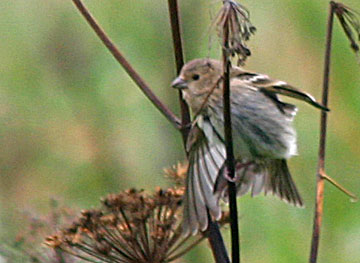 Common Rosefinch: Foula, Shetland Foula is probably one of the best sites in the UK to see Common Rosefinch. This bird shows broad off-white wing-bars, indicating it is in juvenile plumage (photo: Russell Wynn).
September 23rd 2006
A beautiful day with light southeast winds and bright sun sees us wandering around in short-sleeved shirts (three layers are normal on Foula in late September!). Initial impressions are that new migrants are again at a premium, with the highlights being a flock of eight Lapland Buntings in the north of the island and a new Yellow-browed Warbler. However, soon after lunch I glimpse a Water Rail running across a boulder beach, and we then find a pristine first-winter Red-backed Shrike at Ham. It looks like an afternoon fall is taking place and this is confirmed when Kevin and Paul arrive back, having seen a Wryneck and a Bluethroat in the south after lunch (as well as relocating the Pectoral Sandpiper). The trio of newly arrived drift migrants gives us new hope as we head home after another 10 hours in the field. Perhaps tomorrow will bring the rarity we are waiting for?

Red-backed Shrike: Foula, Shetland First-winter Red-backed Shrike. This classic autumn drift migrant arrived during the afternoon and was seen feeding on bumblebees (photo: Russell Wynn).
September 24th 2006
The winds are fixed firmly in the east to southeast sector, but the mini-arrival of yesterday afternoon is not repeated and it looks as if most birds have moved on rapidly. Numbers of Jack Snipe have increased to eight and Neil and I dig out a new Barred Warbler on the edge of Hametoun valley. Towards the end of the day the long hours in the field are starting to wear me down and I'm trudging back to Ham when something interesting calls overhead and catches me off guard. I glance up just in time to see a robust, long-tailed bunting heading away south and over the hill out of sight. It's too late in the day to pursue it, and it could be anywhere, so I decide to let it go and hope it turns up tomorrow. My failure to pick this bird up early enough to get any plumage details, combined with the lack of common migrants, sees us in subdued mood come the evening. Once again the pressure chart indicates that conditions are static, with the same low sitting to the southwest of the UK and a series of weak fronts circulating over the North Sea and western Scandinavia — it looks like we've got the wrong kind of southeasterly!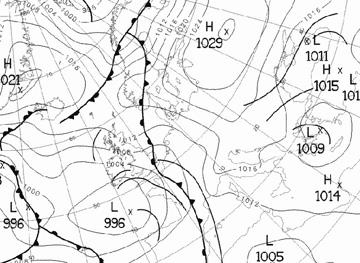 Weather chart (September 24th): Although a promising-looking southeasterly airflow covered the North Sea area, migrants arriving from the northeast at this time were effectively blocked by weather fronts and strong westerly winds over Scandinavia. Image from www.wetterzentrale.de/topkarten/tkfaxbraar.htm.
September 25th 2006
A day blighted by fog sees Neil and I scouring the south of the island in the hope of relocating the mystery bunting. However, it has disappeared without trace, and instead we console ourselves with a grounded Curlew Sandpiper, a nice male Greenland Wheatear and the first Redwing of the autumn. We also find another Water Rail and numbers of finches are steadily increasing, while the predominance of southerly winds has produced an arrival of Red Admirals and a scatter of common migrant moths.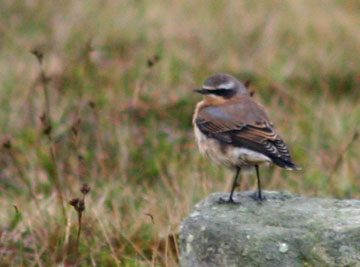 Greenland Wheatear: Foula, Shetland A male Wheatear of the Greenland race leucorhoa. Note the humbug-faced appearance, with the bold white supercilium and moustachial stripe contrasting with the dark brownish-grey crown and warm buff throat, respectively (photo: Russell Wynn).
September 26th 2006
Another ridiculously nice day sees a slight shift in wind direction, from southeast to southwest. This appears to trigger some seabird movement, and we pick up two Sooty Shearwaters, a Slavonian Grebe, a 'Blue' Fulmar, and single Puffin and Red-throated Diver during a short seawatch off the north coast. A Pied Flycatcher is a new arrival, while at least one of the original Common Rosefinches remains.
September 27th 2006
At last we find a rarity, after some 65 hours in the field! Neil and I are carefully checking the area around 'bunting bridge' in the Hametoun valley (we had previously scattered some bird seed and good numbers of sparrows and finches are in residence) when suddenly a subdued 'tick' sees us simultaneously clocking a small bunting as it flies out of reeds at the roadside and moves a few tens of metres before disappearing into an iris bed. Our first instinct is Little Bunting, but the way the bird dives into thick vegetation ensures we keep an open mind as we approach for a second look. This time the bird flushes only a few feet from us but again rapidly dives back into thick cover. It's not behaving like a classic Little Bunting, and our suspicions are confirmed when our third view is of the bird sitting on a wire fence — it's a pristine Rustic Bunting! This is a new find for both of us and we spend a few minutes enjoying the bird and getting a set of photos before Neil hotfoots it north to locate Kevin and Paul. Eventually everyone gets good views and that evening we toast our success with a bottle of wine. The only downside comes when we realise that Rustic Bunting has been downgraded by BBRC and is no longer an official national rarity, despite the species becoming extremely rare again in recent years! Other new arrivals seen during the day include a Turtle Dove, two Bramblings and 275 Pink-footed Geese.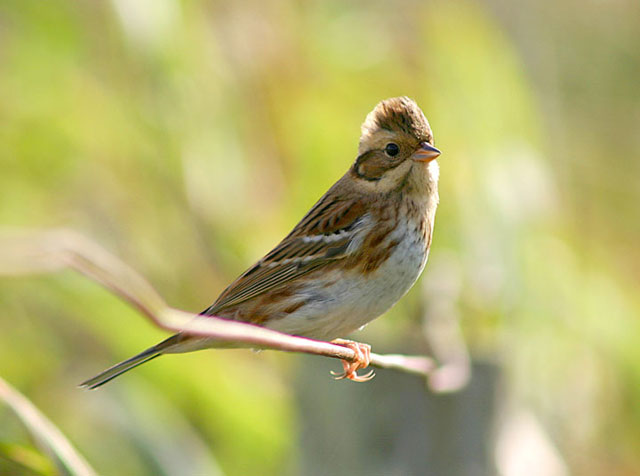 Rustic Bunting: Foula, Shetland This cracking Rustic Bunting was our first decent find of the trip. It showed pointed tail feathers, indicating it was a first-winter, while the rather subdued head pattern with restricted black on the crown, ear coverts and throat indicated it was probably a female (photo: Russell Wynn).
September 28th 2006
A murky day with light southwest winds brings us back down to earth. We catch up with two Greenland White-fronted Geese (a good Shetland record) that were found the previous day by Kevin and Paul, but otherwise three Sooty Shearwaters seen on a seawatch are the only notable sighting. Fortunately, my day is considerably brightened up when Neil is seen rescuing a confused-looking sheep from the Ham Burn. Luckily I had my wits about me and managed to get photographic evidence!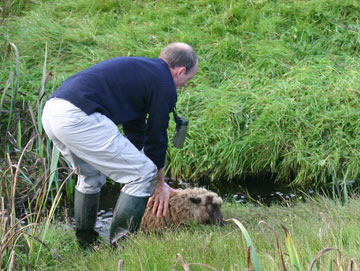 Neil and sheep: Foula, Shetland Neil heroically rescues a sheep stranded in the Ham Burn. At least, that's what he said he was doing. (photo: Russell Wynn).
September 29th 2006
Neil and I again cover the south of the island in light southeast winds and glorious weather. The Rustic Bunting, Barred Warbler and Turtle Dove all remain around 'bunting bridge', and we take the opportunity to get some good photos in the calm, bright conditions. At one stage I'm lying on my belly in the wet grass just a few feet from a confiding Barred Warbler when one of the islanders walks along the road nearby. The Barred Warbler promptly vanishes but the Rustic Bunting suddenly appears on a fence no more than two feet from my face. I try and rotate my camera and almost get a shot off, but the bird 'ticks' at me, raises its crest and drops back into cover. So close but not quick enough!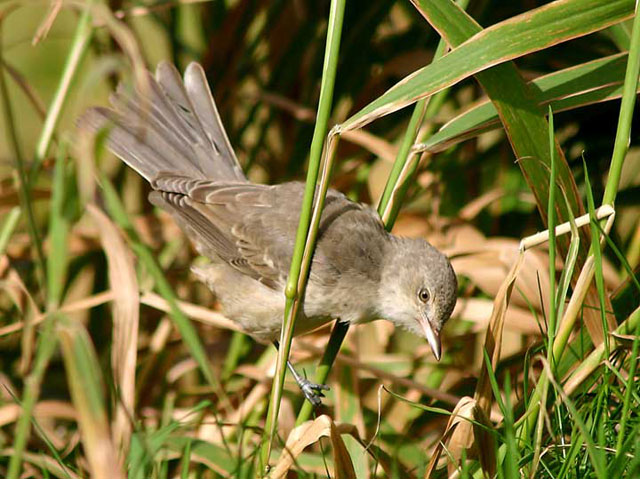 Barred Warbler: Foula, Shetland Barred Warblers usually look quite clumsy and awkward when they clamber around in vegetation, this bird being typical (photo: Russell Wynn).
September 30th 2006
A change in the weather arrives, with the wind swinging to the northwest. The first sign that new birds have made landfall comes when a Yellow-browed Warbler hops over the cliff-top in the extreme north of the island. Then, as I head back to Ham, Neil calls over the radio saying he has just located another 'ticking' bunting in the valley there. I'm soon at his side as we enjoy crippling views of another Rustic Bunting feeding alongside the burn. This bird looks to be better marked than that at Hametoun, and this is confirmed when we compare photos of the two; the Hametoun bird is probably a first-winter female and has a pristine tail, while the Ham bird looks to be a first-winter male with several missing central tail feathers. So we now have two Rustic Buntings on the island! It is soon clear that there has also been an exceptional arrival of Yellow-browed Warblers through the day, and we calculate that at least 15 birds are present. The arrival is widespread, with about 20 individuals reported elsewhere across Shetland and a further four on Fair Isle.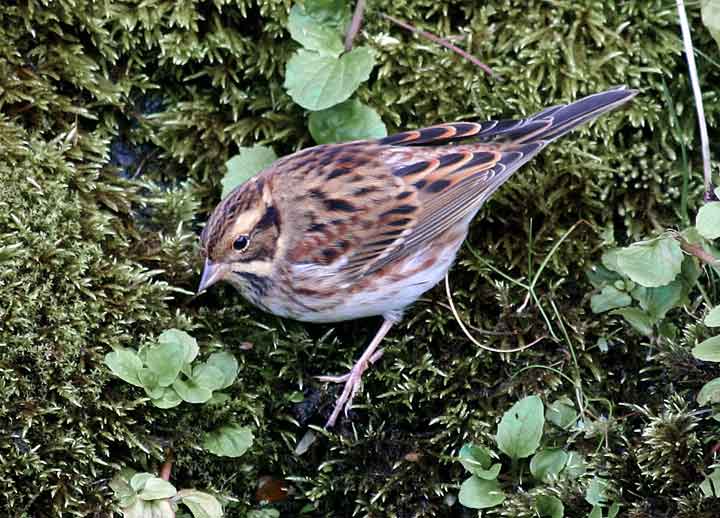 Rustic Bunting: Foula, Shetland Our second Rustic Bunting of the trip was also in first-winter plumage, and showed significantly more black marking around the head than the first bird. Consequently, we suspected it was a male (photo: Russell Wynn).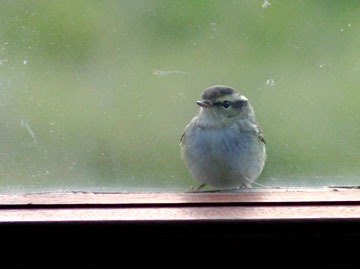 Yellow-browed Warbler: Foula, Shetland Sometimes the birds just some to you! While having a welcome cuppa, this Yellow-browed Warbler appeared at the window and stared at us for a few seconds. PG Tips anyone? (photo: Russell Wynn).
October 1st 2006
No wind and bright skies, perfect weather for digging out any good birds we may have missed during yesterday's fall. A Tree Sparrow joins the House Sparrow flock at 'bunting' bridge', and is a new Foula bird for all of us. Good numbers of Yellow-browed Warblers also remain scattered about the south of the island so, suitably encouraged, I strike out alone to cover the hilly western side of the island which hasn't been checked for several days. It soon becomes clear that Redwings are arriving and I count at least 100 high in-off the sea (100 also arrived on Fair Isle late in the day). A flock of 35 Snow Buntings are on the northwest cliffs and I also relocate the two Greenland White-fronted Geese in this slightly unusual habitat, although they are soon escorted to lower ground by one of the local Great Skuas!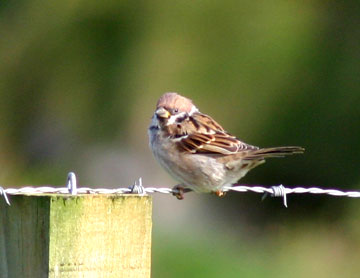 Tree Sparrow: Foula, Shetland This Tree Sparrow was a new Foula bird for all of us, and was attracted to seed we put out at Hametoun (photo: Russell Wynn).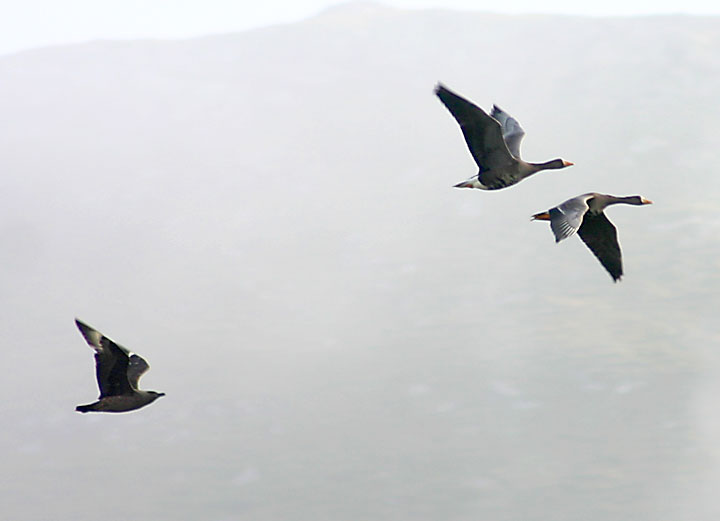 Great Skua and White-Fronted Geese: Foula, Shetland Not something you see every day...a Great Skua getting up close and personal with a pair of adult Greenland White-fronted Geese! (photo: Russell Wynn).
October 2nd 2006
We're at the airstrip and it's time for farewells before the southern crew head back to Shetland mainland. The general feeling is one of slight frustration as, after 110 hours in the field, we have failed to find a single BB rarity between us, despite having an abundance of southeast winds! However, after waving off Kevin, Paul and Neil, I hook up with the newly arrived 'northern' crew (consisting of Ken Shaw, Tim Drew, Jon Drew and Mark Wilkinson) and get a fresh burst of enthusiasm. Last year luck deserted them and they came away from their regular fortnight on the island more or less empty-handed, so they are due a few good birds! After safely getting the Tree Sparrow under their belts (they were happier to see that than the Rustic Bunting!) we all headed north back to Ham. As we enter the valley I pick up a Red-breasted Flycatcher on the bridge, enjoying the late afternoon sunshine, while four newly arrived Long-tailed Ducks are loafing offshore.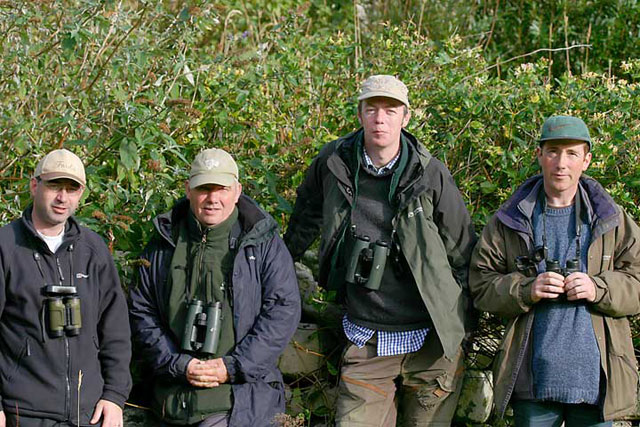 'Northern crew': Foula, Shetland The northern crew, consisting of Jon Drew, Ken Shaw, Mark Wilkinson and Tim Drew. Also known in 2006 as 'very lucky b****s'! (photo: Russell Wynn).
October 3rd 2006
My day starts badly when I fall in a bog and have to retreat to the B&B for a change of clothes. Luckily no-one saw me! However, the northern crew have better fortune, and rapidly leave last year's nightmare behind them by digging out a River Warbler at Burns! I join them as they head back for another look in the afternoon, in the hope of getting some photos. However, all I get are a couple of very brief flight views of a pocket rocket of a Locustella before it dives into another iris patch. It looks like this bird is not going to give itself up easily, so we decide to leave it undisturbed once it disappears into a garden. In the evening we discover that a Rustic Bunting has just arrived on Fair Isle, possibly one of 'our' birds making its onward journey south?
October 4th 2006
This morning Jon somehow defied the laws of photography to get a flight shot of the River Warbler, showing all the diagnostic features. I was expecting an outside chance of it perched on a wall or fence, but to get a photo of it in flight is unbelievable! My own contribution to the day's photographic record is rather less spectacular...a couple of record shots of a Little Bunting at Hametoun. Still, there are clearly a few new birds about, with Ring Ouzel, Pied Flycatcher, Merlin, three Yellow-browed Warblers, five Long-tailed Ducks and 17 Snow Buntings providing plenty of variety. The northerners later pick up an Arctic Redpoll at Harrier. They are making up for last year...big time!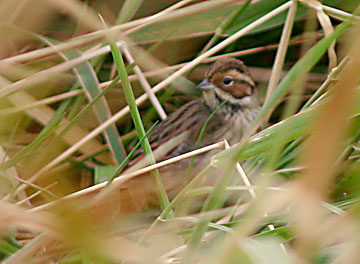 Little Bunting: Foula, Shetland A short spell of slithering around in wet vegetation produced this record shot of a Little Bunting. It was somewhat overshadowed by Jon's flight shot of the River Warbler! (photo: Russell Wynn).
October 5th 2006
As always seems to be the case, the weather forecast for the weekend before my scheduled flights south is looking dodgy. As a consequence I decide to rearrange my travel plans, and today will be my final day on the island. I have a tricky decision to make, the northern crew are clearly red hot at the moment, so do I tag along with them or do I go it alone and check the neglected northeast coast? I choose the latter, and spend a relaxing day in cracking weather photographing the Arctic Redpoll, working through the identification of a couple of adult Scandinavian Herring Gulls, and discovering the fresh corpse of an emaciated Yellow-browed Warbler. However, I then have to smile ruefully when I discover the northern crew have scored again with a Lanceolated Warbler at Hametoun!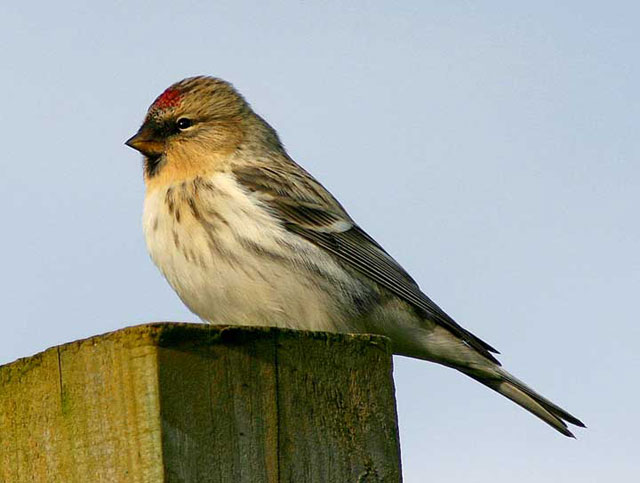 Arctic Redpoll: Foula, Shetland: This Arctic Redpoll was characteristically tame, and posed well for photos in the afternoon sunshine. The buff-toned face and pointed tail feathers indicate that it is in first-winter plumage, while the relatively small size, slender proportions, warm mantle/scapular tones and streaked off-white flanks all point towards it being a Coue's Arctic Redpoll. The undertail coverts of this bird showed a single pencil-thin shaft streak (photo: Russell Wynn).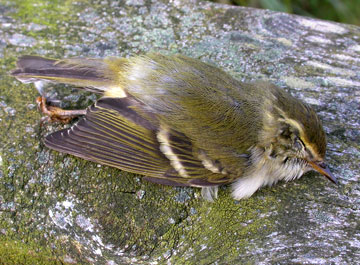 Yellow-browed Warbler: Foula, Shetland: A sad reminder of the perils of migration. This emaciated Yellow-browed Warbler was picked up by one of the islanders, handed to me at breakfast, and later given to Mark who promptly put it in his pocket with the intention of donating it to a museum. I hope he didn't forget about it (photo: Russell Wynn).
Postscript
My premature departure was bitterly disappointing, as the northern crew went on to find a succession of good birds in the following days, including Shetland specialities such as Pechora Pipit, Olive-backed Pipit, Dark-throated Thrush and even a Corncrake. It just goes to show how island birding is completely weather-dependent, and also that you have to endure the low points to appreciate the rarities you do find.
At a personal level, birding on Foula during the last four years has certainly fulfilled several personal ambitions, and I hope I've also made a useful contribution to a dedicated team effort. Along the way I've certainly made some good friends, found a few decent birds, missed a few more, captured some nice photos, and racked up several hundred field hours!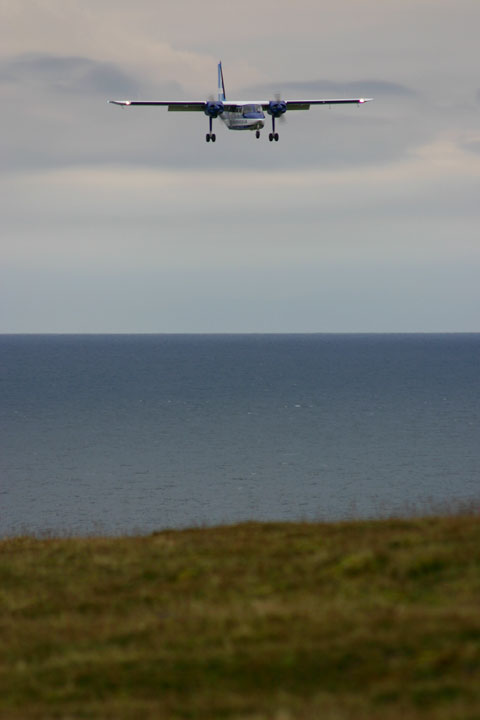 Going home: Foula, Shetland: My plane back to Shetland mainland arrives. After 150 hours in the field I head home with sore feet, tired eyes and a few more wrinkles, but also plenty of entertaining memories to recount in the cold winter months! (photo: Russell Wynn).
Acknowledgements
I would like to thank my fellow 'crew mates' for great camaraderie in the field, and for handing down some of their hard-earned experience: in particular the southern crew of Kevin Shepherd, Neil Wright and Paul Wright, and the northern crew of Tim Drew, Jon Drew, Ken Shaw and Mark Wilkinson. Tony Mainwood was also very helpful during my earlier trips to Foula. Finally, I am especially grateful for the epic meals provided by Marion Taylor at Leraback B&B, and to the Foula islanders who kindly provided access to their land.