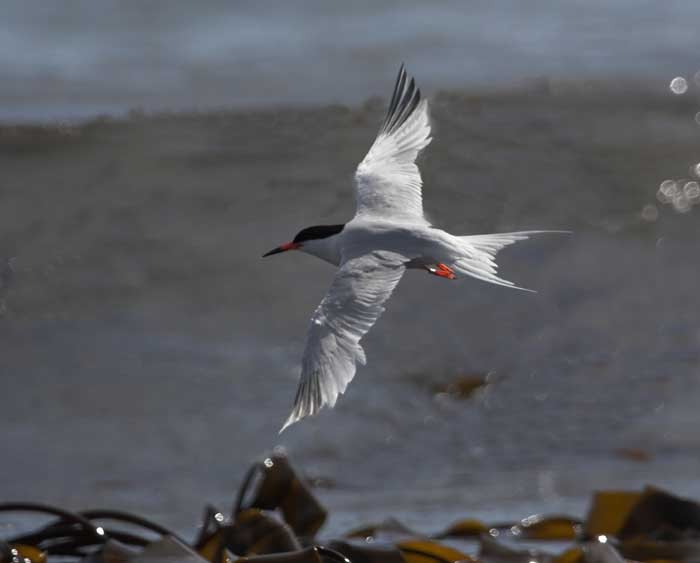 Roseate Tern: Holy Island, Northumbs The thin dark 'wedge' on the outer primaries is restricted compared to the potential confusion species. Note also the pale upperparts, long bill and long tail streamers. The flight action is more hurried, with shallower wing-beats. When diving for food, Roseate Terns dive at an angle, unlike the vertical dives of Common and Arctic Terns (photo: Graham Catley).
With its rarity, elegance and beauty, the Roseate Tern is keenly sought after by birders. With the British and Irish breeding population restricted to just a handful of offshore colonies, the species is exceptionally rare in many areas.
The plight of the Roseate Tern is well documented. Exploitation for the millinery trade during the 19th century almost brought it to the brink of extinction as a breeding bird. Protection in the 20th century ensured that numbers recovered and the UK and Irish population was put at 3,812 pairs in 1968. However, due to persecution on the wintering grounds this number had plummeted to just 521 pairs in 1985. Thankfully this trend is now reversed with the species showing signs of recovery.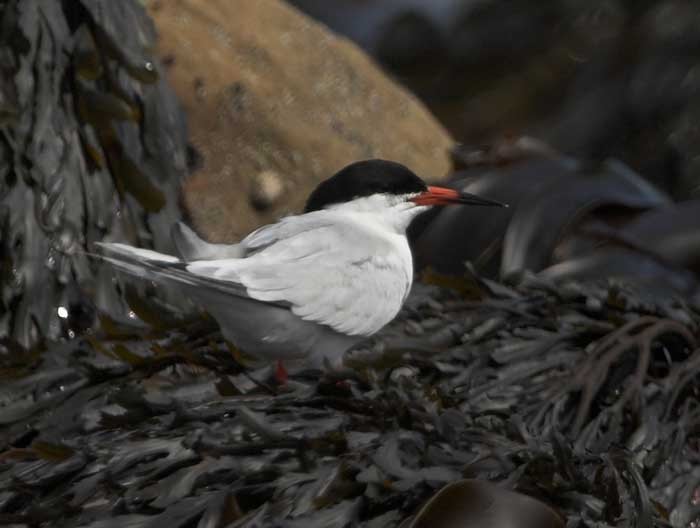 Roseate Tern: Holy Island, Northumbs In summer, up to half of the bill becomes red, perhaps creating confusion for those expecting to see an all-dark-billed tern. The pale upperparts and white underparts make for a very pale-looking tern, especially obvious when in the mixed company of Arctic and Common Terns. Note also the long red legs and long tail streamers. Unlike its commoner congeners, the inner primaries are pale with a broad white inner edge leaving just a small dark wing-tip (photo: Graham Catley).
This beautiful tern is widely distributed around the world, with Europe accounting for only a very small proportion of the species' global range. The European population is small, and is estimated to be in the region of 1,800 pairs, the majority of which are in the Azores and the Republic of Ireland. In the United Kingdom, the number of pairs increased from 58 in 2001 to 95-99 in 2003. This is largely due to the population breeding on the RSPB reserve on Coquet Island (Northumbs) with an increase from 42 pairs in 2001 to 57 pairs in 2002, 73 pairs in 2004 and 91 pairs in 2005 - this is the only site which regularly supports more than 10 pairs in the UK. The population at UK breeding sites declined during the 1990s whilst there was an increase at the main colonies in the Republic of Ireland, suggesting that birds had relocated, as supported by sightings of ringed birds. The European population winters exclusively in West Africa, though ringing returns have shown that some transatlantic migration does take place.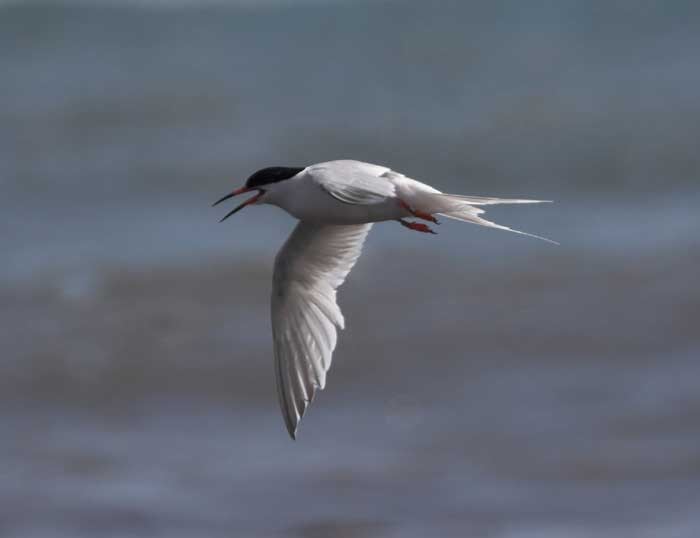 Roseate Tern: Holy Island, Northumbs Looks short-winged in flight and lacks an obvious dark border to the underside of the primaries. Call differs too, a disyllabic call resembling a Spotted Redshank (photo: Graham Catley).
Where to see Roseate Terns
| | |
| --- | --- |
| | |
| Roseate Tern: St Mary's Island, Northumbs Compared with the Common Tern on the left, note the differences in coloration and outer primary pattern (photo: John Malloy). | Roseate Tern: Cemlyn, Anglesey The all dark bill and pale plumage is typical of the species (photo: Tony Mills). |
Ireland has a breeding population of over 700 pairs. These can be found in a small number of colonies in Co. Dublin and Co. Wexford. Rockabill Island in Co. Dublin has over 600 pairs (670 nests were located in the 2005 census) but there is no public access to Rockabill during the breeding season. Roseate Terns can usually be seen in the vicinity of Dalkey Island, close to Dublin City, in late July and August and two pairs bred there last year. Smaller numbers (less than 100 pairs) also nest at Lady's Island (Co. Wexford) situated 3 km west of Carnsore Point. Formerly up to 2,000 pairs bred at a site in Wexford Harbour, but the sandy island disappeared following storms in the 1970s, with relatively few of the birds relocating to other sites.
Periodic breeding in the Firth of Forth has seen colonies become established, increase and then be abandoned. There are perhaps up to 14 pairs breeding in Scotland, but there are plans to help more permanent populations become established.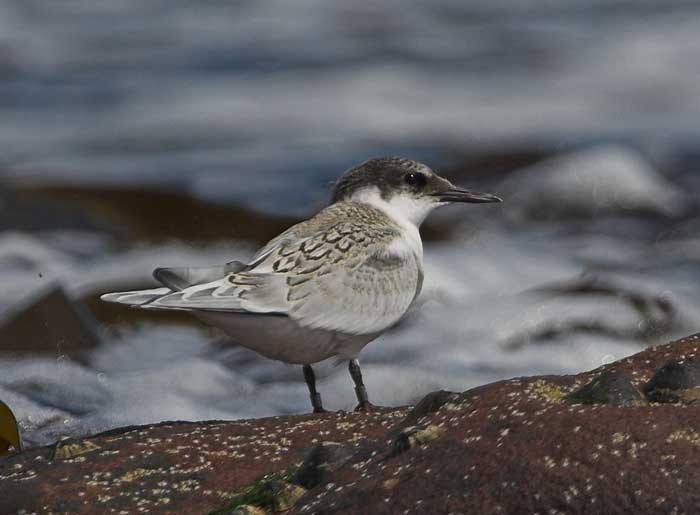 Roseate Tern: Holy Island, Northumbs In many respects juveniles resemble a scaled-down version of Sandwich Terns. Legs and bill dark, unlike Common and Arctic Terns, with boldly patterned upperparts. Note the broad white inner edge to the primaries. The capped appearance differs from Common and Arctic Terns too, though the forehead turns whiter later in the autumn (photo: Graham Catley).
References
Cramp and Simmons. 2004 Birds of the Western Palearctic interactive. Published by BirdGuides, Sheffield.
Birdlife International. 2004. Birds in Europe: Population estimates, trends and conservation status. Cambridge, UK: Birdlife International. (Birdlife Conservation Series No. 12).
Svensson, L., Grant, P.J., Mullarney, K., Zetterstrom, D. 1999. Collins Bird Guide. HarperCollins, London.
Blomdahl, A., Breife, B and Holmström, N. 2003. Helm, London.