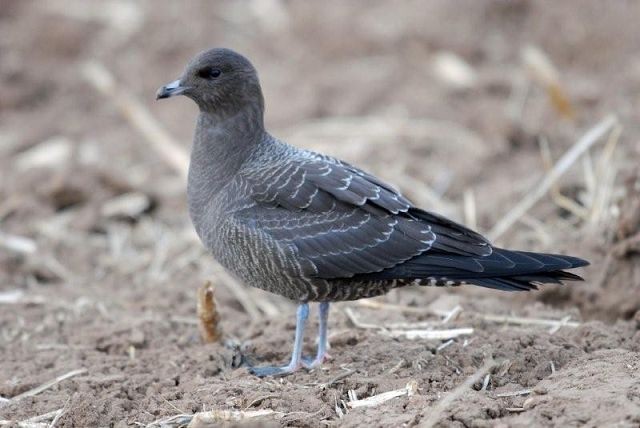 Dark-morph juvenile Long-tailed Skua: Notts, September. This bird is a classic dark juvenile. The mantle and covert feathers are pale fringed creating waves of bars on the upperparts. Note the cold tones to these pale fringes: in contrast a dark juvenile Arctic Skua would appear different, the plumage being a smoother plain chocolate colour with a hint of warmth provided by marmalade-tinged fringes to these feather tracts. On this bird the dark primaries are contrastingly unmarked save for the narrowest of pale edgings. Young Arctic Skuas show prominent pale crescent shaped tips to the primaries. The bold, pale, undertail covert bars also are also very prominent on this bird (photo: Leigh Wright).
Events across the Channel in early September alerted seabird enthusiasts to the presence of higher-than-usual numbers of Long-tailed Skuas in the southern North Sea. On the 5th, watchers at Cap Griz Nez posted a day record count of 21 juvenile Long-tailed Skuas. At the same time small numbers were discovered inland in Germany, France and the Low Countries. A movement of seabirds off the English northeast coast on the 4th included a count of nine Long-tailed Skuas, 5 adults and 4 juveniles, past Hartlepool Headland. Small numbers of Long-tails have subsequently been recorded almost daily along the east coast of Britain. Then a confiding juvenile was identified inland in Nottinghamshire on the 17th. Thus, September has proved to be a good month to catch up with these elegant pirates of the high seas.
On seawatches the identification of skuas in flight is invariably based on a subtle mix of jizz, flight pattern and behaviour, with a pinch of conjecture thrown in. However, out at sea in a boat, or even occasionally inland, a young skua will prove confiding enough to allow a more confident identification.
Juvenile skuas keep their sleek dress throughout the autumn migration period and individuals appear very attractive when observed at close quarters. They also exhibit an enormous variability in plumage with an array of pale, dark and intermediate forms.
In contrast to richly coloured Arctic Skuas, juvenile Long-tailed Skuas never show any orange or rusty tones to their plumage. Young Long-tails always exhibit a mix of cold tones from buff yellow through to greys and darker shades of brown. Many show a dark-capped appearance contrasting with a pale collar and thus appear like older birds.
Pale individual Long-tails are the rarest colour morph and extreme birds can be very white-headed and show an extensive whitish belly. These birds are often described as the "zebras" of the sea, possessing a pattern of strong alternate dark and whitish barring, particularly on the underwing and upper- and undertail coverts.
Darker, so called "intermediate", birds are the commonest form encountered and they generally show the capped appearance combined with a prominent dark breast band. The breast band is accentuated by a paler belly patch. The upperparts can also be strongly marked with broad whitish fringes to the feathers. The upper- and undertail coverts too are strongly barred.
True dark-morph individuals account for about a third of the population. These sooty-brown birds are indeed the most attractive of all juvenile skuas. The upperparts are finely barred with pale fringes to the feathers. Although the uppertail coverts are usually plain, they possess striking white bars on the undertail coverts. This pale barring on the undertail coverts is a distinctive feature of Long-tailed Skuas in all variations of juvenile plumage
Structurally the Long-tailed Skua is a smaller, slenderer, bird than the Arctic Skua but assessing this on a lone bird in isolation can prove difficult. It's best to observe the key plumage and bare-part features on a close bird.
The bill of a juvenile Long-tailed Skua is shorter and deeper-based than an Arctic Skua. The pale base to the bill is less extensive: in fact the dark tip extends nearly halfway along the bill, extending inwards in a 'V' along the cutting edges of the mandibles. The leg colour on both species is pale usually with contrastingly dark webbed toes.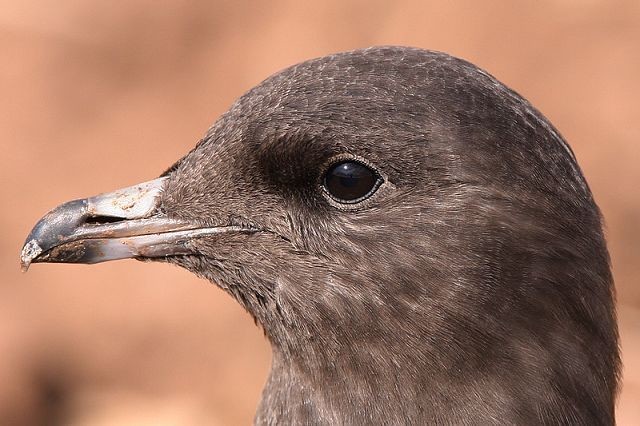 Dark-morph juvenile Long-tailed Skua: Notts, September. At close quarters, observe the bill shape and pattern; this bird shows an extensive dark tip to the bill culminating in a point halfway along the bill (photo: Dean Eades).
Inland skuas that linger always tend to be Long-tails; Arctic Skuas are far more likely to pass through quickly over an inland waterbody, whilst Long-tails have a habit of lingering either on reservoir banks or even on cultivated land feeding on invertebrates. This latter behaviour appears to be unrecorded in Arctic Skua.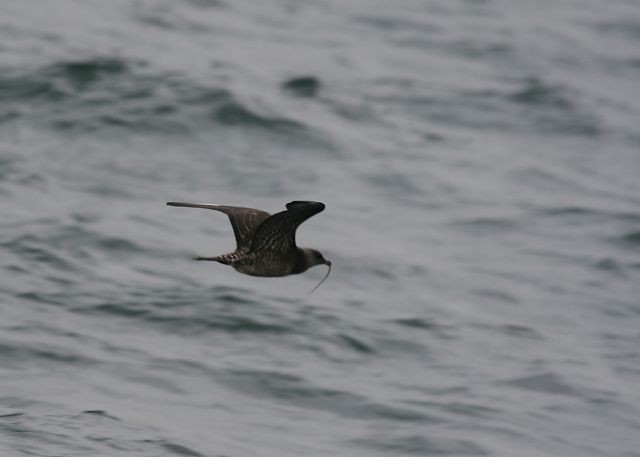 Intermediate-morph juvenile Long-tailed Skua: E. Yorks, September. This bird shows the capped effect of a Long-tail in this colour phase as well as a prominent breast band. This individual also shows very restricted white bases to the primaries, another feature of Long-tail (photo: Lawrie Phipps).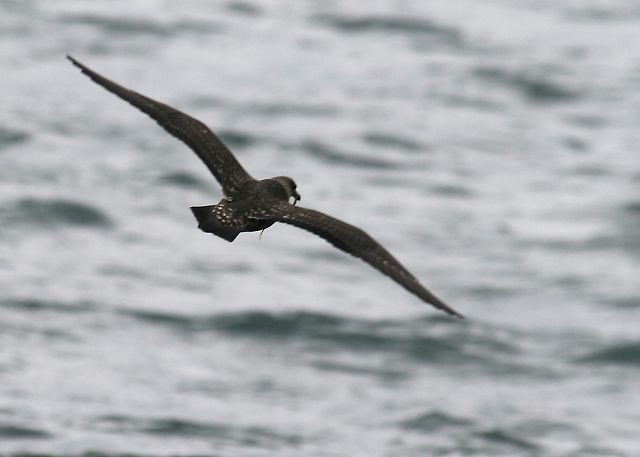 Intermediate-morph juvenile Long-tailed Skua: E. Yorks, September. Note the broad whitish fringes to the rear scapulars and tertials. Intermediate birds can be very prominently marked on the upperparts compared to the neater dark-morph individuals. The uppertail coverts are also strongly barred whilst the central tail projections are blunt tipped, more pointed in Arctic Skua (photo: Lawrie Phipps).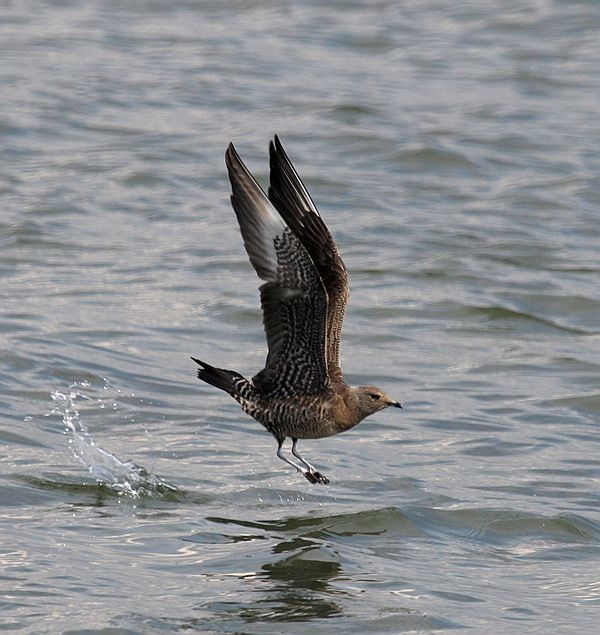 Intermediate-morph juvenile Long-tailed Skua: Lincs, September. A paler intermediate bird than above, showing more prominent bases to the primaries similar to an Arctic Skua. But this bird shows the extensively barred underwing as well as the upper- and undertail covert barring so distinctive of Long-tails. Also the bill shows the classic Long-tail pattern too (photo: Dean Eades).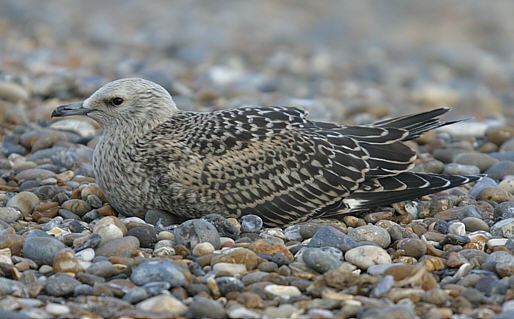 Pale-morph juvenile Arctic Skua: Suffolk, October. A very striking bird and a potential pitfall if it was flying by; however, note the warm tones to the fringes on the upperparts and the extensive pale base to the bill. On the ground the diagnostic primary pattern of Arctic Skua is all to clear (photo: Andrew Easton).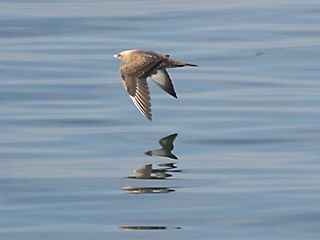 Pale-morph juvenile Arctic Skua: Lothian, September. Another striking-looking pale-headed Arctic Skua, but see it lacks the barring on the uppertail coverts. It also shows extensive white bases to the primaries. The bill is predominantly pale and the upperparts tones are warm (photo: Arthur Grosset).
References
Cramp and Simmons. 2004 Birds of the Western Palearctic interactive. Published by BirdGuides, Sheffield.
Olsen, K M. and Larsson, H. (1997) Skuas and Jaegers: A Guide to the Skuas and Jaegers of the World. Pica Press, Sussex.
Kaufman, K. 1990. Advanced Birding. Peterson Field Guides.
Olsen, K M. and Jonsson, L. Field identification of smaller Skuas. British Birds 82:143-176.