Black-tailed Gull Larus crassirostris
Black-tailed Gull is a fairly common medium-sized gull of the Northwest Pacific, with its range centred on eastern China, Russia and Japan. The wintering range comprises the northeast China coast, Sea of Japan and the Korea Straits with small numbers regularly recorded as a winter visitor south as far as Hong Kong. Vagrants have reached the Philippines and Australia. Of more interest to European birders is the fact that vagrants have occurred in North America more than 20 times, where they are almost annual. There have been five records in Canada and several have reached to the eastern seaboard, and with such a track record for vagrancy it is surely only a matter of time before one reaches Europe. Fortunately they are quite distinctive gulls at all ages, and it is the only gull of the Northern Hemisphere to show a black tail, or tail bar, at all ages. A well-prepared gull addict is unlikely to overlook one on their patch.

Black-tailed Gull: China (September) First-year plumage is essentially brown, with a paler belly. The underwing has obvious dark markings. An attractively subtle species, the bicoloured bill resembles that of Glaucous Gull and the flesh-coloured legs are equally conspicuous. The face is pale with distinctive white eye-crescents. The most obvious feature from above is the all-black tail which contrasts with a white rump. This is a very distinctive species at this age and one that it would be difficult to overlook (photo: Available Light Images).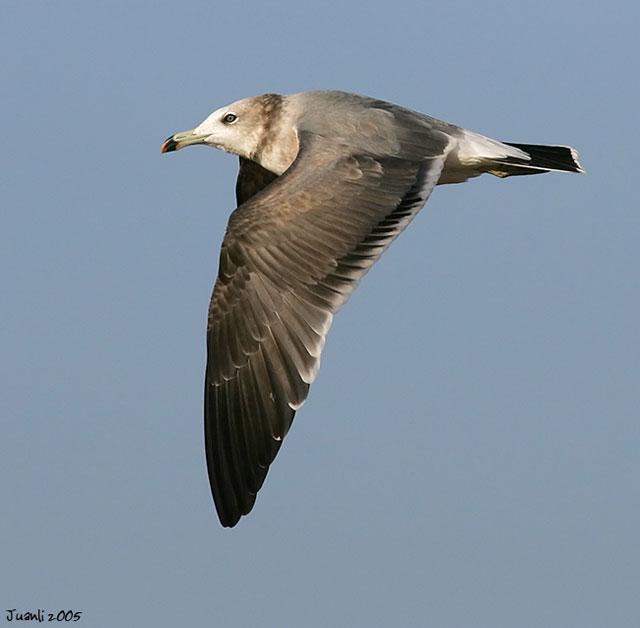 Black-tailed Gull: China (September) 2nd-winter birds are a mixture between 1st-winters and adults, but note the diagnostic tail pattern. The bill is pale with a dark tip and the iris is pale (photo: Available Light Images).
Relict Gull Larus relictus
Relict Gull is one of the world's rarest gulls. Breeding takes place at a handful of sites in Central Asia, mostly in Mongolia. The declining population is put at between 2,500 and 10,000 individuals. The non-breeding range is poorly understood: there are non-breeding records in northern and eastern China, South Korea, Japan and Vietnam, suggesting that it winters mainly on the coast of eastern China and the Korean Peninsula. For many years this was one of the world's most enigmatic species and it was considered to be the eastern form of Mediterranean Gull, only being given specific status in 1970.
It is a migratory species, the main wintering numbers being found in the northern part of the Yellow (or Bohai) Sea. For example Birds Korea report 1,645 Relict Gulls in March 2003 at the Tianjin Paleocoastal and Wetlands National Nature Reserve (China), and 3,362 along a 6-km stretch of inter-tidal flats also in Tianjin municipality, on January 3rd 2004. There are intriguing records of birds ringed as Relict Gull pulli in Kazakhstan which were reported from Bulgaria and Turkey, some 4,000 km to the west of the known range. The recoveries were considered insufficiently documented as neither ring was sent in for verification, and there was the possibility of confusion with Black-headed Gull (but one of the pulli was ringed at a site where Black-headed Gull does not occur). These reports offer hope that this enigmatic species is a potential vagrant to the Western Palearctic.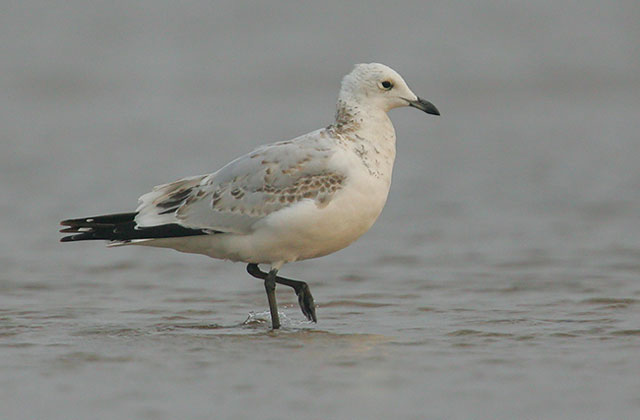 Relict Gull: China (August) The 1st-winter bird depicted above is quite distinctive, though bears some similarity to Common Gull. The head is whitish; the distinct neck shawl is quite obvious, as are the short blackish bill (with paler base to lower mandible on this bird) and long dark legs. The tertials are dark-centred and provide contrast with greyish upperparts, as do the variably marked coverts. There is also a noticeable eye-ring, briefly recalling perhaps Mediterranean Gull (photo: Available Light Images).
Brown-headed Gull Larus brunnicephalus
This small gull breeds in the Tibetan plateau of central Asia between the Aral Sea and central China. It is migratory, wintering on the coasts and large inland lakes of southern and southeastern Asia.
There is one Western Palearctic record, a bird at Eilat, Israel on 12t May 1985. Vagrants have also been recorded in Iran and perhaps the Arabian Gulf. With birds from the eastern part of the wintering range heading southeast to southeast Asia, a reverse migrant could end up in Europe. Also, a potential vagrant could become associated with more easterly populations of Black-headed Gulls and subsequently end up in Europe.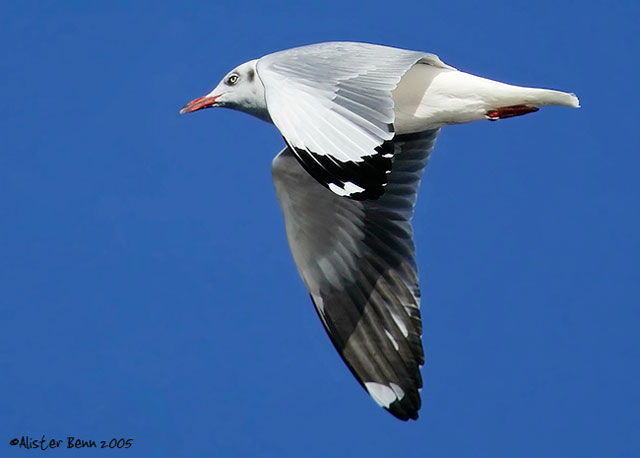 Brown-headed Gull: China (December) Slightly larger than Black-headed Gull, adult winter is easily separated by the white windows on the outer primaries contained within the black wing tip. Note also the brighter bare-part colouration, heavier bill and pale eyes (photo: Available Light Images).
Saunders' Gull Larus saundersi
This small east-Asian gull, with an entire world breeding population of between 3,500 and 7,000 breeding birds, is restricted to a handful of colonies in eastern China, though it has also recently bred in South Korea. Breeding sites are confined to coastal saltmarshes and river deltas and are threatened by development.
During passage and winter periods it has been recorded at mainly coastal localities. These have been in the Russian Far East, Japan, North Korea, South Korea, mainland China, Macao, Hong Kong, Taiwan and Vietnam. It is an unlikely vagrant to Europe, but stranger things have happened!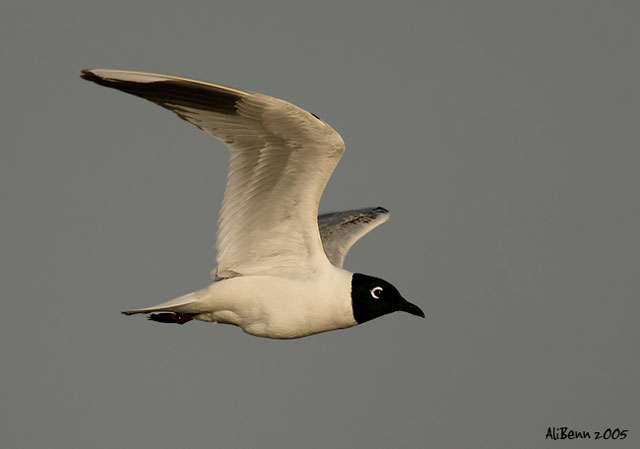 Saunders' Gull: China (May) (photo: Available Light Images).
References
Birdlife International. 2003. Red Data Book Threatened Birds of Asia.
Cramp and Simmons. 2004 Birds of the Western Palearctic interactive. Published by BirdGuides, Sheffield.
Malling Olsen, K and H. Larsson. 2003. Gulls of Europe, Asia and North America. Helm.
Robson, C. 2000. A field guide to the birds of South-east Asia. New Holland.