| | |
| --- | --- |
| | |
| Pacific Golden Plover: Tacumshin, Co. Wexford - Aug 2005. (Photo: Mike O'Keefe) | Pacific Golden Plover: Tacumshin, Co. Wexford - Aug 2005. (Photo: Mike O'Keefe) |
| | |
| Pacific Golden Plover: Tacumshin, Co. Wexford - Aug 2005. (Photo: Mike O'Keefe) | Pacific Golden Plover: Tacumshin, Co. Wexford - Aug 2005. (Photo: Mike O'Keefe) |
Pacific Golden Plover and American Golden Plover were formerly treated as a single species, 'Lesser Golden Plover', which the British Ornithologists' Union Records Committee (BOURC) 'split' in 1986 (BOURC, 1986).
The Pacific Golden Plover breeds in the Siberian tundra from the Yamal peninsula east to the Chukotskiy peninsula, including the New Siberian Islands and Alaska. Pacific Golden Plovers are highly migratory, with the main wintering range extending across the Indian subcontinent, south-east Asia, to southern China and Japan and across the Pacific islands to Australia and New Zealand. Small numbers winter in Kenya and the Persian Gulf; some winter in southern California. They leave their breeding grounds in late July and early August, reaching the Indian Subcontinent in early August (Grimmett, Inskipp and Inskipp, 1998), Africa in August and early September (probably via the Arabian peninsula), Hawaii in August and New Zealand in October. Departure from the winter quarters takes place from March to early May, and they reach their breeding areas in the first half of June (BWPi).
Identification
The identification has been covered elsewhere in depth (see Beaman and Madge, Golley and Stoddart, Johnson and Johnson, Svensson et al. for example) but faced with a potential Pacific Golden Plover, once Golden Plover has been eliminated, confusion with American Golden Plover is the most frequent pitfall. This represents a regular stumbling block, with successful identification the result of close attention to detail.
| | |
| --- | --- |
| | |
| Pacific Golden Plover: Rye Harbour, E. Sussex - April 2003. Note the greyish-brown axillaries and inner underwing, a diagnostic feature of a 'Lesser Goldie'. (Photo: David H Hatton) | Pacific Golden Plover: Newbiggin, Northumberland - June 2005. (Photo: Alan Gilbertson) |
Pacific closely resembles Golden Plover. In all plumages though it can be separated from Golden Plover by greyish-brown axillaries and inner underwing. There are also structural differences, Pacific Golden Plover being smaller and slighter, with much longer neck (more easily appreciated in direct comparison or when alert), together with more subtle differences such as a deeper-based shorter bill and larger-headed appearance. In flight the toes of Pacific extend beyond the tail tip and the wings are much slimmer.
| | |
| --- | --- |
| | |
| Pacific Golden Plover with Golden Plover: Port Carlisle, Cumbria - July 2005. When seen together, Pacific really is a much smaller and slighter bird. (Photo: Tristan Reid) | Pacific Golden Plover Golden Plover: Newbiggin, Northumberland - June 2005. (Photo: E Barnes) |
Separation of Pacific and American Golden Plover can, in some instances, be more problematic. A recent paper on the separation of the two (Johnson and Johnson, 2004) concluded that the most reliable features were: the number of primaries exposed beyond the longest tertial (2-3 in Pacific and 4-5 in American); primary projection beyond the end of the tail (estimated at 0-9 mm in Pacific and 12-22 mm in American); and plumage of breeding birds. They also caution that some birds in moult, or in non-breeding plumage, may not be confidently assigned to either species!
| | |
| --- | --- |
| | |
| Pacific Golden Plover: Whitburn, Durham - Sept 2002. (Photo: Paul Hackett) | Pacific Golden Plover: Newbiggin, Northumberland - June 2005. (Photo: Stef Mcelwee) |
Occurrence pattern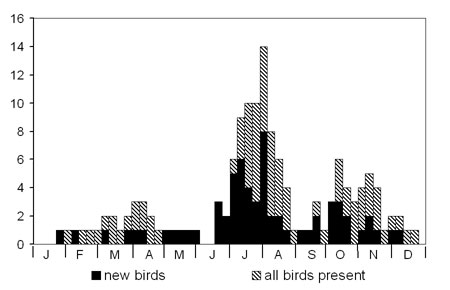 As is often the case, following the 'split' of Lesser Golden Plover into two species for British birders in 1986 (BOURC, 1986) much greater attention was paid to subsequent 'Lessers', with the result that Pacific Golden Plover has proved to be an (almost) annual vagrant in small numbers since. A winter individual in East Yorkshire in early 1985 did not attract a large amount of attention. With rumours of a split on the lips of active birders in 1986 the next, at Tetney Marshes (Lincs) in late July, attracted a large number of observers, some of whom were able to watch it in the company of a summer-plumage American Golden Plover at the same time.
Content continues after advertisements
Since 1988 the species has been annual (with the exception of 1997), no doubt due to a better understanding of identification criteria and increased observer awareneness. By the end of 2003 there had been nearly 65 accepted British and Irish records, though some duplication is likely, due to returning birds and wide-ranging individuals over extended periods. For example, 'site-fidelity' year-on-year is probably a more frequent occurrence than is appreciated: on the Outer Hebrides a presumed returning individual was noted in 2001, 2002 and 2003. As with many waders the number of records are probably an exaggeration of the 'true' number of vagrants involved.
Records are well scattered, though there is an east- and south-coast bias, with Norfolk and the Northern Isles faring well, as well as Cornwall. Arrivals can occur during any period and are usually associated with carrier flocks of Golden Plovers, but there is a predominance of east-coast records from mid-June onwards, with the bulk of records through July and early August. Estuarine and coastal Golden Plover flocks at this time of year are always worth scrutinising.
For a 'sibe' it is surprising that only just over half a dozen have been found during October, five in November and one in December. Of birds at this period seven have been aged as juveniles or 1st-winters and one can speculate that during these periods birds are overlooked amongst increasing numbers of Golden Plover at this time of year. The overwhelming majority of British and Irish records have been of adults, presumably because they are more easily detected amongst smaller-sized Golden Plover flocks in the late summer/early autumn period, during which time they are in such plumage to 'stand out' more from their congeners and certainly set alarm bells ringing in the observer's head that they have found a 'Lesser Goldie'. Spring birds are scarce, perhaps for the same reasons outlined for the scarcity of juveniles, but of nine between March and late May, four were aged as first-summers and one was unaged. There are just two winter records from the late winter period (East Yorks in Jan/Feb 1986 and Outer Hebrides in February 2003; presumed to be the returning bird from 2001 and 2002).
The best year for the species were 1990 and 2000. In 1990 six adults were found between 20th June and 7th August (Kent, Co. Wexford, Lancashire and North Merseyside, Dorset, Denbighshire and Flintshire, and Norfolk) and in 2000, a bird in May (Essex) was followed by three adults between 6th July and 5th August (East Yorks, Outer Hebrides and Cumbria) and two Scottish birds in September/October.
Searching for Pacific Golden Plover is very much part of the rare-bird-finder's routine during the late summer period. Flocks of coastal Golden Plover offer the best chance for success. At later times of the year adults presumably overlooked, as are juveniles during the autumn and winter months - two inland birds in Cambridgeshire (and another was seen in November 2004 is yet to be published by the BBRC) imply that inland birds may well be overlooked elsewhere. It would appear to be genuinely rare during the winter period, though at this time of year most have presumably moved on with Golden Plover flocks, or are overlooked.
| | |
| --- | --- |
| | |
| Pacific Golden Plover: Port Carlisle, Cumbria - July 2005. (Photo: Tristan Reid) | Pacific Golden Plover: Whitburn, Durham - Sept 2002. (Photo: Jon Chapman) |
References
Beaman, M., and Madge, S. 1998. The Handbook of Bird Identification for Europe and the Western Palearctic. Helm, London.
Cramp and Simmons. 2004 Birds of the Western Palearctic interactive. Published by BirdGuides, Sheffield.
Golley, M., and Stoddart, A. 1991. Identification of American and Pacific Golden Plovers. Birding World 4:195-204
Grimmett R, Inskipp C, and Inskipp T. 1998. Birds of the Indian Subcontinent. Helm, London.
Johnson O W., and Johnson P M. 2004. Biometrics and field identification of Pacific and American Golden Plovers. British Birds 97:434-443.
Knox A. 1987. Taxonomic status of 'Lesser Golden Plovers'. British Birds 80:482-487.
Svensson, L., Grant, P.J., Mullarney, K., Zetterstrom, D. 1999. Collins Bird Guide. HarperCollins, London.