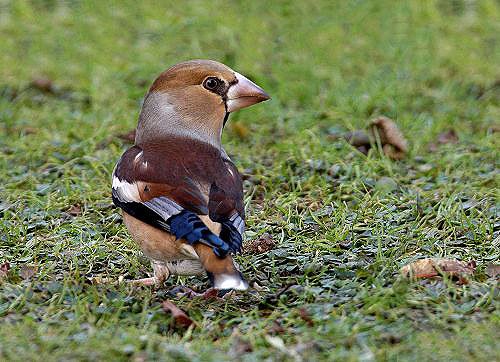 Hawfinch: Wyre Forest, Worcs (photo: John Robinson).
For British birders, the Hawfinch is an enigmatic species. Even where it can be encountered with regularity, it is extremely elusive for much of the time. The UK breeding population is estimated to be 3,000–6,500 pairs, though it is scarce to the north and west of the preferred strongholds in the south of England.
This striking finch is found intermittently across the Palearctic, from North Africa, Iberia and Britain, eastwards to Japan. Europe accounts for around half of its global breeding range, with the European breeding population estimated to be over 2.4 million pairs. Nearly a third of these are to be found in Romania (760,000 pairs), with sizeable populations also estimated for Ukraine, Poland and Croatia. Although declines have been noted in some countries such as Britain, there are also many countries where numbers are thought to stable or increasing, so overall, the European population is considered to be stable.
A recent study of the status of the Hawfinch in the UK (Langston et al., 2002) found that Hawfinches have declined in many counties by between 2% and 27% over a recent 20-year period, and by 37–45% during a recent 10-year period. It is presently on the 'amber list' of Birds of Conservation Concern, though recent declines in former UK strongholds for the species suggest the situation may be even worse. For example, some sites which reported good numbers as recently as the 1980s are now devoid of birds. However, against these depressing statistics are reports that there have been population increases in counties such as Gloucestershire, Gwent and Wiltshire, and some counties in the Midlands.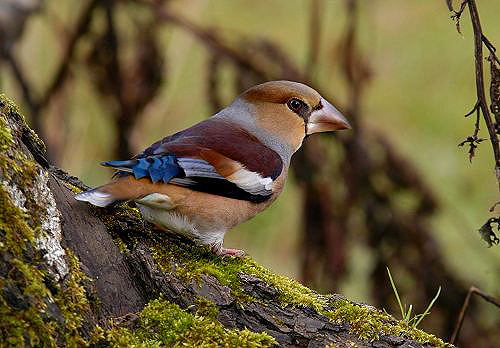 Hawfinch: Wyre Forest, Worcs (photo: John Robinson).
The sites around the UK at which it is possible to see this declining species are becoming few and far between. The best time of the year to observe Hawfinches is in winter when they form small flocks in the canopy, often congregating at regular roosting sites. The best way to find birds is to learn their distinctive 'ticking' call, which enables you to pick them up in flight — and then hope that they alight in the tops of some tall trees nearby!
The distribution of Hawfinches in the winter is broadly similar to their breeding range. British birds are highly sedentary, but northern populations are migratory and the entire Russian population, for example, moves south in the winter. Movements in other areas are erratic, and are most probably linked to food supply. In Britain, migrants occur in small numbers, but such birds are difficult to distinguish from birds making local movements. According to the Migration Atlas, just two birds ringed on the Continent have so far been recovered in Britain. One ringed in Germany in 1962 was killed by a cat on Shetland 5 years later, and a bird ringed in Norway in October 1990 was found dead on Fair Isle (Shetland) in April 1994.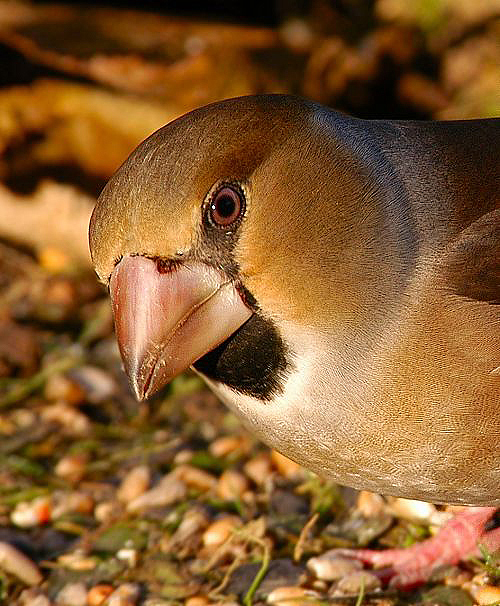 Hawfinch: Wyre Forest, Worcs (photo: John Robinson).
During the autumn of 2005, an exceptional influx of Hawfinches took place. September records from East Yorkshire and Shetland were little indication of what was to come, but these birds were the forerunners of a significant influx which first became apparent in mid-October in western Britain and Ireland. For example, reports in Cornwall included 12 over Nanjizal on 15th, when there were also 20 at St Mary's on the Scillies. Meanwhile, in southern Ireland there were mid-October records from six sites in Co. Cork (including 10 on Cape Clear on the 18th) and one in Co. Mayo. Others also reached the Outer Hebrides (four records), Guernsey (one record), the Isle of Man (one record), Shetland (6 sites) and Co Down, Northern Ireland (three birds).
This influx wasn't so obvious from east-coast sites where only small numbers were reported. The Spurn area produced four birds on 15th October, with singles on 16th and 29th of that month. Dungeness (Kent) recorded birds on just two October dates, one passed over Holme (Norfolk) and none were recorded from Landguard (Suffolk). Elsewhere in East Anglia, just a handful of migrants were detected over coastal areas, including three over West Runton (Norfolk) on 23rd October and three at Titchwell (Norfolk) on 5th November.
At inland sites, visible migration stalwarts logged four over watchpoints near Sheffield (S. Yorks), and others were logged over Worcestershire and over Regent's Park and Hampstead Heath (Greater London). However, the most impressive counts were made, at sites along the south coast, from late October onwards, including:
10 over St. Margaret's at Cliffe on 22nd October.
10 over Sancreed (Cornwall) on 23rd October.
25 through Durlston CP (Dorset) on 29th October.
18 over Portland (Dorset) on 4th November.
14 through Durlston CP (Dorset) on 9th November.
20 over Hengistbury Head (Dorset) on 13th November.
The total counted at Durlston CP during the autumn was a record 113 birds, 112 of which were reported between 27th October and 16th November.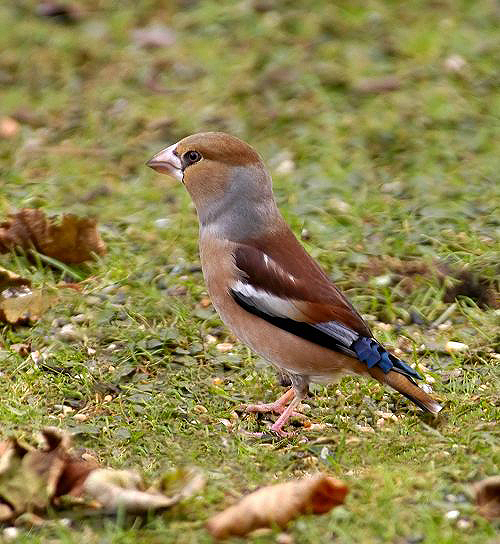 Hawfinch: Wyre Forest, Worcs (photo: John Robinson).
Following an excellent autumn for the species, it probably comes as little surprise to find that Hawfinches have been reported from many sites over the course of the winter. Since mid-November (taking maximum numbers from all sites that have reported the species) it can be estimated that nearly 500 birds have been recorded, though the actual figure may well be much higher than that as it makes no allowance for turnover at specific sites. As would be expected, the winter distribution is patchy. Favoured areas have been the Southeast and Midlands, which between them have accounted for nearly 70% of the winter totals. The wintering numbers in the Southeast might come as something of a surprise given the apparently poor passage through this region in the autumn. However, Westdean Woods in West Sussex has boasted up to 66 birds in recent weeks and several other locations have achieved double-figure tallies.
Reliable sites in recent weeks have been:
Use the Bird News Extra search page for up-to-date information, and to search for sightings in your area. Enter Hawfinch and the area you are interested in sightings for. In addition there are a number of 'traditional' sites from which there have been no recent reports — why not try and visit some of these and contribute to our knowledge regarding the current status of these fantastic birds?
References
Langston R, Gregory R, Adams R. 2002. 'The Status of the Hawfinch in the UK 1975-1999.' British Birds 95:166-173
Birdlife International. 2004. Birds in Europe: Population estimates, trends and conservation status. Cambridge, UK: Birdlife International. (Birdlife Conservation Series No. 12).
Brown and Grice. 2005. Birds in England. Poyser, London.
Cramp and Simmons. 2004 Birds of the Western Palearctic interactive. Published by BirdGuides, Sheffield.
Wernham, C., et al. 2002. The Migration Atlas: Movements of the birds of Britain and Ireland. T and AD Poyser, London.