What a difference a few weeks can make in the life of Waxwings!
Since the previous update in early January, five ringed birds have reached Ireland (a record number for our studies) and one the Isle of Man (which then diverted south to Wales rather than carry on west to Ireland). There's also been an overall build-up in the Midlands while movements down the east coast have included notable congregations in Tayside and Fife as well as Newcastle (three ringed birds), Hull and Durham. Further south, birds have reached North London and Kent. Our furthest south so far is a bird in Crawley, West Sussex. There are still quite a lot in and around Aberdeen.
The maps below show the changes since 6 January and an interesting comparison with the same time in 2010/11, when cold weather suddenly increased berry competition and lots fled rapidly south.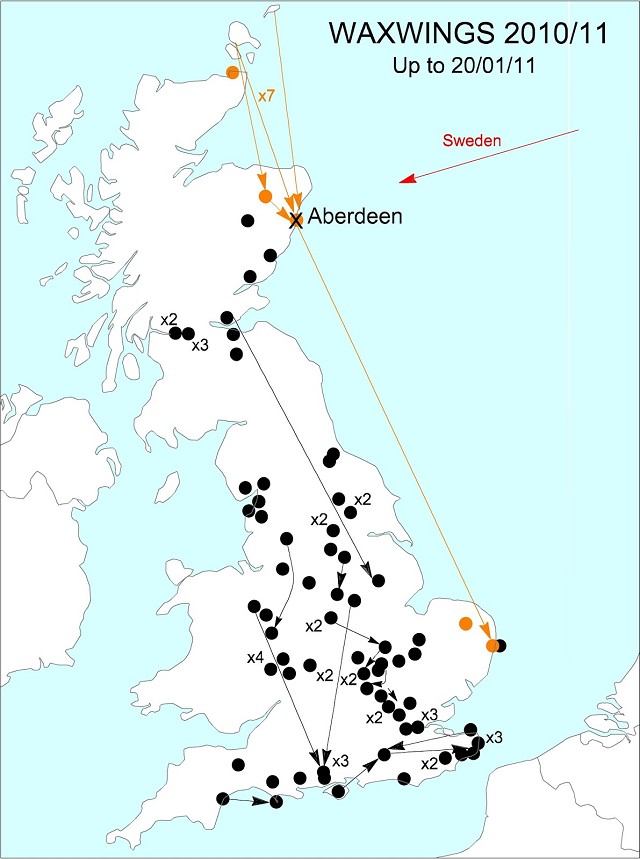 Waxwing sightings up to mid-January in winter 2010/11.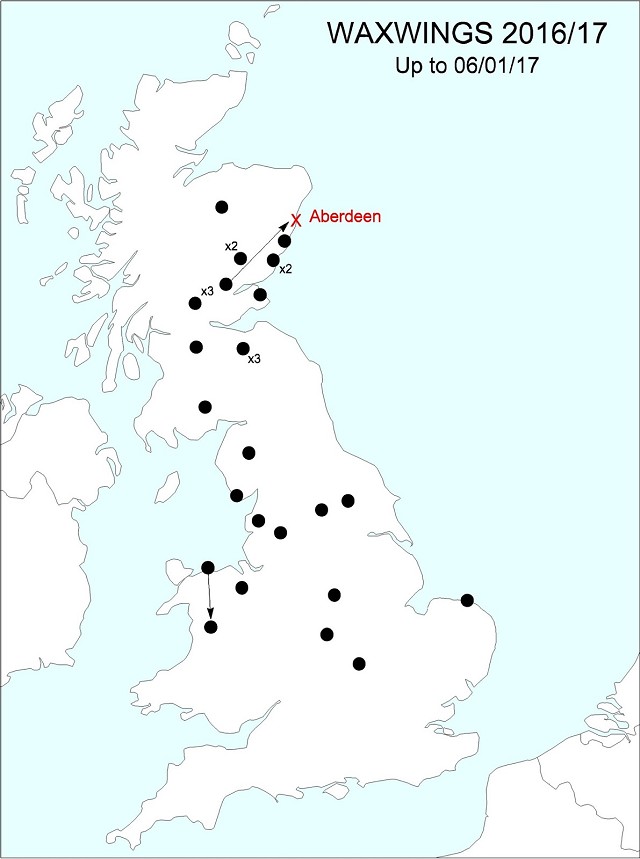 Colour-ringed Waxwing sightings up to 6 January 2017.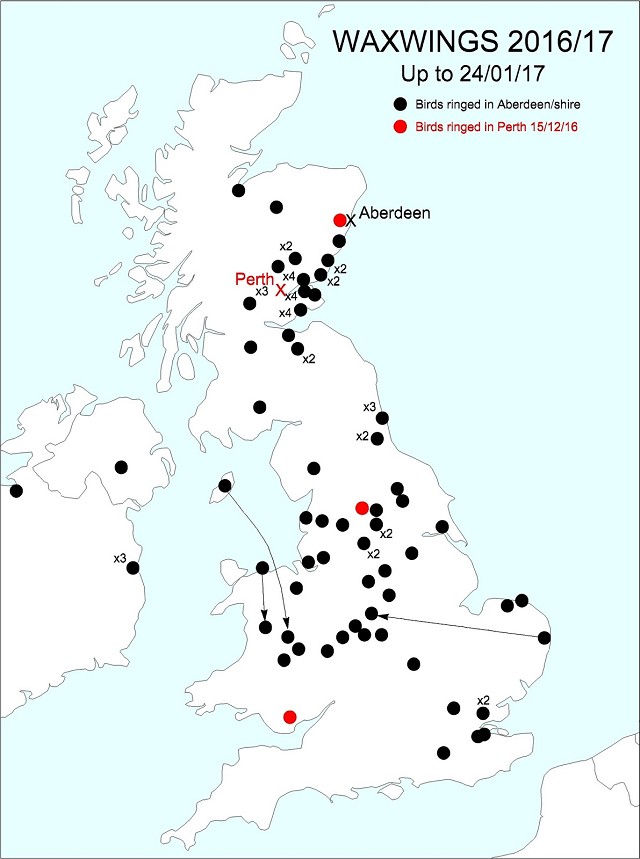 Colour-ringed Waxwing sightings up to 24 January 2017.
A huge thank you to everybody for their sightings and photographs so far. Each contributes greatly to the overall picture of what Waxwings are getting up to across the country. All are greatly appreciated — keep up the good work. A mention on BBC Winterwatch certainly helped as well!
We can only show a small selection of your great photos here. Again, thank you very much for the submissions.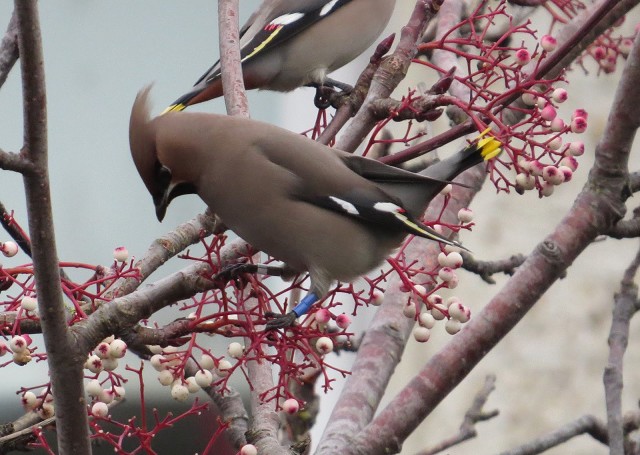 Waxwing 'BB', Lucan, Co Dublin, 12 January 2017 (Photo: Rachel Hynes)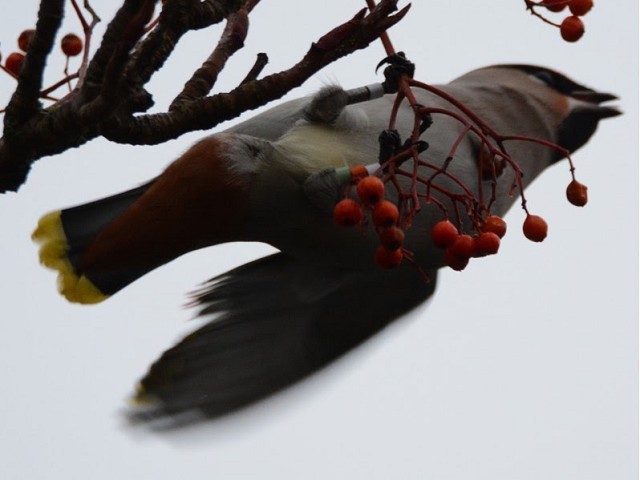 Waxwing 'LOW', Sligo, Co Sligo, 7 January 2017 (Photo: Brian & Karen Mullins)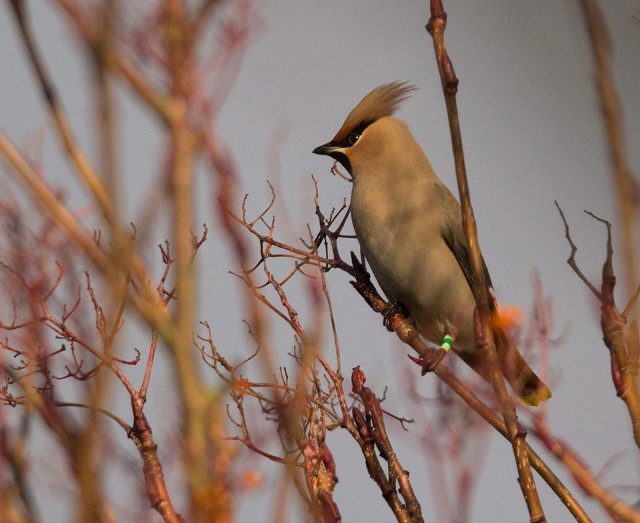 Waxwing 'LGL', Portadown, Co Armagh, 15 January 2017 (Photo: James O'Neill)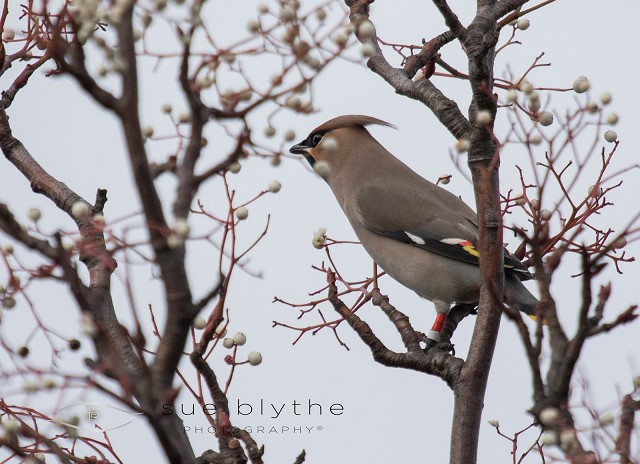 Waxwing 'RRW', Isle of Man, 8 January 2017 (Photo: Sue Blyth)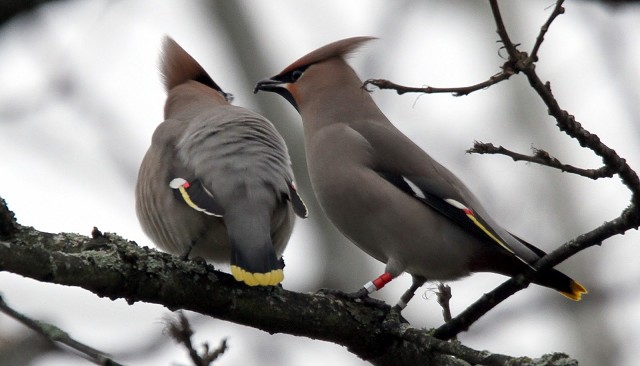 Waxwing 'RRW', Newtown, Powys, 20 January 2017 (Photo: Clive Hurford)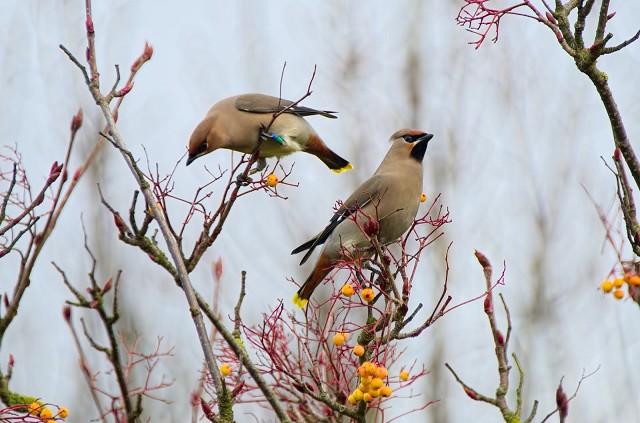 Waxwing 'GB' in Great Yarmouth on 8 January 2017 (Andrew Easton) and then 16 days later at Swadlincote, Derbyshire (George Ewart). 'GB' was the next bird to be ringed in Ballater on 4 December 2016 after 'BB'.
As we were out ringing Waxwings in Aberdeen on Saturday 21 January, we received a text message from Tony Cross and his colleagues in mid-Wales to say they had just caught Waxwing 'RB' (red/blue), ringed in Ballater at the same time as 'BB' and 'GB'! Incidentally Waxwings 'WL' and 'YB', also ringed in Ballater on the same date, were still in Aberdeen in January!
If you do see a colour-ringed Waxwing then please let us know Another update will follow in March.