April can be a strange month weather-wise, and this year has been no exception. Some weeks have been very sunny and 27°C, with others wet and windy and dropping to 14°C. The weather dictates migration, both in terms of species and numbers. Some species are earlier than normal and others still to arrive. Swallows were just about the earliest (some were here in January) and are well established. Birds are frantically feeding newly fledged young, and will soon be on their second broods. The closely watched nest in the back barn is bursting with four youngsters hanging over the nest-sides. When a parent appears there is much jostling for position; and to think that these same parents will probably do it all over again, twice! There have been a few casualties too, with youngsters falling from nests: the local children bring them to my house for me to save. There's not much chance of that, but it is wonderful to see them taking an interest in their wildlife; I just wish they would not collect every snake in the village and come charging in the front door holding them up to show me!
There has been a dearth of Little Bitterns overwintering this year. Usually there are a few pairs present, but I had not seen any until the migrants appeared. They are making up for it now, noisily chasing each other over the reedbeds then diving in and out of sight. It's not until you get good close views that you realise just how small these fish-eaters actually are. Sharing their accommodation are the Savi's Warblers reeling from the reed-tops when the wind calms, and Purple Herons. The latter are obviously shyer than their grey cousins, preferring the thick reeds for feeding in, showing only their well-camouflaged heads when alarmed. Where there are trees near the reeds the noise can be quite deafening, as many birds try to outcompete with other species to make themselves heard. Nightingales, Cetti's Warblers, Reed Warblers and Great Reed Warblers are all loud singers, only going quiet when a raptor flies over. The faint squeaks of the Penduline Tit have no chance of being heard over that cacophony, and the Bearded Tit even less, making locating them very difficult. An estimated 6,000 Sand Martins on the wires early in the month was quite a sight. They were gone very quickly though, zooming north. A Jack Snipe put in a quick appearance just to say "hi". The Marsh Harriers have been performing their food passes with great skill, although practising with far-too-large sticks resulted in a few dirty looks from the female.

Little Bittern, Spain (Photo: Steve Fletcher)
The well-known Eagle Owl chicks are now quite large, about two thirds adult size. They are still very downy, looking quite comical when basking in the sun. Little do the other birds wheeling around know what they are in for when they are fully fledged! Several juvenile Spanish Imperial Eagles have been spotted; they look quite different to their parents, and are easily confused with other species. This appears to be a success story, with numbers growing at a good rate year on year, mainly due to the work done by the SEO. There is great news for the vultures (something I touched upon last month) concerning the law prohibiting leaving carcasses in fields, which has now been rescinded: carcasses can now be left where they drop. The vultures will be able to carry on as they have done for thousands of years, reducing a dead cow to just bones in just a few hours. Black Storks now have young, and are able to leave them for long periods to enable both parents to feed. You would think nesting amongst the vultures would be risky for the young, but they seem unperturbed. Vultures will only very rarely kill anything: it is far simpler to eat something already dead. Black Kites are now nesting and defending territories from usurpers, resulting in some great scraps in mid-air showing off their aerobatic skills. The most feisty for sheer David-and-Goliath bravado, though, are the Black-shouldered Kites: they will happily have a go at a vulture! A Golden Eagle nest I know did not fledge any chicks this year, after success with two young last year. I was hoping for more again, but maybe a few cold wet weeks put paid to their prospects.

Black-shouldered Kite, Spain (Photo: Steve Fletcher)
The trimphone-like contact call of the Bee-eater can be heard everywhere, as these rainbow-coloured beauties sail effortlessly, catching and dispatching their prey with consummate ease. The other multi-coloured speciality, the Roller, is here in numbers now too. When the sun catches their upperwings in tumbling flight they are almost Peacock-like in iridescence. They appear to be using the nestboxes put up on the concrete power pylons a lot more this year, which can only be great news for their breeding prospects. I spotted five sitting on the boxes last week in a matter of 300 metres, each with partners on the wires above; this is far more than any year in the past I have observed. One of my favourite birds, the Collared Pratincole, can now be seen every day. I hope they have more success than last year, when a major breeding field was ploughed again after the eggs were laid. Last week I saw a passage of Tawny Pipits, looking a lot darker than they do in autumn, and fooling me with identification for a while. Then I glimpsed a very bright Bonelli's Warbler, easily recognised by the very white underparts and yellow wing-coverts and rump. It was in an unexpected place, and was probably pausing for some well-deserved lunch on the abundant caterpillars here.

European Bee-eater, Spain (Photo: Steve Fletcher)
Content continues after advertisements

European Roller, Spain (Photo: Steve Fletcher)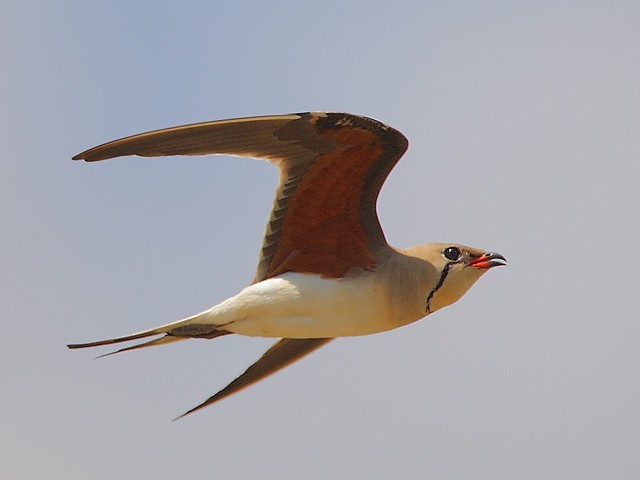 Collared Pratincole, Spain (Photo: Steve Fletcher)
Both bustard species were still displaying until mid-month. The Great Bustards performed their "foam bath", where they seem to turn inside-out. The male lowers his head right to the ground, his huge whiskers jutting out like a WWII fighter pilot, sticks his bum in the air, and folds his wings over his back, looking like a giant marshmallow. Sometimes the females go and have a look, but more often than not they walk slowly away as if not interested, leaving the grandiose male looking bemused. The Little Bustard males have their breeding dinner jackets on, or that's what they look like to me: like a waiter in a posh restaurant, complete with black jacket, shirt and tie. They have a different approach entirely: they jump into the air, blowing raspberries. It looks very comical but it must work, as the females sometimes join in. It always makes me chuckle, but it's a wonderful sight to witness.
The scrub and lavender heath bordering on woodland is now ringing with song too. Dartford, Spectacled, Subalpine and Orphean Warblers are all claiming territory, looking for the best nesting sites to rear their future hungry youngsters. Golden Orioles have also arrived, though not in great numbers yet. They sit in the treetops singing their fluting song, quite easily distinguished from their more scratchy (but superb) mimic, the Spotless Starling. A lot of Wrynecks have been reported singing in the Gredos mountains, as well as Turtle Doves and Honey Buzzards, but very few have been reported on passage. Last week I was told that the last official Honey Buzzard count across the Straits of Gibraltar was put at five, yet there are far more here already; perhaps migration patterns or routes are changing.
I had a rare day in the Gredos in the early part of the month. The first birds seen (in –3° temperatures, waiting for the bacon butties to be cooked — thanks Merilyn) were a large group of Crossbills, with many youngsters. They were gritting in the early morning sun on an old Roman bridge: not on the ground as you might imagine, but in amongst the masonry crevices, seemingly taking crumbling stones or perhaps mortar. A Lesser Spotted Woodpecker came to the stream for a drink, but only fleetingly, unlike the superb views I get just outside of my village. A Ring Ouzel flew past, albeit rather quickly, but enough to pick up on it. Next stop was the Parador (the name for the state-run hotels), famous for Citril Finch. One was spotted fairly quickly, along with lots of Coal Tits, a rarity for me here. A very showy Red Squirrel was eating the Scots Pine cones right in front of us, so close I had to walk backwards to get it all in the lens of the camera. Carrying on up the pass to the famous Plataforma (the limit for cars) and into the car park, we were greeted by Dunnocks and Rock Buntings. Many summer-plumaged Water Pipits were present on the slopes, and a pair of Dippers were on the stream, their bills bulging with nesting material. The snow was fairly well melted, the snowline being very high up, but we were still able to spot a few male huge, horned Ibex. They were at a fair distance, and distorted by the ever-increasing heat haze. In the woods on the way down, the absence of Pied Flycatchers was a surprise, as they are normally very reliable at this site, and there have been some in the UK already too.

Lesser Spotted Woodpecker, Spain (Photo: Steve Fletcher)
The rice fields are only just being flooded, prompting the arrival of Gull-billed, Whiskered and Little Terns. Still only in fairly small numbers, they will increase now more water is apparent. The flooding of the fields is later than usual this year as they were too wet to plough and level earlier. Most have now finished their cultivation, and the water is pouring through the canals and ditches to start the yearly growing cycle once more: perfect timing for the many visitors we get here in May, both avian and human. The only drawback is that it will be much more difficult to find the abundant passage waders due through here next month, as they have a vast choice of fields in which to feed over the many thousands of hectares. The White Stork colonies are in differing states of parenthood: some birds are still mating with no eggs yet, but others in the same colony have quite large young. I will have to do some research to try to find out why they have such varying breeding times.
Tomorrow I'm braving the 12-hour drive to the Barcelona area for a week, to sample the delights of the Ebro Delta and the Pyrenees. Is it worth going all that way for Lammergeier, Black Woodpecker, Wallcreeper, Snow Finch, Alpine Chough, Baillon's Crake, Moustached Warbler, Slender-billed Gull and Balearic Shearwater? You bet it is. So next month might be Extremadura Diary: May (with a bit of northeast Spain thrown in for free).