One of the 'target' birds on my recent trip to Morocco was Egyptian Nightjar as this is one of the few Western Palearctic breeding species I haven't yet seen, and one of the few species BirdGuides doesn't have footage of. The fact that I'd missed them on my previous trips to Morocco I put down to being in the right place (the Tafilalt, near Erfoud/Merzouga/Rissani) at the wrong time (mostly in the winter months). The impression I got was that if I wanted to see them, all I would have to do was visit that area in the spring, from mid-March onwards. Many Moroccan trip reports confirmed that 'Egyptian Nightjars were easy' especially in the area around the Auberge Derkaoua. For example, an excellent trip report by Chris Batty (http://www.fyldebirdclub.org/abroad.htm#MO) said '3 were seen hawking insects at dusk south of Erfoud over Auberge Kasbah Dakaoua' in April 2004.
In 2005, however, it was a different story. Initially, we tried to avoid staying at the Derkaoua as we'd been led to believe it was very expensive. Instead we stayed overnight by the sand dunes of the Erg Chebbi (at the Café Yasmina — incidentally, no longer such a guaranteed spot for Desert Sparrow) but failed to hear nightjars there. The following evening we tried another site that 'looked good', the wadi that crosses the Erfoud-Merzouga road about 8km south of Erfoud (marked by a few roadside tamarisks and a fossil stall). We wandered down the wadi east of the road but were followed by a young lad on a bike who insisted that the 'oiseaux qui chante dans la nuit' were on the other side of the road, 100–200 metres from the road. We tried there too and this time we were joined by a man who lives in one of the huts near there. He said he hears the nightjars singing 'tous les nuits, mars, april et mai'. It was difficult to listen at this spot because of the constant noise of convoys of 4x4s carrying tourists back from the sand dunes to Erfoud, but it became obvious that there were no singing nightjars that night. We'd have to try the Auberge Derkaoua.
The problem with listening for nightjars at the Derkaoua is that this Auberge is in the desert and has no metalled road to it. It can currently only be reached by driving a few kilometres along pistes which are difficult enough to navigate during the day so most of us would dread the prospect of trying to find a way back from there to Erfoud at night after listening for nightjars. This problem is avoided if you stay at the Auberge. Although this rather posh and fancy place is indeed expensive by Moroccan standards (almost three times as expensive as Café Yasmina), it's actually a perfectly reasonable price by European standards — £60 a night for two including breakfasts and 3-course evening meals. So we booked in and enjoyed a very happy time filming migrants in their gardens before wandering hopefully around the grounds at dusk. Nothing. We also tried the nearby wadi. Nothing. Another group of birders (Mark Witherall and friends) also dipped out. During the evening meal we spoke to Michel, the owner, who said that although they usually see them around the Auberge, sometimes even sitting by the swimming pool, there had been no sightings there this year. But he did explain that he'd had 'three sightings this week' at another site.
The area around the Auberge Derkaoua, Tafilalt, Morocco. Probably the easiest place to see Egyptian Nightjars in Morocco — if they're there!
There is now a metalled road all the way from Rissani to Merzouga, with a piste leading off from here signposted to the Auberge Derkaoua. In taking that route, Marcel explained that he'd had several views of nightjars sitting on the metalled road about 6km east of Rissani, either side of the Auberge Tresor. I also found out, via Arnoud van den Berg, that Lee Evans was the only birder he knew who had found Egyptian Nightjar this year, at a new site near an inn on the metalled road to Rissani. Presumably the same place. So, the following day we tried to book in at the Auberge Tresor but it seemed to be closed so we stayed in Rissani. However, an hour spent walking the road after dark again failed to yield even a sound of a nightjar.
That's not quite the end of the tale because I've since had an email from a French birder, Jean-Baptiste Crouzier who reports:
Content continues after advertisements
'I heard the nightjars before dawn, singing distantly to the south of the Auberge (Tresor). I then checked the wadis and bushes and eventually flushed 2 birds, about 1.5km from the Auberge. This took a lot of time and I was probably lucky to find them. (2 x c.3 hours on two consecutive mornings in the area). This is a very flat, but also very large and very hot area!'
So, it seems that the number of nightjars in the Tafillalt area can vary markedly from year to year. In a good year the wadi south of Erfoud should be reliable but the Auberge Derkaoua represents the best bet. But in a bad year, it's worth knowing that there's at least one other site where there's still a chance of getting them.
Incidentally, there are now several roads in the south of Morocco, along the Jbel Bani, that have only recently been opened up for tourists. It is known that this area has Egyptian Nightjars so maybe enterprising birders will find some new sites there.
Postscript: After reading this article, Tim Farr responded by saying that the site found by Lee Evans, Geoff Goater and himself was actually at a different location which he describes as follows:
'The site where we had Egyptian Nightjar was just off the tarmac road from Erfoud to Auberge Derkaoua. About halfway along the tarmac road there are a couple of fossil-selling huts with a track heading northeast to a fairly large oasis and a small hotel (viewable from the road). There are also several dwellings in and around the cultivated area. This in itself was very productive with a major fall of migrants that day including Atlas Flycatcher, Melodious Warbler, Western Olivaceous Warblers and Orphean Warblers, Wryneck and Hoopoe, among others. We heard at least one Egyptian Nightjar singing, and it was seen - albeit briefly - in flight near the café/hotel entrance.' Here's a photo of this site: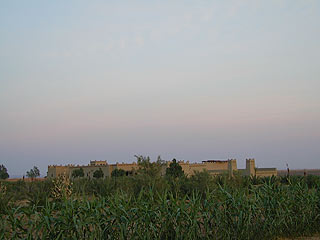 In 2005 Egyptian Nightjar was also seen and heard around this hotel off the tarmac road between Erfoud and Auberge Derkaoua (Photo: Tim Farr).
We've now received some more information from a Belgian birdwatcher, Michel Watelet, who not only saw but also photographed the Egyptian Nightjars this year near the Auberge Tresor. This is how he describes the site: 'Drive 6km south from Rissani and look for a track to the left of the road, opposite the Auberge le Tresor. Follow this track until it meets a second track along an electricity pylon line. Turn right along this second track for about 100 metres until you reach a little spring on the left. We saw Crowned Sandgrouse and Spotted Sandgrouse here and the Egyptian Nightjar was under a bush about 200 metres behind the spring'.
| | |
| --- | --- |
| | |
| Egyptian Nightjar: under a bush, near Auberge Tresor, Rissani, 27th April 2005, Morocco. (Photo: Michel Watelet) | Egyptian Nightjar: photographed in flight, near Auberge Tresor, Rissani, 27th April 2005, Morocco. (Photo: Michel Watelet) |