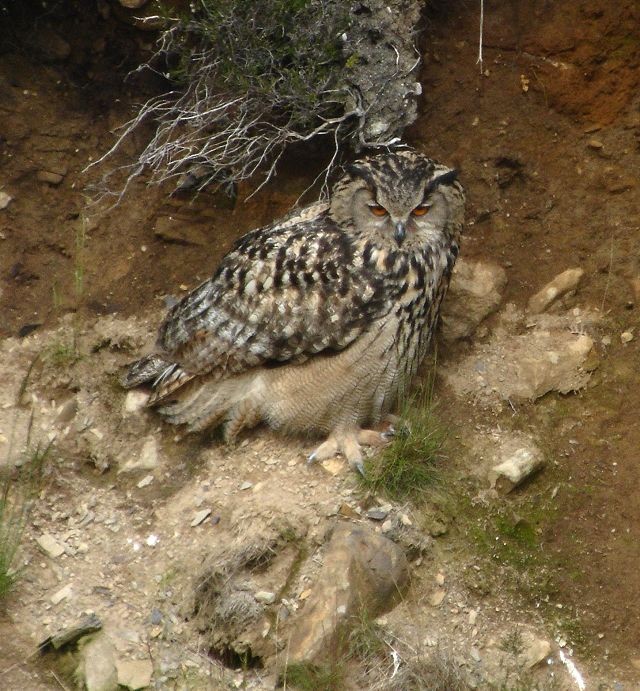 Eagle Owl: Dunsop Bridge, Lancashire (photo: Liz Cornish).
Security measures introduced after Eagle Owls were found to be nesting in a wild corner of northern England were aimed at protecting people as well as the birds. In fact it was in the interests of public safety that Lancashire County Council, which had already erected warning signs, closed a right of way after reports of the parent birds swooping at dog-walkers using the moorland path near Dunsop Bridge in the Forest of Bowland.
"The problem is that the path runs between the nest site and the regular perches of the adult birds perch and they regard people using it as a potential threat to their three young", explained Nick Osbourne, the council's countryside officer.
"They seemed to take particular exception to people with dogs. This was the case with six incidents about which I heard. One, I understand, resulted in someone receiving hospital treatment for a minor injury."
He pointed out that anyone realising an attack was imminent could avert it through arm-waving but there was always the danger of being caught unawares. The prospect of being whacked unexpectedly from behind by 2kg of bird zooming down the hillside on its 6ft wingspan was daunting indeed.
Even invoking emergency right-of-way closure powers on Lancashire Police advice did not entirely resolve the problem. At least one dog was reported to have come under attack subsequently; it had a lucky escape considering Birds of the Western Palearctic says Eagle Owl prey in Europe and Asia includes mammals as big as young deer and wild boar.
As the site is three miles from the nearest public car park, under normal circumstances comparatively few people stroll into this area, which is part of a major upland expanse owned by the water company, United Utilities (with which the RSPB has a partnership arrangement to care for various species associated with this habitat, including most of England's abysmally few nesting Hen Harriers).
However, once news broke that the owls were nesting, visitor numbers inevitably took an upward swing and an element of crowd control was considered necessary. BirdGuides played its part by giving detailed guidance about where to watch the birds, adding: "Police are monitoring the behaviour of visitors and anyone found crossing the fence...risks arrest for disturbance."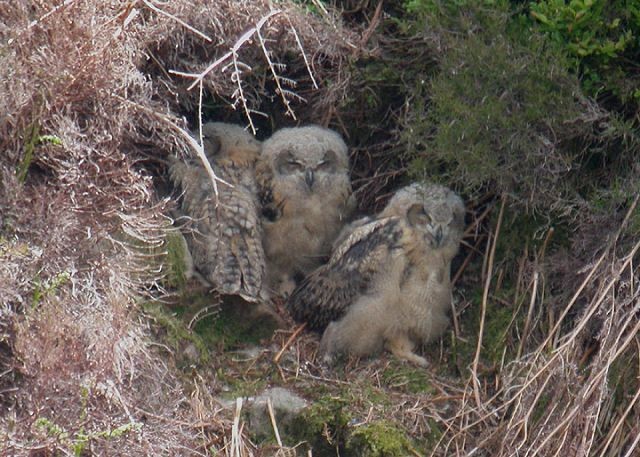 Eagle Owl: Dunsop Bridge, Lancashire (photo: John Dickenson).
Such steps to prevent any possible disturbance of the rearing of the three young owls by a pair of birds regarded officially as "non-native" may have been modest compared to the safeguards laid on for a vulnerable native Schedule 1 species in Category A of the British List, but they were not without critics - from within the birding community.
One argument advanced was that all bird protection resources in the area ought to be focused on the likes of Hen Harrier - which could, theoretically, face an extra hazard with Eagle Owls at large in the Forest of Bowland. Studies of Bubo bubo in countries where it occurs naturally have found raptors and owls included in the extensive list of prey.
Content continues after advertisements
Fortunately, no such problem is known to have arisen in Lancashire so far and, in the meantime, these Eagle Owls - although officially "aliens" - were technically covered by the Wildlife and Countryside Act. Once their nesting became public knowledge, and an element of conflict and a possibility of disturbance arose, efforts to look after them were considered necessary - a course which does have legal foundations, although the situation is rather complicated.
Dr Tim Melling, the RSPB's North West conservation officer, explained how an Eagle Owl known to have escaped from captivity and flying free in the UK countryside is not covered by the Wildlife and Countryside Act. However, any young reared in the wild are protected under the EU Birds Directive, which applies throughout the European Union.
As it happens, one of the Bowland pair involved in an unsuccessful nesting attempt last year did show an obvious sign of being a fugitive - a leather strip attached to one of its legs. However, no such recent bondage indication is reported to be evident this year so the possibility that both parents have been wild-bred cannot be eliminated.
But even if they were known to be cage escapees, it would be an offence to harm them or cause disturbance at the nest site - as that would impact on their dependent wild-bred young, which are certainly protected. So once there was a possibility of disruption from people wanting to see the owls - or maybe of danger from anyone who felt driven to harm them - the relevant authorities felt they had a responsibility to take some appropriate action.
By coincidence, Dr Melling is also secretary of the records committee of the British Ornithologists' Union, the body responsible for maintaining the nation's wild birds list. Eagle Owl used to be on the list's Category B, consisting of species recorded in an "apparently natural state" before December 31st, 1949, but not since. However, in 1996 - three years before Dr Melling's appointment - it was dropped after the committee reviewed 90 reports of the species between 1684 and the late 1800s.
Justifying this decision, the committee declared: "There is no evidence that this species has occurred in the wild state in Britain and Ireland for over 200 years." It was believed at least some may have been misidentified but even when this was not the case it was not possible to rule out the possibility of escapes or deliberate releases. This was because Eagle Owls were known to have been imported and kept in captivity in Britain since at least the 17th century.
Dr Melling supports that view and in fact goes further. He commented: "In fact there is no evidence that they have occurred in Britain since it became an island - no longer connected to the continent via a land bridge - after the end of the last Ice Age around 10,000 years ago."
According to The History of the Birds of Britain by Dr Colin Harrison, fossil records indicated Eagle Owls occurred in what is now Britain "through most of the Ice Age and possibly just afterwards." However, it was "difficult to account for its subsequent absence." The species is certainly not absent from today's considerably more peopled British countryside. That is undoubtedly linked to frequent reports of birds escaping from captivity or being set free by people no longer prepared to cope with what might have started out as status-symbol pets.
Some within the birding community go further and argue that this is possibly also due to birds migrating from northern Europe. This is not just the view of a "lunatic fringe" - one of our most respected bird of prey authorities, Roy Dennis, believes the species is well able to fly across the North Sea and that one day there will be a ringing recovery to provide the hard evidence that that has yet to emerge.
Whatever the source, it does seem possible there are more pairs nesting in Britain than very the few instances recorded. After nesting attempts in Moray and Nairn in 1984 and 1985, resulting in the fledging of a single chick, the only consistent efforts figuring in the Non-Native Birds Breeding in the UK report published British Birds involved the pair that was on Ministry of Defence land in North Yorkshire. Over nine years they reared around 20 young - the sequence ending when the female died from gunshot wounds during the 2005-06 winter.
Over this period, their offspring - all ringed - dispersed widely. One of four reared in 2004 crashed fatally into power lines 135 miles away in Shropshire next year. Another was found dead in Peeblesshire, southern Scotland, the following winter. However, others may have survived long enough to reach maturity and find partners from the stock of fugitive birds that appears to be widely scattered about the land.
This could have provided the basis of the small breeding population that some wildlife enthusiasts believe is becoming established. However, considering the attention the Bowland birds drew to their presence, despite being in a comparatively remote area, it's hard to imagine this being on more than a very small scale, otherwise we would surely know about it.
Readers can see an earlier article discussing whether breeding Eagle Owls in the UK should be encouraged
by clicking here
.