With the onset of September, my final two months at the Observatory arrived and the whistle had blown for the start of potentially the most rewarding weeks of the wardening season. Since early March, I had spent countless hours ambling across shingle, checking mistnets and scanning the waves, generating a respectable set of species but not yet had I crossed paths with my own BBRC rarity and this had to be put right.
Venturing out into the recording area in early September was typically rewarded with decent passerine migrants, either in the bushes or calling overhead. Nothing was passing through in any great volume, apart from the occasional spurt of Barn Swallows and House Martins, but a daily dawn procession of Yellow Wagtails and regular sightings of Whinchats, Northern Wheatears, Tree Pipits, Spotted Flycatchers and Common Redstarts, alongside a variety of common warblers, kept me occupied. A couple of Pied Flycatchers and the first Firecrest of the season provided further assurance that something 'higher-grade' in terms of rarity value could be just a few footsteps away. Although the pleasant conditions meant ringing often kept me away from the seawatching hide, the Channel had its moments when I ventured down there with my scope; highlights included two Pomarine Skuas on 9th and a few sightings of Balearic Shearwaters, including eight on 10th, as well as few Arctic Skuas and the odd Black Tern.
My being away for a couple of days early in September was, of course, an open invitation for a scarcity to drop by back at Dungeness. This time, it was a juvenile Red-necked Phalarope on the RSPB reserve and upon my return on 4th, a search in the morning drew a blank, so it was enrolled in the growing list of birds I had missed while taking leave. Fortunately, another determined soul caught sight of it as it emerged from hiding in the afternoon and a return late in the day restored peace as the dainty little wader ventured into the open water on the ARC Pit, looking a little wayward before it fluttered directly overhead and made its way towards Burrowes Pit.
Another highlight in the first few days of the month, while furling the mist nets on 8th, was an encounter with a low-flying pale-morph adult male European Honey-buzzard, absolutely making that day for me, having narrowly missed a couple of recent individuals and the species being a firm favourite of mine. The next day, it was back to the RSPB reserve to track down a Buff-breasted Sandpiper that had been reported on Burrowes Pit. After some frantic searching, which initially only turned up a small juvenile Ruff, the bird came into clear view as it foraged on the islands near Makepeace Hide — another truly rare bird in Kent. The RSPB reserve made for an excellent diversion when I had the chance to pop over there, with the receding water levels and resulting islands drawing in a variety of other waders, including Little Stint and Curlew Sandpiper, while the entrance track hosted a Cattle Egret.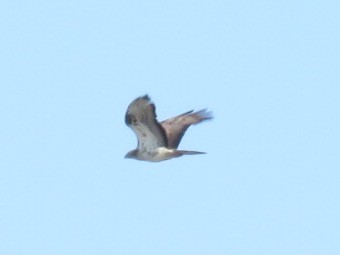 David scored this male Honey Buzzard on 8 September.

The Buff-breasted Sandpiper on the RSPB reserve on 9 September.
About half way through my rounds of the peninsula on 11 September, I was stopped in my tracks when a fairly small but lanky passerine lifted up from just in front of me and landed a short distance away after uttering one abrupt, sweet-sounding call. I had seen just one before, while twitching the Crag Martin at Flamborough Head in 2014, but I had a very strong gut feeling that it would turn out to be a Tawny Pipit. Not wanting to bother it any further, but with vegetation rendering it invisible and a group of noisy young photographers nearby, I called David Walker, DBO Warden, over so that another pair of eyes could get on it as soon as possible. Thankfully, we soon relocated it, getting much better views and reaffirming my thoughts so news was released and the bird eventually settled, allowing comfortable viewing for a constant crowd over the rest of the afternoon. Crucially, my ambition of finding at least one BBRC rarity during my post at Dungeness had been realised!
Content continues after advertisements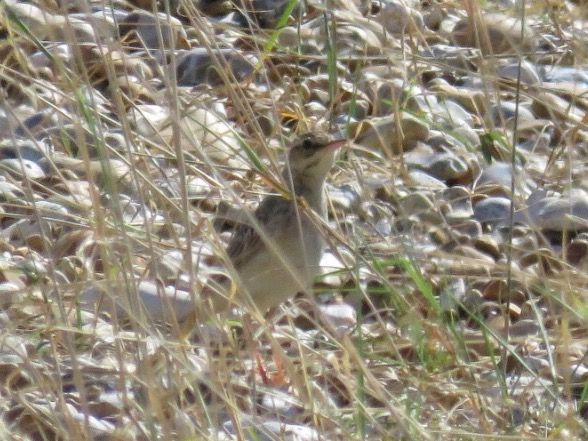 This Tawny Pipit ensured David wasn't to leave Dungeness without finding a BB rarity.
Predictably, the number and variety of passerine migrants began to dwindle from mid-month, though Common Chiffchaffs were numerous at times, but an array of expected waders, wildfowl and seabirds provided backup when needed, including more Balearic Shearwaters and the beginning of the autumn passage of Dark-bellied Brent Geese, while Merlins became a regular feature as they terrorised unwitting small passerines. A literal heads up message from a local birder helped me add Osprey to my Dungeness list, as one headed out to sea over the Point on 16th. While I was off visiting in Edinburgh mid-month, a juvenile Rose-coloured Starling turned up by the Observatory and, naturally, had vanished just in time for my return to work. Such is life.
By the last couple of weeks or so of September, Barn Swallows and House Martins were far outnumbering Sand Martins and were at times pouring through in impressive numbers. 22nd was particularly memorable, when over 2,000 House Martins were swirling over the Point at one moment; of these, several hundred seemed mesmerised by the operating lighthouse in the rather murky conditions and swarmed around its top. These gatherings aside, September ended quite calmly in terms of the volume of birds experienced, though the promise of finches and thrushes in the new month just around the corner was inspiration enough to press on.
When I think back to my time at Dungeness in October 2016, I will fondly remember the early-morning visible migration I enjoyed as I set up the mistnets in the Trapping Area. I understand from old-timers that the numbers this year were but a fraction of what could be experienced historically, and I don't struggle to believe them, but even such diminished figures cannot be expected in my home county of Surrey so I savoured the Grey and Pied Wagtails, the Meadow Pipits, Siskins, Linnets and especially the Reed Buntings (passing over in strong double figures at times) and occasional Tree Sparrows as they announced their flightlines. The latter half of the month also offered Redwings, Fieldfares, redpolls and the occasional Brambling on 'vis mig', while the entire month was a rich one for Ring Ouzels, some of which we managed to ring, and Black Redstarts. I managed to connect with a showy Yellow-browed Warbler in the Lighthouse Garden on the evening of 4th and had a few more sightings over the following few days, including one which I ringed on 9th. Other classic October birds added to my Dungeness list included Wood Lark and White-fronted Goose, while I managed to at long last bag a Sooty Shearwater on 3rd and an Osprey was a little on the late side as it fished over the Long Pits on 17th.
The last few days of October, and therefore my residence at Dungeness, looked as though they were going to pass without much event but this all changed on 27th when I returned from a net round in the Trapping Area to be greeted with the question 'Did you get the message about what is in the bag?' — I hadn't, but my first guess was correct and within a couple of minutes I had the privilege of handling and fitting a BTO ring on an utterly perfect Pallas's Warbler; a most agreeable send-off indeed. It was duly released back into The Moat where it happily fed in front of its admirers for the rest of the afternoon.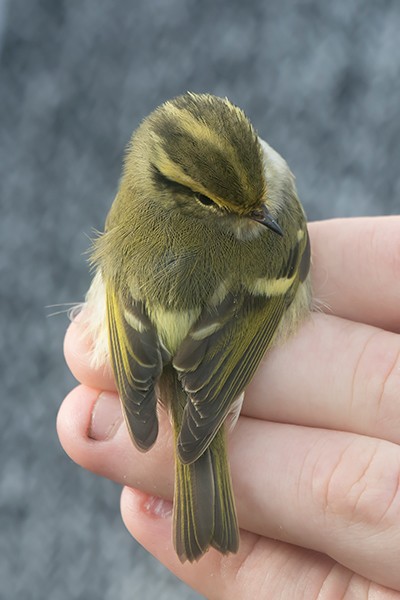 Always a delight: Pallas's Warbler.
On the evening of 31st, I packed my bags and drove back home to Surrey with mixed emotions. I was looking forward to returning home but Dungeness had provided me with new friends and expanded my knowledge and experience on many aspects of birding and ringing; there was an awful lot about life on the shingle that I knew I would miss. It had been far from a classic Dungeness year but what I had seen wiped clean any of my previous patch year lists, finishing on 168 species for the observatory recording area between early March and the end of October, with the little time I had spent on the RSPB reserve lending an extra 21.
Dungeness is frequented by some of the finest birders and naturalists, both in ability and character, that I have ever met and I must thank all of the Trustees and Friends of Dungeness Bird Observatory who provided their valued support and company over the eight months. I particularly owe thanks in many ways to David Walker, Warden, and Gill Hollamby, Chairman, as well as to Tony Greenland, without whom a miscellany of ill-fated personal items would still be awaiting repair.