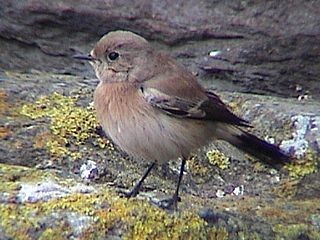 Photo: Kevin Scott
Local birder and regular contributor to Bird News Extra, Chris Wormwell, found what he thought was a possible Desert Wheatear at Ramsey, Isle of Man in November 2001. He had photographed it, and after discussions with Russ and Phil at BirdGuides, ruled out the possibility. The experience gained in that event stood him in good stead when he got a phone call on 6th January. Dave Thompson was visiting from Heysham and reported an unidentified wheatear, which he thought resembled Desert. He phoned it in to Chris Sharp working on the Manx Bird Atlas in the evening. The following morning Chris Wormwell got a call to say it was still present, and Chris Sharp, together with other birders, had been watching it for an hour in mist and drizzle. They were happy that it was indeed a Desert Wheatear but, having never seen one, had nagging doubts about its buffy rump.
The bird was frequenting a small cave in the cliffs on the shore just to the north of the car park at Niarbyl, on the west coast south of Peel, when Chris arrived at 10am. It had dried out and the rump was now whiter. Armed with his prior knowledge, Chris was confident that it was indeed a Desert Wheatear, most likely a first-winter female, and a first for the island. He noted a very pale shoulder patch, all-black tail and no white loral line, just a couple of pale 'flycatcher spots' above the bill. He thought it had picked up a 'gape worm' as it was regularly 'hacking' as if to vomit, but wheatears, and indeed most chats, regularly do this to regurgitate pellets of hard, indigestible insect casings. The bird was described as "singing without sound".
The bird was most obliging, feeding very well on sandhoppers and other insects picked up from the beach and cave wall. As a result, photographers were able to record the historic event. A number of excellent pictures are available in the photo section of Bird News Extra, of which one is reproduced above.
Desert Wheatear is traditionally considered to be one of the late autumn vagrants and of the 79 British and Irish records the majority have been between late October and the middle of November. During an exceptional influx in 1997, at least 7 of the 17 reports that year arrived during December. January arrivals are slightly more unusual, but not without precedent (Essex in 1958 and Cornwall in 1995) and several birds have remained for extended periods during the winter months. Most have been along the east and south coast, and the first for Ireland was as recently as 1990. Given that none were reported last autumn, the arrival of this bird on the Isle of Man is perhaps all the more surprising.
Chris's final comment was that, it was his educating experience with the 'dodgy' November wheatear that helped him to identify the bird fairly rapidly.