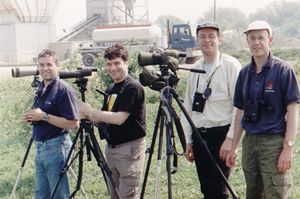 90 species and counting: the "Cream-crackered Cursers" at Dix Pit, Oxfordshire, on May 13th 2000. From left: Pete Roby, Dave Dunford, Jon Uren and Simon O'Sullivan (photo: Oxford Times)
Before we started out, my three birding mates Simon O'Sullivan, Pete Roby, Jon Uren and I had three personal targets for Bird Race 2000. The first and most realistic was to crack the elusive "100 species in Oxfordshire in a day" (the rest of the team had personal bests of 99, and mine was 98, from previous Bird Races). Next, we felt we really ought to exceed an impressive total of 103 amassed by a rival team the previous week, since they were on foot and we had the advantage of motorised transport and the whole county at our disposal. Thirdly, remotely and unspoken, loomed the county record of 112, set a few years previously. The event had an additional significance for me personally, as I had already secured my new job with BirdGuides and was due to move north in a couple of weeks, so I knew this would be my last visit to many familiar sites on our itinerary.
We had arranged to meet at 11pm on Friday night in order to be on the Berkshire Downs (part of which, post–1974, falls within Oxfordshire) for midnight. This we more-or-less achieved, despite one slightly tardy arrival...we discovered that only one of us had managed any sleep that evening, and that was just a 20-minute "power nap", so a long long "day" lay ahead.
The Downs were quiet in the moonlight, with distant cars and overflying aircraft the only sounds to be heard at first. Our first bird, at 12:06, was a calling Lapwing, closely followed by Tawny Owl and Grey Partridge. This third bird was the first of many bits of good luck, as this can be a tricky species to pick up in May. Even better, shortly afterwards we heard the squeal of a young Long-eared Owl, and then the eerie creaking call of a distant Stone Curlew, our two main targets. So far so good: 6 species and 3 goodies.
Our first Sedge Warbler was picked up unexpectedly in farmland, when we heard it through the closed windows of the moving car, en route to a rendezvous with a calling Cetti's Warbler (a rare bird in Oxon), and a singing Nightingale in suburban woodland near Oxford. It felt sacrilegious to turn tail and leave this songster serenading the sleeping woodland but we were men on a mission. Next stop the RSPB reserve at Otmoor; our first job as responsible citizens was to check out the two cars parked up suspiciously in the car park — the occupants were curled up in a single sleeping bag and were somewhat disgruntled at being disturbed...we'll draw a discreet veil over what was going on there! Out on the moor we picked up by ear the species we'd expected — reeling Grasshopper Warbler, more Sedge Warblers, Reed Warbler — but no Water Rail, which was our main reason for being there at this time. Calling Black-headed Gull, Canada Goose, Cuckoo, Curlew, Redshank, Little Grebe, Mallard and so on were less predictable in the dark, but all things we'd expect to see later anyway.
Our next stop was for Woodcock at first light, at a traditional site (Woodcock are scarce in the breeding season in Oxfordshire). The day dawned misty and this may have discouraged the roding bird we'd hoped for. We picked up singing Song Thrush (dozens, it sounded like) as dawn approached, but no sight or sound of our target. Maybe a solitary squeak was drowned out by the noisy rustling of one team member consuming his appetizing breakfast of dry Weetabix straight from the packet. Next stop was a piece of previously reconnoitred mixed woodland which produced, as well as the flood of common species you always get at this time on the Bird Race, most of the specialist woodland species we'd hoped for — notably Nuthatch and Marsh Tit, which can be hard to find in May, and also Red-legged Partridge (another potential bogey). No Jay, though, which proved to be a costly miss as we didn't see or hear one anywhere else either. A frustrating moment occurred when a raptor flashed across the road mobbed by Mistle Thrushes and Jackdaws — probably a female Sparrowhawk but none of us got good enough views to be sure. Last time we attempted the Bird Race (in 1998) this was one of the species we missed, unbelievably, so we were annoyed to have missed this early chance to nail that particular bogey.
With increasing concern, we drove on through patchy fog to Port Meadow, a famous and extensive Thames watermeadow close to Oxford city centre which had held a few scarce visitors, including Knot and Garganey, in recent days. Collared Dove, Long-tailed Tit and Mute Swan were scant reward as we found the Meadow swathed in thick mist. We turned tail straightaway and returned to Otmoor hoping for better weather there. In fact it was still gloomy but things improved as we squelched and stumbled our way out to the central area for the second time. Whitethroat and Lesser Whitethroat were calling in the car park field (all 10 resident warblers by five past seven in the morning!); Turtle Dove, Snipe, Bullfinch (another possible bogey) and Meadow Pipit followed, but no Willow Tit and again no Water Rail despite intensive searching. Greenshank and Oystercatcher on the "RSPB field", and Shelduck flying over, were some consolation though. One of the team spotted a distant Yellow Wagtail in the middle of the RSPB field, but we couldn't relocate it...another bad miss?
Previous recces had led us to decide that the Flood area at Otmoor was best viewed in the afternoon because of the direction of the sun, so we ignored the promised goodies and set off again for Port Meadow mid-morning — now some two hours behind schedule. This time the mist had largely cleared from the Meadow, but the hoped-for Garganey and waders were not to be had; a Greenshank, two Redshank, a pair of Shoveler and Gadwall were repeats of things we'd already had on Otmoor, and House Martin, Great Crested Grebe, flyover Cormorant and a few other common bits and pieces were scant reward again. Still, at least it wasn't raining and the mist was virtually gone...in fact it was getting uncomfortably warm.
Next stop Farmoor Reservoir, via the Thames at Godstow. A dodgy Pink-footed Goose on the river was interesting but we didn't feel we could claim it. Unfortunately the adjacent pub car park was closed so our driver stopped in the "no parking at any time" layby by Godstow Nunnery and the other three of us nipped back. Our target for this site was immediately achieved — three Grey Wagtails at the water's edge below the terrace of the Trout Inn. One of the team nipped back to the car to alert the driver. This might have proved a costly mistake, as before they returned the two remaining team members had a brief but good view of a Kingfisher as it shot out from the bushes below and disappeared over the pub. Bird Race rules state that a species must be seen or heard by three of the four team members to be counted...would this miss be added to the Sparrowhawk as "the ones that got away"? We reached Farmoor at about 11 o'clock, much later than intended, but we had previously arranged permission from Thames Water to drive around, saving us plenty of time (but perhaps costing us Little Tern, which had apparently been present that morning and would have been a real bonus). Fortunately earlier successes had meant we could skip some planned stops and make up time. Farmoor came up trumps, despite an earlier suggestion that there was "nothing much" there — several Black Terns and Little Gulls over Farmoor 2 were an immediate bonus, as were two or three Hobbies showing well as they circled over the Shrike Meadow (which also produced Little Ringed Plover, and a Buzzard flying by beyond the river). Driving round the bottom of F2 (a real luxury to us, used to the long trudge on foot) we picked up a male Red-crested Pochard that had been around for a while. Another new species for the day was a splendid male Cinnamon Teal, another escape left reluctantly unticked. Still no Kestrel, Sparrowhawk, Stock Dove, Sand Martin or Yellow Wagtail (we'd really hoped to pick up the last two here at Farmoor).
Content continues after advertisements
Next on the itinerary was a scheduled stop at Dix Pit in the Lower Windrush Valley gravel pit complex, where we'd previously arranged to meet a reporter from the Oxford Times for a photocall and a quick interview. We arrived at 12 noon, bang on time, with the speciesometer reading 90 — not too bad, but we knew from experience that the afternoon can be a long haul for little reward in terms of new species. A handful of Sand Martins were buzzing about (the only ones we saw all day — where were they?) and a single late Wigeon took us to 92 while we chatted to the reporter and his photographer rushed around us taking shots from all conceivable angles. Two Turtle Doves were a reasonable Dix tick, but a repeat for us on the day. We stopped briefly near the entrance to check behind the islands and were rewarded for our diligence by a lingering Pintail silhouetted elegantly against the sunlit water. Nearby Pit 10 produced the hoped-for Ruddy Duck. As we returned to the car we picked up a small falcon soaring high — could this be our first Kestrel of the day? No such luck: on lifting our bins, for the first time in our lives we were disappointed to find another Hobby...the Bird Race does funny things to you.
A pet Bird Race site of ours is Northmoor churchyard, a traditional site for Spotted Flycatcher — but none of us had checked it out and we hadn't heard of many about so far — would they be in yet? No need to worry, the site came up trumps again with Spot Fly on the wires behind the church, and an added bonus were our first Stock Doves, one flying out from an old dovecote behind the church and another couple flying over. These two species in a minute took us on to 96 and the total was ticking over nicely. Still no Kestrel though!
We decided we had time to try for Tree Sparrow at Tadpole Bridge on the Upper Thames (we hoped to pick them up at Oddington near Otmoor, but knew that a rival team had spent 20 minutes there the previous week without success)...as we pulled into the car park of the Trout Inn there were 5 sparrows on the ridge of the pub roof, which on closer inspection proved to be two House and three Tree Sparrows — we hardly stopped the car. Sacrilege again, but exactly what you need on the Bird Race.
Heading for the A420 we finally picked up a Kestrel, perched in a tree near Buckland. Phew! Species number 98, and half past one in the afternoon — would you believe it? As it happened we had another (but no more) shortly afterwards as we headed down the A34 bound for Didcot Power Station...but still no Sparrowhawk...would we fail again? The cooling towers failed to produce the hoped-for Peregrine and tiredness was beginning to set in. Should we go to Sutton Courtenay — a regular lunchtime haunt for three of us, but not a particularly productive site lately? An argument threatened, but we decided we'd stop and have a bite to eat anyway...there was always a chance of a Kingfisher. What an excellent decision that turned out to be, just as we were starting to flag and tempers were beginning to fray. A Kingfisher flashed by calling as we reached the first lake and was picked up by the two who'd missed it at Godstow earlier; even better, while your correspondent busied himself with an onion bhaji the other three scanned the corvids swirling distantly in the thermals towards the Power Station and picked up a raptor. I was summoned and trotted over with my scope (I was the only one to have brought mine from the car) and we confirmed that we were indeed looking at a Peregrine. The magic 100 and an appropriate place and bird to get it. A few celebratory mobile phone calls later and we were on our way, in much better mood, to Dorchester-on-Thames where we were confident of a few more ticks. And so it proved: Corn Bunting on the road to Drayton St. Leonard, and a sorry-looking Common Gull (as promised by a friend who watches the site regularly) on one of the bunds on Queenford Pit, oblivious to the waterskiers buzzing around it. The next target was a long-staying American Wigeon on a private pit nearby; as we parked up in Dorchester village the driver heard a Starling giving an alarm call...disembarking quickly, he located the cause of the alarm — a Sparrowhawk circling high in the blue sky over the village — a "birder's bird", we felt, and a "dip" regained...more importantly, species 103. The American Wigeon was visible from the Dyke Hills to the south of Dorchester village. (Also 2 Shelduck there, another repeat from earlier.) Our second target, the foot-soldiers' total, was overhauled...
From Dorchester we headed eastward on the B4009, bound for Red Kite country. For a while we thought we were out of luck and would have to take an extended circuit around the Chilterns, but a bird flew low over the car as we approached the M40 allowing us to head off up the motorway for our third visit to Otmoor. We had permission to visit the private area of the Reserve and very useful it proved with some decent waders for land-locked Oxfordshire — Grey Plover, Ringed Plover, Turnstone, Dunlin and Black-tailed Godwit, plus Yellow Wagtail and Teal, were quickly located and suddenly we had equalled the record of 112 (ironically, most of the previous record-holding team was in attendance). A large, brown, curved-billed wader flew across — was it the hoped-for Whimbrel, which were known to be around? No, just a Curlew — false alarm. We still had a few birds up our sleeve, so we were just thinking of moving on when three more "Curlews" flew across....but no, this time they WERE Whimbrel! 113 species, ten past five in the evening and the record was ours, with plenty of daylight left (or so we thought).
Next stop was the Perch Inn, on the Thames at Binsey...normal people were enjoying a cool pint in the pub garden as four sweaty and bedraggled birders limped through to the Thames towpath. No sign of the promised Goosanders "300 yards north of the Perch"...had we made a mistake? Had our informant let us down? Were they gone? A couple of passers-by asked us what we were up to and while the rest of the team chatted, your correspondent, feeling antisocial, scanned the Meadow downstream....and there they were, a spanking male Goosander glowing in the evening light, and then his mate. What were these winter visitors doing still there in May? Who cares! Cracking birds, 114 and still some "easy" birds to come...
We'll gloss over the rest — a mosquito-plagued hour in Bagley Wood failed to produce Jay or Woodcock, though we had nice views of a pair of Roe Deer, and it was too dark to see when we got to our planned Barn Owl site. We had thought of heading to the Downs again for an unlikely night-calling Quail, but extreme tiredness was affecting us all, and it was a bird too far. It was something of a relief, though tinged with disappointment, when we decided to call it a day and head for home at about 10:30...we'd given it our best shot, surpassed our wildest expectations, upped the ante for future participants, and most importantly raised over £500 for the Raptors at Risk campaign...and had a good laugh doing it. However, look at what we could have had: no Jay, Willow Tit, Lesser Spotted Woodpecker, Water Rail, Woodcock, Barn Owl, Whinchat, Herring Gull, Quail, Garganey, Arctic Tern.... We saw no great rarities, and 120 is surely possible. All in all, a hugely satisfying day and for this member of the team a great way to say goodbye to Oxfordshire birding.
The Day List
1. Lapwing, 00.06
2. Tawny Owl, 00.13
3. Grey Partridge, 00.32
4. Long-eared Owl, 00.32
5. Carrion Crow, 00.37
6. Stone Curlew, 00.41
7. Sedge Warbler, 01.20
8. Cetti's Warbler, 01.48
9. Nightingale, 01.57
10. Grasshopper Warbler, 02.10
11. Canada Goose, 02.20
12. Wood Pigeon, 02.20
13. Curlew, 02.26
14. Coot, 02.34
15. Black-headed Gull, 02.34
16. Moorhen, 02.46
17. Pheasant, 02.51
18. Redshank, 02.51
19. Cuckoo, 02.56
20. Little Grebe, 03.01
21. Little Owl, 03.14
22. Mallard, 03.21
23. Reed Warbler, 03.32
24. Skylark, 03.53
25. Blackbird, 04.05
26. Robin, 04.06
27. Song Thrush, 04.27
28. Magpie, 04.42
29. Rook, 04.43
30. Chaffinch, 04.50
31. Wren, 04.52
32. Great Tit, 04.52
33. Jackdaw, 04.58
34. Blackcap, 05.05
35. Great Spotted Woodpecker, 05.08
36. Treecreeper, 05.09
37. Coal Tit, 05.11
38. Nuthatch, 05.13
39. Goldcrest, 05.15
40. Blue Tit, 05.17
41. Green Woodpecker, 05.23
42. Red-legged Partridge, 05.28
43. Marsh Tit, 05.45
44. Dunnock, 06.00
45. Greenfinch, 06.00
46. Grey Heron, 06.00
47. Mistle Thrush, 06.01
48. Willow Warbler, 06.06
49. Chiffchaff, 06.07
50. Pied Wagtail, 06.07
51. Garden Warbler, 06.09
52. Starling, 06.20
53. Long-tailed Tit, 06.28
54. Collared Dove, 06.29
55. Mute Swan, 06.32
56. Swallow, 06.51
57. Yellowhammer, 07.00
58. Goldfinch, 07.02
59. Whitethroat, 07.05
60. Lesser Whitethroat, 07.05
61. Turtle Dove, 07.10
62. Pochard, 07.23
63. Bullfinch, 07.30
64. Linnet, 07.35
65. Meadow Pipit, 07.36
66. Swift, 07.38
67. Gadwall, 07.42
68. Reed Bunting, 07.44
69. Shoveler, 07.44
70. Snipe, 07.55
71. Tufted Duck, 08.03
72. Lesser Black-backed Gull, 08.20
73. Oystercatcher, 08.46
74. Greenshank, 08.46
75. Shelduck, 09.00
76. House Sparrow, 09.36
77. House Martin, 09.55
78. Greylag Goose, 10.05
79. Cormorant, 10.23
80. Feral Pigeon, 10.23
81. Great Crested Grebe, 10.36
82. Grey Wagtail, 10.45
83. Black Tern, 11.01
84. Common Tern, 11.01
85. Little Gull, 11.09
86. Common Sandpiper, 11.11
87. Hobby, 11.40
88. Little Ringed Plover, 11.40
89. Buzzard, 11.45
90. Red-crested Pochard, 11.45
91. Wigeon, 12.45
92. Sand Martin, 12.45
93. Pintail, 12.50
94. Ruddy Duck, 12.55
95. Stock Dove, 13.10
96. Spotted Flycatcher, 13.10
97. Tree Sparrow, 13.30
98. Kestrel, 13.30
99. Kingfisher, 14.20
100. Peregrine, 14.20
101. Corn Bunting, 14.45
102. Common Gull, 14.55
103. Sparrowhawk, 15.05
104. American Wigeon, 15.30
105. Red Kite, 15.50
106. Grey Plover, 17.10
107. Turnstone, 17.10
108. Dunlin, 17.10
109. Ringed Plover, 17.10
110. Yellow Wagtail, 17.10
111. Black-tailed Godwit, 17.10
112. Teal, 17.10
113. Whimbrel, 17.10
114. Goosander, 20.05
The Oxfordshire day record still stands at 114 species as of 30/05/02, although the 2001 Bird Race was cancelled because of the Foot and Mouth crisis. This article is an edited version of an account originally published on the Oxford Ornithological Society website.