I have only ever found one decent rarity - but it has sustained me for the past 15 years. I was just a month short of lighting 15 candles on the anniversary cake that celebrates this blocker on my British list - and its absence from the list of most other birders. But then THAT bird arrived on the Isles of Scilly and spoiled my party. So before Lesser Kestrel becomes just another tart's tick here's the account of "my" Lesser Kes.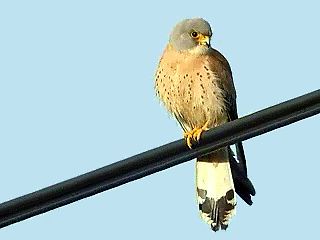 Photo: BirdGuides
The first significant event of June 1987 was a General Election which returned the Tories to power with their biggest majority of the Thatcher era. I was a trainee reporter on a weekly newspaper in west London and desperately in need of a holiday after the depressingly predictable election result. The previous autumn I'd made my first ever trip to Scilly. Now I planned my first ever trip to another mythical destination - Shetland.
Shetland in June is a delight: almost constant daylight and fabulous roadside birds like Red-necked Phalarope and Red-throated Diver; Great Skuas dive-bombed me as I walked across Hermaness to see the Black-browed Albatross keeping a lonely vigil on her nest. Another mythical destination was Fair Isle. To travel this far and not pay homage at the temple of British rarities was unthinkable. But other visiting birders on Shetland were incredulous:
"Fair Isle at the end of June? Why bother?"
I mumbled something about wanting to see the endemic race of Wren. When I arrived on Fair Isle in the tiny 6-seater plane from Tingwall, the sceptics seemed to have a point. The warden told me the highlight was a few newly arrived Garden Warblers. But there were also nesting Arctic Skuas (they DO connect with the back of your head when they dive-bomb - Great Skuas shy away at the last moment) and all those Puffins.
Most of the people staying at the Observatory were general visitors interested in Fair Isle sweaters so it was down to me and the Observatory staff to find the birds.
On my last-but-one day, June 23rd 1987, the weather changed slightly. The wind shifted to a light south-easterly and it was a lovely sunny day. I walked halfway down the island to the Post Office, bought some postcards and sat down to write them. The alarm calls of a couple of Starlings made me look up and I saw they were mobbing a falcon as it flew over. It looked like a Kestrel but even a Kestrel is noteworthy on Fair Isle.
When I raised my binoculars I thought I saw a flash of blue in the wing. It was one of those heart-pumping moments. I had never seen a Lesser Kestrel before but surely that was one of ITS field characters? The bird had flown out of sight. I ran up the hill (da Houll) and looked north. The bird was below me, circling. It had a rich chestnut unspotted mantle with blue-grey in the coverts, was very white beneath and it WAS a Lesser Kestrel. Happily there was a phonebox by the post office. I rang the Observatory and told the warden (Nick Riddiford) that I thought I had a Lesser Kes. Reinforcements were scrambled and the Observatory van with red flag flying came steaming down the island road.
I found the bird around 11 a.m. and it stayed until 3.30 p.m. performing beautifully. It sat on fence posts and dropped to the ground to catch beetles. It was a pristine adult male with colourful upperparts and very clean white underparts apart from light spotting on breast and axillaries. When it hovered, the central pair of tail feathers extended beyond the spread tail giving it a characteristic wedge-shaped look.
The bird was enjoyed by about 12 people. It was the first for Fair Isle and the second for Scotland after one in Aberdeen in about 1897. But, to put a Fair Isle first in context - the previous one was Magpie!
So this was the second significant event in June 1987. Thatcher only lasted another three years but this bird has been on my "blocker list" for almost 15 years!
References: Twitching Vol 1 Issue 6; British Birds Vol 81 Issue 11
There have been just 17 accepted records. Since Adrian's bird in 1987 there have been just two records, a bird found dead in Kent in 1989 and male over Hampstead Heath (Greater London) on 31st May 1992. This super league rarity was on the most wanted list of many top listers and was a blocker for a fortunate few – until the 1st-summer male arrived on the Isles of Scilly.
Adrian is a BBC television journalist resident in Tynemouth. He's been birding for 30 years (but does not turn 40 until later this year!).