There are few experiences in British birding more spectacular than watching a hunting Western Osprey as it dives to pluck a fish from a lake or reservoir. But this was a sight that was missing from England for more than a century, when the species was lost as a breeding bird in 1840.
This magnificent raptor is slowly returning to England, though, and much of this is down to the Rutland Osprey Project. Based at Rutland Water NR, the project came about when Leicestershire and Rutland Wildlife Trust (LRWT) staff noticed that ospreys were using the reservoir as a stop-off point on their way to their Scottish strongholds. The wardens hoped the birds might stay to breed at reserve, even erecting a nesting platform. However, all the birds continued on their northerly journeys.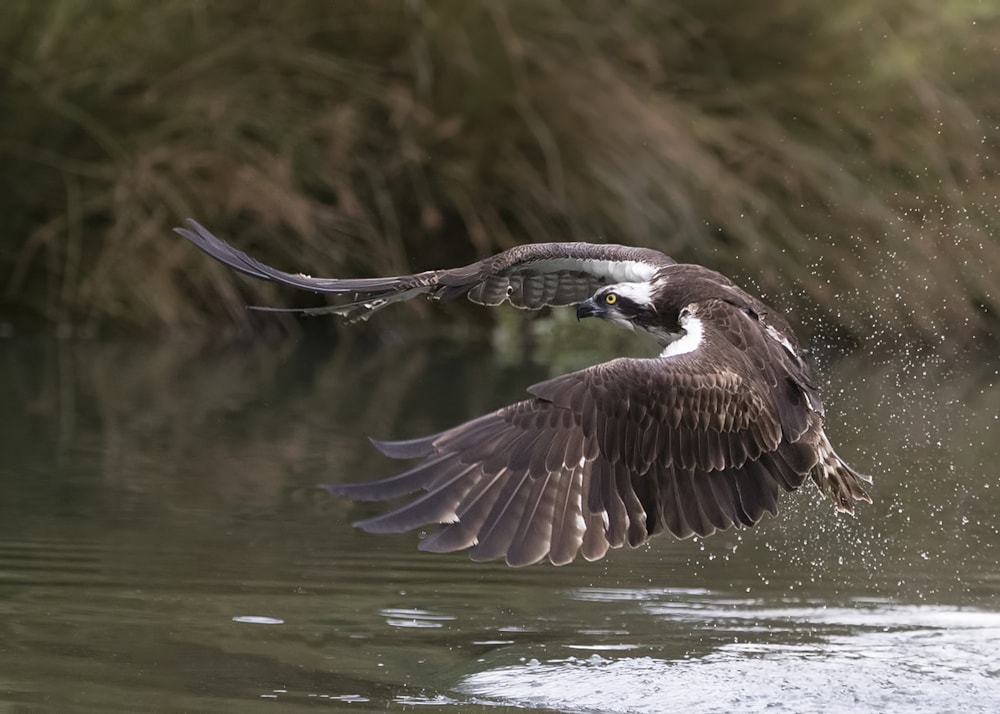 Western Osprey, Rutland (Steve Ashton).
So the LWRT hit on the idea of taking chicks from Scottish nests to rear at Rutland – would the young birds imprint on where they grew up rather than where they were hatched? In 1996 the project was licensed by English Nature and Scottish National Heritage, and over a period of six years, 64 hatchlings were moved from Scottish nests to pens at Rutland. The youngsters were incubated and fed until they were strong enough to fly free. They continued to be fed while they were still learning to fish for themselves. When they were old enough the juveniles migrated the 3,000 miles to their west African wintering grounds, where they would stay for two years.
Ringing success
The project worked, and in 1999 the first birds returned to Rutland, with the first pair successfully breeding in 2001. Since then a total of 146 chicks have been ringed at Rutland, including 13 this year – project staff are already looking forward to their 150th chick in 2019. All chicks born at the reserve are ringed at six weeks. The blue ring is placed on the right leg, distinguishing them from Scottish birds which sport a blue ring on their left leg.
Despite the project's success, not everyone has been a fan. The owners of the nearby Horn Mill Trout Farm were less than impressed when the ospreys started fishing at the farm. By 2013 they were losing up to 1,000 fish a year. After talking with staff at Rutland Osprey Project, though, they came up with the innovative idea of building a special hide on the edge of the farm's largest pond, offering wildlife photographers the opportunity to photograph the birds in action. The other ponds were netted to protect the fish. The enterprise has been so successful that it's allowed the farm to scale back some of its fisheries.
I learnt all this at a fascinating talk given by Rebecca Pitman, Senior Reserves Officer at the Rutland Osprey Project. The presentation took place at Rutland Water's Lyndon Reserve and is open to everyone booked on the reserve's evening osprey cruises on board the Rutland Belle. My mum and I took one of the cruises in mid-July and having attended the talk earlier in the day spent some time checking out the reserve's hides.
First port of call was Wader Scrape Hide, with its views over Manton Bay, where the main osprey nest can be seen. Scopes were trained on a female adult and a juvenile. This was Maya, an unringed female not part of the Rutland Osprey Project, and one of her two surviving young; a third had died earlier in the year. Unfortunately, due to a prolonged cold and wet period this spring several chicks were lost. Maya's partner is 33, a male ringed at Rutland in 2011. They've been together since 2014.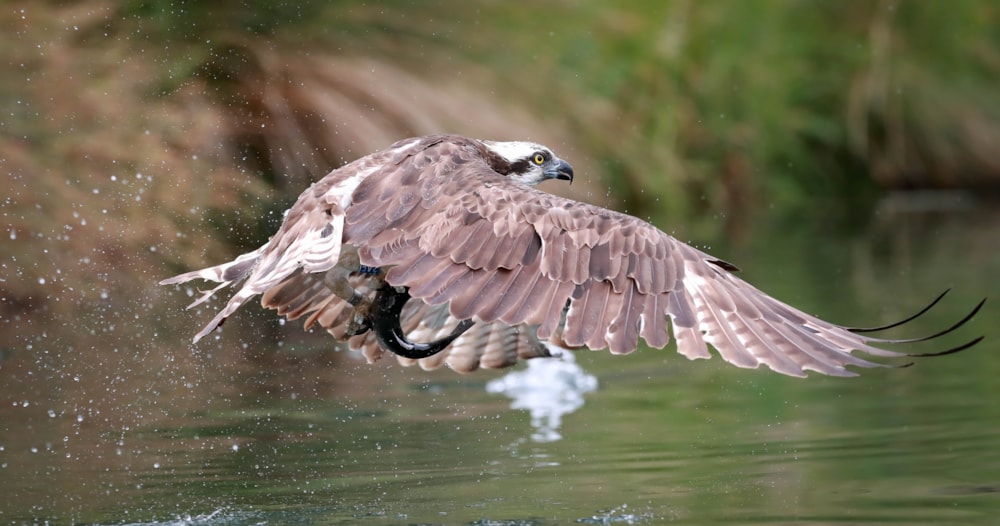 Western Osprey, Rutland Water (Tony Rawson).
Looking up on leaving the hide provided Red Kite and Common Buzzard, while on and around the water itself were a variety of common wildfowl, Little Egrets, Great Cormorants, Common Terns, Swallows and House Martins. Feeders outside the visitor centre were mainly frequented by Great Tits, but a Tree Sparrow was good to see. There was also an acrobatic rat hanging on the bottom of a feeder and helping itself to the seed.
All aboard
The main attraction was the cruise, though. The evening sailings run throughout June, July and August and there are also a few dawn excursions. The Rutland Belle sails from Whitwell Harbour and takes participants on an hour-and-a-half cruise around areas of the reservoir that are hard to see from the shore. It's a civilised affair, with a bar serving drinks and snacks – there's surely nowhere else in Britain where you can watch Western Ospreys with a G&T in hand.
As the boat sailed across to Manton Bay – where we were to encounter 33 perched in a tree – we got excellent views of a Yellow-legged Gull, flying Little Egrets and Northern Lapwings on the banks of the reservoir.
The ultimate prize is watching a fishing Western Osprey and on the way back to the harbour we were treated to fantastic views of a hovering male. The bird dropped from the sky to the water, going behind a spit of land jutting out into the reservoir, so we didn't see if it was successful. After reappearing, the osprey flew off over the spire of the half-submerged Normanton Church, which was flooded when the reservoir was created in the 1970s. A final treat before pulling into the harbour was a Barn Owl hunting over one of the many hides.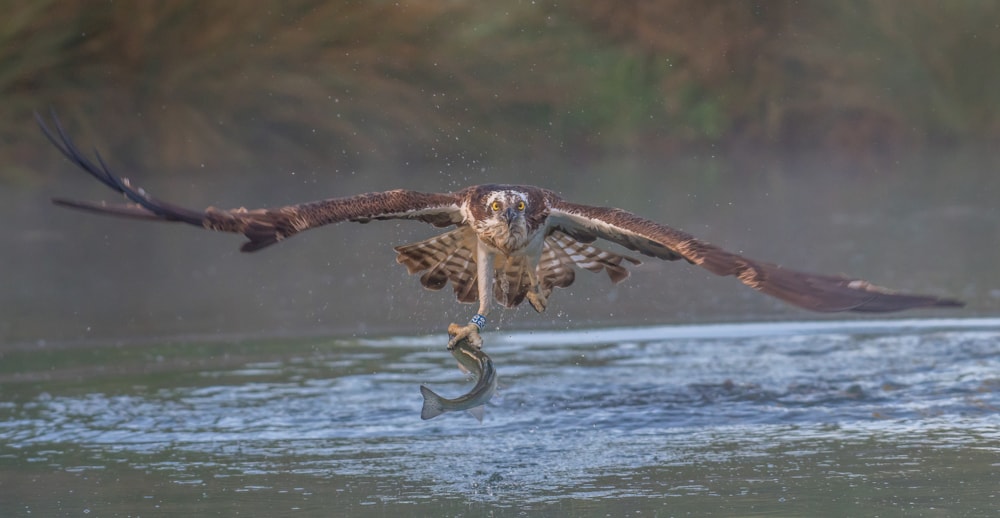 Western Osprey, Rutland Water (Jeff Lack).
There are currently eight breeding pairs of Western Osprey at Rutland Water, and Rebecca thinks that the reserve could accommodate a total of 10. This means that future efforts will be directed at other suitable sites in England, with Rutland Osprey staff sharing their experience. Currently, Dr Tim Mackrill, a former Senior Reserves Officer at Rutland, is working with the Roy Dennis Wildlife Foundation and Birds of Poole Harbour to restore a population of ospreys in Poole, Dorset.
Overall this was a very successful and enjoyable trip and we still feel that we haven't fully explored Rutland Water. A bike ride around the perimeter of the reservoir didn't take in Egleton Nature Reserve and we both like the idea of a dawn cruise. Another visit next year, when that 150th chick is ringed, could be on the cards.
Find out more
Rutland Water Nature Reserve: www.rutlandwater.org.uk.
Rutland Osprey Project: www.ospreys.org.uk.
The photography hide at Mill Trout Farm: www.rivergwashtroutfarm.co.uk/horn-mill-osprey-hide.
Osprey Leadership Foundation: www.ospreylf.org.