The festive period, particularly between the Christmas Day and New Year is, for some of us, synonymous with family get togethers, cold turkey sandwiches and plentiful football matches. However, it can also mean a bit of time off work, thus creating windows of opportunity for birding. It may seem unlikely, but as the history books show, there's every chance of striking lucky and unearthing a rarity during this time. To give you a bit of motivation for holiday period birding, here's a brief history of some of the finer festive finds down the years.
One species that stands out during this timeframe would go down very well with the modern-day British birder: Nutcracker. No fewer than six have turned up at this time down the years, including one at Ashley, Kent, on Christmas Day 1958. December 27th has delivered an impressive three birds over two dates – one at Budleigh Salterton, Devon, in 1938 and two at Bedgebury, Kent, in 1972. Torquay, Devon, hosted one on 28 December 1968 and 29 December 1996 saw the most recent festive Nutcracker, at Denny Wood, Hampshire. Another 29th record was at Somersham, Suffolk, in 1972. With the long-staying Dutch bird still knocking about in Gelderland, there must still be an outside chance of this species' 20-year British hiatus coming to an end this winter …

The recent appearance of this exceptionally showy Nutcracker in The Netherlands has teased British birders (Christian Vandeputte).
Winter is generally the time for gulls to shine and a repeat of New Years Eve 2008, when Britain's second Glaucous-winged Gull turned up at Saltholme, Cleveland, would be most welcome this year. Other popular larid records down the years contain two New Year's Eve Ross's Gulls, including a well-twitched bird in north Norfolk in 2005 which lingered to give 1 January listers a welcome boost, and a three-day appearance of an Ivory Gull at Frampton Sands, Glos, from 30 December 1990 to 1 January 1991.

Britain's second Glaucous-winged Gull arrived on New Years Eve 2008 (Tristan Reid).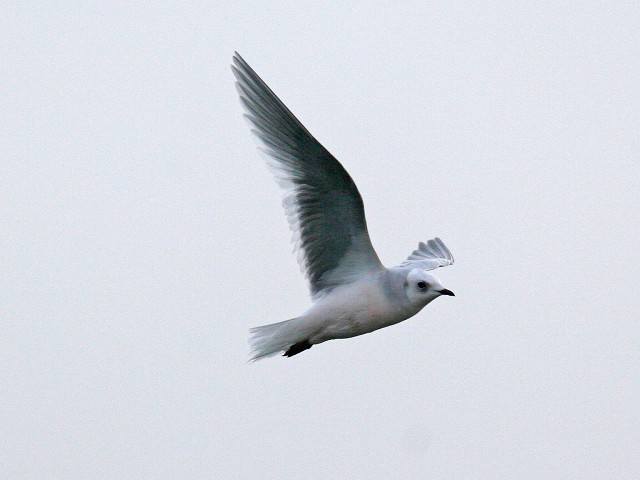 Ross's Gulls in the south and east, such as this bird in Norfolk in 2005/2006, are always popular (Stuart Elsom).
Barring stormy conditions, late December isn't really a classic seawatching period, but the finders of the Black-browed Albatross that flew past Mundesley, Norfolk, on 31 December 2002, will tell you otherwise. Wildfowl unsurprisingly feature prominently in the history books with a nice handful of Lesser White-fronted Geese, American Black Duck and Blue-winged Teal being found down the years. However, the show-stopper festive duck discovery of recent times surely goes to Britain's first and only Stejneger's Scoter, at Musselburgh, Lothian, on 26 December 2013.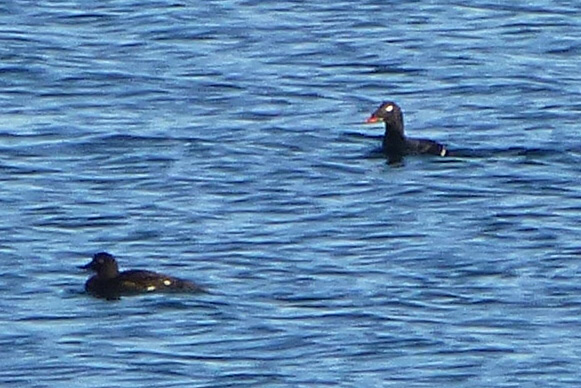 Britian's only Stejneger's Scoter (top right) was a Boxing Day find in 2013 (Sarah-Louise Selly).
Other modern-day records of note include a juvenile Mourning Dove that arrived at Lerwick, Shetland, on Boxing Day 2015, staying for 20 days, and a Little Swift at Thorntonloch, Lothian, on New Years Eve of the same year. In 2014 two Little Bustards turned up, at East Guldeford, East Sussex, on 30 December and at Fraisthorpe, East Yorkshire, from 31 December to 1 January 2015. The latter bird drew a huge crowd, many of whom were suffering terrible hangovers – not least an anonymous BirdGuides staff member, who was purportedly asleep on the roadside verge as dawn arrived.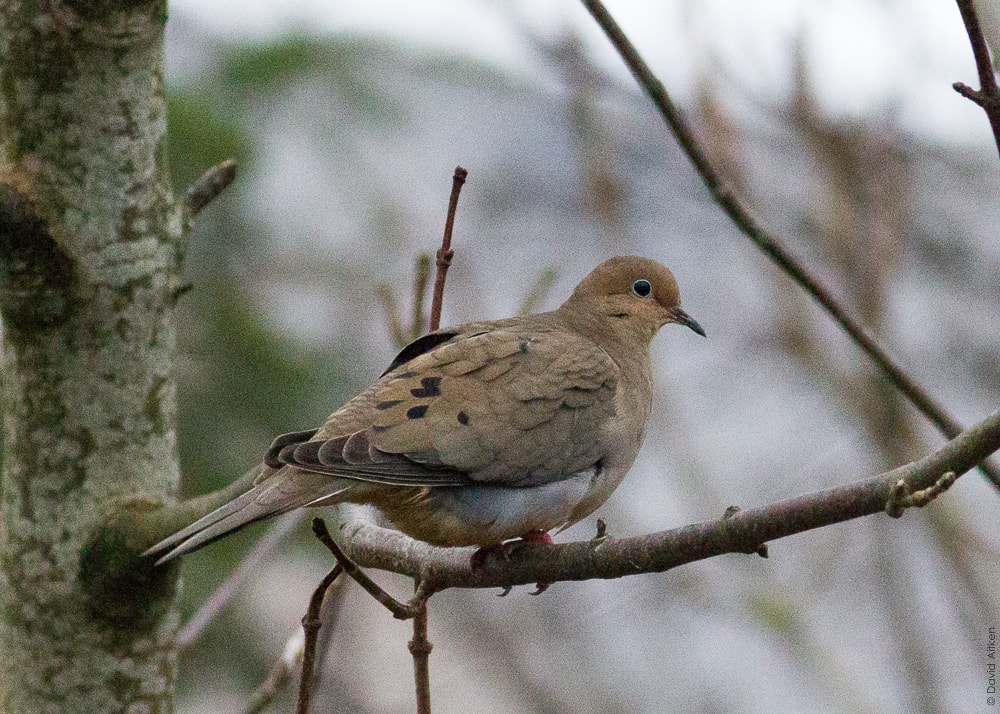 This Mourning Dove spent 20 days in Lerwick in 2015/2016 (David Aitken).
Late December is a pretty classic arrival time for Little Bustard, and both the 2014 records came following a period of very cold weather in Eastern Europe. While, there's no doubt another would have many starting their engines and firing up sat-navs, its larger cousin – Great Bustard – would be significantly more likely to prompt excuses to skip a visit to the in-laws. A bird at High Halstow, Kent, from 29-30 December 1981 no doubt lives long in the memories of those who saw it. With a precise total of zero records since 1987, this mightily impressive Otidid is a true blocker for many.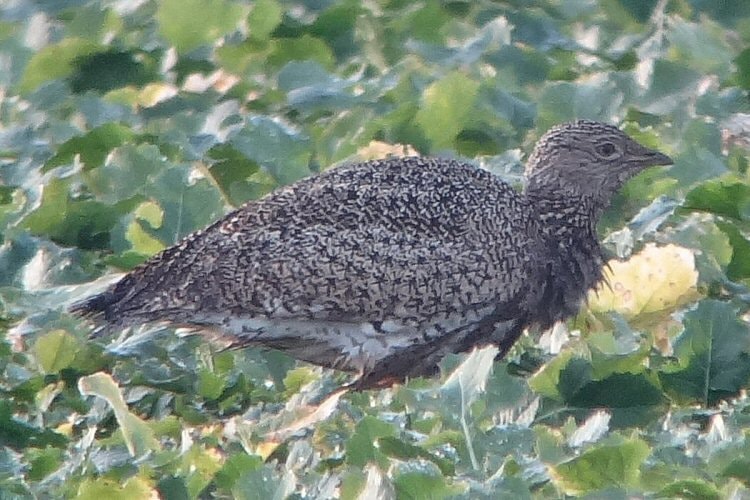 Life and year listers battled through the New Year's Day hangover to connect with this Little Bustard in 2015 (Tony Dixon).
Another species with similarly gripping status is Pallas's Sandgrouse and 28 December 1964 was another red-letter day for Kent, with one at Stodmarsh. Can you imagine the scenes if another was to turn up there this year?! It's probably a bit too soon to bring up Tengmalm's Owls in Orkney, but we will – 26 December 1959 to 1 January 1960 saw a bird take up temporary residence on the mainland at Cruan. To round off the grippers and blockers, how about a male Siberian Thrush at Great Yarmouth, Norfolk, on Christmas Day 1977, one of just three mainland records? Perhaps a bit more likely, though, is American Robin – one was in Aberdeenshire over Christmas 1988 – and Killdeer. Records of the latter during the festive period include a well-twitched bird at South Stack, Anglesey, on New Year's Eve 1993 and another found at Knockintorran, North Uist, on Christmas Day 2004.
If you're stranded in a seemingly rarity-free zone over the holidays, or away from your favoured sites, don't fear – there are plenty of inland records throughout the years to offer encouragement. One stand-out find was a Blyth's Pipit at Gringley Carr, Notts, from 28 December 2002 to 5 January 2003. Equally, a Boxing Day Great Snipe at Rye Meads, Herts, in 1959, represents a mighty London area record. Other inland shout-outs must go to a Sociable Lapwing at Little Cornard, Suffolk, which was first found on 25 December 1977, and a male Black-throated Thrush in Maidenhead, Berkshire, from Boxing Day 1998 to 3 March 1999.
We are of course well outside prime rarity-seeking time, but there's definitely enough past form to tempt birders to keep their eyes extra peeled while out in the field during the festive period.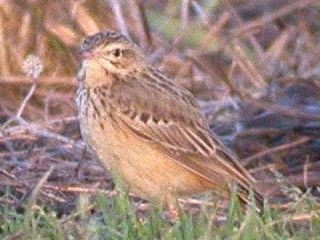 A remarkable record, this Blyth's Pipit in Nottinghamshire in 2002 was a fine demonstration that rarities can occur at any time and in any place (Pete Wragg).