Lucy McRobert makes some interesting observations in her recent 'Jobs for the boys' column.
On the morning of the opening of the RSPB's Belfast Harbour Reserve I had the privilege of finding myself alone at the 13-ha site. At first glance, the birthplace of the Titanic may seem an unlikely place for an RSPB reserve, yet I was drawn to the harbour estate's 'BP Pools', as their industrial surroundings reminded me of earlier haunts by the Manchester Ship Canal.
Martin Garner was among the guests in the plush rooms of the Belfast Harbour Commissioners. Martin relayed how Dr Bob Brown, then Director of RSPB Northern Ireland, had in his address kindly credited me with having first had the vision to protect this urban wetland.
The reclaimed lagoon, now celebrated by the RSPB as a 'Window on Wildlife' (WOW), is owned by the Belfast Harbour Commissioners. In 1986, the four original pools were marked purple in the Belfast Urban Area Plan, zoned for development. In the knowledge (acquired by squeezing through a gap in the harbour estate's perimeter fence) that this wetland was of huge importance to birds – as well as people – I was committed to trying to save it. I was employed as the RSPB's Assistant Regional Officer, the sole full-time staff member in the Northern Ireland office at that time. With the shared enthusiasm and expertise of some friends, a planning application was lodged for the 'purple lagoons' to become a nature reserve. This planning process, contested by the port authorities, gave the lagoons a stay of execution while RSPB members were alerted. An evidence-based case for their protection was made, leading to their designation as an Area of Special Scientific Interest in 1987.
Making a difference takes more than just having a vision: it requires knowledge, support from other people, an ability to think outside the box and a whole lot of passion – or in my case, stubborn bloody-mindedness. For my RSPB bosses, though, ruffling the feathers of the influential harbour commissioners was a problem. Without warning I was dismissed, albeit later to be ruled unfairly. Losing my job was a huge shock, but Doris, my wife, was in agreement that trying to save the harbour lagoons mattered most. With my departure, the RSPB withdrew from the campaign.
Content continues after advertisements
The Harbour Commissioners continued to argue that 'the birds could go somewhere else', while we maintained they couldn't, and carried on counting. Many thousands of shorebirds and wildfowl depended on the lagoons, mostly for roosting, but for some, such as Eurasian Teal, Common Redshank and Black-tailed Godwit, also for food, while 61 pairs of waders bred there in 1987. The Belfast Lough Nature Conservation Committee, formed in the absence of any conservation charity's voice, lobbied with cross-party political support until a Public Inquiry was called and a Heads of Agreement signed; this secured the future of the most important of the lagoons, 'BP 2'. A decade later the RSPB re-engaged, taking over the management of a now-popular urban wetland that came within a whisker of being lost.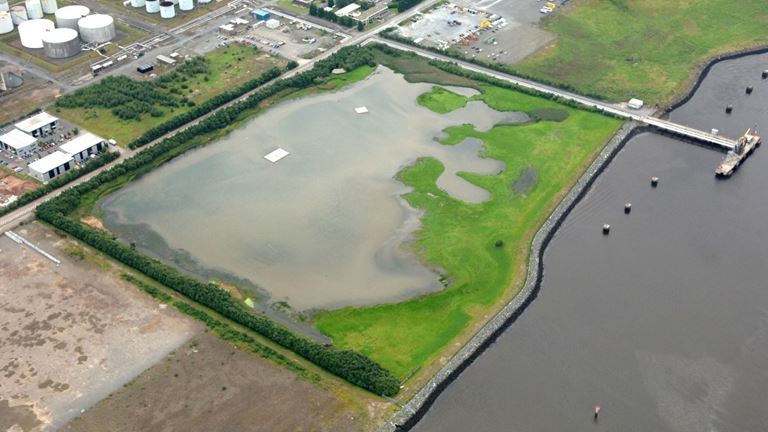 Thirty years ago, Chris Murphy's 'sheer bloody-mindedness' protected what is now Belfast Lough RSPB from development (RSPB images).
Thirty years on, it is disappointing how little has changed in Northern Ireland in terms of conservation campaigning zeal. The province's dysfunctional road-building Department for Infrastructure, with which the RSPB and WWT have been working closely, still repeats the same old mantra: 'the birds can go elsewhere'. No, Icelandic European Golden Plovers, Greylag Geese and Whooper Swans cannot go elsewhere – there's nowhere for them to go in this fractured country. Powerful nature laws that could rebut this baseless argument are consistently not being engaged, let alone enforced.
Trying to discover the reasons why can be frustrating when transparency and accountability are rare commodities. Whether it is in defence of Belfast Lough or Strangford Lough, Lough Neagh or Lough Beg, members are right to be concerned when they have reason to believe a conservation charity might be turning a blind eye, or worse – favouring corporate interests over charitable objectives. Who would know? Who cares?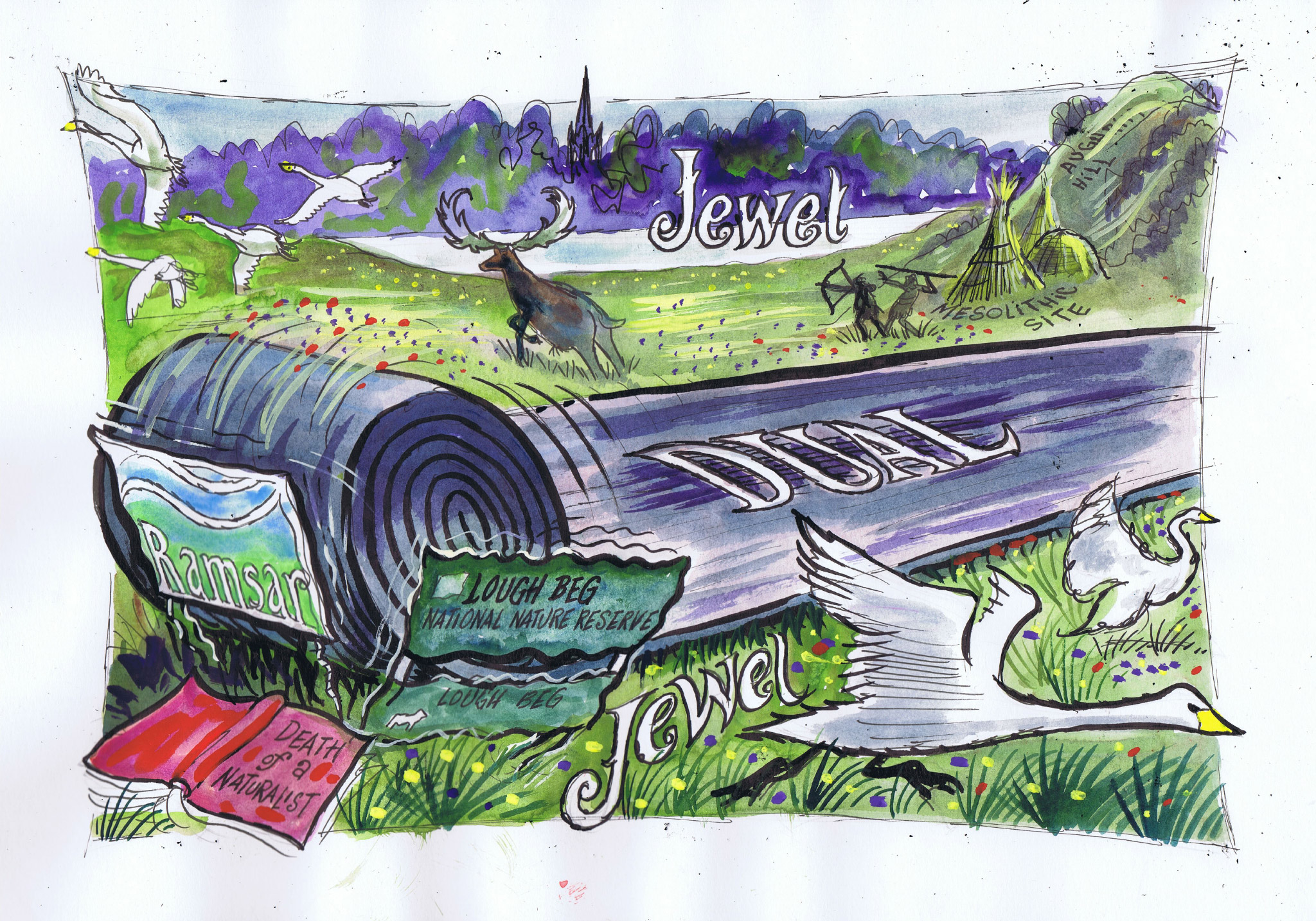 Ian Knox's cartoon adds a dry sense of humour to a very serious situation: a dual carriageway is to be built through fields surrounding Lough Beg, which support wintering waterbirds such as Whooper Swans. Once again, the ever-lasting signifance of nature has been sidelined for short-term gain.