Beddington Farmlands has a long and interesting birding history. Several key ornithological figures such as Peter Grant and Bob Scott grew up in Beddington, and set against its location in south London, land-locked and surrounded by urban development, its ornithology is quite outstanding.

Its most exciting aspect, however, lies in the future, as local birders and naturalists, working with businesses, local authorities and conservation organisations, attempt to develop the largest urban nature reserve in Europe. It will be both an immensely tough and rewarding test.
Beddington today
Some 253 bird species have been recorded on the site. Highlights have included Britain's first Glaucous-winged Gull (and following a recent Rarities Committee decision another one in 2009!) and Killdeer. Many birders will remember the wintering Rustic and Little Bunting duo of 1993, and in May this year the site played host to London's first Pacific Golden Plover since 1870.

Each year more than 60 breeding species hold some 500 territories. The farmlands hosts one of the largest nesting populations of Tree Sparrow in Britain, with 959 young hatched in 2006. Breeding birds also include seven Red List species and 10 London Biodiversity Action Plan species.

Winter sees large numbers of wildfowl utilising the site, with more than 1,000 Eurasain Teal in some years and good numbers of Northern Shoveler and Gadwall. All five British owls are known to regularly winter and Jack Snipe is a local speciality. Caspian Gull is also a winter visitor.

Raptor movements can be quite impressive, with regular Common Buzzards, Marsh Harriers and Red Kites, as well as Ospreys. The wetland habitat also attracts many migrating waders; Little Stint and Wood and Curlew Sandpipers are regular, and there have been 10 Temminck's Stints, nine Pectoral Sandpipers and single Black-winged Stilt, Lesser Yellowlegs and Grey Phalarope.

Autumn overhead migration can be spectacular, with thousands of thrushes, woodpigeons, finches and hirundines. Inland patch watchers are always excited by visitations from seabirds, and at Beddington there have been seven Northern Gannets, four Sabine's Gulls and even a Great Skua.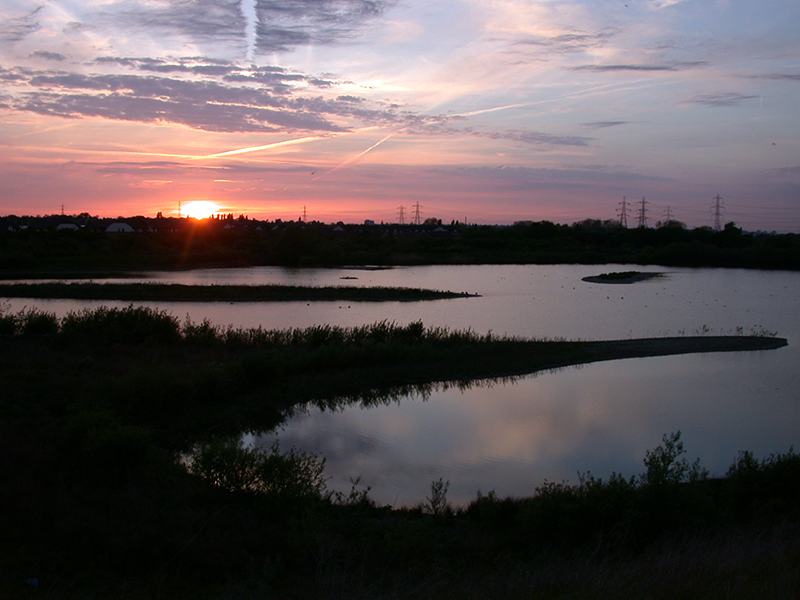 Beddington Farmlands is home to a variety of breeding, wintering and passage birds. Photo: Peter Alfrey.
Content continues after advertisements
Past times
Beddington Sewage Farm started life in 1860, when sewage irrigation commenced. At the time the area was open farmlands and nearby Croydon was a local market town separated from London by sheep-grazing fields. At the end of World War II the area was developed into a traditional sewage farm.

The mosaic of ploughed fields, hedges, dykes, flooded meadows and lagoons provided immense opportunities for birds. There were breeding Common Snipe, Common Redshank, Northern Lapwing, Grey Partridge, Barn Owl, Yellow Wagtail, Skylark and Meadow Pipit. During the winter Short-eared Owls hunted over the Common Snipe-laden meadows and winter thrushes were abundant.

After 1965 there were major changes on the farm which greatly affected the birdlife. Construction of a new sewage treatment works began and the old treatment system was phased out. Most of the fields dried out and the effect on many breeding, migrant and wintering birds was little short of catastrophic. As an example, the Yellow Wagtail population crashed from 20 breeding pairs in 1970 to just two pairs in 1974.

Out of this downturn in fortune came a new beginning. The sludge beds, which eventually replaced the old wet meadows over time, matured into wetland habitat. The beds were reminiscent of the old Beddington meadows and held breeding populations of Northern Lapwing, Yellow Wagtail, Skylark and Reed Bunting. In the winter the wet fields were host to flocks of Common Snipe and Northern Lapwing. Common Redshank, after many years' absence as a breeding bird, re-colonised the site. Short-eared Owls began wintering again in small numbers.

The early Nineties proved to be a high point for Beddington. In 1990 a flood relief lake was constructed, more sludge beds were developed and horses were removed from the site. The resulting habitat provided great opportunities for birds, and this period witnessed breeding Marsh Warblers, Bluethroat, Grasshopper Warbler, the return of Short-eared and Barn Owls, wintering Long-eared Owls and a mass colonisation of warblers, including more than 100 pairs of Common Whitethroat, 20 pairs of Reed Warbler and 28 pairs of Sedge Warbler.

In 1993, a planning application was submitted by Thames Water for gravel extraction, followed by landfill; the site would then be restored for wildlife and people. After initial objections, a public enquiry was held and the Inspector approved the scheme, which began in May 1998 and was scheduled to finish in 2015. A Conservation Management Plan was set up as part of the development to retain the important species on site during the works.

In May 1998 the process of gravel extraction and landfill began, leading to a dramatic transformation of the site. Inevitably, the number of sludge beds was reduced drastically. In 2005 Viridor, the current operator, submitted another planning application to extend the development. Permission was given in 2008.

The effect on the bird population has been complex, but with an inevitable overall loss compared to some of the more productive periods in the past. Winners have been Northern Lapwing, gulls, corvids, Tree Sparrow and some of the commoner species, while losers include migrants, wildfowl and the other specialist species that were characteristic of the farm.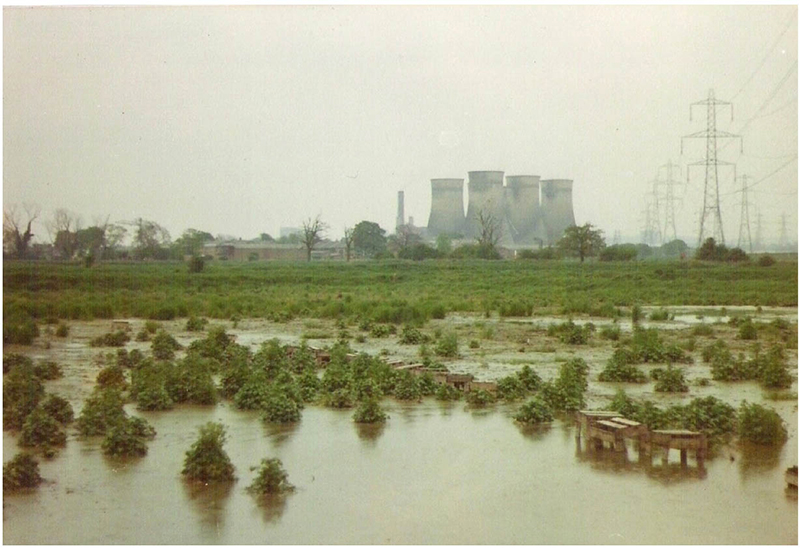 Beddington in the 1970s. Photo: Roy Weller.
A nature reserve of the future
As a result of the 2008 planning application, the development of the nature reserve has been extended for completion in 2023. However, the site will open up gradually as a process of phased restoration is implemented.

The emphasis of the reserve development will focus on several key areas: ecology, recreation, landscape and heritage. In terms of ecology and wildlife there are several key habitats being developed, including lakes, reedbeds, grasslands, wet grasslands, scrub and copses; it is hoped that several key species will be encouraged to re-colonise or expand their populations. Targeted species include Yellow Wagtail, Tree Sparrow, Little Ringed Plover, Northern Lapwing, Common Redshank, Sedge and Reed Warblers and Reed Bunting.

There are some 400 acres at Beddington – four times the size of the London Wetland Centre – so there is plenty of room to develop a reserve with amenity areas for people which are sensitive to wildlife. Foot and cycle paths will be developed to accommodate cyclists, walkers and runners which will compliment the Natural Health Service initiative led by Natural England to promote the importance of nature reserves to address health concerns for local communities.

Birding will be a main attraction and there will be plenty of scope to involve the local community in conservation work and to utilise the farm as an educational resource. The local youth offenders team has signed up for conservation work and local schools can use the reserve to run outdoor classes.

The site will also provide flood relief facilities for the surrounding area and the green open spaces will contribute to urban greening and cooling. A visitor centre will be required, as this is planned to be developed as a hub for educational resources and conservation initiatives.

The development of the reserve faces many challenges and obstacles, but progress is being made and it is hoped that through a network of organisational support from the local authority, the operators, the community and conservation organisations that the optimum result for wildlife and people will be achieved. Close co-operation will be vital in the current economic hard times and a lot of responsibility is in the hands of local birders and naturalists. This is a chance to prove what local groups are capable of.

Beddington Farmlands is set among a socially diverse demographic, with a population in excess of 2 million within easy access of the reserve. In terms of connecting people to nature, and the effects that this will have on conservation, the potential is immense, and the development of this reserve will likewise be a huge achievement.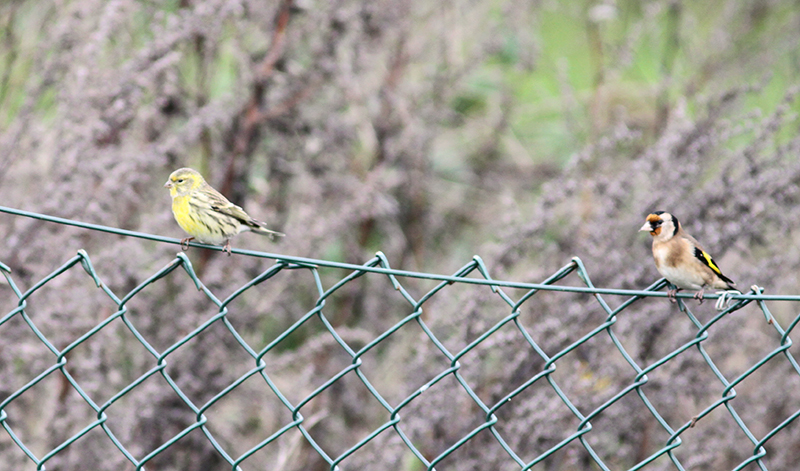 European Serin (left) and Goldfinch at Beddington. Photo: Peter Alfrey.
Visiting Beddington
Beddington Farmlands is a short walk from both Mitcham Junction Tram and Railway Link and Hackbridge Rail Link. At the moment access is restricted to a footpath that runs alongside the western rim of the farmlands, but the lakes and key areas are visible from the footpath.

In addition to access on the permitted footpath there are regular organised tours. For information see www.beddingtonfarmlands.org.uk. To join the Beddington Farmlands mailing list for updates on the reserve development and notification of tours and events, email Peter Alfrey at littleoakgroup@btinternet.com.