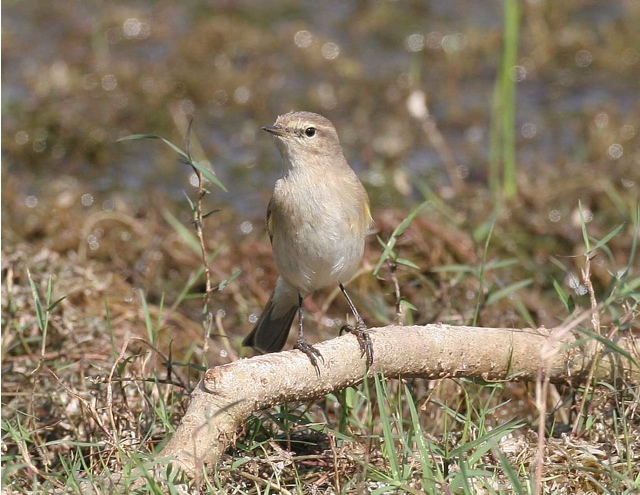 'Siberian' Chiffchaff (photo: Colin Bradshaw)
Introduction
Establishing the status in Britain of 'Siberian Chiffchaff' Phylloscopus (collybita) tristis has long been problematic. Key to this problem is the correct identification of the form - the difficulties of separating true Siberian tristis (largely from east of the Yenisey) and 'fulvescens' (on the West Siberian Plain) from abietinus (from Scandinavia and western Russia west of the Urals) continue to plague both observers and records committees. In particular, it has become obvious that different observers (and indeed different records committees) hold different perceptions of what constitutes true tristis and therefore apply different threshold criteria for acceptance into the local record. The recording of this form across Britain can therefore best be described as uneven and has never been attempted nationally. As a consequence, our knowledge of the true British status of tristis is incomplete and we do not yet know definitively whether tristis can best be described as 'scarce but regular' or 'rare but regular'.
Context
Fortunately, three factors have now combined to help us move forward. Firstly, the work of Dean and Svensson has provided welcome clarifications over the identification of this form (British Birds 98: 396-410). Secondly, the rise of digital photography has greatly increased the availability of good-quality images of birds in the field. Similar improvements in sound-recording technology have also made recording birds increasingly feasible. Thirdly, BBRC has now moved to free up its resources to focus on the recording of subtle or rare bird forms not previously assessed. With these three developments now in place, we have the opportunity to make progress with the Siberian Chiffchaff issue.
Identification
Observers and records committees may find it useful to have a brief summary of the conclusions of Dean and Svensson. The traditional view that any Chiffchaff lacking green in the crown and mantle and lacking yellow in the face and underparts can be labelled tristis has now been refined. Dean and Svensson have confirmed that true tristis is defined additionally by the presence of pale brown or grey-brown hues above and the presence of warm buff in the supercilium, ear-coverts, breast-sides and flanks. 'Fulvescens' is similar in appearance though may be a little paler overall and may show very limited yellow and olive hues. This clarification has in turn highlighted the problem of 'grey and white' Chiffchaffs. Such birds are not all consistent in appearance nor attributable to a single 'type' but some individuals, at least, match aspects of the traditional image of tristis. However, when they also lack the pale grey-brown and buff hues now firmly linked with the form, they cannot be assigned to it. The origins of such individuals remain unclear but may include eastern abietinus and intergrades between abietinus and tristis. In summary, the identification of tristis rests on the following criteria:
Absence of olive in the crown and mantle
Absence of yellow away from the underwing
Presence of a grey-brown or pale brown hue in the upperparts
Presence of warm buff in the supercilium and ear-coverts
Presence of buff at the breast-sides/flanks
Very black-looking bill and legs
A thin, piping near-monosyllabic Bullfinch-like or Dunnock-like call
A song markedly different from western Chiffchaff's
For further guidance and useful biometric characters see British Birds 98: 401-402.
The Way Forward
2008 has been designated as a 'trial year' in order to try and gain a deeper understanding of the British status of tristis. BBRC is therefore seeking submissions of all Chiffchaffs in 2008 considered to be tristis according to the criteria outlined above. Submissions may take any of the following forms but observers and recorders should try to ensure that as many categories of evidence as possible are secured. It is worth emphasising that any records committee assessing claims of tristis will be reliant on descriptions and photographs which accurately capture critical plumage hues. The precise analysis and description of such hues is therefore vital.
Field Descriptions
Field descriptions will be an important source of information but (particularly if unaccompanied by images or recordings) must be very detailed and focus specifically on a full and precise evaluation of plumage hues. Notes should demonstrate that views were good enough and over a long enough period to assess the bird's true appearance and that full account has been taken of the effect of light conditions on perceived hues. Any transcriptions of calls or songs should be as detailed as possible.
Photographs
Observers are encouraged if at all possible to take photographs of any putative tristis. Furthermore, every effort should be made to obtain photographs which accurately represent the bird's plumage hues. These may best be taken in dull, flat light rather than in bright sunshine. An accompanying note setting out to what extent the photographs accurately portray the bird's appearance would be particularly useful.
Sound Recordings
Sound recordings of calling and/or singing birds should be obtained wherever possible. Modern mobile phones/mp3 players/iPods can often capture adequate recordings.
It should be emphasised that this exercise is not intended to formally 'accept' or 'reject' claims. This is very much an exploratory, learning process. The priority is to secure as much evidence as possible of the number of true tristis that might be reaching Britain.
Process
In 2008 we would like counties to assess all claims of tristis against the above criteria and then submit all those which meet, or come close to meeting them, to Nigel Hudson, BBRC Secretary. We would also like counties to provide summary details of any claims which are assessed locally as falling clearly outside the criteria. These summary details should include location, date and reason for non-acceptance (for example plumage not meeting criteria, call or song not meeting criteria or absence of sufficient critical detail).
Both full claims and summary data for local non-acceptances will then be examined outside the 'mainstream' flow of BBRC business by a small team made up of Colin Bradshaw, Alan Dean, John Martin, Andy Stoddart and Grahame Walbridge. Chris Kehoe will contribute to the process on behalf of BOURC. Following the review, conclusions will be presented to BBRC in 2009 with recommendations on how the occurrence of this form might best be documented now and in future.