The Note on the Black-browed Albatross in Derbyshire is of particular interest given the remarkable sequence of events last year surrounding Britain's first record of Yellow-nosed Albatross. That bird was first picked up, exhausted, at Brean Down, in Somerset, on 29th June 2007. Having been released successfully the following day, it set out overland and was seen in Derbyshire on the afternoon of 2nd May before being seen and photographed by fishermen at an inland site in Lincolnshire later the same day. What was assumed to be the same individual was then seen in southern Sweden a few days later, on 8th July. It seems incredible that land-locked Derbyshire has had two albatrosses in little more than 50 years!

Roger Riddington, editor, British Birds

NOTES.
Red-throated Diver taking off from the ground.—With reference to the note on this subject (antea, vol. xlv, p. 331), I write to record that on February 25th, 1951, at Hornsea Mere, Yorkshire, I saw a Red-throated Diver (Colymbus stellatus) apparently sleeping on the bank. On my approach it took a few clumsy steps forward and then flew up from the ground, although within ten feet of the water's edge.
D. B. PEAKALL.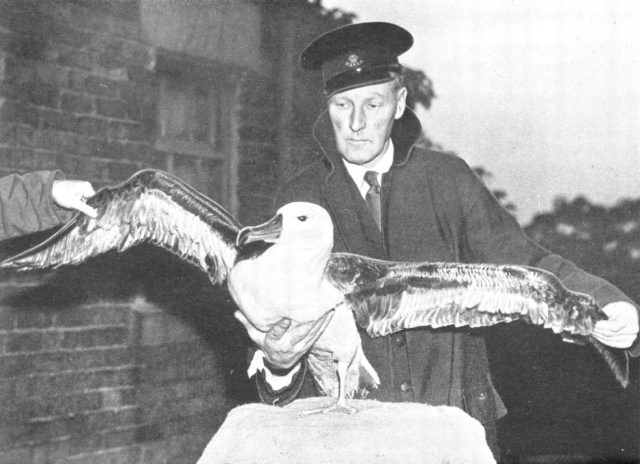 Black-browed Albatross Staveley, Derbyshire, August 1952. (photo: The Derbyshire Times).
Black-browed Albatross in Derbyshire.—On August 21st, 1952, Mr. Morton H. Edmunds, the Editor of The Derbyshire Times, sent to the British Museum for identification a photograph of a bird (see plate 13) that had been captured a few days previously (the exact date was unfortunately not recorded) at Stavely, Derbyshire, where it had become entangled with telegraph wires, although without sustaining any serious injury. The bird seemed to be in an exhausted condition and Inspector G. A. Lloyd, of the R.S.P.C.A., took the sympathetic course of sending it by rail to Skegness, Lincolnshire, where it was released. It is much to be regretted that the bird was not examined by a competent ornithologist, but the excellent photograph (reproduced here by kind permission of The Derbyshire Times) seems to show fairly clearly the main characteristics of an immature Black-browed Albatross (Diomedia melanophrys). Mr. Edmunds said that "The bird had a wing span of 5 feet and a body 30 inches long. A 4-inch dark-coloured beak ended in a downward curve. Snow-white in its head and breast-feathers, the bird was softly shaded from a greyish-fawn to black on its back and wings. It stood erect on broad, webbed feet of a delicate flesh-colour." From the photograph it appears to me that the wing-span was somewhat underestimated and that 6-7 feet would be more accurate. The Handbook gives the maximum wing-span as 8 feet, but presumably this is only attained by fully adult birds.
J. D. MACDONALD.
[ This bird, although apparently an example of D. melanophrys, seems to have been in a very unusual state of plumage. In the first place, the juveniles of this species (and all the other small albatrosses) have largely grey heads. The "snow-white" head here should indicate maturity, but usually the adult Black-browed Albatross, as its name implies, has a conspicuous black stripe over the eye which is lacking in this case. The same kind of problem is presented by the colouring of the soft parts, because the bill of an adult is normally yellow, and that of a juvenile horn-grey or brown which is presumably the equivalent of the colour implied in the description. On the other hand the flesh-coloured feet suggest an adult. The comparatively narrow, white band under the wings with a broad, dark margin is another juvenile character. Thus this bird has juvenile characters of bill and wings, adult head plumage (except for an almost complete absence of the superciliary, dark mark) and feet the colour of which suggests an adult. There appears to be no published description of such an individual, but the rather stout bill is almost diagnostic of the Black-browed Albatross and, taking all the features into consideration, we agree that this is acceptable as the second or third British record of this species.—EDS.]
American Bittern "freezing" in the open.—With reference to the two recent records of the Bittern (Botaurus stellatus) freezing on open ground (antea, vol. xlv, pp. 33, 419), it may be remarked that the American Bittern (Botaurus lentiginosus) not uncommonly "freezes" in the open; it is, as The Handbook remarks, a bird which occurs rather more commonly in open habitats. On one occasion in May, 1940, when a bird which I had flushed out of a reed bed in Ontario landed on an adjacent meadow, it appeared to undergo a truly startling metamorphosis into an old tree stump; it remained perfectly still for several minutes before starting to feed in the open. Another bird nesting in an open reed bed froze on its nest until I touched it with my foot. Possibly any absence of records of the European Bittern "freezing" in the open can be correlated with a scarcity of Bitterns, combined with their preference for thick cover, where such behaviour is very characteristic of the species.
W. R. P. BOURNE.
[ There is another record, similar to those already published (loc. cit.), in the Report on Somerset Birds for 1951, p. 14: at Blagdon Reservoir on January 7th, 1951, a Bittern "froze" on an open track at the approach of a car (Bernard King, E. C. Buxton). EDS.]
Long stay of Iceland Gull in Lanarkshire.—An immature Iceland Gull (Larus glaucoides) visited the municipal rubbish-dump at Hamilton, Lanarkshire, during the winter months of 1950, 1951 and 1952, and, probably, during the intervening summers. It was first seen, by N.H., on December 20th, 1949, and thereafter at intervals until May 12th, 1950. As observations were discontinued for the next few months, it was not seen again until October 26th, 1950, but, on the testimony of the rubbish-dumpers who knew the bird well, it was present during the summer. There is no doubt that these observations refer to the same bird, since it was recognisable by a damaged, dangling right leg. It was seen throughout the winter of 1950-1951, until April 17th. We cannot establish whether the bird was present during the ensuing summer, but it was back again on October 3rd, 1951. It remained for the winter, was seen in May, June, September and November of 1952, and finally—so far as the rubbish-dumpers know—disappeared about the middle of December, thus completing a more or less continuous stay of about three years. When first seen it was a first winter bird of the pale type described by G. T. Kay (antea, vol. xliii, p. 399), its general colour being white with a faint buffish tinge; the primaries were purer white and the head more buff. In the second winter the plumage appeared pure white, with the result that it could be picked out from among flying Herring Gulls (L. argentatus) at a distance of over a quarter of a mile. At the beginning of the third winter the bird was much more shy and good views were difficult to obtain; in October and December, 1951, however, the bill was seen to be much yellower, with a dark patch at the gonys. On January 22nd, 1952, the bird was seen in snow which revealed, by contrast, the continued presence of pale brown speckling on the shoulders. By April 8th the bill had become yellow with a red band, as in adults, but there was still no grey on the back. The dark eye was conspicuous against the white cheeks. It was usually silent, but, on May 9th, 1950, it lifted its head and called in the manner of a Herring Gull, but with a thinner and shriller note. It uttered a similar call with head lowered while approaching an immature Herring Gull. A low croak was also heard as the bird took to flight. It soon learned that rubbish is not dumped on Saturday afternoons and Sundays, when it was almost invariably absent. Several times it was seen mounting to a great height and flying off down or, more usually up, the Clyde valley. On January 19th, 1951, an immature Glaucous Gull (L. hyperboreus) was also present at the dump and the two birds were seen together. There appear to be no previous records from Lanarkshire of either of these two species (see Scot, Nat., vol. 64, p. 30). The long stay of this bird near an easy source of food may have been due to its injured condition. The record should be compared with that of an Iceland Gull at Bristol (antea, vol. xxviii, pp. 199-202).
NICOL HOPKINS AND M. F. M. MEIKLEJOHN.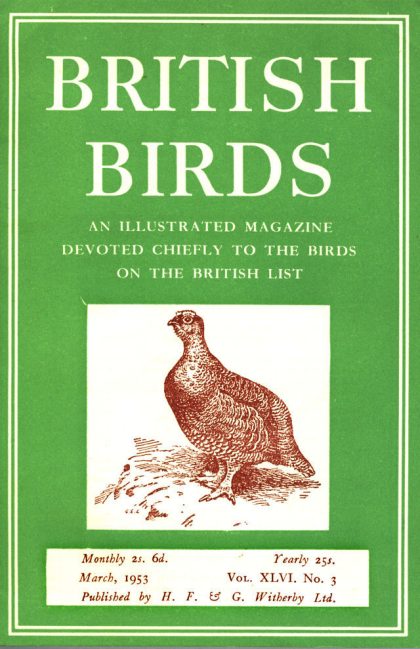 Many of you will be aware that BirdGuides recently published the first 100 years of British Birds on interactive DVD-ROM. I am delighted to be able, over the course of the next few weeks, to bring webzine readers a selection of articles from British Birds with the kind consent of the board. I hope that each article will encourage you to subscribe to this informative journal; you can find details of how to do this at the British Birds website.
We also have a special offer of a year's subscription to British Birds and a copy of BBi for £132, a saving of £15. You can find more details here.

Each of the British Birds articles will be available to all for a week, and will then become "subscriber only".