Even during the war years, British Birds continued to be published, albeit in rather thin volumes (thin not only because of the number of contributions but also the quality of paper, as that commodity was rationed). However, the quality of the material was still good and, as these two examples show, the nature of it was not fundamentally different to what we are familiar with today. The first deals with an identification controversy (not as intractable as, say, the Chalice petrel or the Portland pipit—but beautifully dealt with by the BB editor Bernard Tucker), the second with an interesting item of bird behaviour.

Roger Riddington, editor, British Birds

Pages 51–53: The Berkhamsted Grey Shrike
In British Birds, Vol. xxxiv, p. 17, the late Mr. Charles Oldham recorded the presence between March 6th and April 13th, 1940, of a Lesser Grey Shrike (Lanius minor) on Berkhamsted Common, and on p. 178 its presence in the same locality in November and December of the same year is mentioned. It is with much regret that I feel obliged to criticize the conclusion of so excellent an observer as Mr. Oldham, whose death all ornithologists so greatly deplore and whose grave illness at the date of the observations now recorded made it impossible for me to discuss them with him, but as it is in my opinion quite certain that an error of identification was made with regard to this bird he would certainly have agreed that the facts now available should be placed upon record.
In his original note Mr. Oldham described characters which appeared to leave no doubt that the bird was identified correctly. He wrote that "the broad black bands on the cheeks met as a frontal band above the base of the bill; the chin and upper throat were pure white and in strong contrast with the rest of the under-parts which seemed to be creamy-buff (grey in some lights) and only in very favourable circumstances was it apparent that in reality they were pink; there was no white at all above the black bands on the cheeks." The bird not only returned and spent the winter of 1940–41 in the same place, as mentioned above, but came back again for the winter of 1941–42, and to forestall any possible doubt on the matter I may add that so far as I know there is complete unanimity amongst those who have seen it in more than one season that it is in fact the same individual. Mr. H. V. Gray of Berkhamsted, who has probably seen the bird more often than anybody, tells me he has no doubt on this point.
On February 12th, 1942 I visited the locality in Company with Messrs. H. G. and W. B. Alexander, and we were all three able to examine the bird under good conditions with an excellent telescope as well as with glasses. Seen thus it had clearly no broad frontal band such as a Lesser Grey Shrike should have, though I could not on this occasion have been completely positive that there was not even a very narrow black band across the base of the bill. The white superciliary streak above the black mark was absent, as described, and the throat was pure white, contrasting with the relatively dark breast, which appeared greyish or greyish-buff. As a result we all three felt convinced that the bird was a slightly aberrant Great Grey Shrike (Lanius excubitor), a conclusion supported also by its migratory behaviour and successful weathering of prolonged and severe cold in at least two successive winters, which would indeed have been a remarkable achievement for a bird normally wintering in tropical Africa.
Subsequently I was able to go over correspondence which Mr. Witherby had received about the bird since the publication of Mr. Oldham's first note, and from this several important points emerged. In a letter dated April 3rd, 1941, Mr. Oldham made the significant statement that "the pink colour of the under-parts always shows up best in the afternoon light and is most likely not due to pigment at all, but to the reflection of the sun from the satin-like feathers." This admission deprives the alleged character of all value as evidence. Again in the same letter he referred to a "definite black although narrow band across the forehead." As this refers to the original spring observation it is clear that even at that period on the recorder's own showing the bird was anything but typical for a Lesser Grey Shrike as regards the band. Mr. Oldham did not know the species in the field, and it must be supposed that he failed to appreciate how very broad and extremely conspicuous the frontal band is, even in females where it is somewhat obscured by grey feathers. The fact that it only appeared narrow should have been recognised as introducing an element of doubt, and once this appearance was admitted the possibility of an illusion (inconceivable if the band had been really broad) could not, in view of the more recent evidence, be excluded. In addition to this I found that Mr. R. S. R. Fitter, who watched the bird at close quarters on January 5th, 1941, had stated expressly in a communication to Mr. Witherby that "the black eye-stripes did not meet across the fore-head." Mr. Fitter also wrote on the subject to Mr. Oldham, but the latter was then already too ill to make further observations or to enter into discussion.
Considering it important if possible to place the identification on a completely unassailable basis before committing myself to print on the subject I returned to Berkhamsted on March 28th and spent the whole afternoon of the 28th and the morning of the 29th on the Common, studying the bird. On these two days I watched the bird repeatedly and most carefully in all sorts of positions and lights and sometimes at very close range, up to within 20 yards, with a telescope of 30 magnification as well as glasses. Moreover I took with me skins of both species, so that I could make an exact comparison of the length of the tail, which both Mr. W. B. Alexander and I had thought looked too long for a Lesser Grey Shrike. As a result I am prepared to state positively that:
There is no trace whatever of a black frontal band—even a very narrow one—joining the black marks on the sides of the head. At a moderate distance one might sometimes have believed that there was a narrow connection, but this is a complete illusion. It is possible that the dark rictal bristles converging to some extent over the base of the bill have contributed to it.
The breast is greyish, with nothing pink about it.
The scapulars do not show as much white or whitish as in many Great Grey Shrikes, but more than in a Lesser Grey. Posteriorly they show a well-defined, rather narrow white border, but further forward towards the shoulders the whitish area widens out and merges very gradually into the grey of the mantle. For some reason this anterior pale area is not very noticeable and may be missed in some positions, but the condition is definitely as described.
The tail is too long for a Lesser Grey Shrike.
It is thus quite clear that the bird is a Great Grey Shrike which is slightly abnormal in lacking a white superciliary stripe (this may be extremely slight in some skins I have examined) and in having a darker breast than usual. It is also, I think, a rather small individual. I do not insist strongly on the latter point owing to the difficulty of judging size accurately, and it is not of primary importance, but my impression from prolonged observation is confirmed by Mr. Oldham's explicit statement that he was able to compare it with Blackbirds and Linnets in the same tree and that it was "larger, but not much larger, than a Red-backed Shrike."
It only remains to recall that in British Birds, Vol. xxxiv, p. 178 a Grey Shrike stated to have had a black frontal band and therefore identified as a Lesser Grey and thought to have been probably the same bird, is recorded as having been seen near Potter's Bar, Herts, on November 2nd, 1940. In view of the facts now recorded and the way in which experienced and critical observers were deceived by what has proved to be a completely illusory appearance I am afraid this record cannot stand any more than the other.
B. W. Tucker, M.A., M.B.O.U.
Content continues after advertisements
Pages 159–160: Notes.
A North Yorkshire Magpie Roost.
The Handbook of British Birds states that on the continent Magpies may roost in hundreds, but I have not heard of a roost of any magnitude in this country. On March 30th, 1942 near Northallerton the chattering of Magpies (Pica p. pica) drew my attention to an extremely dense coppice composed almost entirely of hawthorn, and covering an area of about 1,000 square yards. The thicket was sited on the steep side of a clough with a tiny rivulet at the bottom, on the opposite side hawthorn bushes were scattered thinly, mixed with elder. Flanking the clough was pasture land, with a little coniferous plantation further above, and at the head was a small hardwood enclosure. So far as military duties would allow observations have been taken at the roost at intervals throughout the year, and are given below with relevant remarks.
The counting was done on a plus-minus system; "plus" covering birds seen to enter the roost, birds leaving the roost being deducted. The result therefore was the number of birds definitely within the selected area. The + sign coming after the recorded number below denotes that birds were still entering the roost when I left, or that the light had become too bad for further counting to be done.
Date
Observation Period
Number of birds in Roost
Remarks
1942
 
Mar. 30
¼ hour
42+
 
Apl. 2
1½ hours
162+
Almost all birds flew to a dead ash tree before entering the roost, up to 20 birds could be counted on the tree at one time
May 21
2 hours
91
The birds congregated on the bushes at the outskirts before entering the actual roost.
July 29
3½ hours
56 + "outside groups"
Few birds entered the roost proper, but large numbers, in small parties of 4–6 birds, probably family groups, were concentrated in the bushes on the opposite side of the clough, and in the adjacent hedgerows.
Sept. 2
1½ hours
123+
The birds came in flying very high until about too yards from the roost, when they would swoop down to ground level and so enter the thicket. Under these circumstances counting was very difficult. Remarkably silent, scarcely a bird uttered a note.
Sept. 26
2½ hours
185+
A night of much coming and going and a very noisy occasion with countless little fracas occurring.
Nov. 15
1¾ hours
161+
Entry was very late and then up to 25 birds would all come in together, probably feeding parties.
Scarcely any birds entered the roost before sunset, prior to which an hour could pass without a Magpie being seen or heard.
During the breeding season, there was no unusual number of nests within a radius of two miles from the roost.
On the evening of October 17th, at five miles from the roost, parties of Magpies were seen, flying high, and heading straight for the roost.
After entering the actual roost birds became silent. There was often continuous chattering when the outside bushes were used, preliminary to the occupation of the roost.
During the summer counts the numbers given are of birds using the definite roost. Many others would be in nearby bushes or high hedgerows within a quarter of a mile from the roost. It is not known if all these birds ultimately entered, but I am confident that a large number did.
If it had been possible to take a full count it is estimated that the strength of the roost would be 200–250 birds. In some cases I had to leave early, but even when a late stay was made—in one case till after midnight (D.S.T.) birds would still be coming in, although they could not be distinguished beyond a distance of 20 yards. They had probably spent the early part of the night in the nearby bushes.
About 200 Starlings also use the roost in the winter months, but none were seen to enter during the summer.
Blackbirds appear to use the roost all the year round. As many as 50 have been seen to enter in one evening. They were always late. It will be interesting to hear if observations have been taken at any other similar roost in the country.
J. P. Utley.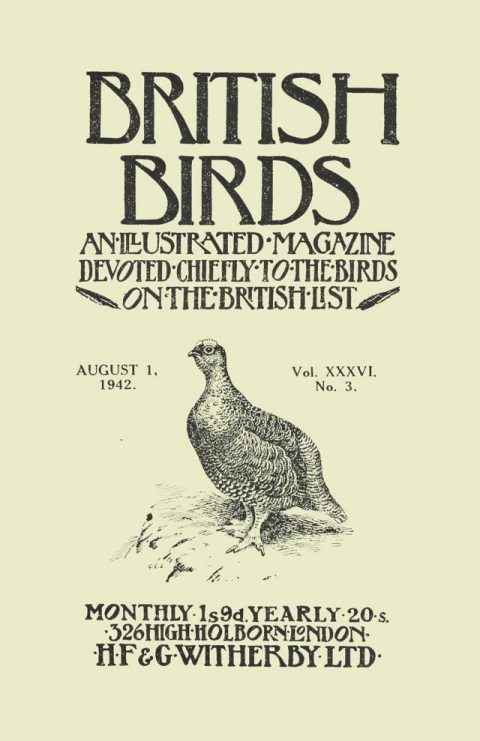 Many of you will be aware that BirdGuides recently published the first 100 years of British Birds on interactive DVD-ROM. I am delighted to be able, over the course of the next few weeks, to bring webzine readers a selection of articles from British Birds with the kind consent of the board. I hope that each article will encourage you to subscribe to this informative journal; you can find details of how to do this at the British Birds website.
We also have a special offer of a year's subscription to British Birds and a copy of BBi for £132, a saving of £15. You can find more details here.

Each of the British Birds articles will be available to all for a week, and will then become "subscriber only".