Andrew Allport was three-and-a-half hours into one of his regular seawatches off Flamborough Head, East Yorkshire, when he picked up a distant 'dark-backed bird swinging up and down in the rolling waves' in his binoculars. Alerting the two other observers present that he had something interesting, Andrew switched to a 'scope and, after watching for a few seconds, exclaimed "It's a Fea's Petrel".
Andrew began to try and capture some images while the other two observers continued to track the northbound progress. One of them speculated "Why isn't it a Soft-plumaged Petrel?" As the bird moved past news was put out as a Fea's-type Petrel, following which the three observers had a discussion on how far out offshore the bird had been, as well as discussing several features including head pattern, tail shape and tone compared to mantle, as well as the breast band which Andrew's images hinted at looking full.
Higher up the East Coast seawatchers began to estimate and share possible arrival times, informed by previously tracked individuals in the North Sea, such as the Fea's Petrel in 2013 and Fea's-type in 2014 that had both been successfully intercepted at a number of locations. It took two-and-a-half hours before the next report emerged from Long Nab, Burniston, and close to a further two hours before the bird moved past Old Nab, Staithes. Both reports indicating that it was some 3 km offshore.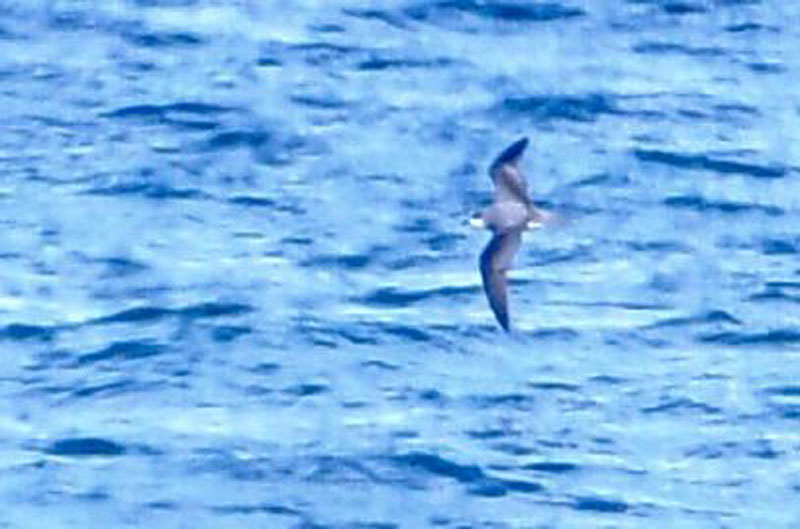 Observers at Newbiggin Point did well to get record shots of the petrel (Graham Sorrie).
By late afternoon there were seven observers assembled in the hide at Whitburn, Co Durham, including one birder who had travelled over from Cumbria. An additional observer was watching from his car at Souter lighthouse as he had received a 'ping' from the NHS app to self-isolate!
Mark Newsome takes up the story: "I was 'scoping to the south and caught a flash of a black underwing. It was here! I alerted the others present and found coloured fishing flags to quickly get them onto the bird. The petrel was in view until 4.25 pm, having meandered north and even doubled back on itself a couple of times.
The bird's flight path cut in slightly but was still about 1.5 km out. Decent light conditions showed the basic features quite well including the black underwings, light grey mantle, and darker upper-wing coverts creating a 'W'. The head looked darkish, but the distance prevented critical checking of the upper breast. Soft-plumaged wasn't really on anyone's radar, and no one raised concerns at the time."
As it continued north beyond the Tyne, sightings were recorded at Cullercoats and then St Mary's Island, though only two of seven observers present at the latter site managed to get on the bird as it moved past. A sizeable gathering of 18 observers was ready and waiting at Newbiggin Point and, just after 5.10 pm, the petrel was called coming north. Northbound seabirds can often provide closer viewing at Newbiggin Point due to the site sitting between large sweeping bays to the north and south.
As has happened in the past, this individual swept through low coming in to c 300m offshore – every observer at Newbiggin was able to get on it during the two or three minutes it was on view. This time a number of individuals managed to obtain images, including Graham Sorrie and John Graham.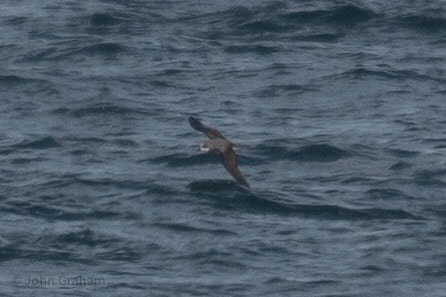 Soft-plumaged Petrel, Newbiggin-by-the-Sea, Northumberland (John Graham).
Several observers further north in Northumberland, such as Low Hauxley, Cullernose Point, Low Newton and Annstead Point, were subsequently able to pick up the northbound Pterodoma after which, as is regularly the case, it left Scottish birders in the Borders disappointed by a non-appearance (birds are thought to move further offshore to pass Holy Island) ...
It's perhaps worth noting that it was as recently as 1983 that Harrison highlighted differences in the field appearances of 'northern' and 'southern' populations of Soft-plumaged Petrels and Bourne proposed a three way split of Soft-plumaged Petrel into Soft-plumaged P mollis, Gon-gon P feae and Freira P madeira.
Even by the turn of this century, BOU still treat British records as referable to 'Soft-plumaged Petrel' Pterodroma mollis/madeira/feae and Harrop in his 2004 review of the literature, taxonomy and identification of the complex noted 'given their rarity and taxonomic complexity and the effort required to obtain good views, it is not surprising that field identification criteria for members of this group have been slow to evolve.'
By 2006, the late J G Steele wrote in a British Birds paper on the subject 'most authorities now consider that there are three separate species: Soft-plumaged Petrel Pterodroma mollis (with two subspecies, mollis and dubia), Fea's Petrel P feae (with two subspecies, feae and deserta) and Zino's Petrel P madeira'. Following studies published in 2008 and 2009 (Robb et al 2008, Jesus et al 2009) the two Fea's Petrel subspecies were split into the species we currently know as Fea's Petrel and Desertas Petrel.
Coincidentally, it was also 2006 when the first Fea's Petrel was accepted onto the British List, primarily due to a set of good images of individuals off the Scillies in July and August 2001 (Fisher & Flood 2006, Lees 2006). Three years later, in June 2009, it would be another set of images, taken in Norway by Graham Catley, that turned expectations about North Atlantic 'soft-plumaged petrels' into disarray when that individual was clearly identifiable as Soft-plumaged Petrel (Catley 2009).

Soft-plumaged Petrel, Newbiggin-by-the-Sea, Northumberland (John Graham).
Following that remarkable discovery and the continued proliferation of digital photography, the last decade has seen a number of birds photographed both from pelagic boat trips and occasionally land-based seawatches. There's no doubt that these, along with several new identification guides, have improved knowledge on the identification criteria and pitfalls of this enigmatic species complex.
Despite this, the challenges of land-based observation remain and most birders accept that the 'Fea's-type catch-all' is a practical workaround to a complex area. The separation of Soft-plumaged Petrel from the North Atlantic species is probably the most likely to be possible from a land-based sighting, while simultaneously being the least expected due to the tiny number of records to date of this southern species.
Soft-plumaged Petrel is described as a fatter-bodied, shorter-necked bird with on average a shorter wingspan than its North Atlantic congeners. Structurally it appears large headed (as compared to Fea's/Desertas/Zino's) accentuating the small bill and neck-less appearance. At the rear end the tail on Soft-plumaged is broader giving a less attenuated appearance.
Perhaps the most notable feature is a complete dark grey breast band discernible at distance in good light and in contrast to the clean white underparts or restricted grey breast side markings of the other three species. A small number of Fea's Petrels show a fuller breast band with as little as 10mm gap in the breast centre and are therefore an obvious identification pitfall.
All four species have a white patch along the inner leading edge of the otherwise dark underwing, this white patch is smaller / more restricted and often dark-spotted in Soft-plumaged Petrel and forms an L-shaped patch rather than the larger triangular shape of the three North Atlantic species. In moderate to strong winds Soft-plumaged Petrel is said to tower more steeply and confidently than its North Atlantic cousins, often holding its wings crooked in the process (Howell 2012).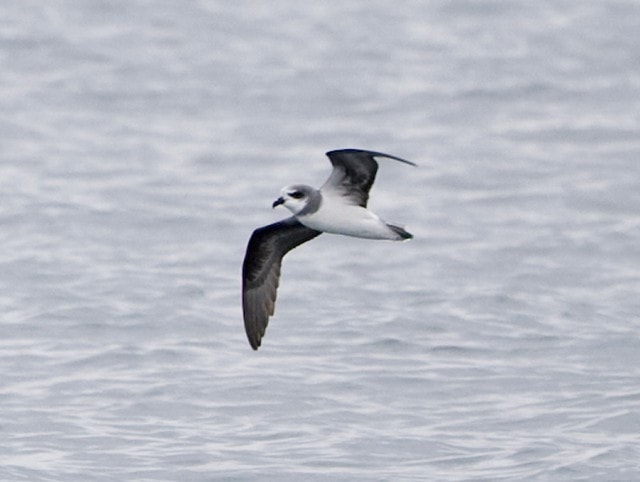 The Western Palearctic's first Soft-plumaged Petrel, superbly documented by Graham Catley in Norway in 2009 (Graham Catley).
Having posted a back of camera into the BirdGuides News Team WhatsApp group, I was just leaving Newbiggin when a call came through flagging the bird as a potential Soft-plumaged Petrel. Somewhat dumbfounded by the suggestion I was (uncharacteristically) lost for words. By the time I had got home and started leafing through literature, images had been shared by John and Graham on Twitter and others were pitching in with similar thoughts.
All the aforementioned birders from Flamborough to Annstead did fantastically well to capture any images and the complete breast band on this individual is apparent on in numerous pictures from multiple sites as is the more compact shape, broad tail and restricted white L-shaped patch on the leading edge of the underwing. This combination of several features has left no doubt for many that this individual will subsequently be accepted as Britain's first Soft-plumaged Petrel, once the record is documented and submitted.
References
Catley, G. 2009. Soft-plumaged Petrel Varanger find of a lifetime. Accessed via: pewit.blogspot.com/2009/07/soft-plumaged-petrel-varanger-find-of.html.
Enticott, J W. 1991. Identification of Soft-plumaged Petrel. British Birds 84: 245-264.
Jesus, J et al. 2009. Phylogenetic relationships of gadfly petrels Pterodroma spp. from the Northeastern Atlantic Ocean: molecular evidence for specific status of Bugio and Cape Verde petrels and implications for conservation. Bird Conservation International 19:199-214.
Harrop, A H J. 2004. The 'soft-plumaged petrel' complex: a review of the literature on taxonomy, identification and distribution. British Birds 97: 6-15.
Howell, S N G. 2012. Petrels, Albatrosses & Storm-Petrels of North America. Princeton.
Robb, M. 2008. Petrels night and day. The Sound Approach.
Steele, J. 2006. Do we know what British 'soft-plumaged petrels' are? British Birds 99: 404-419.