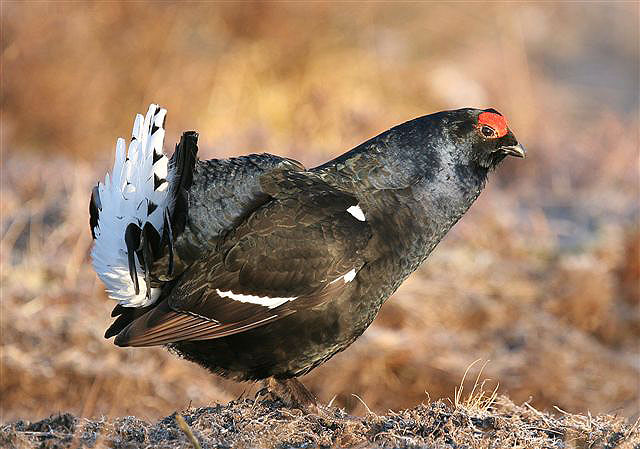 Black Grouse: Highland Hopefully 2006 will see the first wild-bred birds in the Valley for over 20 years (photo: James Wood)
In October 2003, Severn Trent Water, in partnership with the National Trust and supported by the Peak District National Park Authority, began a project to re-introduce Black Grouse to the Upper Derwent Valley, in the heart of the Derbyshire Peak District. A little over two years on, with the programme still in its early days, work is starting to bear fruit.
The first autumn saw the introduction of 30 birds into the Valley but resulted in a high degree of dispersal — up to 21 km. In addition, releasing the birds straight into the Valley meant that they were less 'wild' and suffered from high predation. Therefore, in year two, birds were released later in the year and kept in pens on site prior to their re-introduction. They were subsequently wilder and suffered fewer losses. A new release in April 2005 was further refined and proved better still. By acclimatising the birds, they wandered far less. For example, only one male dispersed (6 km) and even he had returned by July.
Content continues after advertisements
Better news came in 2005. Ten males were observed lekking, beginning even before they had even left the pens! And, although success was not proven, three breeding attempts were made.
In 2006, 60 birds will be released. This increased number is to allow for predation, the main problem identified so far. Fifteen cocks and ten hens have already been released at the start of March, and a further 15 cocks will be released in April. In July, a new method will be tested where 20 females are released with one or two aviary-bred chicks. The females have shown the greatest tendency to wander and releasing them with broods will ensure they stay site faithful in the period after release.
The release pens are sensitive to disturbance and dogs off leads were a particular problem in 2005, causing the death of at least one female. The pens have since been moved further from disturbed areas but the public and birders are asked to stay clear of the pens and continue to avoid searching for, and disturbing, the embryonic population.
It is wonderful to report that the Upper Derwent is again resonating to the sound of bubbling Blackcock and hopefully 2006 will see the first wild-bred birds in the Valley for over 20 years.