A bird the size of a large pheasant explodes into the air just beneath the cliff edge and powers away over the void – a shimmering flash of blue wings, white rump and fanned orange tail. It lands on the mossy branch of a huge tree some 25 m away and warily examines us. After a minute, the Himalayan Monal decides we pose no threat after all and starts pecking in the moss, the feathers of its back iridescent in the dappled sunlight. Surely, I think, this must be the most beautiful bird I have ever seen …
We are up some 2,700 m, near Chopta, in the Himalayan foothills of Uttarakhand state in northern India. Despite the sun, the late winter air is chilly and drifts of snow lie on the mountainside around us, dead vegetation poking through in places, dry and brown. Further down the hillside the slope steepens and disappears, the valley floor invisible. Looking up, we see a Bearded Vulture glide along the ridge far above, without a twitch of its immense wings. Thin sip sip calls announce the arrival of a flock of Altai Accentors as they land on bare ground nearby to forage for seeds, their grey-brown plumage blending perfectly with the earth.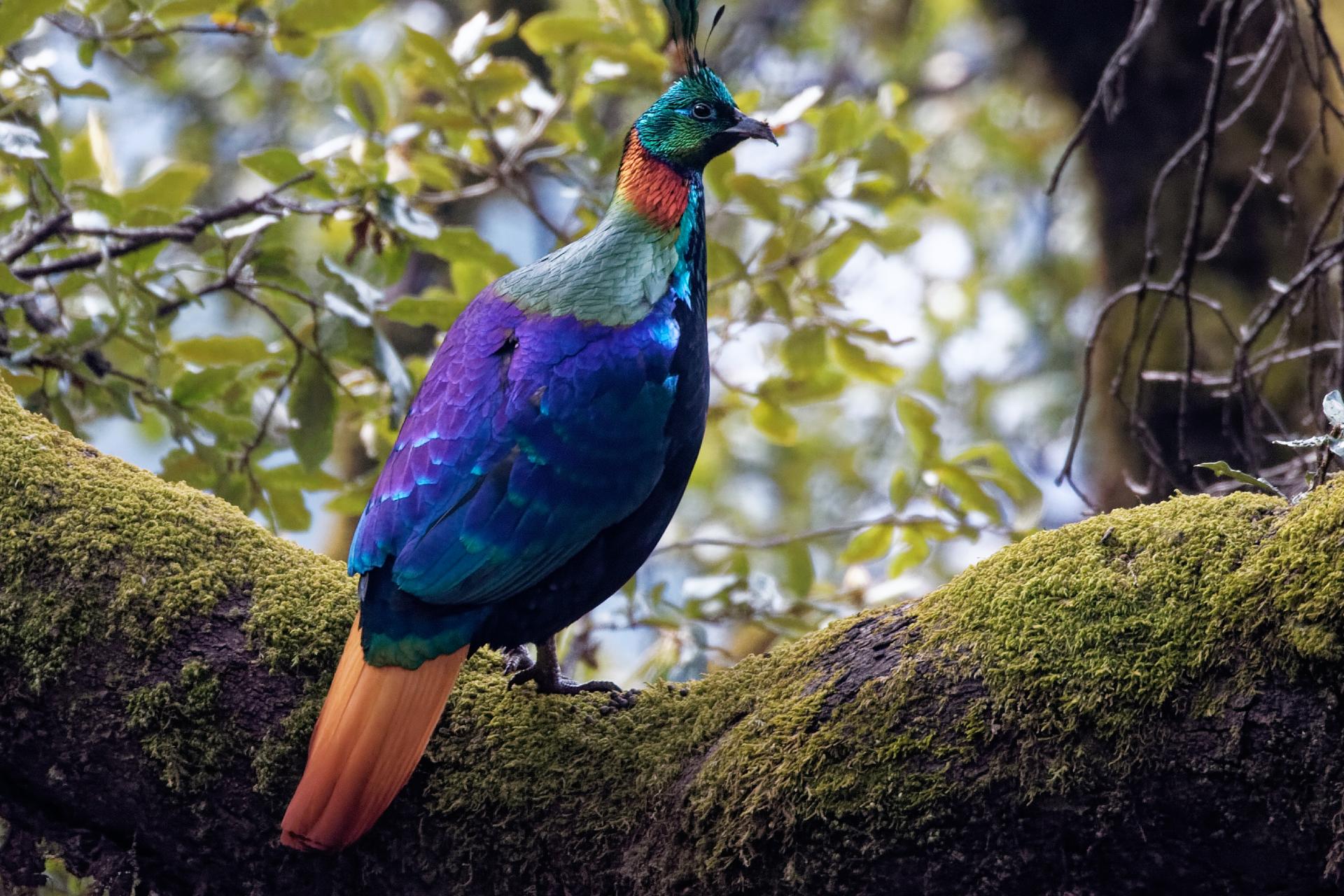 A spectacular male Himalayan Monal (Rod Standing).
Who does not have a special place in their imagination for the Himalayas, the greatest mountain range on earth? More than 2,000 km long, with most of the world's highest peaks, this remote, majestic region has fascinated travellers – and birders – for centuries. The landscape here is on a different scale from anywhere else. In most countries the Himalayan foothills would be considered mountain ranges in their own right. And the birds are equally amazing!
My brother Dom and I were fortunate enough to have planned a trip to the northern Indian part of the range in February this year, just before the travel restrictions resulting from the coronavirus pandemic. Who knows when travel there will be possible again, but I hope that this account provides some armchair enjoyment and inspiration for birders in these uncertain times.
Standing isolated in the gravel floodplain of the Kosi River is the Girija Devi Temple, a magnet for pilgrims and tourists. The river here also draws birders to see Ibisbill: a distinctive species which breeds by the rocky streams of the Himalayas, but fortunately winters lower down in this much more accessible location in the foothills. Our driver Pawan drops us near the temple and, walking down to the riverbank, we quickly meet the standard pair of Himalayan river redstarts: Plumbeous Water Redstart – a plump lead-grey little bird – and White-capped Redstart, which is much bigger and gaudier.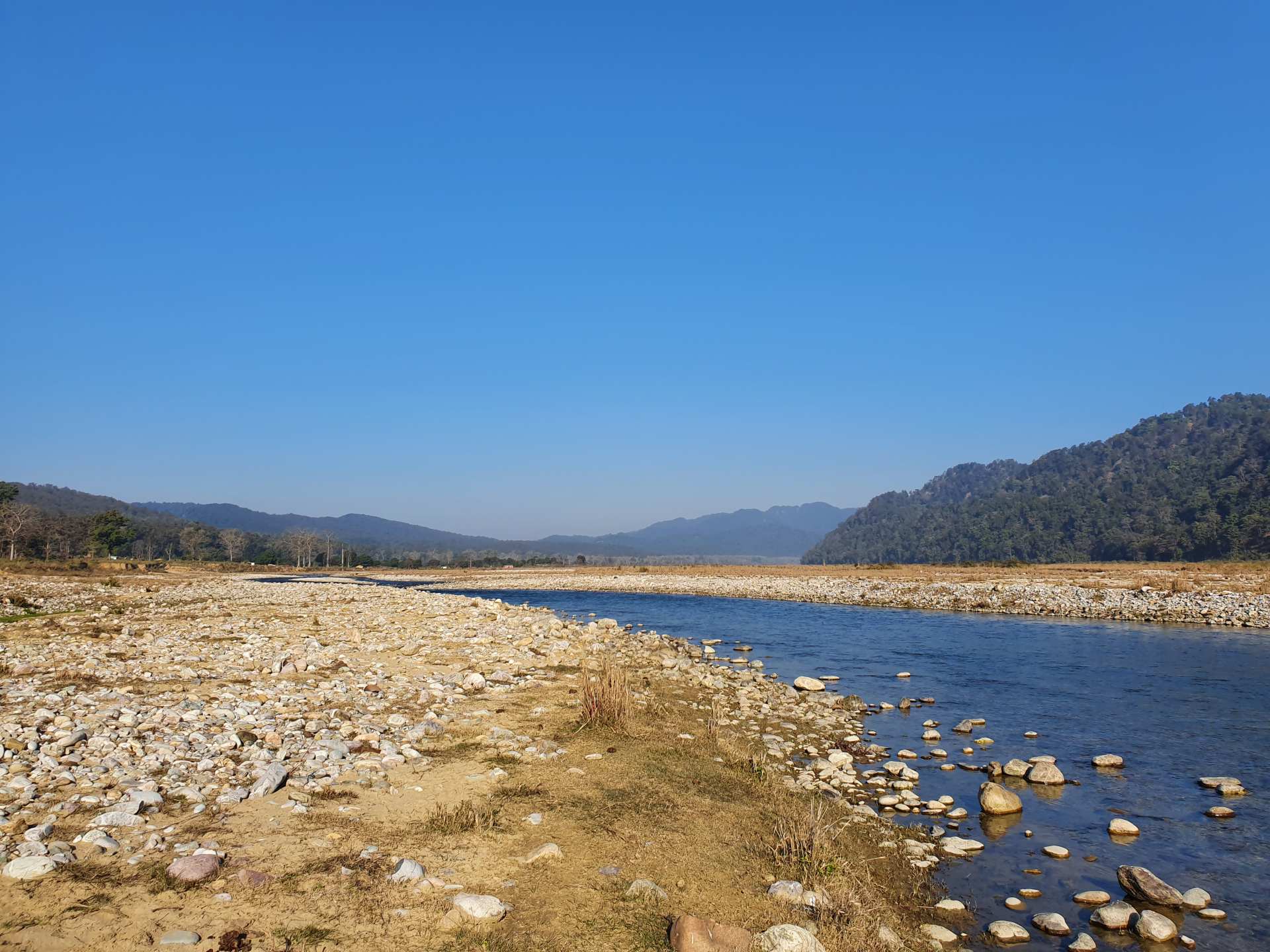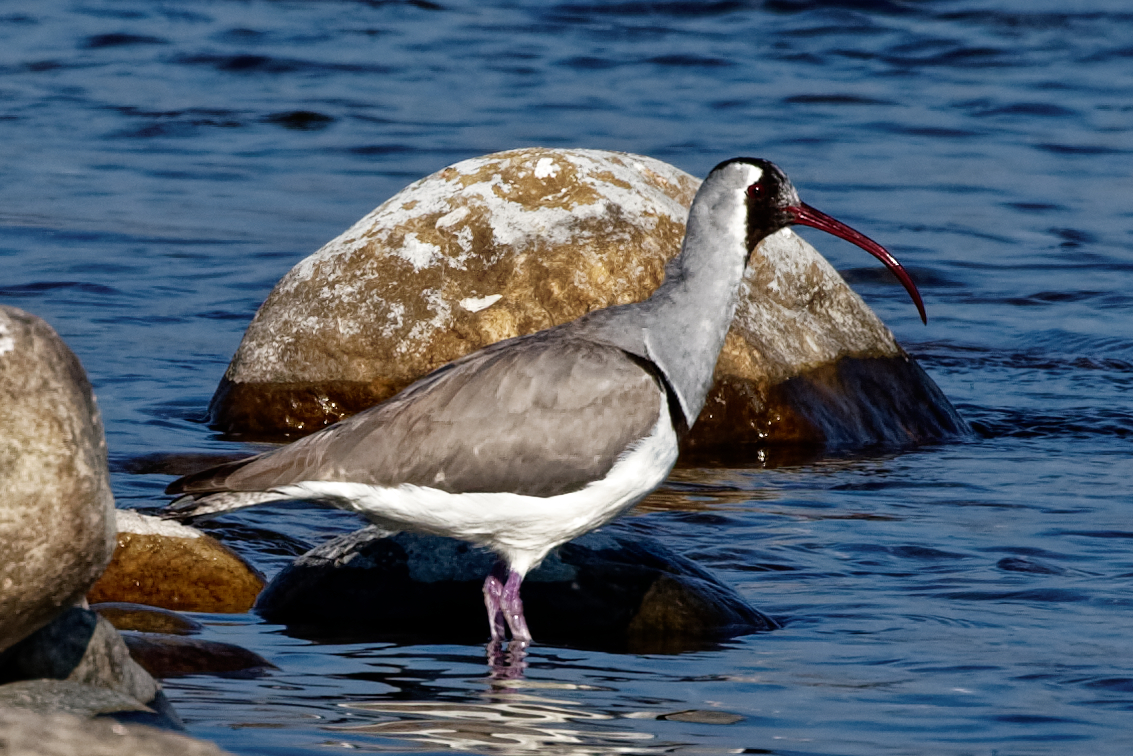 The charismatic Ibisbill was located along the Kosi River (Rod Standing).
The colourful variety of Indian birds is dazzling. As we walk beside the river, our guide Mahesh points out a Grey-headed Canary-flycatcher, a Tickell's Blue Flycatcher, Yellow-bellied and White-browed Fantails and a flock of Scarlet Minivets. My eyesight has declined in recent years and I now find it hard to connect with small birds in trees and bushes, but Mahesh is patient and with his help I get good views.
Out in the open on the gravel riverbed, between the gurgling channels, are more new birds. Several Great Stone-curlews, River Lapwings, many White-browed Wagtails, Rosy and Paddyfield Pipits, a Booted Warbler in some low bushes and a Variable Wheatear. An iridescent blue Indian Peafowl perches in the branches of a distant tree. It's a wonderful mix of the nearly familiar and downright exotic.
Pawan eventually finds a single Ibisbill feeding by a channel out in the middle of the floodplain and it is every bit as wonderful as we were expecting. We watch it wading towards us thigh-deep in the icy water, probing among the stones for food with its ibis-like bill. Eventually, as it approaches, it realises that we are in its way and it flies round us to get to the next bit of river edge with a loud kleep kleep kleep. Brilliant!
We wander back to the road through some houses, the sun now hot on our shoulders and a faint smell of woodsmoke in our nostrils. The village is teeming with even more passerines: Bar-winged Flycatcher-shrike, Indian Robin, Brahminy Starling, Black-chinned Babbler and many others. The people are welcoming as we pass – they smile and wave – but are not particularly interested in us. This is a relaxed and rewarding way to watch birds and our heads are spinning as we get back to the car; so many new species in just a couple of hours.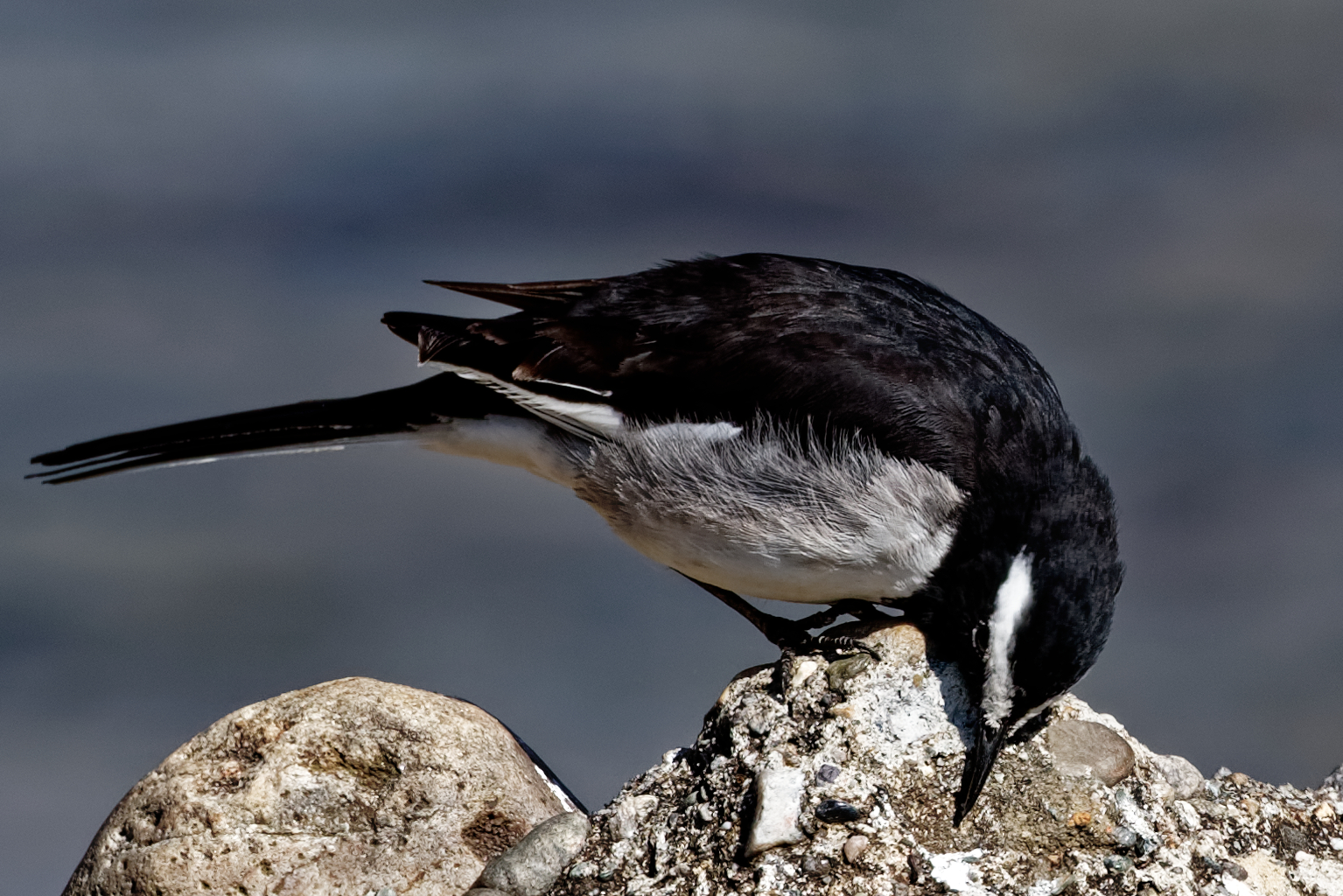 White-browed Wagtail is the world's largest wagtail and a common bird of Indian rivers (Rod Standing).
Content continues after advertisements
There are remarkable non-passerines too. At Kameria, further up the Kosi River, we again walk down to the gravel riverbed but at the other end of the day, as the air cools. The sun is dropping low in the west and it pierces the forest canopy on the steep hillside. Pawan spots a large shape on a branch just over the path: a Brown Fish Owl. It's waiting for dusk and is scowling down at us, apparently irritated at our intrusion. Nearby as we 'scope the nest of a Pallas's Fish Eagle, a Himalayan Flameback – an outrageous punk rocker of a woodpecker with a golden back and a crimson crest – scolds us loudly with its jabbering call while it nimbly inspects a nest-hole.
Why are the birds here so abundant and so diverse? The landscape is a compressed patchwork of varied habitats, comprising alpine meadows, scrub, coniferous forest, jungle, farmland, villages, cliffs and rivers. The farming is mixed and traditional: livestock, small-scale arable fields and untidy yards full of seeds and invertebrates. The rushing rivers have eroded immensely deep valleys with vertiginous sides clothed in forests. These terrifyingly tall and steep slopes exclude humans from many areas and give a much larger surface area than flat land would.
The normal rule that more humans mean less wildlife seems inverted here. Hunting is banned by the government and birds and animals abound in close proximity to people. Many of the birds are very confiding and even the deer are surprisingly approachable. Cows are sacred and wander at will through the streets, often attended by Eastern Cattle Egrets. Black Kites are ubiquitous in and around towns and cities. Any patch of vegetation or muddy pool, however small, contains birds.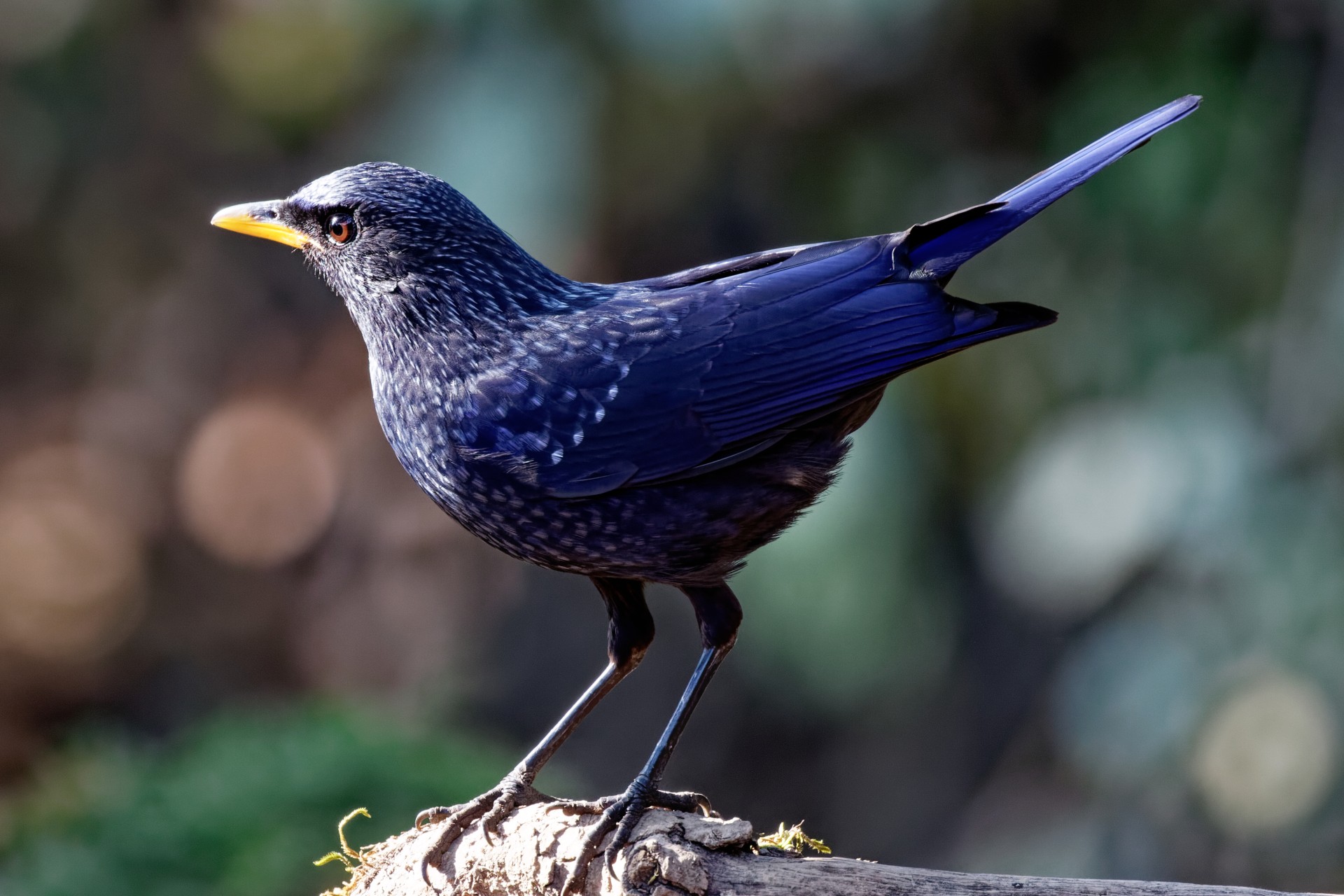 Blue Whistling Thrushes were seen regularly (Rod Standing).
The mountain villages are the richest areas of all for birdlife. At Mangal, near Chopta, scattered houses, farms, fields, trees and scrub provide perfect passerine habitat. Here, almost the first birds we see are three wintering Scarlet Finches perched distantly in shrubs, but luminous even from afar in their finery. The nearby scrub yields Pink-browed Rosefinches, Long-tailed Shrikes, many tits (Green-backed, Great, Himalayan Black-lored, Black-throated and Yellow-browed) and a Grey-headed Woodpecker checking its 'farm' of pre-drilled holes in an isolated tree.
We walk on and the pageant continues: Yellow-billed Blue Magpie, Grey Treepie, Hume's Leaf and Grey-hooded Warblers, two species of scimitar-babbler (Streak-breasted and Rusty-cheeked), three species of laughingthrush (Striated, Streaked and White-throated), three species of thrush (Blue Whistling, Black-throated and Grey-winged Blackbird), and the confusingly similar Blue-fronted Redstart and Chestnut-bellied Rock-thrush. Luckily, we have Mahesh to unravel the identification.
The best bird we see is an adult Chestnut-headed Tesia (a tiny tail-less creature, like a wren-babbler or cupwing) in the undergrowth by a small stream. Mahesh, with the eyes of a hawk, detects a movement and it takes 10 minutes of scanning deep into the stems to obtain brief but good views of this legendary skulker. Fortunately, most species are much easier to see.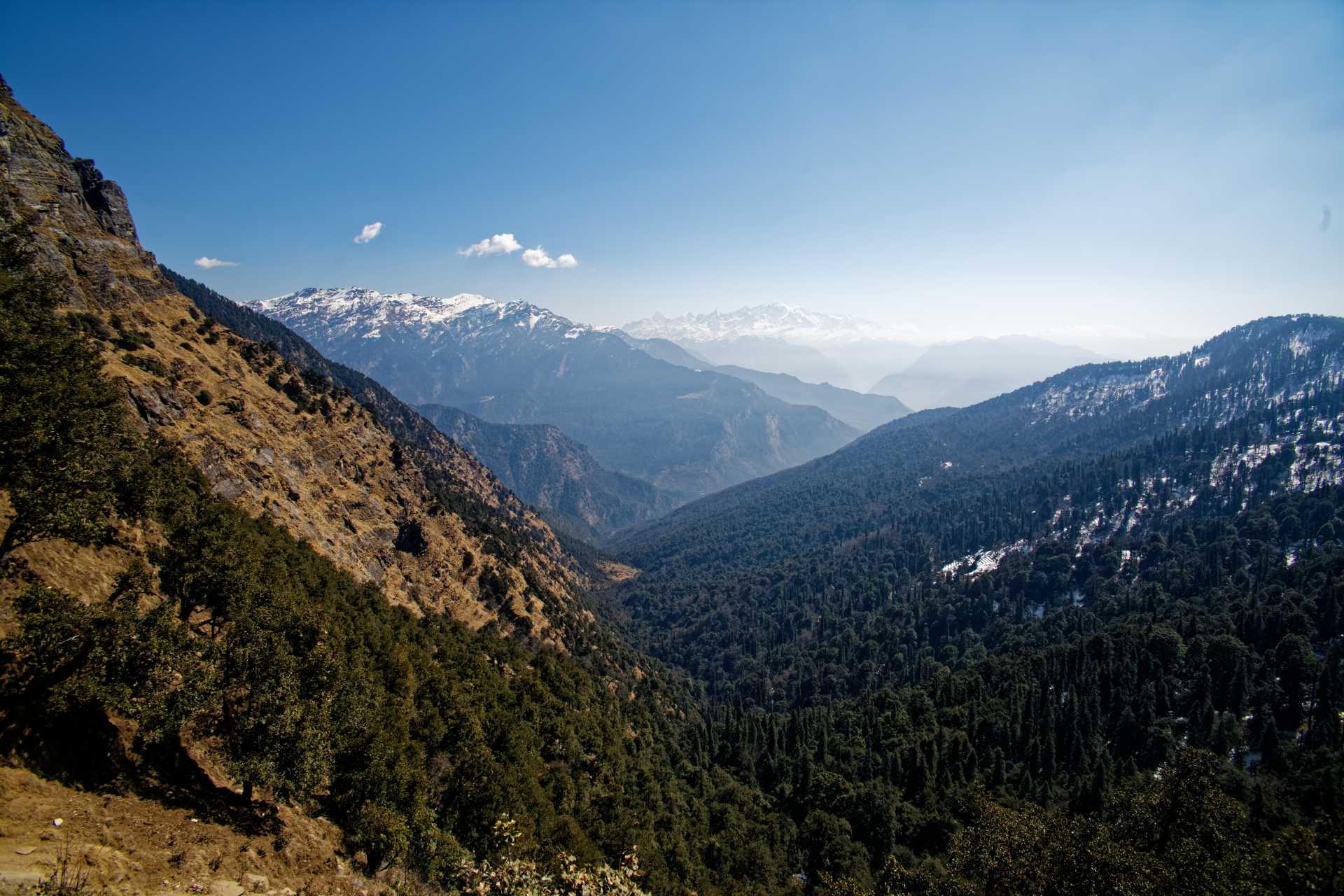 The impressive scenery at Chopta (Rod Standing).
One of the things I like about birding abroad is seeing familiar species in unfamiliar surroundings, as they help connect the experience with home. Here, at the western end of the Himalayas, there is a good scattering of Eurasian species, such as Hoopoe and Red-rumped Swallow, but it is the ones which are even more familiar that catch my attention. I was in fact not surprised that cosmopolitan birds like Peregrine Falcon, House Sparrow, Barn Swallow and Collared Dove are common here. Likewise, I expected wintering migrants such as Lesser Whitethroat and Common Chiffchaff. But I was amazed that the humble Mistle Thrush is a common Himalayan bird, as is Grey Wagtail.
At this time of year, in addition to the residents, many wintering species are added to the mix. The either come from further north, in central Asia or Siberia, or from higher up the mountains. At Baggad, north-west of the hill station Nainital, we work some dense scrub in a small valley above a stream. First Mahesh spots a Himalayan Rubythroat scampering across the dusty slope between the bushes across the valley. This is similar to a Siberian Rubythroat, but with a darker back and a smaller red patch on its mostly black throat. Minutes later Pawan finds its Siberian cousin and with excellent fieldwork from them both we obtain good views of this bird too – Siberia meets the Himalayas.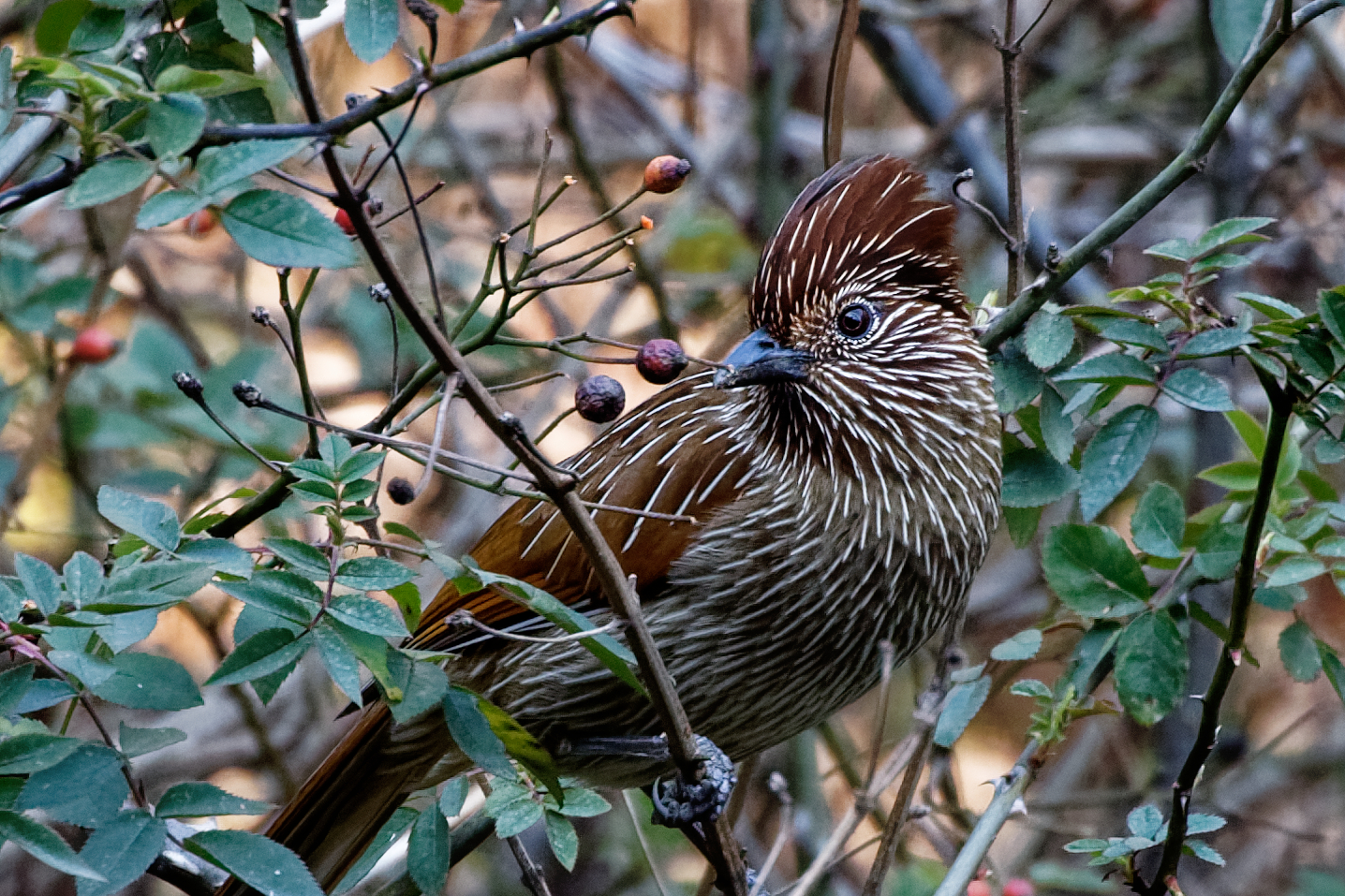 A Striated Laughingthrush feeding on rosehips (Rod Standing).
From the north also come Black-throated Thrushes, many warblers, wagtails (Citrine and Yellow; Eastern Yellow is a vagrant here) and Steppe Eagles (by far the commonest raptor). Descending from the upper slopes are Himalayan Monals, Snow Partridges, Snow Pigeons, Wallcreepers, accentors (we saw Alpine and Altai, as well as the resident Rufous-breasted), Rosy Pipits, Scarlet Finches and many rosefinches (there are 14 species in the Himalayas but we only saw Common and Pink-browed).
Continues in part two.