What's that flying out of that ditch? It looks like a pratincole. Is it? As I raise my camera to take a picture, bang bang bang; a sniper is shooting at us! I hit the deck and hear cries of "man down, medic!". I assess my position; I am out in the open. I dash fifty metres under fire for a mud wall. Good cover. What to do now? Get forward; take some pictures...
We are in Marja, southern Helmand. We are out on patrol with the US Marines and have been ambushed by the Taliban. My sideline of birding in war zones is temporarily on hold. The wounded marine will be fine: a round in the thigh and two doses of morphine. He'll get a Purple Heart. When assessing what happened, I remembered the bird. Did I get a picture? Yes; just one... but what was it?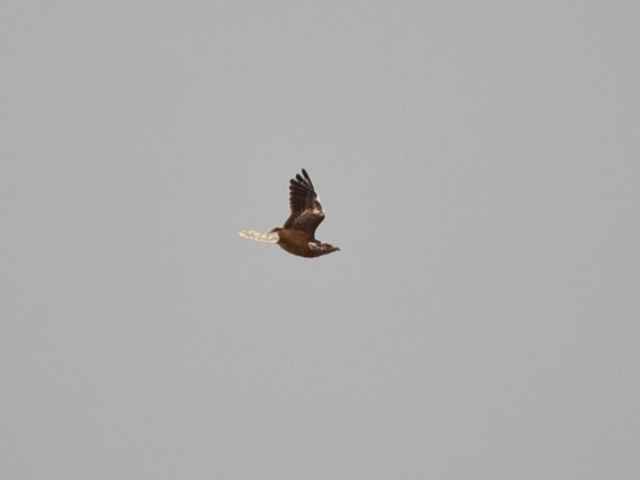 Unidentified, Helmand, Afghanistan, 2010 (Jack Hill).
To say 'birding' is a bit of an exaggeration. I am a photographer; I work for The Times and when, in the often far-flung and forgotten places I get to, an opportunity arises to have a look at the birds I am more than happy. Some of these places, such as Somalia and southern Afghanistan, are some of the most dangerous in the world and it's not everyone's cup of tea, but how many other people get to share a shower with a Malachite Kingfisher in Mogadishu? Not many may want to, granted. But for me it lifts the mood on what can sometimes be a heavy assignment.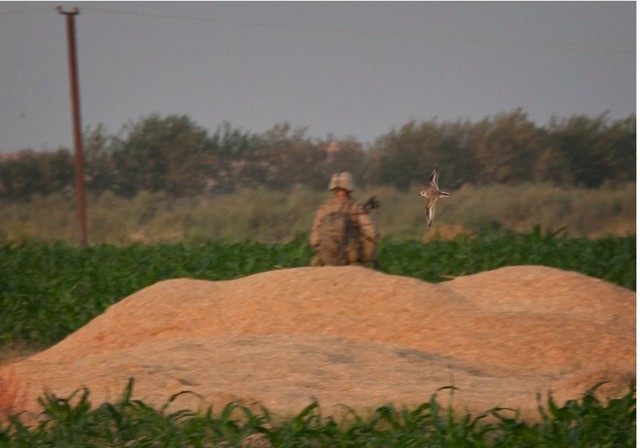 Kentish Plover and US Marine on patrol, Helmand, Afghanistan, 2010 (Jack Hill).
Rewarding as it is, looking at birds in these places is not easy. There are the obvious logistic constraints: in simple terms, you cannot just go where you want and it can be dangerous. And as far as taking pictures goes, I am restricted by what kit I can carry. You need to be able to move, sometimes quickly, so you don't carry more than you need. I usually seem to anyway. Bear in mind too that we are often in body armour that weighs the best part of 15 kilos in itself. For the most part, I use my 70–200 mm lens, a general-purpose zoom, and hope for the best. I have had to accept that I'm not going to get much more than a picture to use later for ID — it's no substitute for good field observations but I have to accept there is only so much you can do and sometimes you find something close. However, my passion for birds means I do it whenever and wherever I can.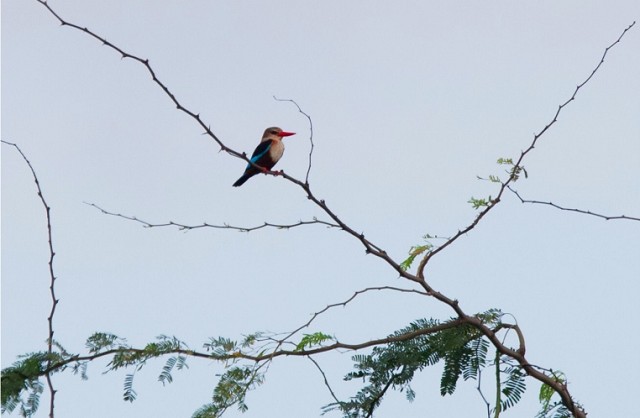 Grey-headed Kingfisher, Mogadishu, Somalia, 2010 (Jack Hill).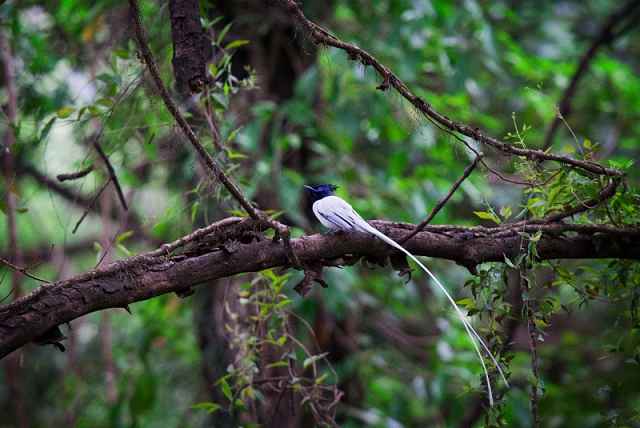 Asian Paradise Flycatcher, Abbottabad, Pakistan, 2011 — near Osama bin Laden's house (Jack Hill).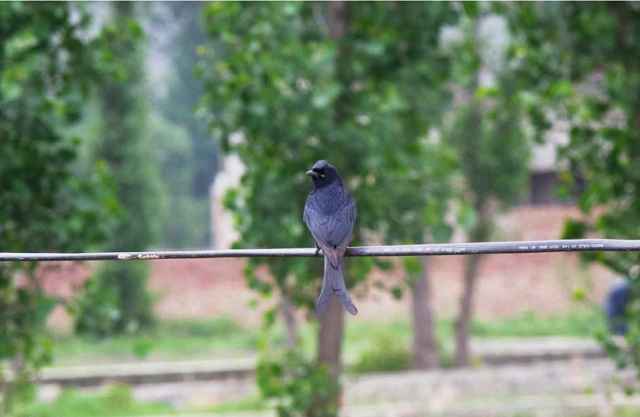 Black Drongo, Abbottabad, Pakistan, 2011 — in Osama bin Laden's house compound (Jack Hill).
Take Helmand, Afghanistan, for example. All the birds I have seen are either when we are out on a foot patrol with a military unit, or from an open-topped truck moving from one base to another. Fortunately, for a number of reasons — mainly IEDs (improvised explosive devices, essentially mines) — military vehicles tread very carefully, stopping regularly on the narrow dusty roads. Travelling like this I was able to photograph Bimaculated and Crested Larks and Moustached and Clamorous Reed Warblers while sitting on the back of an open-topped lorry during a pre-dawn raid. This can also be frustrating as you miss lots of birds. You get glimpses of things; you're sure it is something interesting but you know there is no way you can get of the vehicle to get a closer look at a bird in a bush or wander out of the safe lane during a foot patrol. I have to be realistic and also remind myself why I am there. There is a flip side to this: on military embeds you often get a lot of downtime, waiting. If you are lucky, there is a bit of water outside the base and you can see what's out there from one of the watchtowers. Last time I watched Little Stints, Collard Pratincoles and a circling Booted Eagle. Little Stints get everywhere it seems.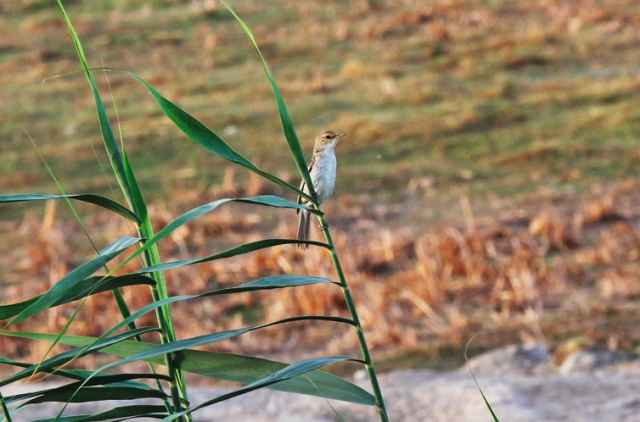 Clamorous Reed Warbler, Helmand, Afghanistan, 2009 (Jack Hill).
If I want to look at birds on assignments such as these I grab any opportunity I can. When our guides from the Justice and Equality Movement (JEM) stopped to wash the mud (used as camouflage) from their battle wagons as we were leaving Darfur at the end of our assignment, heading back to 'civilisation' in Chad, it seemed a safe and good chance to have a look around. What were these waders I could see at distance on this seemingly primordial lake on the Chad/Sudan border? Ruff (they also seem to get everywhere), Temminck's Stints, four Black-winged Stilts flying past and a Black-headed Wagtail.

Black-winged Stilts, Chad/Sudan border, 2009 (Jack Hill).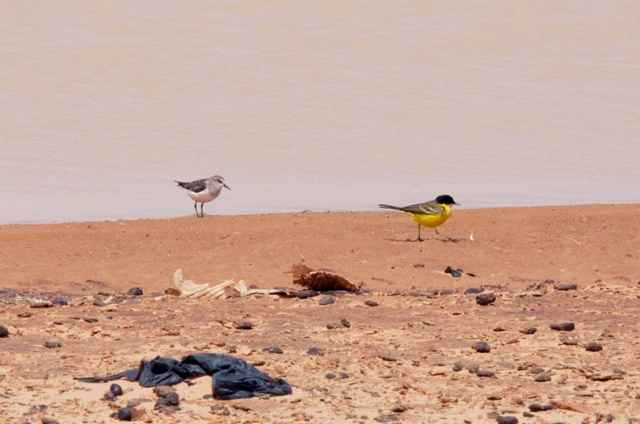 Temminck's Stint and Black-headed Wagtail, Chad/Sudan border, 2009 (Jack Hill).
The JEM — who are locked in conflict with the Sudanese government — travel through the wadis of Darfur as much as possible. It is safer than travelling out in the open where they can be spotted by the Sudanese air force, who roll oil drums packed with explosives out of the back of planes if they spot them. It was there I saw lots of Rüppell's Warblers, a lovely bird I was delighted to find. That was a distraction from the bombing. It resonates with me what an achievement it was for the naturalists of the 19th century, such as Rüppell, to travel around the globe documenting the species they came across back in the days before all of the modern conveniences we have.

Rüppell's Warbler, Darfur, Sudan (Jack Hill).
One of my most memorable assignments for the birdlife was in spring 2009. As part of a series we were doing on 'forgotten wars', we headed up to Iraqi Kurdistan to meet the Kurdish Workers Party fighters (the PKK), and to try to meet their leader. This was in the Qandil mountains in Iraqi Kurdistan. The scenery is magnificent, and it's a cliché, but there must have been a bird in every bush, almost. If only I could get out and have a good hike and a good look. Needless to say, there was a lot of observing from the car.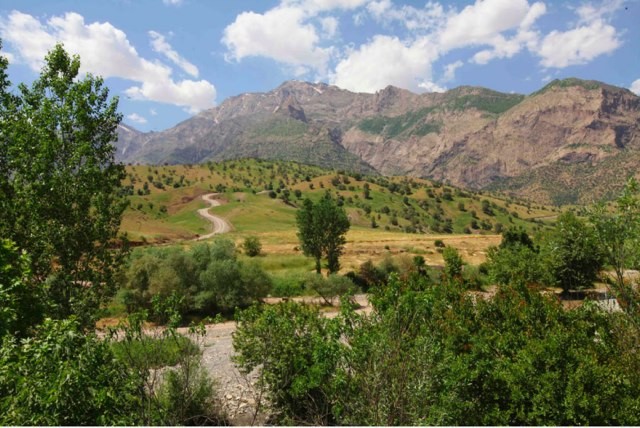 The Qandil mountains, Iraqi Kurdistan, Iraq (Jack Hill).
It's a very sensitive area and we were very close to the Iranian border. On our first day there we saw Iranian artillery shells landing a mile or so up the road, exactly where we were heading to meet some PJAK fighters (the Iranian wing of the PKK). Masked, Woodchat and Lesser Grey Shrike, Levant Sparrowhawk, Bee-eater calling, a shout of 'come on, let's go', Black-headed Bunting, Syrian Woodpecker, what's that Hippolais warbler...? And we are off again.
Content continues after advertisements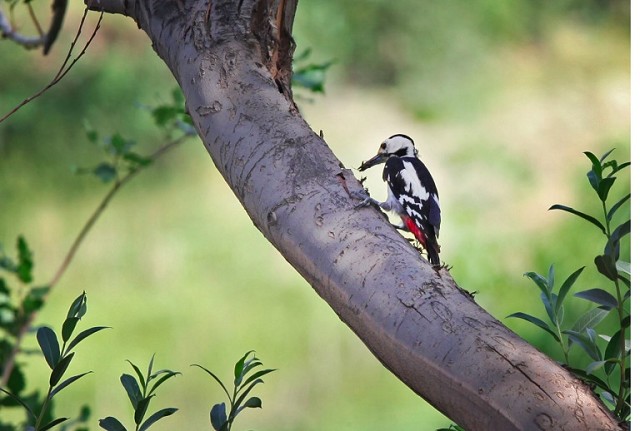 Syrian Woodpecker, Qandil mountains, Iraqi Kurdistan, Iraq (Jack Hill).

White Storks on nests, Iraqi Kurdistan, Iraq (Jack Hill).
It wasn't just the different species that made it special, it was the sheer abundance of birdlife and the hillsides and meadows full of flowers and butterflies. We were granted a meeting with the PKK leader in a remote farmhouse in the mountains. Our meeting was shrouded in secrecy and we didn't know where we were going. I recorded the interview but realised that I was going to get very little sound of the PKK leader, who was drowned out by a singing Nightingale just outside a window. It must have sung solidly for the best part of three hours, completely unaware of the meeting inside!
Over the years my colleagues have become sympathetic to my hobby, even amused when they see me pointing a lens at a bird while taking cover in a field in Helmand. Some even share it. It's not easy saying you want to go and look at the birds in a war zone.
On assignment in Mogadishu, looking at the birds was one of the things that kept the frustrations in check. We were embedded with the African Union (AU) peacekeepers at their base beside the airport. We spent days kicking around the mess and were under strict instructions not to leave it. I am not very good at sitting around twiddling my thumbs. What to do? Any birds? Of course there were. Northern Carmine Bee-eaters, Yellow-billed Kites, Abyssinian White-eyes and Northern Crombec to name a few. I had never heard of the crombec before. An approachable Nuthatch-like bird with no tail. Mogadishu was, then, a very dangerous place — completely lawless. The base was on the coast and I tried repeatedly to get down there. Security issues were cited; apparently the al-Shabaab militants had made a seaborne assault on the AU base previously. My protestations fell on the deaf ears; I think our Ugandan press officer thought I was mad. Maybe.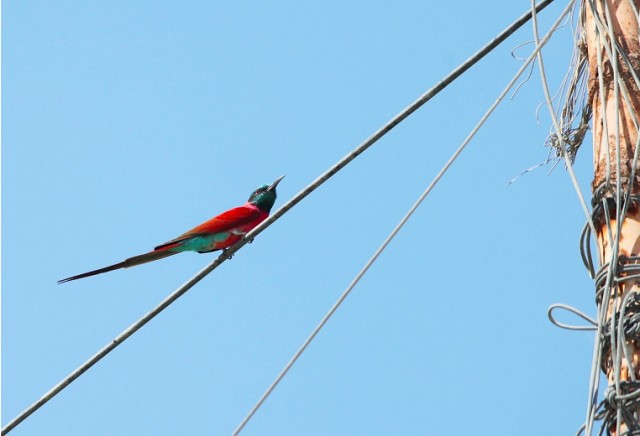 Northern Carmine Bee-eater, Mogadishu, Somalia, 2010 (Jack Hill).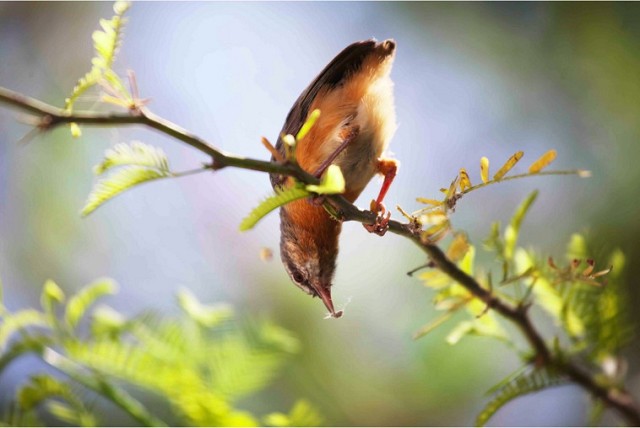 Northern Crombec, Mogadishu, Somalia, 2010 (Jack Hill).

Abyssinian White-eyes, Mogadishu, Somalia, 2010 (Jack Hill).
We got down to the coast briefly once, and I saw an Osprey fly in off the water with a big fish. There are very good fishing waters around the Horn of Africa, which has been cited as one of the causes of the piracy in the region. There were a couple of waders, but they were too far away to see properly so I had to content myself with the bushes surrounding the mess. One morning a Malachite Kingfisher came in and landed on a branch about a metre away from the open-air bucket shower. Wow! It wasn't much of a shower: three pieces of corrugated iron stood upright, making three sides of a square, a fourth on hinges to make a door and an oil drum filled with water and a washing up bowl to take water out of the drum and poor it over yourself. It was basic but functional, tucked in amongst thorny Acacia trees, and a relief against the intense heat. The kingfisher was probably coming in for the water.

Sooty Gull, Bossaso, Puntland, Somalia, 2011 (Jack Hill).
During 2011, I have been back and forth to Libya three times and have probably spent at least as much time there as at home this year. We were in the east in the spring, where, between travelling hundreds of miles daily up to the frontline and back, I would keep a little eye out for what birds were about: Marsh Harrier and Short-toed and Crested Larks. Seeing a Curlew land in the middle of the highway during a sandstorm was a strange sight. Whoosh: we flew past it at about 120 kmh — Libyans drive fast. Again the opportunities were brief. I remember one day when were we sitting outside Ajdabiya after Gaddafi's forces had recaptured it. The rebels weren't sure what to do — they were in Land Cruisers up against tanks. So there we were kicking around in the desert. Any birds about? I'd seen flocks of Short-toed larks, a Subalpine Warbler and a few Barn Swallows with one Red-rumped amongst them. The next day we were back again. Some tank rounds landed so close it was almost as if you could hear the shell itself breaking up; we beat a hasty retreat.

Red-rumped Swallow, Ajdabiya, Libya, 2011 (Jack Hill).
In June we were back in Benghazi. The atmosphere was now much more relaxed and the abundant Lesser Crested and Little Terns in the harbour and along the beach were impossible to resist. I was shooting some fairly straightforward pictures; nothing anyone else wouldn't have done. Then the sun started setting and it looked a dramatic sunset. I thought I would try to compose a picture with one of the terns silhouetted against the setting sun. It was tricky — and the Libyans on the beach were totally bemused by this strange foreigner taking pictures of the birds. There was a war on after all!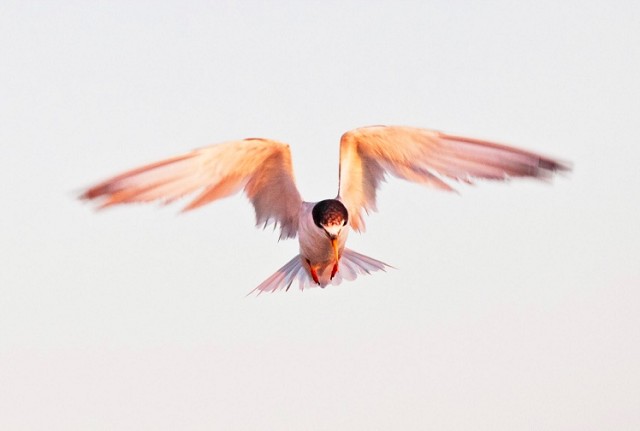 Little Tern, Benghazi, Libya, 2011 (Jack Hill).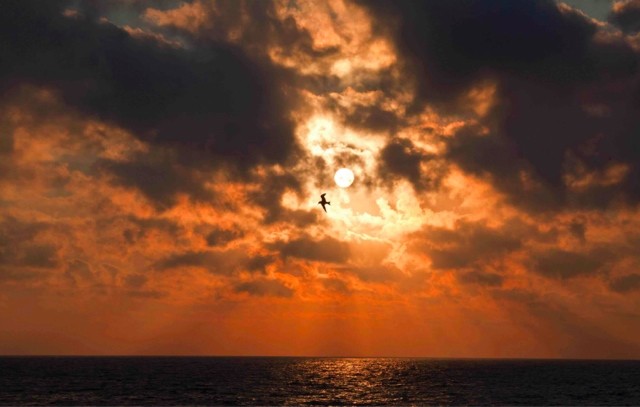 Lesser Crested Tern, Benghazi, Libya, 2011 (Jack Hill).
I got to Tripoli in August following the main rebel thrust. It was a pretty hairy ride and there wasn't much opportunity to look for birds. I did see Alpine and Little Swifts and Hoopoes (Hood hood in Arabic) along the way. Once things began to settle down I was keen to find a bird to photograph — not very easy. There weren't that many birds around generally; I'm not sure whether it wasn't the time of year or a combination of all the happy and not-so-happy fire. There were abundant Southern Grey Shrikes however — probably the most common bird. After seeing them pretty much everywhere we went, I finally managed to photograph one in the zoo.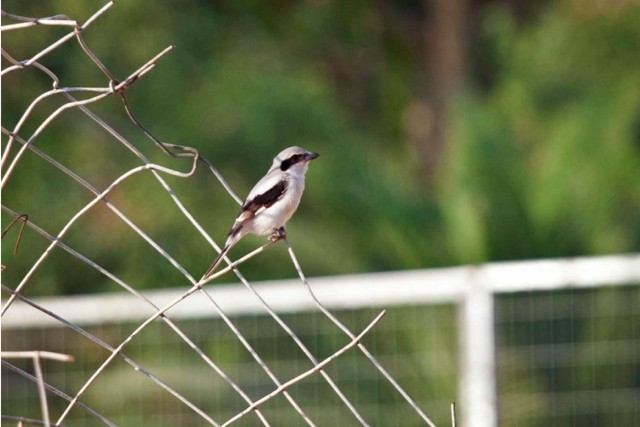 Southern Grey Shrike, Tripoli, Libya, 2011 (Jack Hill).
War and birding are not two things you would naturally put together and it's not always easy to say you want to go and look at the birds in a war zone. Over the years my colleagues have become sympathetic, even amused when they see me pointing a lens at a bird while taking cover in a field, and some even share it. I see it as a great opportunity to try and keep sightings going, however small, in places where not many people get to these days.