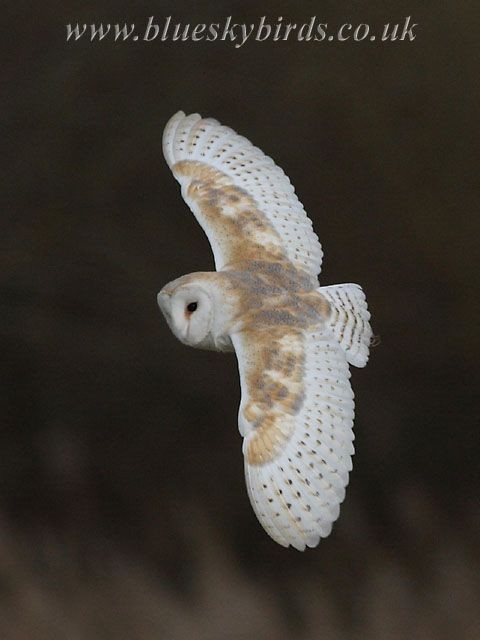 Barn Owl (photo: Peter Simpson).
I see that Part 1 and Part 2 of the Barn Owl Diaries received a lot of attention, which I find amazing, and I'm delighted that so many of you read and I hope enjoyed hearing about our work.
Thursday 17th May
Today, I'd planned to look inside the pole boxes at the Rushcliffe Country Park, so needed a few helpers as we were using the long ladder. Mick Thompson is a Ranger at the Park and also a ringer with the South Notts Ringing Group (SNRG). He always helps me with the boxes, and my mate Gordon and Lynne Demaine were also there. Unfortunately, no-one arranged the weather and it rained, but not after we'd checked the usual breeding box. The female left the box and we found a tiny chick and 6 eggs: one to visit in 6-7 weeks' time. We had to abandon the pole boxes, but it brightened up so we decided to have another look into the two boxes I'd checked in April.
The first we found to be very much the same as then: a pair of Barn Owls and one egg. The male had left the box but the female was inside. A closer look at the egg showed it to be from a Stock Dove, a mistake easily made when peering into the gloom of a Barn Owl box. That's my excuse anyway. So, for some reason, a non-breeding pair. I popped a ring on her leg and left her in the box; hopefully they'll breed late and we'll check again in four weeks.
The next box, down the road, had held a pair on six eggs a month ago. I could hear the chicks hissing from outside the box and found the female inside with five young. I caught her to read the ring number and was surprised to find a different female to last year. This often happens: a box continues to be used but with different birds. Last year's female had raised nine chicks in two broods and I was sorry to see that she wasn't still around. The ring number showed that she was fledged from a Wildlife Conservation Partnership box from North Notts and controlled by me breeding in a box at Ruddington two years ago.
Monday 21st May - All change for the wise owls of Gotham!!
Gotham is just a few miles SSE of Nottingham and is a village full of tales and legend that goes back to the reign of King John. Not to be confused with the city in the Batman comics and films, Gotham is pronounced 'Goatam', not 'Goth-am', and legend has it that the villagers acted as fools in order to deter King John from building a hunting lodge in the area. I won't bore you with the details but just put 'Gotham' and 'Wise Men' into Google and read on.
We've had Barn Owls nesting around Gotham for a year or two, first one pair and then last year, two. A village nearby had Barn Owls for the first time last year, a pair raising a single chick. Tragically both the adult male, and later the fledged chick, were picked up dead on the nearby road.
Today, I had Lynne with me again and my wife Kate - she can't say that I never take her out!!
Our first visit was to a box erected in January. The farmer said he thought the box had been tampered with, probably by the local kids, as he'd found the door open. He'd closed the door and our inspection showed that Barn Owls had been in the box. Prior to breeding Barn Owls bring up their pellets in the box, then break them up to make a soft surface on which they lay their eggs. The bottom of the box had a thin layer of broken pellets and there was a fresh vole in the box. This still had shiny eyes so was freshly dead and showed that a Barn Owl must have been in the box just prior to our visit.
Content continues after advertisements
Next, it was to the box mentioned above. We didn't know whether the female here had found a new mate and we were delighted when a male Barn Owl left the box. I blocked the hole and caught the female; she had five small chicks so I just read her ring number and put her back in the box. I carry details of my previously ringed birds and on checking the ring number, found that I'd ringed her last year at a box near Gotham just one mile away.
That was the next box to visit, so what would we find there?
Again a male left the box and I caught the female, again with small chicks; she was ringed so we took the number and popped her back. Remarkably, this female was from the other Gotham box. Without catching the males, it's impossible to know whether they have moved as well, but I'd got two females moving over to nearby boxes in other territories.
We moved onto the other Gotham box and we could see a white face peering out of the box as we approached. This male again flew off and it was a similar story inside: a female with 5/6 small chicks. Another ringed bird, I should have recognized her as this was the third time I'd caught her. I'd ringed her last year as a non-breeding bird in a box at Rushcliffe Country Park and found her in another nearby box in March when checking the box for the farmer. It was great to find her with a nice brood.
So, three boxes with three different females from last year. Without the rings, we'd just assume that the same owls are on territory year-on-year, when in reality they move house all the time. So, an interesting morning. We later found a Kestrel on six eggs, and it was home for lunch.
Gordon was coming over that afternoon so I phoned a few farmers to arrange visits. The first lady that I spoke to informed me that they thought they had Barn Owls in the box in their hay barn. We went there first and, sure enough, there were plenty of signs - pellets and whitewash.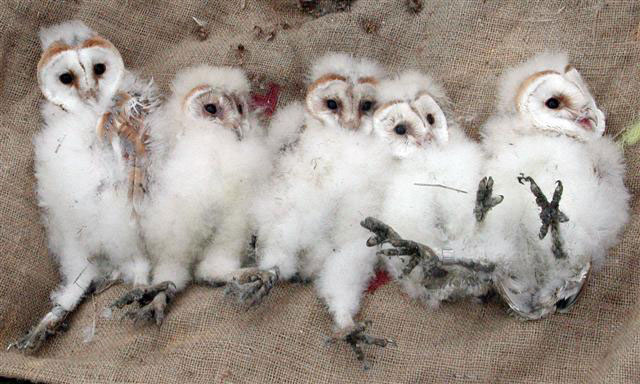 Barn Owl (Photo: Howard Broughton).
The box was at the wrong angle to apply the blocker so it was the net on a pole extension and the male was soon bagged. However, the female also came out and left us to it. There were five chicks in the box. I ringed the male and put him back in with the kids to await the return of his mate.
Next, the adjacent village. The farm here grows nothing but special clean grass that's used for horse feed - not exactly perfect for Barn Owls but better than cereals and rape and the farm is a sanctuary for Brown Hares and game birds. We'd never had breeding Barn Owls here before though one box had held lots of pellets last year and I'd always fancied it.
This time I saw a face looking out of the box as we approached and he was soon on his way. The female inside was unringed and had eggs amongst the couple of small young. She looked like she was ready for a fight so I closed the box and left her to her brooding.
The next three boxes all drew blanks. You can't win 'em all but the last of the day saw a result, no Barn Owl but four small Little Owl chicks that should be ready for ringing in two weeks. So, what a brilliant day for us: five Barn Owl pairs on big broods, a Kestrel and Little Owl. We're going to be busy in a month when we start the ringing. Roll on!
Thursday 24th May
We planned to finish off the inspections of the pole boxes at Rushcliffe Country Park, so needed a big strong crew to lug the heavy ladder around. Mick Thompson, Lynne and Gordon were joined by another regular helper, Nigel Oram, while RUBOP founder Clive James came along the take some photographs. We'd checked the usual Barn Owl nesting box last week, before the rain started, so I didn't expect to find any more but we have to look. Last year we found a single female and in the six remaining boxes and we found three broods of young Jackdaws and a Kestrel on eggs. Mick is always very keen to ring anything found in the boxes in the Park so all the young Jackdaws ended up with silverware on their legs.
We replaced the original boxes at Rushcliffe about six years ago and the old ones were left lying about the field close to the Ranger's hut. Four were given to a local farmer to erect on his farm. Two years ago I contacted him to see how they were doing and he told me he hadn't checked them for three years. I asked him if he'd like us to have a look at them and he jumped at the chance.
We found the boxes erected on very high poles in an unused strip of land between a stream and a corn field and it was obvious that no one had been near them for years. We were met by waist-high vegetation of brambles and nettles, which we had to batter through to reach the boxes. All this after the precarious crossing of the stream using the ladder as a bridge!
The first two were full of Jackdaw sticks, which we cleaned out, and we undertook a few minor repairs. Approaching the next two boxes we saw a Barn Owl perched on top and another roosting in the roof space. Eventually, we had four Barn Owls flying around the box. This was August, so it was obviously a family group. We looked in the boxes and found signs of use but not enough to have been used for breeding. Two weeks later I managed to catch the female in the box and found that she was a bird I'd ringed earlier in a box about three miles to the west. I'd later ringed two chicks in the box so the whole family, Mum, Dad and the two kids had moved house to these other boxes. Last year, they stayed but failed to breed in the poor vole year.
With the big crew, and the long ladder on board, we decided to go and have a look in these boxes. As before we had fun crossing the stream but managed to get over without mishap and battered a path through to the first box. These boxes are very high so we need maximum extension on the ladder. A quick look revealed the female with a small chick and five eggs on top of an old Jackdaw nest, but there was plenty of room so we left her to it and she stayed in the box when we left. We'll be back in five weeks to ring the chicks and possibly remove some of the Jackdaw debris to give them a bit more room inside.
Tuesday 29th May
After three days and nights of cold rain, I was anxious to see how badly this had affected the Barn Owls.
They hate the rain and soon become waterlogged so don't hunt too much in the rain. A couple of wet nights at the height of the season, when chicks are big and demanding three or more voles per night each, can cause havoc and infant mortality can be drastic. However, at the moment, most chicks were only a week or two old so the demand for voles wasn't at a premium.
The night before on Springwatch we'd seen a large Barn Owl chick grasp a small sibling and swallow it whole. Our promising broods of five and six chicks can soon be reduced to twos and threes with that kind of hunger, reducing our hoped-for fledging figures by half practically overnight.
The rain finally stopped at 11:00. Nigel Oram came round and we went first to a box that I knew had ringable-sized chicks. These were perhaps a week younger than I usually like for ringing, but I wanted to see whether there were still five there, some two weeks after my initial inspection. The adult females are usually away from the boxes at this time and I opened the box to find a large white fluffy ball. This was a pile of Barn Owl chicks and I gently pulled them apart and handed them down to Nigel, getting a few holes in my hand on the way. Still five, all fat and well, with the eldest growing their wing feathers. I'm pleased to say that none were of swallowable size. They were soon all processed and back in the box.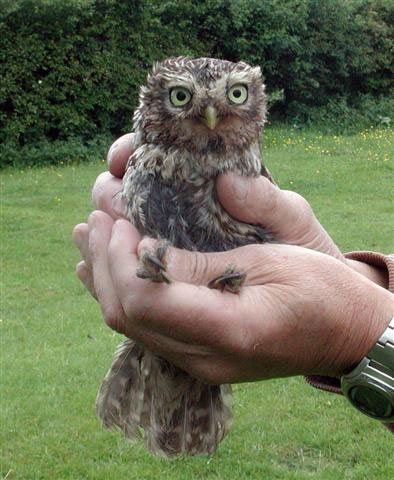 Little Owl (Photo: Howard Broughton).
Next, to a box that had Little Owls last year. I opened the box and peered in. There were 4-5 small grey shapes in the far corner, Little Owls again but too small to ring. I then noticed a dark shape in the corner near the door. I gently took hold and caught my first ever adult Little Owl. It's amazing how tiny they are. They look quite big when in a tree, but in the hand are very small. I popped a ring on her, took a photo, and put her back in the box.
Moving on and after a few Jackdaws and Stock Doves, we came to a box that had lots of Barn Owl pellets on the front shelf. It looked promising but behind the door was a pile of Jackdaw sticks. Looking through the top hole, I could see eyes peering at me and found five Kestrel chicks. I put on my leather gloves, having ringed Kestrels before. They have very sharp claws, peck with their beaks, never stay still and call continuously. However, they were soon ringed and back in the box and I won't have to see them again.
Wednesday 30th May
An evening trip to parkland just on the Notts side of the border with Leicestershire. These are the grounds of a large brick-built Hall that had latterly been the staff college of the Co-operative movement so has large accommodation blocks, a theatre and an outdoor swimming pool. Lately, the Hall has been up for sale and as far as I know, now belongs to a private buyer, obviously someone with a lot of money.
We have a good contact here who is the gardener/handyman. He was regularly seeing Barn Owls around the vast grasslands behind the hall and two years ago we put up two boxes. Our friend also built and erected a box and the Barn Owls chose his instead of ours. Never mind, we stuck a number on it and ringed three chicks. One of the other boxes was used by Kestrels so a good result all round.
This year, the story was the same. Three big Barn Owl chicks in the gardener's box, which I ringed there and then, and Kestrels in the other, that I will have to return to.
A few years ago, RUBOP erected three boxes just over the Leicestershire border for a local conservation group. Unfortunately the group disbanded and two years ago we were invited to look after the boxes. One was found to have resident Barn Owls, which raised good broods for the past two years. We went to these boxes this evening after leaving the park. We went to the usual nesting box first but found it empty and unused. Where had they gone? Onto the next box and there they were: they'd moved house and I found a female with four small chicks, which we left for another day.
Thursday 31st May
A full morning of box inspections was planned today. Lynne and Gordon came round and the first boxes were all empty but as they hadn't ever been used before, I wasn't too disappointed. However, the next two boxes had been used in the last two years so I was surprised to find only Jackdaws and Stock Doves.
We had high hopes of the next, however, so approached with an air of high expectancy. This box had had Barn Owls for the past two years but they had yet to breed. Two years ago I ringed both adults and then caught the male again two weeks later in a tree hole with another female. They went on to raise two broods but the original box was unused. Possibly the female had died on the road and he'd quickly paired-off with this other female. Last year, there was a pair in the box which I left alone but they still didn't breed, probably due to the poor vole year. So this time I was taking no chances, there was an unringed female with four small chicks in the box, which I left alone and will ring in three weeks.
Saturday 1st June
Today was one that makes it all worthwhile, when you see the fruits of your labour. We visited a box in the back garden of a landscape gardener who's developed some superb wildlife habitat in the field behind his converted barn, with wild meadows strewn with flowers, a lake and reedbed. He'd called me some time ago to say that he had Barn Owls in his box and I arranged to go round when he and his family could join us when we looked in the box.
There was a ringed female with two big chicks in the box and she was really lively and wanted to fight, sitting on her tail and raising her feet in front of her. I tried to grab her but she got me first and my hand felt like it was being savaged by a German Shepherd. Eventually she came out, still gripping my little finger, and I now have a hand full of holes. However, this didn't matter as on reading her ring number I was delighted to find that I'd ringed her as a chick last year in the box in my home village. I soon forgot about my hand!!
This was great news and things improved half an hour later when we found another pair with three big chicks in the same village. Earlier in the day Gordon and I had been out helping Derick Scott, the Notts Owl expert, who monitors boxes for Colin Shawyer's Wildlife Conservation Partnership.
They have a few boxes in the Rushcliffe area and we're very happy to help Derick with their box inspections and ringing. We found two broods of Barn Owls and one of Kestrels and I ringed two female Barn Owls, three chicks and three young Kestrels. Altogether, another great day.