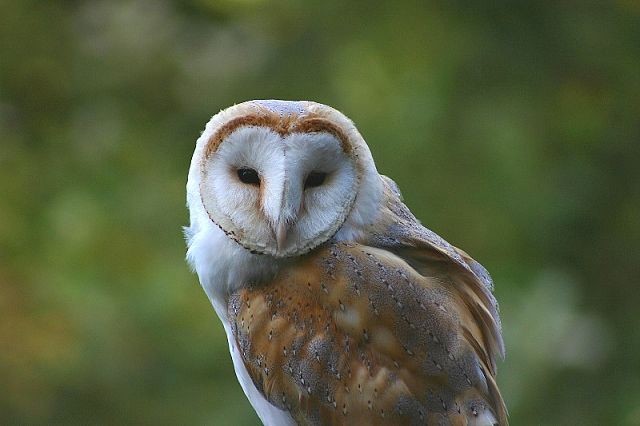 Barn Owl (photo: Mike Warburton).
Saturday 12th May
The day before I'd telephoned my friend Derick Scott. Derick looks after the Barn Owl boxes of the Wildlife Conservation Partnership, which has many boxes within Nottinghamshire. Derick was on a high; he'd checked 15 boxes and found 13 breeding pairs and also reported good numbers of Tawny, Little and Long-eared Owls that he also monitors, a sure sign that vole populations were high.
Barn Owls usually remain loyal to a territory but will nest in various sites in their area. RUBOP, where possible, usually hang two or three boxes in a territory as this gives the male owl a separate roosting place. The pair are unpredictable in that they will nest in any of the boxes. In my brief experience, a second brooding pair will usually move to another box for the second brood and then stay in this box for the first brood the following year; but not always.
The first box to visit today was in a territory where Barn Owls had first bred in 2005 but, as far as we know, missed out last year.
The 2005 box was on a tree in a garden and the house had been extended to within a few feet of the box. Four weeks ago we moved this box to a nearby location so it was unlikely to be used for this year. Two years ago, we hung a second box on the back wall of a garage at a house on the far side of the territory and a phone call to the lady of the house to arrange a visit had her telling me that she thought the Barn Owls were in the box.
Content continues after advertisements
This was our first call of the day and proved to be a great start. A quick look revealed a female sitting and broken eggshell suggested that she was probably on two small chicks and more eggs.
We left her alone and will be back in 4-5 weeks for a second look.
The next box was one that had been used last year, probably by a pair from nearby Rushcliffe CP. Again there was a female in the box with two newly hatched chicks and two eggs still to hatch. There was no point in catching her and we departed.

Little Owl (Photo: Howard Broughton).
Next a box behind a big house and the owner reported that Little Owls had been seen around the box. We usually get two-three pairs of Little Owls in our boxes and they're delightful little birds, full of character. Last year, I'd had a Little Owl chick perch on my finger like a Budgie while I took its photo.
Unlike Barn Owls, Little Owls always scarper before you get to the box; you can't creep up on them. True to form one left the box on my approach. There were 4 eggs on a small scrape in the box and I'll be back in 3-4 weeks for another look. This landowner also has his own Kestrel box built into the back of his garage, I ringed 4 chicks here last year and there was a female sitting again.
Down to the next village and another box that was used for the first time last year. The lady here said that she thought that the box was empty; however a Barn Owl flew out as we approached and was probably a roosting male.
This is very close to the box that had given RUBOP their first ever Barn Owls back in 2000 and, sure enough, opening the box revealed several large white fluffy balls. Looking closer, I could see the mother hiding amongst her chicks so I caught her and read her ring number. I was very pleased see that she was the female that had given me my first solo ringing experience almost exactly two years ago, still going strong. There were 5 big fluffy chicks in the box, the eldest about 4 weeks old. Both were the right size for ringing, but I prefer to ring at 6 7 weeks when you can sex them as well.
I put mother back with her babies and she soon settled down again and we moved on.
This area has had a pair since 2000 but last year another pair had moved in so we had two territories only 400m apart.
The next call was to the parkland of a large Hall that had been a private school before being converted to commercial use. We have three boxes here, all close together. Two have been used for breeding in the past and the other for roosting. In fact I'd once been surprised to find a Stock Dove with chicks AND a roosting male Barn Owl in the box at the same time!
The first box I went to had never been used for breeding in the past and the female was sitting inside, probably on eggs. We left her alone and went back home, very satisfied with our morning's work. Four pairs of breeding Barn Owls, a roosting male, and breeding Little Owls, Kestrels and Stock Dove; not bad for our first morning out. It's notable that all of these boxes are within 5 miles of Trent Bridge and that a pair in the earlier article are less than two miles from Nottingham City Centre.
Later, to make things even better, one of our ringers from the South Notts RG contacted me to say he'd found three pairs on eggs and young in boxes being monitored for the BTO Barn Owl Monitoring Program (BOMP).
Sunday 13th May
We planned to visit a few boxes in South Notts, close to the Leicestershire border, the first being one used for the first time last year. A late breeding pair on top of an old Jackdaw's nest had raised five chicks that I'd ringed in September. One had later been picked up very emaciated and Clive James had fed it up for two weeks before we put in back in the box with some food.
I half expected to find its corpse in the box but a Barn Owl came out as we approached and there were 6 healthy chicks inside though one was quite small and could well be 'recycled' by its siblings, depending on the amount of food available. We'll be back in two-three weeks for ringing.
Then the rain started and we went home!!
Monday 14th May
Apart from monitoring the boxes, we often get calls from farmers and landowners about box placements and advice.
A lady from a farm in the next village called me about the Project being present at a Farmers Show she was organizing at her farm in June. We like to talk to farmers about Barn Owls; it's always surprising how little some of them know about wildlife in general so it's good to spread the word now and then. Farmers are usually dead chuffed when they get Barn Owls breeding on their farms and enjoy bragging about them to their mates, some even get protective and can get quite 'shirty' sometimes - especially when the owls decide to use the box on their neighbour's farm. We've also been accused in the past of frightening the birds away because we ringed them, even though we're responsible for them having the owls in the first place.
Anyway, back to this lady. I popped over to see her. She showed me round and there was lots of ideal Barn Owl habitat and lovely wide strips around the fields of corn. I earmarked a couple of nice trees for boxes and agreed that we'd be back soon.
Later, I'd arranged to go and look in a box on a farm in my village; the nearest active box to my house.
The farmer's wife is also on the Parish Council so we have to keep well in with her as I often cadge money from Parish Councils. She was there with her coat and wellies on, accompanied by her two daughters, and they all squeezed into the back of my ancient G Wagen for the bumpy ride out to the box.
This box had been used off and on for the last few years and was now quite reliable. Sure enough a loud reptilian hissing came from the box as I mounted the ladder. There was a female with small chicks and eggs inside. I left mother alone but got out a chick to show the lady and daughters. After a few oohs, it went back with its siblings and we departed. That made it 11 pairs, most on good clutches.
Tuesday 15th May
Due to the rain, we nearly didn't go out today but it brightened up in the afternoon and my right-hand man, Gordon Ellis, came round so off we went. Usually when approaching a box it's hard to tell whether you have any Barn Owls inside or not. Some leave a few clues, like pellets on the shelf on the box front or sometimes on the ground or under a nearby tree where the male might perch or roost. Sometimes you can hear the young hissing. Sometimes it can be very silent. Other times, there's no clue at all!
Jackdaws usually scarper before you get to the box and you know you'll have a box full of sticks and rubbish. At this time of the year they usually have eggs, or young, so we leave them alone. Their nests are then taken over by Stock Doves and we clean them out in the autumn, a horrible job that requires a breathing mask and heavy gloves.
Once the blocker is in, and the ladder up, opening the door can be quite exciting.
Barn Owls can be unpredictable; take the two pairs we found this afternoon.
The first are on a golf course that has three boxes and the first box that we visited held a late brood of 6 last year that we found on 12th September. At the time we thought this was a second brood from a pair that had earlier nested in another box nearby in the next village.
The box was full of leaves and I suspected a Grey Squirrel might be in the box; there was, and it shot out of the box using my head as a stepping stone and disappeared up the tree.
In a reflex action I jumped off the ladder. Fortunately I was only about 8ft high so no harm done; it gave us a good laugh and I think the passing golfer enjoyed it as well.
The next box had been used two years ago but last year we'd found a dead female on eggs. This time a few pellets on the shelf indicated that the box might be in use but all was quiet.
I slid open the door. You usually have a good idea that the box is occupied by Barn Owls as pellets are often piled close to the door and some fall out when the door is opened. These are eventually trampled down and form a thick layer that can become three-four inches deep.
Peering into the gloom inside I saw a female Barn Owl sitting quietly with two chicks, about a week old, with their heads resting on her back. Their eyes were shut and there was no sign of life. I've seen this before, mother and chicks play dead in the hope of deterring any predators. How do the chicks know how to do this?
I saw two chicks and some eggs so I slid down the door and we left them alone.
The next box was one that had never had a Barn Owl before but I'd always fancied it as it overlooks good habitat. However, there were pellets on the shelf and on the ground so it looked promising. I popped in the blocker and something in the box tried to push it out. I slid open the door and an adult Barn Owl squared up to me while the other stood in the corner and there were some eggs there. Both birds were unringed.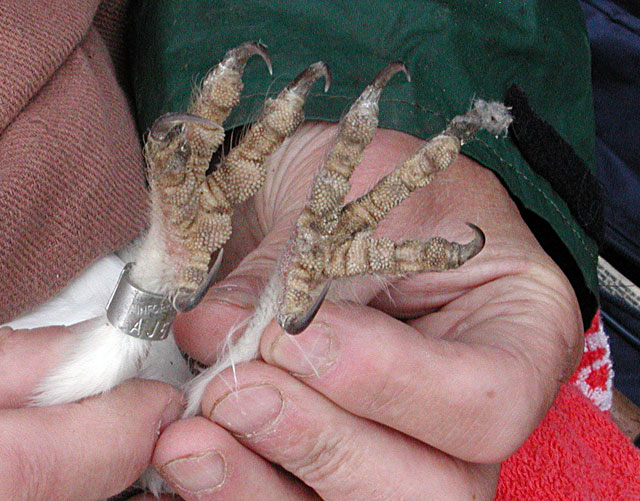 Barn Owl Not to be taken lightly! (Photo: Howard Broughton).
Usually it's the male who shows aggression and I didn't fancy putting my hand in as you're groping in the dark and can't see what you're doing. You often end up getting a hand full of holes. I shut the door and asked Gordon for the net. I took out the blocker and he soon jumped out into the net only it was the female I caught and not the male as expected. I popped a ring on her leg and put her in the cat box and then caught the male before putting the female back with her eggs. I ringed, weighed, and measured the male and put him back in. The female was already back on the 6 eggs and off we went.
So, two very different attitudes, one wants to play dead and the other wants to tear your hand off.
C'est la vie, as they say. The next box was some way off the road so we had to walk; there was nowt in it and we got soaked on the way back. Never mind, a constructive day with two new pairs to add to the tally and many more still to check.