14th–15th March 2010
After hearing of Jez, Sayam and Alex's successes around Sonadia in the southeast of Bangladesh during the first week of the expedition (including 25 Spoon-billed Sandpipers and flocks of 24 Nordmann's Greenshanks and 260 Great Knots respectively; see Bangladesh Spoon-billed Sandpiper diary: Part 1), Rob finally got to join the ever-so-slightly gloating team. It was a smooth journey, except for that bit at Delhi airport when the cockpit window flew open during take-off. An emergency stop in a 737 put paid to any thought of snoozing into Dhaka. Having packed light apart from two telescopes, tripods and binoculars all destined for the Bangladesh Bird Club and kindly donated from the RSPB second-hand binocular scheme, a trip to the market for some expendable survey clothes was necessary. While the light shorts that Alex and Rob chose proved to be more or less self-destructing in the field, Jez is unlikely ever to be parted from his classic white singlet.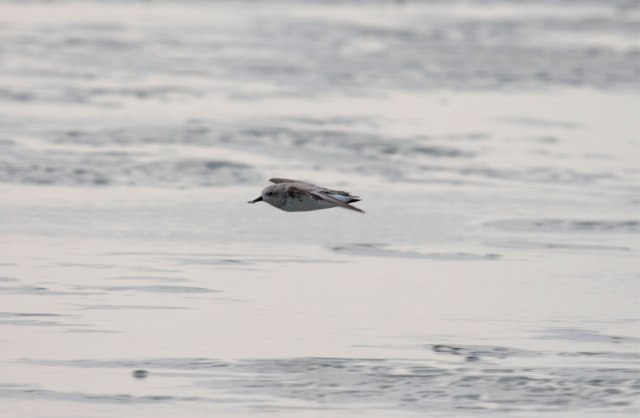 Spoon-billed Sandpiper (Photo: Rob Martin)
Now we were ready for the next phase, into the Lower Meghna Delta. Unfortunately this time the logistical difficulty of securing a known and reliable boat with crew and local guide was proving testing. Sayam Chowdhury, the fixer of the team, was tied up with his efforts to obtain a visa to fulfil an invitation to the Student Conference on Conservation Science in Cambridge. This left Rob wondering if he'd ever get out of Dhaka, but after a couple of days rattling around the city, bouncing from cycle-rickshaw to moto-taxi, we met the distinguished Chairman of the Bangladesh Bird Club, Enam Ul Haque, a man who would make things happen. However, we would first go to the Feni River mouth with Sayam, a previously unsurveyed area in the northeast corner of the Bay of Bengal and explore as much as possible from shore and local boat for three days. In the meantime a boat would be sought for the final leg of the trip, surveying for as long as possible the shifting mosaic of islands and water that makes up the Delta.
16th March 2010
We sped out of Dhaka at 06:30 through the verdant green paddyfields and innumerable brick kiln chimneys that dominate the Bangladeshi countryside. A tomato-market-induced traffic jam added an eternity to the journey, but by 14:00 we were seated in a small fishing boat being rowed towards a high-tide roost opposite the village of Sangarkan. None of the big prizes here though: the roost contained 315 Kentish Plovers, 193 Avocets, a few Little Stints and sandplovers. We couldn't persuade the boatmen to go further downstream as the tide began to recede, the first hint of a recurring problem we would have at this site. A return to shore-based scanning mostly resulted in the accumulation of the entire village to observe the foreigners. A distant Pied Harrier and a brace of Steppe Eagles briefly distracted us, but then we were engulfed by the entire village and played the 'who wants to look through my telescope?' game until we could extricate ourselves from the mêlée.
17th March 2010
Some decidedly medium-rare chicken at a restaurant last night left Rob largely out of the picture today, though an early sighting of distant 'peeps' from the shore still saw him wading through thigh-deep glutinous mud to get a closer view with the others, despite looking (and feeling) near death. The 'peeps' were Little Stints, and further searches to the southwest at Char Fakura by Alex and Jez disappointingly failed to produce any of the target waders (whilst Rob attempted to recover in the van). The most notable sighting of the day was the discovery of two Red-throated Pipits by Alex on the return walk. This species is decidedly rare across most of the subcontinent and there are only four published Bangladeshi records.
18th March 2010
Back up to full strength, almost, Jez, Alex and Rob walked out onto Char Chandia after Sayam headed back to Dhaka to try to obtain his visa. In scenes oddly reminiscent of Cyprus a year ago (the last time we three had been in the field together) large flocks of flava wagtails coated the tightly cropped agricultural plain by the coast, and amongst them were at least 15 Red-throated Pipits and 80 Greater Short-toed Larks. The latter is considered a rare visitor to Bangladesh and, as noted above, the former is very rare, but evidently overlooked at this season. As for the waders it was another disappointing day, with only relatively small numbers of sandplover, Whimbrel, Curlew, Redshank, Greenshank, Terek, Common and Curlew Sandpiper, Little and Temminck's Stint and a couple of Oriental Pratincoles but a complete absence of our target. We did add another IUCN Red List species for the trip with at least four Spotted Eagles along the river, but were frustrated that logistical problems precluded our reaching deeper water and more promising sites beyond the estuary. We were welcomed back into the hazy embrace of Dhaka about eight, one of those uncomfortably long welcomes that held us fast in hot, sticky traffic for four hours before finally getting back to Sayam's house. Alex had now taken over the mantle of 'the sick one', and Jez fell out of a cycle rickshaw. Not the best end to the excursion.

Spoon-billed Sandpiper habitat (Photo: Rob Martin)
19th March 2010
News back in Dhaka was not entirely encouraging. Sayam hadn't heard anything regarding the visa and a boat was still proving elusive. Then a breakthrough: Enam had managed to engage MA Muhit's services in organising a boat out of Bhola from 23rd onwards, and had even forwarded payment in order to secure the vessel. Not that Muhit could join us for the trip, as he was rather preoccupied with preparations for an attempt to become the first Bangladeshi to conquer Everest! The efforts of Enam and MA Muhit on our behalf were well beyond the call of duty, and now we had a reliable boat, a starting point and seven days in the Delta. However, we also had nowhere to go for two days, so quickly arranged a self-funded side trip to visit Lawachara National Park for a change of scenery.
22nd March 2010
Enam kindly accommodated us on our return to Dhaka in order to prepare for the next round of boats and dysentery. With a few hours to spare we accumulated luxury items (baked beans, coffee and powdered milk) then pinned down our planned route through discussions with Enam and Paul Thompson of the Flood Hazard Research Centre (and Oriental Bird Club representative for Bangladesh). After a rather 'eventful' taxi-ride we eventually managed to meet up with Indranil Kishor (our guide for the next week) and our time in the delta finally began serenely cruising past the flashing torches of the ship-breakers that work the rusty hulls lining the river.
23rd March 2010
Our home for the next week was ready and waiting for us as the launch pulled in to the terminal at Bhola, and we were able to climb directly aboard. It was a striking vessel, an elegant 10-metre wooden boat with brightly coloured decoration around the low cabin and a gleaming white prow. The plan was to head east towards Sondeep, aiming to discover and survey as much suitable habitat in this area as possible. As the only boat that could be arranged was at Bhola, unfortunately we had to start there. This meant that today would be spent almost entirely travelling and we would only get to the first areas of habitat by afternoon tomorrow. So we headed back up the river, picking up a small boat to use for landing and accessing shallows and turned east around the north coast of Bhola Island. The first mudflats were encountered along the eastern coast of Bhola Island as we headed southeast. Large numbers of Ruddy and Common Shelduck were obvious, but large flocks of waders were not apparent and so we kept travelling in order to get to into our targeted areas the next day. Whiskered Terns, Pallas's and Brown-headed Gulls were our regular companions out on the river and four Ganges River Dolphins in the afternoon were noteworthy.
A small island provided the first test of the little boat and its operator, a young teenager named Farouq. It did not go well. With the tide rising and a bit of a choppy sea it was immediately apparent that the boat was too small and Farouq was pretty worried. There was a real danger of capsizing, which wouldn't have gone down well with those of us with expensive cameras, even with the water less than a metre deep. We aborted the attempted landing on the tiny island but could still see that all it held were 20 Greenshank, some Common Sandpipers and a couple of Terek Sandpipers. Tomorrow. Wait for tomorrow....
24th March 2010
Our allegedly 'brand new' engine was drinking a lot more oil than it should and one of the crew had to go ashore to source a further barrel; a six o'clock start slipped to seven. A few more small chars were passed once we got underway, but still only small numbers of waders were encountered. Conditions on the water had become choppy, with the boat pitching considerably by late morning in the channel north of Hatiya Island. It was one thing for our little boat to sink but this was a lot hairier. We could see on the horizon the beginnings of what looked like expansive mudflats. Finally, time to get surveying. Well, almost. The boat crew were not happy with the situation, in unfamiliar waters and were worried that the weather might take a turn for the worse. After all, it doesn't take a great deal to capsize a small wooden boat. We tried using recent satellite images to demonstrate the presence of a large channel just further east in which we would be quite sheltered from any potential problems but, despite Kishor's best efforts, the crew were dead set against getting any closer to the open Bay of Bengal.
The decision was made that if we could not get across there today it would be pointless waiting on the off-chance that the wind would drop. It was forecast to be the same all week, so we had to write off our plans and implement plan B. This was heading for Nijhum Dweep and surrounding islands to survey thoroughly areas where small numbers of Spoon-billed Sandpipers have been recorded previously. We couldn't now hope to trawl many new sites; our best bet was to find a wader superflock containing a sizeable portion of Spoon-billed Sandpipers. Still, the disappointment was tangible on the boat. We felt sick, and not from the pitching and yawing. These areas in the triangle between Sondeep, Hatiya and the Noakhali coast have still to be surveyed, and must contain both suitable habitat and large numbers of wading birds. It is a top priority for future survey.
To lighten the mood a brace of visibly migrating Blue-tailed Bee-eaters buzzed the boat low over the water heading south towards Moulivir Char, our next destination, and a couple of White-winged Terns also passed over amongst the Whiskereds, a scarce winter visitor to this part of the world.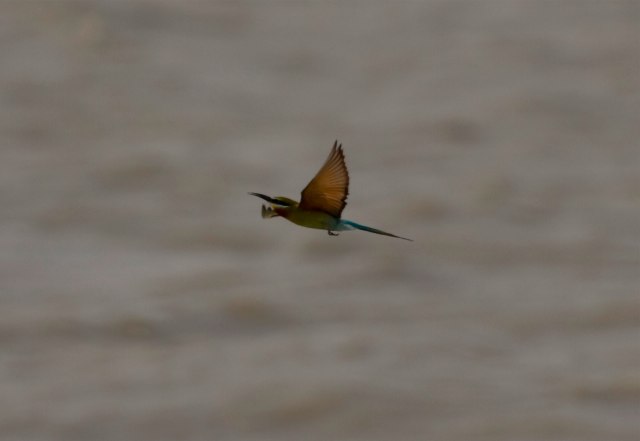 Blue-tailed Bee-eater (Photo: Rob Martin)
In somewhat calmer waters the small boat safely allowed us to disembark and check mudflats along the northwest edge of Moulivir Char, but once again diversity and abundance of waders was poor. Still worried about the wind, the crew decided to head the boat up a small creek for the night, so Jez and Rob pitched tents on the shore for a night leaving Alex to the unforgiving hard floor of the cabin roof.
25th March 2010
Jez took a turn for the worse last night. The sound of rats eating immediately outside his tent wouldn't have been so bad, if they hadn't been eating his own vomit.... Still, we had plenty of time for a lie-in, with the channel predictably devoid of water when we wanted to get moving. Further frustration coupled with increasing discomfort were telling on the team members, with Alex severely fatigued and lacking any appetite for more rice and dhal, Jez now ill and Rob still yet to see any significant flocks of waders. The water lifted us clear at 09:00 and we began chugging south past Moulivir Char, Monpura then along the west coast of Hatiya Island to Nijhum Dweep. A flock of 200 Pacific Golden Plovers and a couple of roosting groups of Greenshanks were not enough to persuade us to make any stops en route and the forests of the northwestern Nijhum Dweep came into view about 15:00. A Smooth-coated Otter was the highlight as we explored the channel between Hatiya Island and Nijhum Dweep, and well over 150 Spotted Deer (introduced to the island) spilled out of the forest at dusk. A water buffalo corpse was sadly only attended by House Crows and feral dogs, though a couple of White-bellied Fish Eagles patrolled high above the channel. The west coast of Nijhum Dweep was muddy, and finally we could check some flocks of waders. 300 Black-tailed Godwits, 145 Whimbrels and 400 Pacific Golden Plovers had the feel of migrating groups, though the 86 Black-headed Ibises and 150 Great Egrets were more likely to be resident. We went up the channel to the main village in the south of Nijhum Dweep and took advantage of the guesthouse, owned by the landlord of another Bangladesh Bird Club member, Ronald Halder. Ronald had been able to arrange his own trip to the island and we would meet him tomorrow. In the meantime we took advantage of the brief spell of generator electricity and comfortable beds to prepare for the final stage of the trip.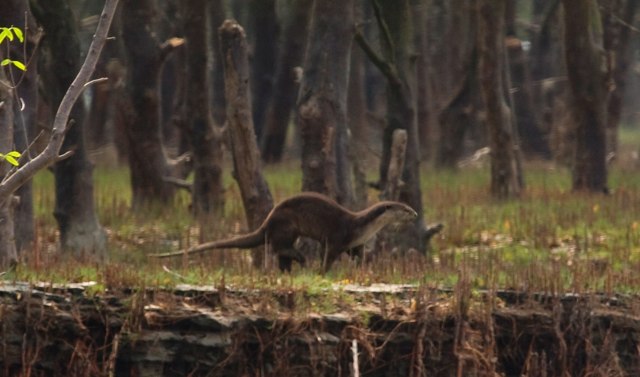 Smooth-coated Otter (Photo: Rob Martin)
26th March 2010
Rob departed at 06:00 to check that our boat had actually managed to leave the channel as planned, to meet Ronald at the southern end of Hatiya Island. It had, and the forest around the channel was filled with resident and migrant birds, including many Greenish and Yellow-browed Warblers, mingling with Fulvous-breasted Woodpeckers and White-throated Fantails. Jez needed more recovery time so Alex and Rob searched the southern half of Nijhum Dweep for mudflats and waders for the rest of the morning, though with little success. It was an interesting area for migrants however, with Forest Wagtail, Brown and Long-tailed Shrikes, Blyth's Reed and Clamorous Reed Warblers, leucopsis White Wagtails, and many Yellow and Citrine Wagtails. After some restorative bananas Jez was strong enough to join the team as Ronald arrived and we all moved out to walk the mudflats we sailed past yesterday evening. A more detailed assessment of the birds present was carried out, but this added little new; a single Wood Sandpiper and Grey Plover, while numbers of both Black-tailed Godwits and Pacific Golden Plovers were lower.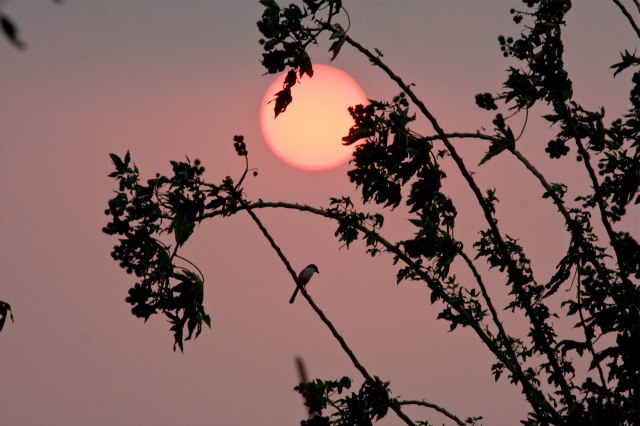 Long-tailed Shrike (Photo: Rob Martin)
27th March 2010
Well, with only two full days of survey time available to the team the time in the delta had been hugely frustrating. Finally, today we were going to an area we knew would have suitable habitat and that has held Spoon-billed Sandpipers in the recent past. Dama Char is a small island east of Nijhum Dweep and we staked everything on there being a mass of waders, and hopefully a flock of Spoon-billed Sandpipers. Three Irrawaddy River Dolphins feeding together as we chugged round Nijhum was a pleasant start, and as we arrived on the west side of Dama Char things looked promising. About 3000 Black-tailed Godwits stood ankle-deep in the rising water, and just beyond them 250 Indian Skimmers were roosting. Within minutes Rob pulled out an Asian Dowitcher, making Ronald's trip, as this was his target species to photograph for his forthcoming book. A minimum of 12 of this Near Threatened Asia-Pacific flyway speciality were mixed in with the godwits, but these were quickly moving off to the south. We knew there was a roost somewhere on the island. Looking south a vast cloud of waders was circling. Leaving Ronald with the dowitchers we waded channels, flagged down a passing boat and ripped our feet to shreds on needle-sharp marsh grass to get to the birds. Small roosts of Temminck's Stints and Greenshanks flew up, a late family of Bar-headed Geese lounged on the shore and a single dainty Small Pratincole swept past.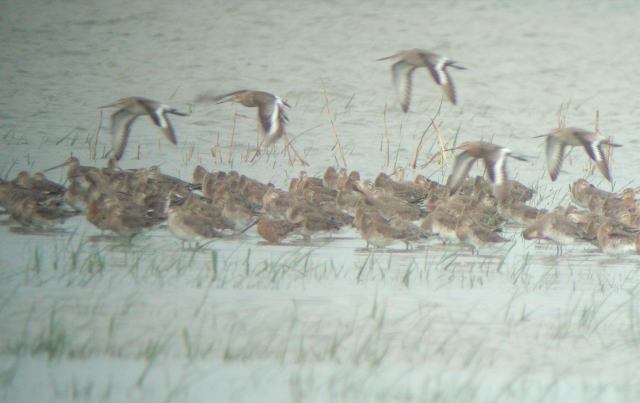 Asian Dowitchers and Black-tailed Godwits (Photo: A. Lees)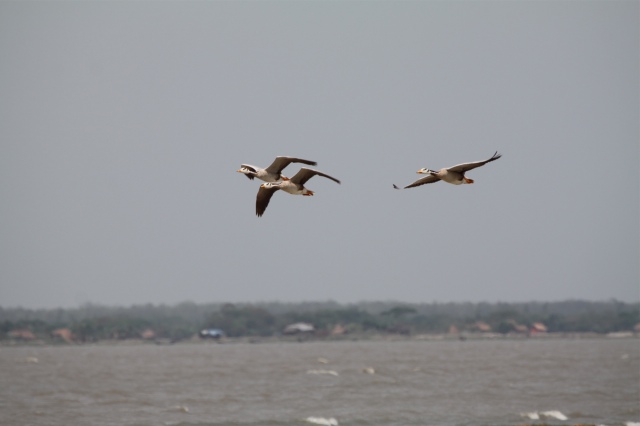 Bar-headed Geese (Photo: A. Lees)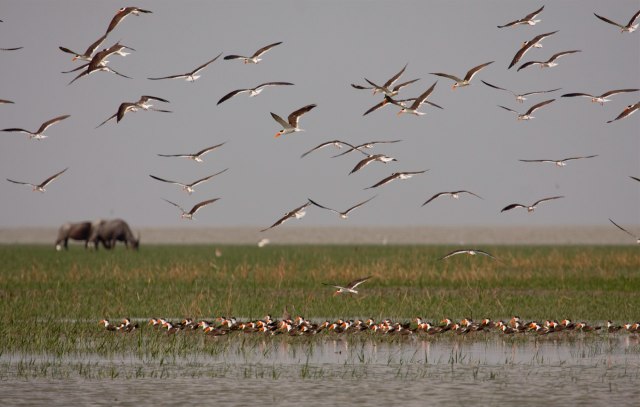 Indian Skimmer flock (Photo: Rob Martin)
The roost was pretty big, but lay on another small island cut off from Dama Char at high tide. Approximately 15,000 sandplovers (mostly Lesser) and 9,000 Black-tailed Godwits made up the bulk of the dark mass of bodies, though many other wader species were just about discernable in the haze. Jez tried to wade across but soon found a deep channel so we were forced to watch from distance until the tide dropped and birds began leaving the roost. We split up along the shore and studied different sections. It wasn't long before the first mud was exposed, and we set about grilling waders. More Asian Dowitcher appeared, and soon 34 were visible at once, feeding and preening amongst Black-tailed and Bar-tailed Godwit. Five Nordmann's Greenshank were feeding along channels on deep, soft areas of mud. 26 Great Knot were counted, everything was here. Except...Spoon-billed Sandpiper. To everyone's relief Alex found one, over an hour after we began searching. As at Kaladia, the Spoon-billed Sandpipers was feeding on a relatively hard sand/mud mix that retained shallow pools of water as the tide receded. Concentrating our efforts on this substrate we continually scanned, and the count kept going up. Eventually 19 birds were visible at one time, feeding constantly, pushing through the mud with their incredible bills. Absolutely brilliant.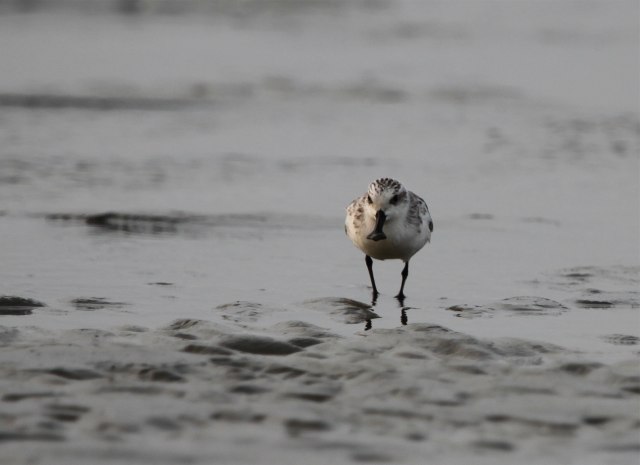 Spoon-billed Sandpiper (Photo: Alex Lees)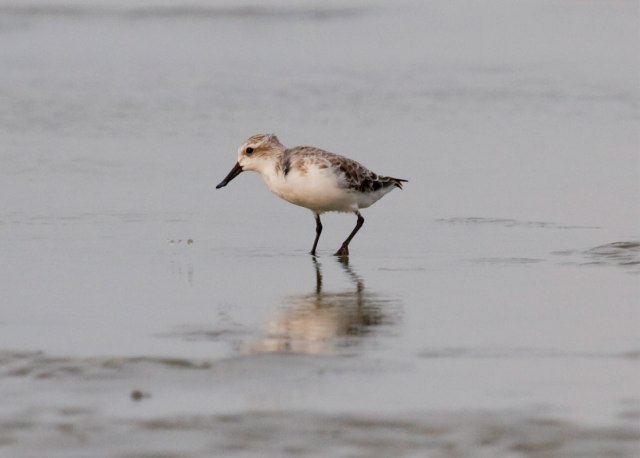 Spoon-billed Sandpiper (Photo: Rob Martin)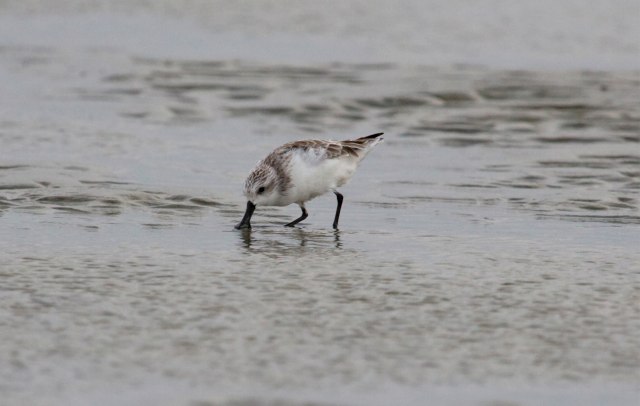 Spoon-billed Sandpiper (Photo: Rob Martin)

Spoon-billed Sandpiper (Photo: Rob Martin)
We returned towards the boat just as the light was beginning to fade. We needn't have rushed. The boat looked like it had been dumped in the middle of a field! The crew, 'to do us a favour', had brought it right up one of the minor channels we charged across earlier. OK, so we didn't have to walk through a kilometre of thigh-deep mud, but the boat was stranded for the next four hours. The tide duly arrived, well after dark, but this just brought more problems. An almost full moon meant the tides were almost the largest of the year. The shallow channel we were in quickly disappeared under the flooding water, and a strong southeasterly made the boat difficult to control. With a thud and some creaking we hit a submerged mudbank, and were pinned on it by the wind for over two hours. Eventually we limped back to Nijhum after midnight, and a silvery lining appeared in the form of a Brown Fish Owl and several Large-tailed Nightjars in the bright moonlight.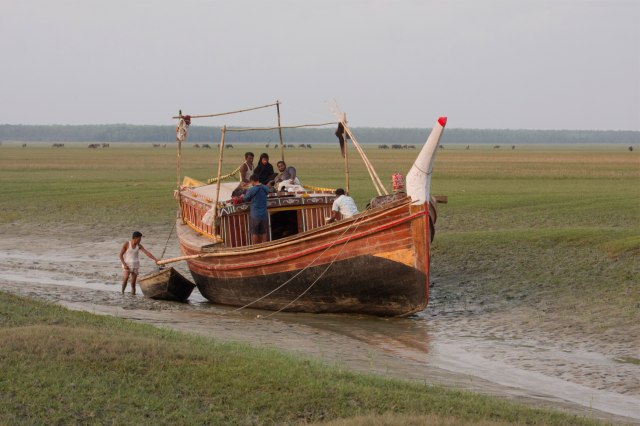 Our boat sadly stranded in a field (Photo: Rob Martin)
28th March 2010
Despite the success of yesterday's visit to Dama Char, we felt that we had only managed effectively to cover a small percentage of the potential habitat and that we should return today. Ideally we would have stayed on Dama Char overnight, but we had all left bags at the guesthouse on Nijhum. Once again we were at the mercy of the tides and despite an early start couldn't get over to Dama Char until the tide was too high to cross to the roost. Do or die as some say, Rob fancied the odds and packed his scope and bins into Alex's dry-bag for the swim across, but only managed to find a single Spoon-billed Sandpiper amidst roosting Calidrids before the whole roost dispersed. A more accurate count from a better vantage point resulted in a maximum of 24,000 sandplovers (mostly Lesser) and 8,500 Black-tailed Godwits.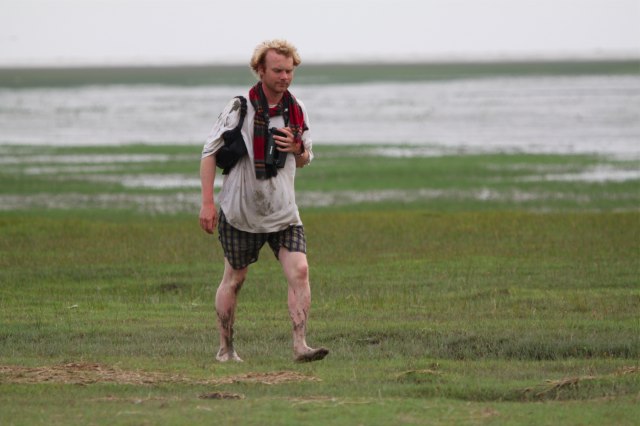 Rob returning from swim to roost (Photo: Alex Lees)
Alex was dispatched out further east and found more large areas of mudflat, onto which many of the godwit were landing. He returned counts of a dozen Asian Dowitchers with godwits, a roost of 14 Nordmann's Greenshanks and two Eurasian Spoonbills. Jez headed back to the site of yesterday's Spoon-billed Sandpiper and began counting; eventually Alex and Rob returned and joined the effort. A co-ordinated count led to the minimum number of Spoon-billed Sandpiper feeding at this location being increased to 23, though without managing to get around the circumference of the island there remains the possibility of further individuals being present undetected. With the sun setting and us shuffling around on our knees watching several individuals of one of the most endangered birds on the planet gently pushing mud and sucking inverts all around us there was a tremendous feeling of pleasure. Right here, at this precise moment, all is right in this shorebird Mecca. A sobering thought, then, that the minimum of 48 Spoon-billed Sandpipers we recorded this month represent by some estimates about 10% of this unique species' entire population. The crew had learnt their lesson last night and stayed out in the safety of deeper water, so of course we had to walk that kilometre of thigh-deep mud we were so dismissive of yesterday. We'd given it our all, but this is a beginning rather than any kind of milestone.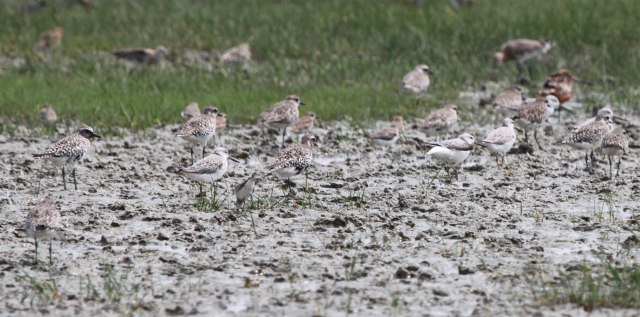 Nordmann's Greenshanks (Photo: Alex Lees)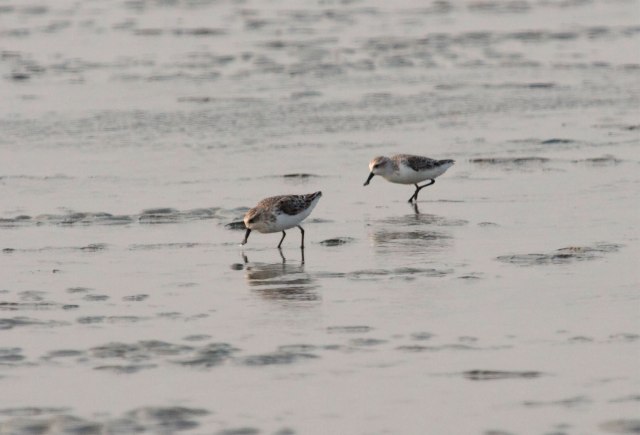 Spoon-billed Sandpiper (Photo: Rob Martin)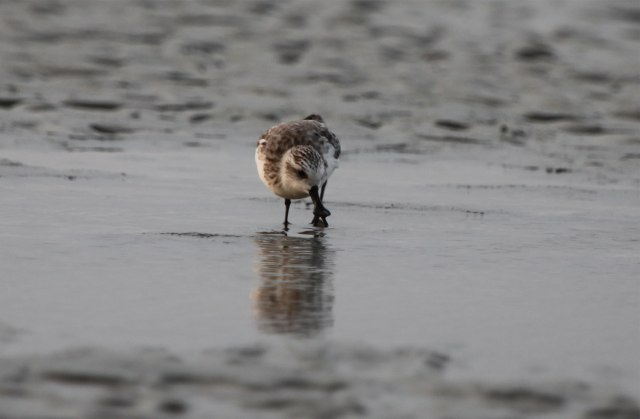 Spoon-billed Sandpiper (Photo: Alex Lees)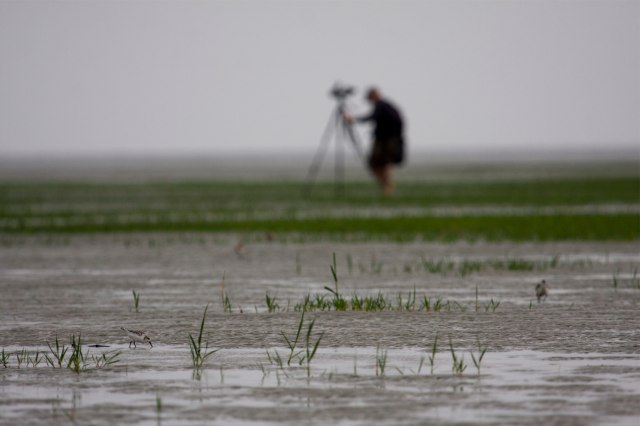 Alex with Spoon-billed Sandpiper (Photo: Rob Martin)

Nordmann's Greenshanks (Photo: Rob Martin)
29th–30th March 2010
All that was left was to get to Tamruddin, on Hatiya Island, to connect with the launch to take us back to Dhaka overnight. Despite Jez and Rob spending several hours on the bridge foredeck not a single cetacean was seen. We were welcomed back into Enam's house at 08:30 on the 30th, with both Alex and Rob having planes to catch early the next morning. This left just enough time to call a special meeting of the Bangladesh Bird Club. We were able to rush together an off-the-cuff presentation detailing our findings and why Spoon-billed Sandpiper needs coordinated conservation action right now.
We felt that our total of 49 Spoon-billed Sandpipers — 25 around Sonadia, 23 at Dama Char and a single at Teknaf (seen by Jez and Sayam in early April) — the highest count in the country for over two decades might still represent only a relatively small fraction of the total Bangladeshi wintering population. This underscores the relative importance of the country as a crucial wintering site and means that protection of sites threatened by threats as diverse as major infrastructure development and subsistence hunting is of paramount importance. Further surveys, especially aerial ones, are required to locate major shorebird wintering areas within the delta and to pinpoint potential Spoon-billed Sandpiper wintering sites. Our counts of Nordmann's Greenshanks, Great Knots and Asian Dowitchers were among the highest ever from Bangladesh and reinforce the notion of the importance of the region for these other shorebirds of conservation concern. With news that Chinese funding has now been secured to build a deep-sea port at Sonadia (where we recorded a minimum of 25 SBS), the future of Spoon-billed Sandpiper continues to hang in the balance. Hopefully the international conservation effort to save this iconic species across its breeding and non-breeding range, coordinated by the SBS working group, will ensure its long term survival.
Spoon-billed Sandpipers foraging at Dama Char, Bangladesh, March 2010 (Video: Alex Lees)
Acknowledgements
We are gratefully indebted to Enam Ul Haque, Sayam Chowdhury, Indranil Kishor, Paul Thompson, MA Muhit, Farhad A. Pavel and M. Abu Yousuf and everyone at the Bangladesh Bird Club for all their help and support throughout the trip and would again like to thank the expedition's sponsors the Oriental Bird Club, BirdGuides, the Lincolnshire Bird Club, Ecology Consultants and the Sevenoaks RSPB Members Group.
Update 16th November 2010: the final results of this work have been published in Forktail and are freely available here.