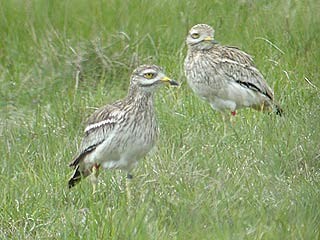 Stone Curlew: (photo: Kelvin Lewis)
This is the eleventh in a series of articles highlighting some of the remarkable success stories achieved by the RSPB through their work to save some of Britain's rarest birds.
Over the last 100 years the Stone Curlew experienced one of the fastest rates of decline of any bird in the UK. Formerly found breeding as far north as Lincolnshire and Yorkshire, the population is now confined to East Anglia and Wessex. The rapid reduction in numbers was attributed to the loss of suitable semi-natural habitat such as Breckland heath, acid grassland and chalk downland, which resulted from agricultural intensification and afforestation. By 1991 the UK population was estimated at just 168 pairs.
The RSPB has worked closely with farmers and landowners to carry out detailed research on Stone Curlews. Research focused on the ecology of these bizarre-looking birds and this established that they require open ground for nesting and grazing land for feeding. Research also found that farming operations, such as the rolling of cereals, weed control cultivations and the use of irrigation equipment posed the threat of destroying eggs and chicks.
As a result, locating nests and chicks on farm fields, alerting the farmer to their presence and, if necessary, marking the nest, delaying operations or lifting the chicks until operations had been competed, made a significant difference. These procedures resulted in the birds faring 37% better per year. As well as providing species protection and monitoring, fieldworkers also provide advice on land management for Stone Curlews and encourage suitable habitat to be provided for nesting and feeding. Two-hectare plots are managed during the summer to maintain open ground.
Content continues after advertisements
The UK BAP target of 200 pairs of Stone Curlews by 2000 was achieved early, in 1997, and already the 2010 target of 300 pairs is close to being achieved now. Work has been such a success that the population is now increasing. However, creating suitable habitat on a significant scale is required for the birds to recolonise parts of their former range, such as south Cambridgeshire, the Chilterns and the South Downs.
For further details of how the work of the RSPB has led to this conservation success story, click here to read a PDF which gives the full story.
If you like this sort of work then please consider donating to, or joining, the RSPB.