Easterly winds and sunshine for five whole days at the end of May on St Agnes. Fantastic, I thought. The same conditions this time last year had brought Black-eared Wheatear, Bee-eater, Golden Oriole and Honey Buzzard to our little outpost at the far southwestern tip of the UK. What would this year bring?
To tell you the truth: not a whole lot. I was in the fortunate position of having very little to do on the two farms where I work; and I was able to bask in the glorious sunshine, and stroll about my patch at leisure. But the birding rewards were pretty slim. Yes, I got a quick glimpse of a young male Golden Oriole on the first morning that the winds changed from the wretched northerlies that had plagued us for a fortnight — yet I still somehow contrived to miss a male Red-backed Shrike found just outside my back door; didn't manage to find the Hoopoe that was seen out on the Downs on the Sunday afternoon; and despite constant searching, I never saw or heard the oriole again. My finding of a female Red-backed Shrike on Wingletang next morning went some small way to redressing the disappointment of missing a male the previous day — or at least it might have done if it hadn't been a quarter of a mile away on a farm I don't have access to. It was so far away that I couldn't make up my mind whether it was a shrike or a Spotted Flycatcher at first, and I didn't have my scope with me to make the job any simpler.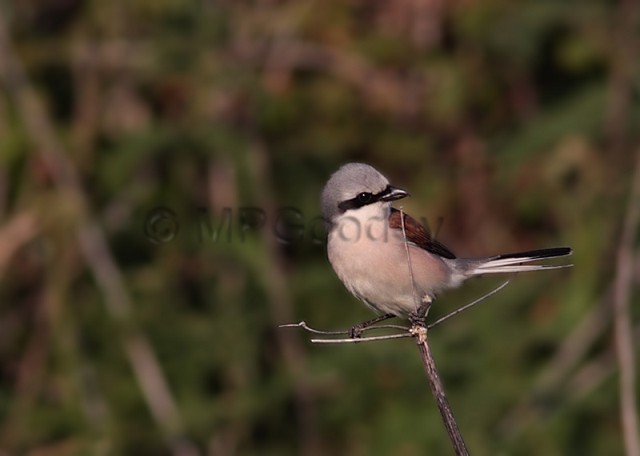 Red-backed Shrike, St. Mary's, Isles of Scilly (Photo: Martin Goodey)
I flushed a Quail as well; and, after two brief glimpses over three days, I finally confirmed with a proper view that we had a Hobby on the island with us. I enjoyed the sun; and I enjoyed what little glimpses of visible migration I could over the five days — such as the two little parties of a dozen summer-plumaged Sanderling that dropped in one afternoon, and the single Greenshank and Redshank coming in high off the sea from the west — yet good views of a decent scarcity continued to elude me. I could already feel myself beginning to yearn wistfully for the autumn.
The sun disappeared, and it became time to get back to work and do some lettuce planting. The weather forecast for Wednesday 26th May was for a return to northerly winds: I had a nice long lie-in at last, and at about 10 o'clock I had a stretch and a yawn and then sauntered up to our fields to get something done. No birding for me today. Just as I was approaching a narrow belt of pines beneath the famous St Agnes' Parsonage — a bucket of last year's mouldy old spuds for our pig in my hand — I subconsciously registered a thin, but emphatic tsst call-note that stopped me momentarily in my tracks. The name 'White-throated Sparrow' floated into mind. I thought for a second I must be mistaking it for the call of some fledgling or other (young Song Thrushes sound incredibly like Indigo Buntings!), yet there it was a second time. This time I recognized that there was something much more assured and confident about the note than is usually the case with the more plaintive, begging calls of young thrushes and Blackbirds — and it had more of a 'presence' about it than the similar high-pitched seee contact calls of adult Blackbird, Robin, and Great Tit. I say this now with the benefit of hindsight and slow-motion reflection; yet in real time it all unfolded very quickly... With the third call, I dumped the bucket containing piggy's potatoes on the ground and suddenly awoke to the fact that this was pretty serious. It occurred to me in a moment of panic that I might have to spend an unwelcome amount of time confirming the source of the sound that I was now almost certain belonged to a White-throated Sparrow — a bird that I was intimately familiar with during the nine autumns I spent in Cape May, but one that had never before been recorded on Scilly.
And suddenly I'm looking at it right there, out in the open field right next to me — slightly smaller than a Dunnock, stripy head, rusty wings, cocked tail! I'd walked straight past it, would you believe! As is so often the case in these treasured first moments of unforeseen drama, I started shaking like I'd never stop! Somehow I managed to finger the buttons on my phone and made a couple of quick calls to babble out the message to my friends on St Mary's. With four or five sightings of White-throated Sparrow having already occurred across the UK this May (see Finders Keepers for an evocative account of the singing bird in Cornwall), this latest record was unlikely to create a stir around the rest of the country, but for the birders on Scilly this was a bird of huge local interest. Obviously for all of them it would be a long-awaited Scilly tick; for some it would be a UK tick (myself included); and for several others, it would be an actual World lifer. Having watched the bird myself on and off for half an hour, I managed to quieten the pig's clamorous yowls by finally delivering her breakfast, greeted the Mary's birders at the St Agnes Quay, and led them triumphantly up to the site.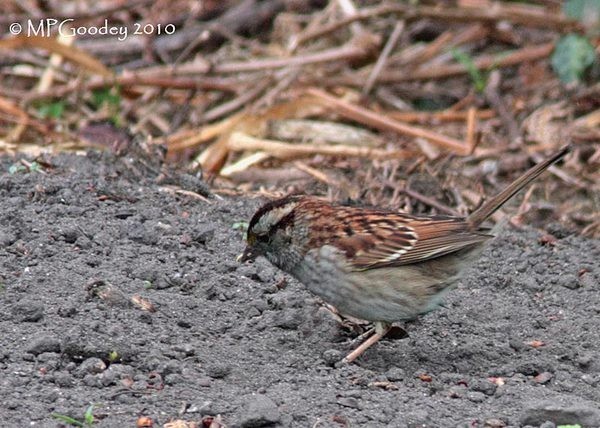 White-throated Sparrow, St. Agnes, Isles of Scilly (Photo: Martin Goodey)
It was an anxious hour before the bird showed again, but when it did we all had excellent views. Perhaps the views were too good? On the right-hand underside of the bird was the unmistakable sight of bright apple-green paint! There were traces of the same colour on the right wing and a touch on the throat. Bob Flood, veteran of many an Atlantic Ocean odyssey, told me he had seen the same green colour daubed on the railings of many cruise vessels that are refitted and repainted every spring in the South Atlantic before heading to UK shores. Did it matter to any of us? I don't think so. I think we all know by now that the majority, if not all, the American sparrows that reach European shores have at some time on their journey across the Atlantic sought shelter aboard ship. Here was undeniable proof!
Oddly enough, the bird didn't call again for several hours, which makes it even more fortunate that it happened to have been vocalizing just as I was first passing. White-throated Sparrow has a number of distinctive call notes, one of which is the contact call already described; another is a more explosive, ringing chirp that we heard several times during a burst of calling activity in the early afternoon. Unfortunately it didn't sing — as a number of previous British birds have done; the song is a loud tuneful whistle that I would love to have heard again, if only to have shared it with my friends who presumably haven't it before. Here's an extract from my Cape May Diary of 1997 to illustrate just what a familiar, garden bird this is in the northern United States during the winter months:
January 17th. Part of my daily routine at the moment involves taking tea at the kitchen window and watching the activity of the sparrows in my garden. The most numerous species of sparrow is the White-throated. Around a dozen turn up every morning to devour the sunflower seed I scatter across the lawn, and I have developed a habit of tuning in to the classical radio station and watching them jerk their bodies back and forth to dislodge food as though dancing in time to the music. One or two Song Sparrows are often present on the periphery of the flock and every now and then a more unusual sparrow, such as a Swamp or a Fox, comes down to feed. I don't see much of the White-throats during the day, but they are guaranteed to return at sunset for one last feed. Even in the heart of winter, the occasional burst of mournful singing — pure sweet Canada Canada Canada — can be heard, arising out of their chattering midst.
The Americans are very fond of anthropomorphizing their bird songs, and another rendition of the song is: old Sam Peabody Peabody Peabody. I have no idea who Old Sam Peabody was, or is.
My last view of the Sparrow came at six in the evening, when it moved several fields from the original sighting and appeared for several minutes in the woodpile next to the two compost bins at the bottom of my garden. A party of nine birders on an evening boat out of St Mary's failed to find it, and it was not seen again next day. However, there was a different excitement to follow. At 8:30 on the morning of the 27th of May, at the exact same spot where I had first heard the sparrow calling the previous day, I picked up the unmistakable sound of a Bee-eater calling several fields away: pruup. In a bizarre coincidence, I was again carrying a bucket of potatoes up to the farm for the pig's morning feed! Dropping the bucket right next to the circular impression in the soil from yesterday, I legged it along the path; and soon found myself looking at not one, but four Bee-eaters! I phoned the news out immediately — a little prematurely, it seemed, when I had to update my message to say that there were at least seven Bee-eaters on view! The angle of the sun wasn't great for viewing, but with a bit of hasty manoeuvring, I managed to get myself into a decent position to be at times right underneath the birds as they sat in the early morning sun, occasionally zapping out in a little feeding flight, just above my head. After twenty minutes, I was finally joined by a second observer, one of my employers and long-term St Agnes birding aficionado Fran Hicks, who was naturally delighted to see such an incredible spectacle taking place on his own land. Seven, we understood, was the previous largest flock of Bee-eaters seen on Scilly (it's happened at least twice that I know of) and we were just contenting ourselves on equalling that particular record, when suddenly they all took flight and from somewhere in the complex of tamarisk and Pittosporum hedges surrounding us, another four Bee-eaters emerged, making eleven in total! (I'm sorry, I'm sure you can all add up.)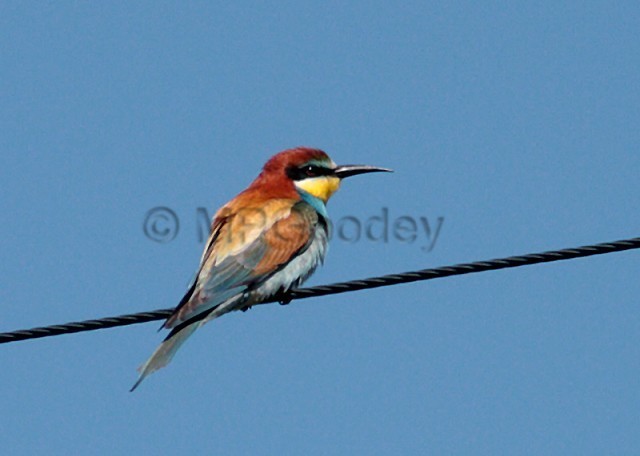 European Bee-eater, St. Mary's, Isles of Scilly (Photo: Martin Goodey)
Well, what an event! Amongst the non-birding residents of St Agnes, I have to say that the appearance of the first American sparrow for the Isles was met by a deafening indifference. But eleven Bee-eaters! For the second time in two days a party of a dozen birders rushed over from St Mary's — at around 10:30 they were all standing up high by the lighthouse when the birds flew a major loop around the island. This time passers-by joined in, stopping and staring as this most exotic of scarce visitors flashed overhead, underwings glowing gorgeously orange in the bright morning sunshine. There was a ripple of excitement when word got passed around at the Post Office, and several island visitors dashed out to join in the fun and appreciation. At the same time I was passing by the farm of my second employer, Ben Hicks (a distant cousin of Fran's), usually a man with no interest in birds whatsoever. I found him digging a bucket of this year's new potatoes. "You want to be careful of that bucket of potatoes," I said jokingly, "they could be magic. You never know what you're going to see next when you're carrying one of them." No word of a lie: hardly had the words left my mouth when I heard the lovely liquid sound of the Bee-eaters approaching; and there they were again, right over our heads. Even Ben, with his joky, detached disinterest in all things avian, put down the bucket and accepted the offer of a look through my binoculars. He smiled and watched the birds off into the distance, and I could see he was genuinely impressed.
"Have you tried pushing a wheelbarrow full of potatoes, Graham?" he said. "Then you might find something really rare."
I had a go next day, but it didn't work. But I think the circumstances linking the two events were surreal enough anyway to justify my telling you this story, don't you agree? As a postscript I also saw a Honey Buzzard floating over the St Agnes Lighthouse on the afternoon of the White-throated Sparrow, and a Nightjar — a less-than-annual visitor to Scilly — flashed past me the morning of the Bee-eaters, adding up to a really super couple of days. The Bee-eaters themselves left St Agnes at 11:30 on their first morning, and were picked up arriving on St Mary's five minutes later. They then appeared at various sites in the north of the island (at each of which a Golden Oriole was seen, apparently), before being picked up on St Martin's and Tresco next day, when their number was down to ten.
As I write, easterly winds and sunshine are forecast again for tomorrow, 2nd June, so watch out: you might just see Scilly, and St Agnes especially, hitting the headlines once again.